Do you really need to delete your LINE friends? You might need to put certain friendships on ice or want to organize your digital connections. LINE friends may be quickly deleted, which makes managing your contacts in the LINE app easier.
This guide will show you how to delete someone on LINE. Whether you're new to LINE or have been using it for a long time, you will find our simple and easy instructions for deleting friends helpful. So let us begin!
Part 1: Things You Should Know When Deleting A Line Friend
LINE is a popular social app that provides its users with various advantages and features. LINE offers a complete and user-friendly texting experience emphasizing privacy and security. LINE users may send text messages, voice calls, and video calls to each other for free.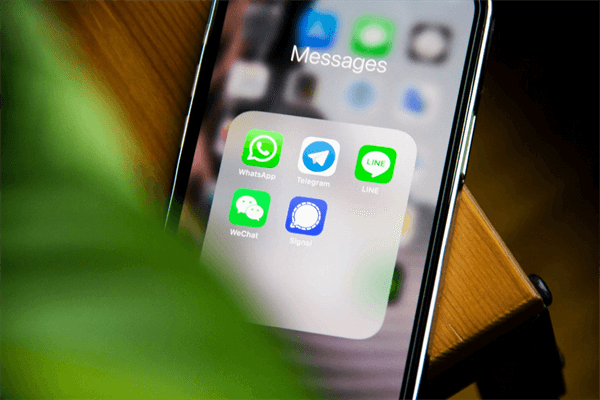 Customization:
LINE lets users personalize their profiles, chat backdrops, and stickers to express themselves and make interactions more engaging.
Multimedia support:
LINE includes audio and video conversations, stickers, games, news, and more beyond text messaging. This gives users a more engaging and immersive communications experience.
Multilingual support:
LINE supports many languages, including English, Japanese, Korean, Chinese, and others, making it ideal for international communication.
Cross-platform support:
LINE is accessible on Android, iOS, Windows, and Mac, making it easier for users to keep in touch with friends.
Social groups:
LINE offers timelines, headlines, and public chat groups to interact with like-minded people and share your experiences.
High privacy and security:
LINE protects users' data with end-to-end encryption, two-step authentication, and the option to hide chats from the screen.
If you have a good idea of what LINE has in store, you should think twice about deleting a buddy from the app. Let's get started on removing a LINE pal.
Part 2: How To Delete LINE Friends? – 2 Ways
We need to know a few things before we delete LINE friends. LINE buddies can't browse your profile or send you messages after being deleted. Second, removing a buddy on LINE is private so that they won't be notified. They'll see you're not on their friend list
Two methods for removing a buddy from your LINE account are directly and permanently. How about we take a look at both ways?
1. Delete a LINE Friend Directly
Please follow these instructions to remove a friend directly:
Open the LINE app on your mobile device.
Choose the "Friends" option from the drop-down menu.
Select the contact you wish to remove.
touch and hold the friend's username for a few seconds. A list of options will show up next to the contact.

You can choose "Delete " from the list of options. And select "OK" to confirm that you want to remove this friend.
Using this approach, you may unfriend someone on LINE, but your previous conversations and shared files will remain intact. You will no longer receive messages from them, and their profile will be deleted from your friends' list.
2. Delete a LINE Friend Permanently
Open the LINE app on your mobile device.
Choose the "Friends" option from the drop-down menu.
Select the contact you wish to remove.
Press and hold the contact for a few seconds, and a list of options appear.
Choose "Block" from the available options. Contact will move to Setting> "Blocked accounts."

To delete a friend permanently, Go to "Friends" > "Blocked accounts" using the settings in the upper right corner of the homepage.
Click on the "Edit" option against the contact you want to delete. A short window asks to Unblock or deletes a connection.
Then tap "Delete" to confirm that you do wish to remove and block this friend.
After following these steps, not only will the friend no longer be able to contact you through LINE, but all of your previous conversations and shared media will also be permanently deleted. They'll be removed from your friend list and unable to contact you, becauese they have been blocked on LINE by you.
Part 3: [BONUS] LINE Monitoring – How To See Someone's LINE Friends Without Knowing?
You may now monitor the LINE activity of some other user by using a smart monitoring tool that LINE has made available to its users. KidsGuard for LINE allows you to silently browse a user's LINE contact list. It's great for tracking friends and seeing how they're connected.
BEST LINE MONITORING - Use KidsGuard For LINE
KidsGuard for LINE is a smart parental control tool that aids parents keep their kids safe online. Monitoring children's online activities and protecting them from online risks has grown increasingly crucial as they utilize more technology.
KidsGuard for LINE is an All-In-One tool that allows parents to monitor their children's LINE activity, including messages, call records, audios, videos, images, and more. KidsGuard for LINE's user-friendly design and numerous features make it a helpful tool for parents worried about their child's digital safety and can access their data on the web at any time.
Set-up Guide of KidsGuard for LINE to Track Someone's LINE Friends
You need access to the target device to install this amazing tool. You will need to install the KidsGuard for LINE app on the target device first time and sign up for an account with a valid email address. Let's take a look at setting up KidsGuard for LINE.
Step 1: Get Your Plan
Create your account using by clicking the button below and purchase a subscription plan with a 30-days money back guarantee.
Step 2: Install KidsGuard for LINE on Target Device
After Signing up with an active e-mail address, you may follow the on-screen instructions with the necessary details to complete the setup.
To proceed with setting up the target Android smartphone, click the Setup Guide button and then closely follow to the on-screen directions.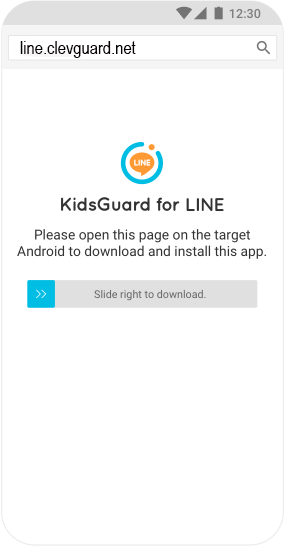 Step 3: Start Monitoring LINE
After successfully installing and configuring on the targe device, log in with LINE account in our website. Click on the dashboard panel to see the further target phone's LINE app activities. Here you get to see who the person is talking to and what they talk about by looking at their line chats.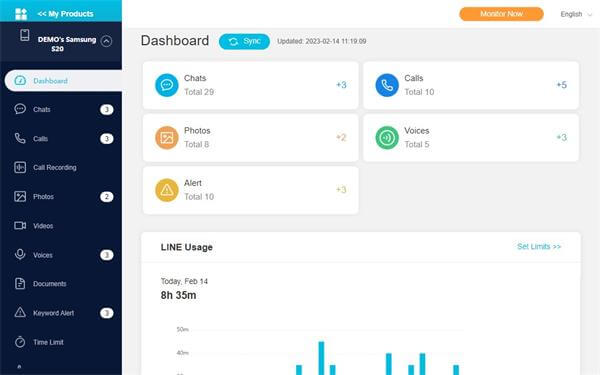 Monitoring Features of KidsGuard for LINE
KidsGuard for LINE has several benefits for parents who wish to keep their kids safe online. A few of the most important advantages offered by KidsGuard for LINE are as follows:
Parents may monitor their children's LINE use and restrict access if necessary. On LINE, parents may monitor their child's activity in a number of ways. This includes access to the child's contact list, messages, call logs, voice calls, screen recording, photos, screenshots, exports, and more. With this app, you can see everything on child's phone while he is on LINE.
KidsGuard fro LINE can track how much time a child spends on LINE and providing parents with valuable insight.
Part 4: How To Add Deleted Friends Back On LINE?
If you've unintentionally deleted a friend from LINE, you can always add them. The steps to add deleted friends back on LINE are as follows:
LINE is an instant social app, so install it on your mobile device.
Open the LINE app and choose the "Friends" option from the drop-down menu.
Use the "Add Friends" tab at the top of the screen.

The first step in finding a friend is deciding how you'll search for them. Options include inviting a friend and entering an ID, phone number, or QR code.
Add a friend by typing in their details or scanning their QR code.

Once you've added them, you may request to be friends with them.
If they decide to accept your friend request, you'll have them back on your list.
Your prior conversations and shared media will not be returned when you re-add a friend. It would be best if you also thought about why you removed the friend and whether it would be beneficial to re-establish the connection.
Part 5: FAQs about Deleting LINE Friends
1. Will they know if you delete them on LINE?
LINE friends will not be notified when you delete them. However, they may notice they have been deleted as friends if they cannot access your profile or send you messages. If the removed contact wants to send you a message, they'll get a notice saying it wasn't sent, which may indicate they've been deleted.
2. Can you add the contact you deleted back?
Yes, you can re-add LINE contacts to your friends' list. Search for the contact through LINE's search tool and send a friend request. They'll restore your friends list if they agree.
Before sending a friend request, you must unblock the individual on LINE. You might not be able to add them again as friends until they unblock or re-add you if they remove or block you.
3. How to know if someone deletes me on LINE?
LINE doesn't notify you when someone deletes you from their friends' list. But these clues may show that your buddy has been deleted:
Their timeline and profile are no longer visible.
LINE's search tool doesn't return that person's profile.
You can no longer text, phone, or video chat with that individual. If you send that individual a message, you may receive a message indicating it was not sent.
4. How to delete LINE friends permanently?
Follow these steps to delete a LINE friend permanently:
Open the LINE app on your mobile device.
Choose the "Friends" menu from the screen's bottom menu bar.
Click on the profile picture of the contact whose account you wish to deactivate.
Select the "More" option (represented by three dots) in the upper right corner of the display.
Select an option to delete a friend that appears, and choose it.
You'll get a confirmation pop-up to remove the friend. Choose "OK" to accept.
You can no longer connect a friend's profile or send them messages after deleting them from LINE.
Conclusion
Finally, in this guide, you learned two different methods for deleting LINE contacts. Deleting a LINE buddy might be unpleasant, but preserving your personal space and social comfort is essential. Whether you delete a friend temporarily or permanently, it's a private action that won't inform them, and you can change your mind and easily add them back.