LINE is one of the most frequently used messaging apps all over the world. The app offers free texts, video calls, and voice conversations at all times from any location. However, due to the mysterious user interface, you may be in a dilemma if someone has read your messages on LINE or not. To make things simpler and easier to understand, we've listed out all such queries in detail and also come up with a solution like KidsGuard for LINE which enables you to track all the activities on the LINE.
How to See if Someone is Online on LINE?
If you are a Line user or wish to use the app in the future, you must know that it is not a piece of cake to find out if someone is online on LINE. Unlike some other popular messaging tools, like WhatsApp with last seen, LINE doesn't offer a tiny green online button, or a blue tick that lets you know about the user's online status. Quite a mystery, isn't it?  
Don't worry we have got you covered. As you read this article, you will be able to find out someone's online status on the LINE using simple tricks and we will also guide you how to read LINE messages without the sender knowing.
A person's online status on LINE
The quickest and easiest approach to finding out if a person is online :
Send them a text and wait to see if they read it.
You can also search the person's timeline for the most recent posts.
Tap on the user's profile and then Posts from the bottom left to access their timeline.

To view the most recent updates, go between the Posts and Photos/Videos sections (if there are any).
It is important to know that while these strategies may be helpful, they may have certain downsides.
To begin with, Line is not really a social network, thus your pals may seldom post anything, a person may just disregard your message, or it might be possible that they may not have cellphone service. There are many techniques to get past the read recipient function as we will guide you later on regarding KidsGuard for LINE.
How to Know When Someone Read Your Messages on LINE?
1. Someone read your messages in a private chat
When you send a message to someone on LINE, the recipient is notified. If they tap the notice, the message should be marked as Read immediately. Aside from just that, you'll be able to witness when they read the message.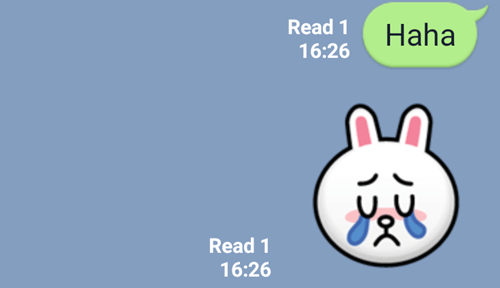 LINE authorities, however, conceded that this is not a perfect function. When your buddy receives a notice, your messages may appear as "Read" on a few devices. As a result, the time next to the Read Receipt represents when they received the notification rather than when they read your message. If the recipient's device is connected to Wi-Fi, they would receive immediate notification and the message will be marked as Read. This is frustrating as you would never know if they read the message or not. Moreover, it is also not clear which devices comply with this feature and which of them do not.
2- Someone read your messages in a group chat
Now you are familiar with a one-on-one chat on LINE, let's move on to a group chat. follow these simple steps to know if someone has read your messages in a group chat.
Launch Line on your smartphone.
Navigate to the Chats window, which is situated at the bottom left of the screen.
Locate the Group to which you sent your message.
There won't be anything to your message if no one has read it yet.
If your message has been read, it will say "Read" next to your message.
A number next to "Read" indicates how many people in the group chat have seen your text.
The time at which they read it or, in certain situations, received the notification is listed at the bottom.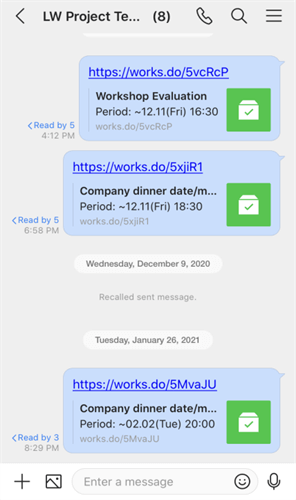 If someone decides to leave the group chat, they would not be able to have access to any of the previous chats.
How to Read LINE Messages without the Sender Knowing?
A lot of users are intrigued to find out how can they read messages on LINE without the sender knowing. We have come up with just a perfect solution for this problem. KidsGuard for a LINE is a monitoring software for the LINE which enables you to have access to multiple features and tricks.
This is the best LINE nonitoring tool to remotely monitor LINE activity. You can monitor up to ten files simultaneously including messages, call logs, videos, audio, images, and so on. It is completely undetectable. It enables you to track without being noticed and there is no need to root your target Android device.
How to use KidsGuard for LINE to read LINE messages without the sender knowing
Follow these simple steps to install KidsGuard for a LINE and have an undetectable tracking experience.
Step 1: Register and Get Your Plan Instantly
To access all advanced monitoring capabilities, purchase a premium subscription and register your KidsGuard for a LINE account via a valid email address. You can select a one-month, three-month, or one-year plan as you may like. 
Step 2: Install the Program on the Target phone
After successfully purchasing, you will be directed to the "My Products and Orders Management" page for verification of your previous order. Then, select the "Setup Guide" button and carefully follow the directions to finish certain essential setups on the target Android smartphone.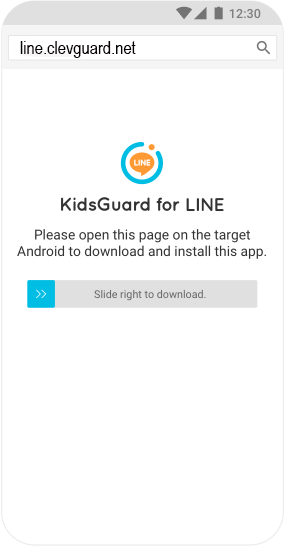 Step 3: Remotely monitor LINE
After installing and configuring the software on the target phone, sign in via our website. If everything is successfully configured, you will be able to see the device identity and relevant information.
To view the LINE actions and statistics, go to Dashboard.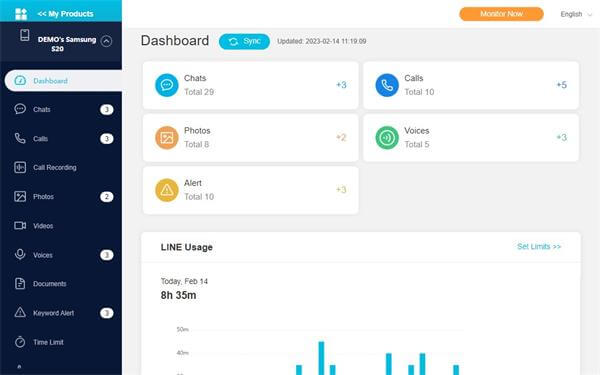 NOTE:
Please keep in mind that syncing data from the smartphone to the dashboard will take some time when doing it for the first time.
What can you do with KidsGuard for LINE?
This software has several features and perks.
Instantly track LINE files: This LINE activity tracking program allows you to remotely examine messages, group conversations, and shared documents with date and time.
Examine Group Messages
Obtain Shared Documents
Keep an Eye on the Date and Time
Track LINE Shared Media from Anywhere: Check the shared LINE Photos, Videos, Audios, and so on to see whom your buddy is conversing with. You can also export this information at any time.
Track Photos That Have Been Shared
Keep an eye on all videos.
Listen to talking audio
All data can be exported.
Gain Access to Additional Features: You can receive access to all the call records, monitor LINE usage screen time, get the App screenshots, and learn more about LINE tracking tool capabilities.
Access to all the call records
Set a screen tracker
Check out additional features
Screenshot everything
Why My LINE Message is Never Read?
A lot of users are curious about why their message is never read. There might be a few reasons for it such as:
The person is offline
As we have already elaborated that it is quite tricky to know if your friend is online on the LINE. It is possible that your friend might be offline which may be the reason why your message hasn't been read and responded to.
The person deletes LINE 
If you are sending a message to someone who hasn't installed the LINE in the first place, how would you get a reply?  Similarly, a pre-existing user who has now decided to delete the app might be the reason why your message is never read.
The person has blocked you
Another unfortunate reason due to which the person might not be replying to you is that they have blocked you and now you cannot continue your conversation with them on the LINE.
FAQs about Read Receipt on LINE 
Some of the frequently asked questions are given below.
1. Can I turn off my read-receipts on LINE?
Unfortunately, there isn't. You should consider installing KidsGuard for LINE if you want to read messages on the LINE without the sender knowing.
2. Is there any way to trick read-receipts on LINE?
You might be able to do so by turning on airplane mode on the target smartphone and then quickly reading the message but remember as soon as you turn on the Wi-Fi the message will be marked as "Read". The only way to stay anonymous is by using KidsGuard.
3. Can you see the last seen on LINE?
Unlike some other popular messaging tools, Line doesn't offer a tiny green online button, or a blue tick that lets you know about the user's online status. All you can do is guestimate if they are online or not.
Conclusion
LINE is a popular yet mysterious application for communicating with your friends via text messages, audio chat, and sharing videos. There isn't any way to know if someone is online or not or to trick your read-receipts on LINE. However, by using KidsGuard, an Android tracker for LINE, you can have complete access to all the tracking features the system offers!