In this digital era, video calling has become a popular way to communicate with friends and family. LINE, a messaging app with over 600 million users, offers free video calls to its users. Among many amazing features, LINE allows you to record video calls.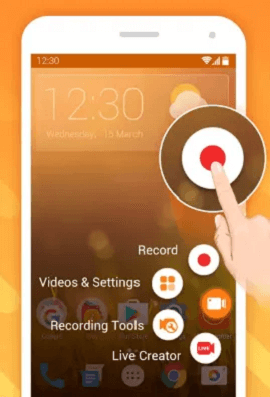 However, in this article, you are going to learn how to record LINE video calls on your computer, Android, and iOS devices. Without further ado, let's start exploring everything you need to know about the topic.
Part 1: Common Reasons to Record a LINE Video Call
When you think about it, there are countless reasons to record a LINE video call. Maybe you want to capture a funny moment with a friend or family member. Or maybe you need to document a business meeting for future reference. No matter what the reason, here are some of the most common reasons to record a LINE video call:
1. Capture a special moment with a loved one. Whether you're celebrating a birthday, anniversary, or just having a conversation, it's nice to have a recorded memory of the call.
2. Document a business meeting. If you need to reference something that was discussed during the meeting, having a recording can be very helpful.
3. Show off your new puppy/kitten/baby to your friends and family. What's cuter than seeing baby photos and videos?
Part  2: How to Record LINE Video Calls on Computers - Using ShowMore
Recording LINE video calls on your computers should not be rocket science. Anybody can do it after reading and following the steps I am going to share here. I have applied the same steps while recording a funny moment with one of my friends.
Here are the steps to follow:
Step 1. First of all, you need to open your LINE app from your personal computer. Find the person with whom you want to make a video call and start the video call.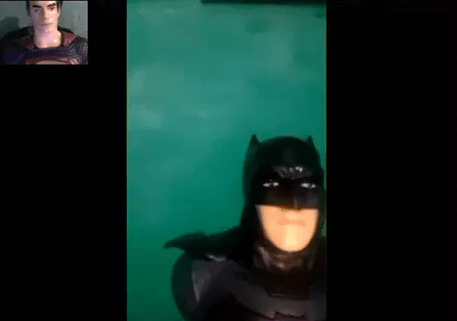 Step 2. You need to wait until you connect with your friend via video calling. After getting connected, you have to open back the recorder. Then, by adjusting the frame you want to capture, you are almost ready to start recording.
Step 3. At this point, you will find a record button in the top-left corner. All you need to do now is to click on the red record button to start your recording in no time.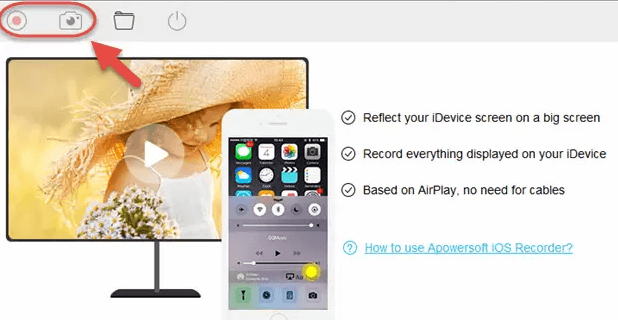 Part  3: How to Record LINE Video Calls on Mobile Phones
If you want to make video calls on your computer, Android, or iOS device, there are a few different ways to go about it. For PC users, there are a number of programs that allow for recording and playback of video calls.
For Android and iOS devices, you can use apps like Skype or FaceTime. Both have their own pros and cons, but in the end, the decision is up to the individual user as to which they prefer.
If you're looking for a way to record LINE video calls on Android, look no further than KidsGuard Pro for Android! This powerful Android monitoring app can not only record LINE video calls, but also track other activities on the target device, such as text messages, phone calls, GPS location, and more. What's more, KidsGuard Pro is very easy to use - you could install it within 5 minutes!
How to Use KidsGuard Pro for Android to Record LINE Video Calls?
If you're a parent, there's a good chance you're using LINE to communicate with your children. It's a great way to keep in touch with them when they're away at school, and now there's a way to keep track of their video calls too. KidsGuard Pro for Android can record LINE video calls so you can review them later. Here's how to set it up:
Step 1. Create your KidsGuard Pro account.
Click the Monitor Now to register with your valid email address.
Step 2. Download and install the KidsGuard Pro app.
Then you will be directed to My Products and Orders Manager page after successfully choosing the plan that fits you the most. At here, you could see all the products and select the Setup Guide icon to download the app following the on-screen instructions.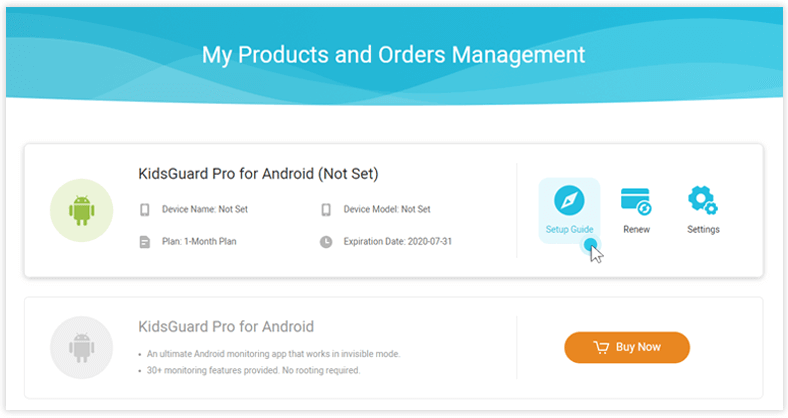 Step 3. Log in to your Account and begin recording LINE Videos.
Log into your account on our website after installing the app on the target phone. You'll see the device and everything happened on the target phone.
To view LINE calls, go to Dashboard. Tap on Social Apps > LINE to check out all the LINE activities, also you could go to Live Recording to record LINE calls. You could monitor LINE just with one click.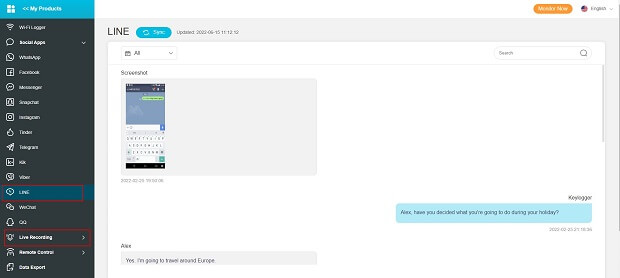 1.2 Why KidsGuard Pro for Android is  Recommended to Record LINE Video Calls?
KidsGuard Pro for Android allows you to monitor your children's activities. You can easily access their activities and monitor using KidsGuard Pro. It will scan your kids' phone and send to you so that you can spy them. It includes messages, contacts, social media chats and many more.
Record Phone Calls
This call recorder app will enable you to access and record speaking voice of not only your children but also the person talking to them.
Capture Screenshots
By capturing screenshots, you can analyze them in your free time so that you can be aware of your children's activities while they are online. Also, it helps you to capture real-time screen of your chosen device and then you can sync them automatically.
Secret Photos
Another important and amazing feature of KidsGuard Pro for Android is that you could take photos remotely to see your kids' activities. Yes, it allows you to remotely turn on the target's rear camera so that you can take photos secretly so that you kinds never understand.
Sensitive words
You can set sensitive words to your kid's phone. As parents, you will promptly notify as soon as your kid's phone receive such sensitive words.
Listening to phone surroundings
KidsGuard Pro for Android benefits its users to listen to phone surroundings. The feature helps parents to listen the surroundings and can easily guess what is going on around your kids.
1.3 Other Advantage of KidsGuard Pro for Android.
Monitor Social Apps: WhatsApp, Instagram, Facebook, Messenger, Snapchat, Tinder, Telegram etc.
Keylooger: It can record every keystroke on the target phone and sync in real-time on dashboard.
Location Tracking: it could track the target phone's real-time location and every visited places with address, date and time. Even it could track Wi-Fi movements. You could know the Wi-Fi name, used time and its location.
Check Phone Files: You could access to everything on the target phone, including its messages, contacts, call logs, photos and browser history.
2. Record LINE Video Calls on iOS - Using Screen Recording
iOS devices have the ability to record video calls using Screen Recording. This means you could start recording the screen when you on a call.
Step 1. Normally you could find the Screen Recording option on the Control Center. But if you don't, go to Settings, find Control Center.
Step 2. Click Customize Control.
Step 3. Find More Controls > Screen Recording.
Step 4. Tap the green plus to add it to the Control Center.
Part 4: Tips: How to Know Your LINE Video Calls are being Recorded? - Using Clevguard
If you're concerned about your privacy and whether or not your LINE video calls are being recorded, there's a way to find out. Cleveguard is a security app that can be used to protect your privacy on LINE. It will show you if your LINE video calls are being recorded or not.
Step by Step Guide of Using Clevguard to Detect LINE Video Calls Recorder
This anti-spyware scanner is a phone app that can be used to detect whether or not an app is recording your video calls. It can also be used to detect other privacy-invading apps on your phone, which is available for free on Android and iOS devices.
Step 1. Download the app from App Store or Google Playstore.
Step 2. To use it, you simply open the app and click on the "Start Scanning" button.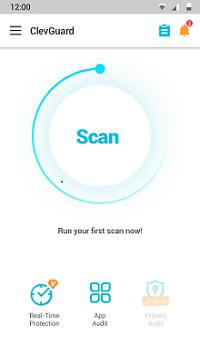 Step 3. The app will then scan your device for any apps that may be recording your video calls without your permission.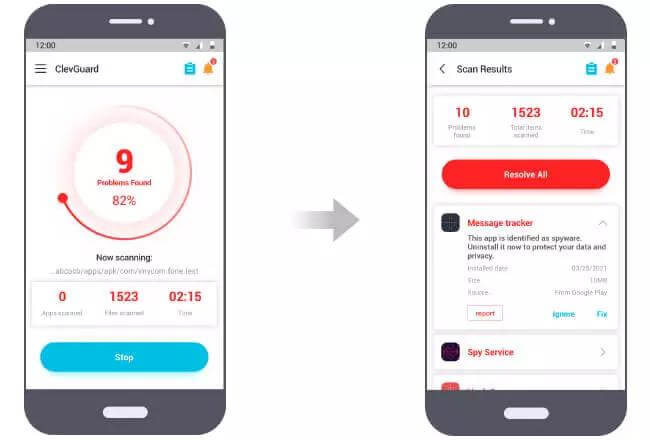 2. What Can You Do with Clevguard to detect LINE Video Calls Recorder?
Before you use Clevguard to detect LINE video calls, you need to download it and install. The processes are very simple and you can easily install on your device. You need to follow the steps I have just shown above. However, Clevguard comes with a number of beneficial features to use it.
Real-Time Spyware Detector and Remover
You can run 24/7 scanning session so that you can get notification as soon as there is any spyware on your device. Not only that; you can remove all the abnormal records by tapping once. So, as a spyware detector, Clevguard is one of the most popular and effective apps.
Microphone and Camera Protection
The feature allows you to know if the microphone or camera is on without or with your permission. It will also email you with a detailed report of the use of camera, microphone, their duration, time and date.
Detect Hidden App
It should be the most powerful and beneficial feature of Clevguard because it allows you to detect hidden and suspicious apps on your phone. With Clevguard, you can remove them as well. Therefore, you are protected from any risk that can reach you.
Email Leak Checker
The app protects your email and valuable information from being exposed in a data breach. Also, you can save your sensitive onLINE information with the assistance of Clevguard.
FAQs about Recording LINE Video Calls
1. Does LINE allow screen recording?
LINE has many features, including voice and video calls, group chats, and stickers. One of the features that sets LINE apart from other messaging apps is the ability to record your screen. This can be useful for recording tutorials, gaming sessions, or just capturing what's on your screen.
2. Why can I record LINE video calls?
Some users may be wondering why they are able to record their LINE video calls. The reason for this is that the calls are not encrypted. As a result, they can be easily recorded and accessed by anyone with the right tools. While this may not be an issue for some users, it is important to be aware of the fact that your calls are not private and could potentially be accessed by others.
3. Is LINE screen recorder secure?
LINE offers a free screen recorder built into the app. While this feature is convenient for users, there are concerns about the security of recordings made with the LINE screen recorder.
The app does not require users to enter a password to start recording, and recordings are stored on the user's phone in an unencrypted format. This could allow someone who gains access to the user's phone to view and edit their recordings.
Final Thoughts
LINE has become one of the most dominating apps that allow its users to make calls, video calls, text messages, share photos, and many more. For good reasons, it enables us to record video calls. When it comes to capturing the important moments while making a video call, you can record for the future. Not only that; it benefits us to record video calls for business purposes.