When we use LINE app, it automatically adds contacts from our phone's address book to our chat. We may be able to skip ID lines and barcode scanners by adding friends quickly with this new technology.

However, many LINE users have issues with linemates who spam and upload obscene content at weird times. This app helps to block and unblock someone on LINE while still being able to monitor their online safety. Let's get started.
What Happens if You Block Someone on LINE?
Are your LINE friends irritating? You can hide your contacts instead of blocking them.
How do block and hide differ? There's little difference.
Hide removes contacts and notifications from your LINE feed while blocking prevents any LINE users from contacting you. You can choose to hide or unhide LINE chats whenever you want, but this still allows that person to message you without your knowledge. You can block your LINE friends if hiding them isn't enough.
Blocking someone on LINE prevents them from messaging, viewing your timeline, sharing photos, or calling you. They'll also remove your LINE friends list. If you block your LINE friends, you'll never see them again if they're on your blocked list, yes. And the same if you are blocked on LINE by your friends.
Group messages have one exception. If you block someone on LINE and join a group conversation with them, you'll both see each other's messages. LINE will notify you beforehand. You can then opt into the group message.
This kind of blocking does nothing but prevent their communications from being delivered. They will continue to have access to the information contained in your profile, postings, and other areas of the site.
It seems like a great way to stay away from an irritating or incompetent linemate. doesn't it? Stay with us! Let's get to know how to block someone on LINE.
How to Block Someone on LINE (Android and iPhone)
You may block the contact using the LINE app so you can't communicate with them and can keep an eye on them. After blocking the contact, you may monitor their LINE chats using KidsGuard for LINE, if you want to find out more, you can directly jump to Part 5.
For Android:
LINE makes it easy to temporarily or permanently block other users on both Android and iOS smartphones. Here are the steps you should take to block a particular user on LINE:
Open LINE and click the "person" icon on the chat room's right. This "person," icon shows all your LINE mates. This "person" sign indicates the group and other official accounts you "added."
Find the LINE mates you wish to block in your friend list. Use the top "magnifying glass" search tool to discover it quickly.
Long-tap your LINE friend's profile to block them. LINE will display chat, free voice calls, favorites, Hide from list, block, and Click "Block" to block users.
After clicking "Block," LINE will ask if you want to block. Click "OK" (green) to block the LINE friends if you're sure. You've blocked LINE mates. Blocked friends cannot chat with you.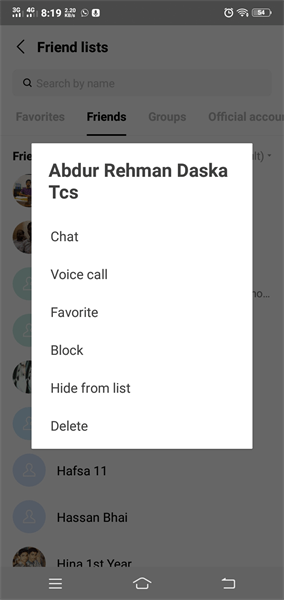 For iPhone:
Open the LINE app and visit your friends' list.
Visit the profile of the friend you wish to block by tapping their name.
Select "More" (three dots) in the top-right corner.
Select "Block" to block the person.
After these procedures, the blocked person can no longer call, message, or see your timeline postings. They'll also leave your LINE friends list.
How to See Blocked Contacts on LINE?
You will feel satisfied with your LINE blocking experience if you verify that the person you blocked was added to the list of blocked contacts. So, where does one go in LINE to locate a block list? Please continue reading for the answer.
Open the LINE app. Follow that up with a tap of the "home" button.
Select "settings" from the menu on the upper right of the screen.
Go to "friends" in "settings." Menu.
Then, tap on "blocked accounts".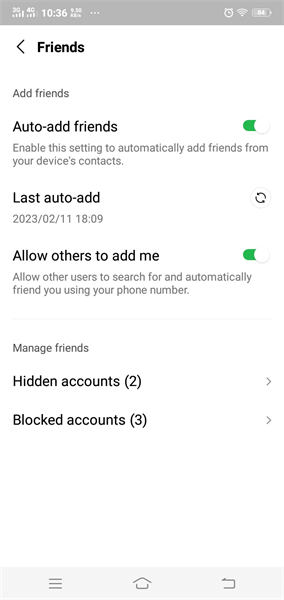 You can see a detailed list of all the contacts/profiles you have effectively blocked.
How to Unblock Someone on LINE?
Those who have accidentally blocked a friend on LINE can undo the action. You can unblock the LINE friends by following these steps:
After logging in, choose the menu icon in the upper right corner. When you're done, hit the "add friend" button.
The settings button in the upper right is active and can be used.
Now select "friends" in the setting menu and select the "Blocked accounts" option.
Select the "edit" option next to the friend's name, and the LINE screen will prompt you with two options "Unblock" and "Delete."
Click the "Unblock" option.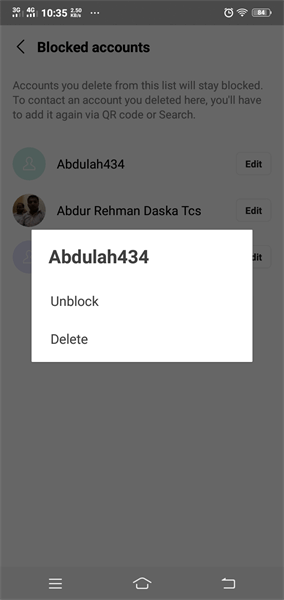 After unblocking, the friend will be on your friends list on LINE, and you can now communicate with your friends again. Unblocked LINE friends will appear on your LINE timeline and friends list.
BONUS: How to See Messages after Blocking Someone on LINE?
If you want to read messages sent to you after blocking someone on LINE, you can do so in a private inbox with KidsGuard for LINE. Let's take it a step farther.
Use LINE Tracker - KidsGuard for LINE
"Keep Your Kids Safe On LINE - Block Now!"
Kids Guard for Line App is a cutting-edge parental control tool that protects children from online dangers such as cyberbullying, inappropriate content, and stranger danger.
The tool may also limit children's app use and block inappropriate contacts or content. KidsGuard for LINE helps parents keep their kids safe on Line.
LINE can help kids make friends and share their experiences, but it can also expose children to cyberbullying, internet fraud, and illegal information. Monitoring kids' app activity using
KidsGuard for LINE
 helps parents safeguard them.
How to Use KidsGuard for LINE to See Messages after Blocking?
Let's install this amazing LINE monitoring tool in three easy steps. The basic steps are as follows:
Step 1: Download and install KidsGuard for LINE  
Sign up with a verified email address on our website. You may choose from 1-month, 3-month, and 1-year plans based on your needs.
Step 2: Configure KidsGuard with LINE device
Next you will be directed to the My Products and Orders Management page. Then, select the Setup Guide button and carefully follow the on-screen directions to finish necessary configuration setups on the targeted Android device.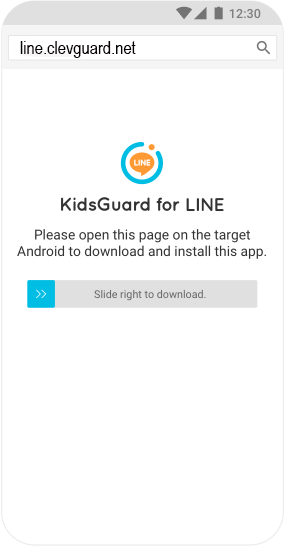 Step 3: Enjoy Monitoring on Target Device
Log into your verified KidsGuard for LINE account on our website once the app has been installed and configured on the target phone. You will be able to view the device name and other detailed information on Your device. To view the LINE activities and info, go to Dashboard.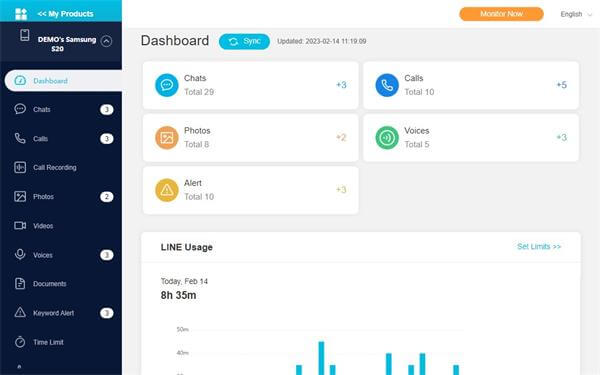 KidsGuard for LINE will collect and save data from the LINE app; it will be available to users.
2. What Can KidsGuard for LINE Do to See Messages after Blocking?
KidsGuard for LINE lets parents monitors LINE activity on a target device. After blocking someone using KidsGuard for LINE, you may view their activities including messages, call logs, call recordings, images, screen time and capture screen shots:
a. Check LINE Messages
Using KidsGuard Dashboard, you can view all LINE messages sent and received on the target device, even those from the blocked individual. What's better is that you get to see recalled messages on LINE.
b. See Call Logs
LINE calls (Audio or Video), contacts, and more will be updated in real-time on the target device. All your calls, timestamps, and durations are now conveniently available in a single location.
c. Record LINE Calls
You can even record the line calls and check them out from Dashboard.
d. Capture Screenshots
KidsGuard for LINE backs up all monitored data so you may access it anytime, anywhere.
e. Virtual Control
KidsGuard for LINE lets you remotely block or unblock contacts, set time restrictions, and more.
FAQs about Blocking and Unblocking on LINE
1. Can I block group chat on LINE?
Yes, You have the option to block a group chat on LINE. Follow these steps to achieve this:
Start the group chats you wish to block by clicking on its name.
To join the group, tap the group's name at the screen's top.
Select "Block this Group" from the menu.
To confirm the action, touch your device's "OK" button.
It is essential to remember that once you block a group chat, you will no longer be notified of new messages or notifications from the group.
2. How to know if you are blocked on LINE?
If you have been blocked on LINE, you will no longer be able to send messages or make calls or video calls to the person who blocked you. You will also be unable to view any update/status they post, or if you find their profile post empty on the bottom of the screen, it also indicates that someone has blocked you on LINE.
When someone block you on LINE, you will no longer be able to see messages or posts on your timeline and you cannot even tag him/her on LINE groups. You can also check out using the group chat option; if you are in a group chat and are blocked, the room will be presented as empty for you.
3. Will they get a notice after I block or unblock them on LINE?
No, the person you blocked or unblocked will neither be notified of your activity nor will they receive a communication from you regarding it.
4. Can I see someone's messages on the group chat after I block him?
Group chat remains unaffected. Being part of a group conversation means you can read and respond to each other's communications.
Conclusion
The LINE app's Kids Guard tool is a great way to keep your family safe and secure, and it can improve relationships and foster secure, responsive conversation. It can also strengthen family-community bonds.
This guide gives you
a step-by-step guide
 to block and unblock LINE users, making your experience safer and more enjoyable.