When you can't log into your LINE account, it can be very confusing and upsetting. Whether your account has been deleted, hacked, lost your password or for some other reason, there are steps you can take to recover your account. In this article, we'll go over some useful methods and tips to help you recover LINE account back as soon as possible.
Why is My LINE Account Gone?
What can cause your LINE account to disappear? Here we have listed the following reasons, which we hope will help you.
Deleting Account: Some users may inadvertently delete their LINE account. Before deleting your account, make sure you have backed up all your account-related data.
Changing Phone Number: Changing your phone may also result in the loss of your LINE account. When you change your phone, make sure you have successfully backed up and restored your LINE account data.
Stolen Account: If your account is stolen, you may find that you are unable to log in to your LINE account. In this case, you should contact LINE Customer Service immediately to protect your account and personal information.
System Failure: Sometimes, due to system failure or other reasons, you may find that you are unable to log in to your LINE account.
Violation of Rules: In some cases, if you violate LINE's terms of service, your account may be banned.
How to Get My LINE Account Back?
Once you know why your LINE account has disappeared, here are 3 more ways to help you get it back.
Use Phone Number to Log into LINE Account
If you are getting a new phone, you can follow the official replacement process to re-login to your LINE account.
Reinstall LINE.
Click on Log in and select Log in with your phone number.

After selecting your country or region, enter the phone number you have tied to.

You will then receive a verification code, which you can enter in the corresponding spot.
If you want to restore your LINE chat history, click Recover Chat History.
Use Facebook to Recover LINE Account
If you choose to log in to your LINE account using Facebook, you will need to make sure that LINE has previously been tied to your Facebook account. Please note that you will need to use the same Facebook account that you used to sign up for your LINE account in order to successfully recover your account.
Open LINE and click Log in.
Then choose to continue with your Facebook account.
Authorize your Facebook information and click Sign In.
If you want to restore your chat history from your previous device, you can choose to restore it with a backup of your Google account or iCloud account, or skip it if you don't need to restore it.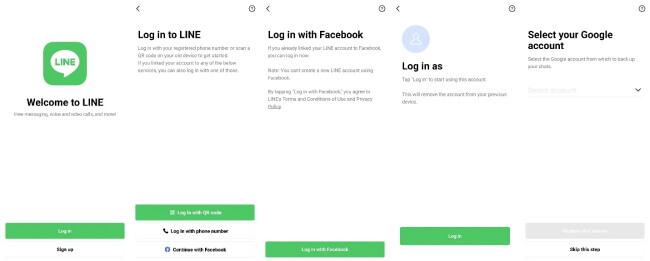 Use Email to Retrieve Your LINE Account
If you don't have a phone number tied to you, or if your phone number has changed, you can try using your email to recover your LINE account. Please follow these steps.
On the LINE login page, click on "Forgot your password?" in the bottom left corner.
Enter the email address you have previously bound and click on "Next".
You will then receive an official email from LINE asking you to reset your password, enter your new password and complete the changes.
After setting up your new password, you will be able to log in normally with your new password.
If you did not register your LINE account with a phone number or email address, or if you are unable to recover your account using the above method, you can try the next method.
Contacting LINE Customer Service
You can also try to recover your LINE account by contacting the LINE customer support team. Here are some steps that may be useful.
Visit the LINE Customer Service Center at https://contact-cc.line.me/en/ and provide your email addres
Then select your country/region.

Select Your device > LINE > Account > Can't use account

Then select the problem you are experiencing, attach screenshots and click Attach.
After submitting your request, you will need to wait for a response from the LINE customer support team. They may ask you for additional information to help you recover your account.
LINE Account Monitoring: How to Hack Someone's LINE Account?- Use KidsGuard for LINE
KidsGuard for LINE is a tool for monitoring the LINE chat application that allows you to remotely monitor the chats, calls, attachments, pictures, audio, videos and other multimedia files of the person you are monitoring. If you want to monitor your child's or partner's LINE chat history, KidsGuard for LINE can help you to do so. Here are some simple steps to help you understand how to use KidsGuard for LINE to monitor LINE accounts.
Step 1: Register for a KidsGuard for LINE account
First, click the button below to sign up for an account and select the appropriate package to complete your purchase.
Step 2: Install the KidsGuard for LINE application
After the purchase, you will be taken to the "My Products and Management" page, click "Setup Guide", there will be detailed download steps, note that in this step you need to get the target phone beforehand to complete the next operation, don't worry, this Don't worry, this configuration will take less than 5 minutes to complete.