When we talk about WhatsApp hacking, it always appears to be information insecure, a self-information leak, and worse, loose monetary in some way. And none of us wants to be the victim of WhatsApp hacking. Then how to protect ourselves from WhatsApp hacking becomes an utmost important problem.
To do a good job, an artisan needs the best tools. For our users, to protect WhatsApp security, we need to acknowledge how WhatsApp hacking happens and works.

Part 1. How Does WhatsApp Hacker Work?
First, let us learn how do WhatsApp hackers do. The first and the commonest hacking is to capture a 6-digital verification code when a new WhatsApp account registers. It's fairly straightforward. When you install WhatsApp on a new phone, the platform prompts you for the account's phone number, which you input, and then sends an SMS one-time code to that number. This demonstrates that you have the number in your possession. When you input the correct code, the phone begins receiving WhatsApp messages for that account.
In this hack, the attacker contacts a victim's acquaintances using an already compromised account. This does not have to be a WhatsApp account; a Facebook account would suffice. The attacker informs the victim's buddy in their message that they are having trouble obtaining a six-digit code and so had it sent to their friend instead—please give it back. That six-digit code is the new victim's WhatsApp verification code; by sending it to a buddy, they are actually giving it to the attacker.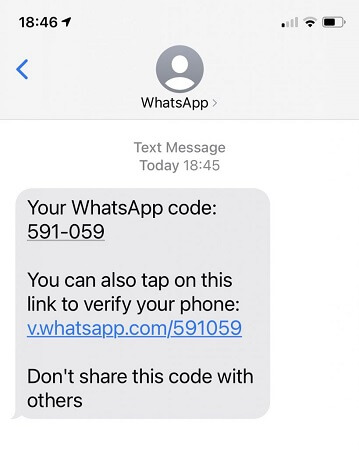 Although WhatsApp encrypts WhatsApp messages through its end-to-end encryption, the conversation can still be leaked when it goes to the cloud. The next WhatsApp hacking method, which is based on this theory, is spreading on Google. That is – Using Google backup, iCloud backup, or local backup on WhatsApp to access the target's WhatsApp messages, contacts, and so on.
Related Read: How to read my girlfriend's WhatsApp messages without her knowing
WhatsApp is still working on an upgrade that would encrypt data before it is sent to the cloud. As @WABetaInfo's Twitter post says, WhatsApp is working to bring encrypted local backups on WhatsApp beta for Android. And E2EE backups on Google Drive. You can download the Beta version of WhatsApp in Google Play.
In total, it is only the beta version. So it still remains the need for users to know how to set up security on WhatsApp.
Part 2. How to Set Up Security on My WhatsApp Account
WhatsApp users may keep secure by utilizing disappearing messages, and the app's recently announced "view once" functionality for text, photo, and video conversations is now available. These capabilities enable users to send and receive ephemeral messages that are not saved on the device or backed up to the cloud, lowering the danger that their personal data will be taken if their account is hijacked. They should also enable two-factor authentication for both WhatsApp and their Google account, which stores the conversation backups.
You can set up them by following the steps below:
Open the WhatsApp chat.
Tap the contact's name. > Tap Disappearing messages.
If prompted, tap CONTINUE.
Select the days you want to activate (24 hours, 7 days, or 90 days). > Select the chats.
Click and Tap DONE.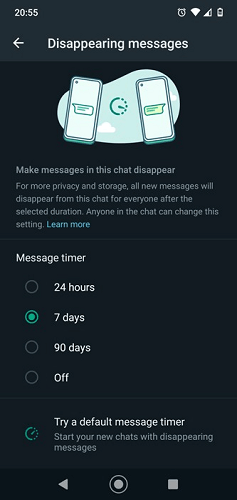 2. How to Set View Once Features on WhatsApp?
Open an individual or group chat.
Tap Attach
Shooting a new photograph or movie using your camera. WhatsApp videos are restricted to 16MB in size.
Choose an existing photo or video from your phone's Gallery.
Tap Send.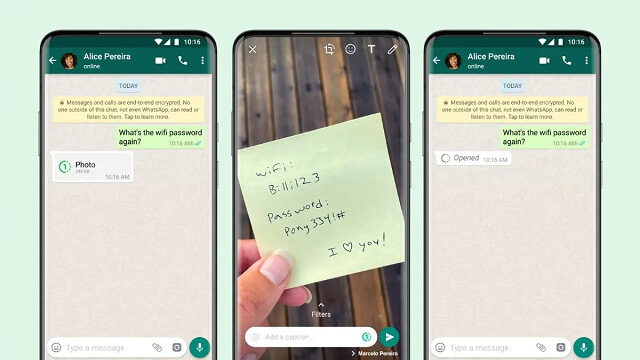 3. How to Turn On Two-factor Authentication for WhatsApp?
Open WhatsApp Settings.
Tap Two-step verification by clicking Account first. Then select Enable.
Enter and confirm your preferred six-digit PIN.
Provide an email address that you can access, or select Skip if you don't want to add one.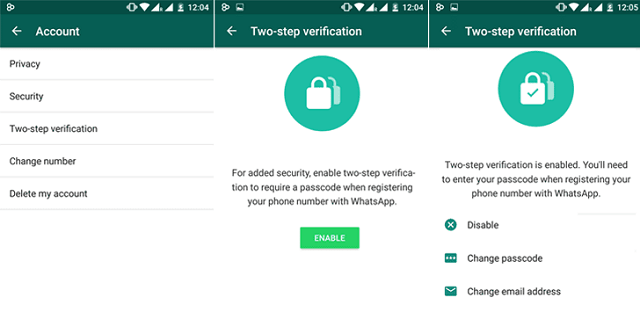 4. How to Open Two-factor Authentication for a Google Account?
Open your Google Account.
In the navigation panel, select Security.
Select 2-Step Verification under "Signing in to Google." Get started.
Follow the on-screen steps.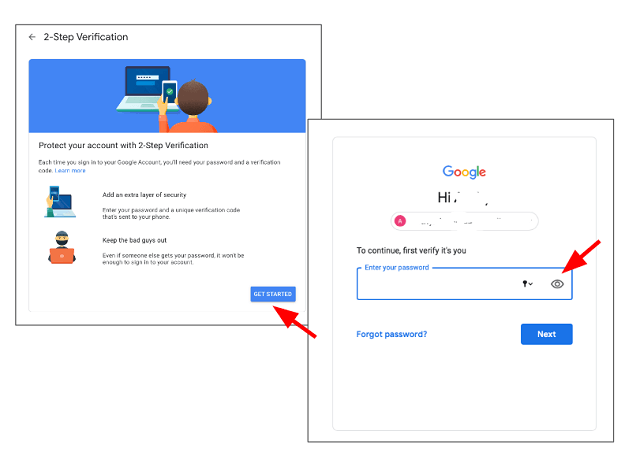 Despite that, be aware of unknown links or apps. The suspicious link may be the entrance to hacking into your WhatsApp account and even your phone. The fake apps which pretend to be WhatsApp is another method for hackers to get your 6-digital verification code and then access all your WhatsApp data.
Part 3. Official WhatsApp Sniffer and Spy Tool
Search on Google, and you will find tons of WhatsApp spying apps out there, but not each of them is truly reliable. As mentioned above, there is a potential risk to open an unknown link. There is a reliable WhatsApp spying tool in the market. If you want to protect your child from cyberbullying or if your partner is cheating on you, the software listed below is the perfect option.
What is KidsGuard for WhatsApp?
It is a dedicated WhatsApp monitor app. With this app, you have an access to learning someone's WhatsApp chats, calls, document transformation, and moreover, see the target's and their contact's newest status.
It is not just a WhatsApp spying tool. KidsGuard for WhatsApp is a powerful parental control tool. Not only it can monitor the activity of the WhatsApp account and lets you access all messages, but also provide customized keywords alert and time limit notification features.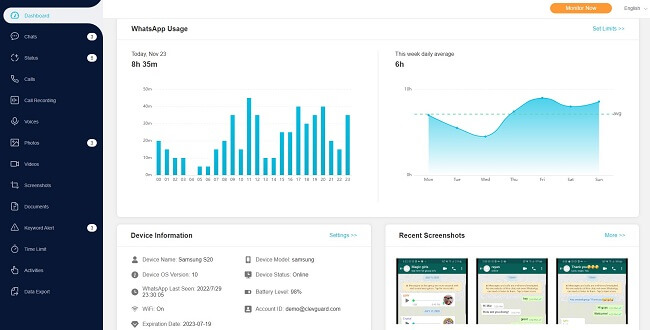 Once installed, it will run in the background without displaying any notifications, and the app icon will disappear from the home screen. You may begin remotely hacking someone's WhatsApp from a control panel that can be viewed from anywhere with a good internet connection. Furthermore, you do not require a WhatsApp account or password to watch its activity.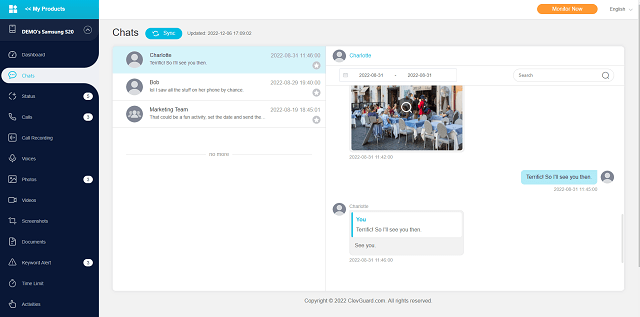 Steps to monitor WhatsApp and protect your kids.
Step 1. Click the button below to get your plan and create an account.
Step 2. Enter www.installapk.net on the target's phone and download the app.
Step 3. Open the downloaded file and follow the guide to set up procedures.
Step 4. Verify the Setup on your monitoring device.
Step 5. Start parental monitoring with KidsGuard for WhatsApp.
Part 4. Conclusion
In this article, you can know what is the frequently used methods to hack WhatsApp nowadays. We can find out how to keep WhatsApp safe by knowing how WhatsApp hack. We can set up disappearing messages, a view once features, and have two-factor authentication. And be aware of unknown links.
Despite our safety, we need a WhatsApp monitoring app called KidsGuard for WhatsApp to keep the child secure in WhatsApp. With this app, parents can track and monitor WhatsApp users' activities and messages without them knowing. You can use the free demo trail or start monitoring by clicking the button below. It is the best way to protect your child silently and effectively.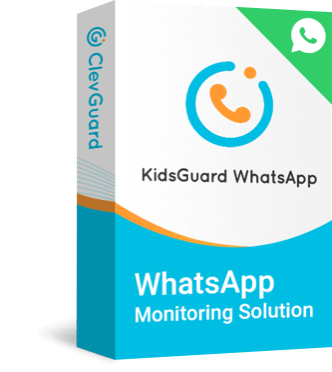 KidsGuard for WhatsApp
The Ultimate WhatsApp Monitoring App for You.