WhatsApp has a huge number of worldwide young users. They like to share and chat with friends, but sometimes, ignoring the invisible danger in the digital world. In some circumstances, bad things might happen.
To discover invisible dangers and stop them happen advance is essential for parents. Taking parental control of child's WhatsApp is necessary.
Part 1. WhatsApp Parental Control
1. Why parents need to take parental control of kids:
WhatsApp is one of the most common sources of distraction for young people. It shifts their primary concentration, and they engage in undesirable behaviors such as viewing explicit information on WhatsApp.
Young people have become glued to WhatsApp. They use WhatsApp to communicate with someone who is far behind them rather than with someone who sits next to them.
Most significantly, persistent WhatsApp use has a negative impact on the health of children. Many health issues, including back pain, neck discomfort, and poor vision, continue to worsen.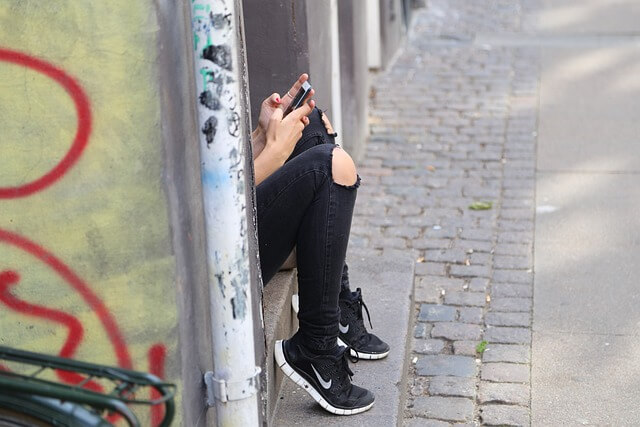 Do you know WhatsApp itself provides parental control mode? It's free but not as powerful as third-party parental control tools. You can follow the guide below to set up the primary parental control on your child's phone.
Tip:
Want to find the best WhatsApp parental control tool? Click here.
2. How to set parental control on WhatsApp?
Block unwanted contacts on WhatsApp.
Report strange contacts on child's WhatsApp.
Turn off live location on WhatsApp.
Turn off "Last Seen" on the child's WhatsApp.
Turn off the "Who can see I'm online" option.
Check WhatsApp usage time on the phone's setting page.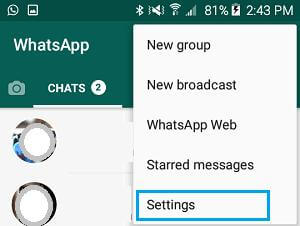 Though set parental control on WhatsApp is totally free, it is complex. Parents could not control or check their child's WhatsApp remotely. This method is not suitable for busy parents. However, with KidsGuard for WhatsApp, parents are capable of taking parental control of their child's WhatsApp remotely.
Part 2. The Best WhatsApp Parental Control Application - KidsGuard for WhatsApp
WhatsApp carries huge private statistics of people in the world. Others are not capable to read your messages remotely because of WhatsApp's end-to-end encryption.
The Importance of WhatsApp Monitoring
You've seen why it's necessary to disable WhatsApp above. To ensure that their children do not spend time on WhatsApp, various parental control programs with WhatsApp filtering features are accessible on the internet. The following are some of the reasons why you should utilize a parental control app:
To keep your children focused on crucial topics like school and outdoor activities.
To shield your children from potentially harmful information on WhatsApp.
To keep your children healthy by reducing the danger of health concerns caused by WhatsApp use.
To acknowledge your children's mental health.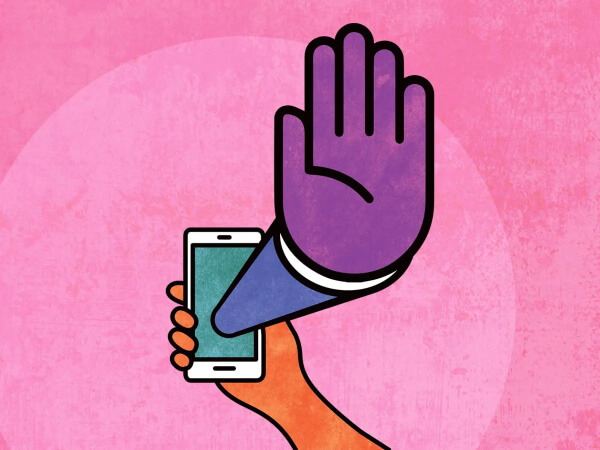 Children might feel unhappy when parents take parental control, However, there is an excellent application to solve the problem. KidsGuard for WhatsApp allows parents to monitor their kid's phones secretly.
What KidsGuard for WhatsApp Can Help Parents:
Remote WhatsApp Monitor is a feature of KidsGuard for WhatsApp. It is a dedicated WhatsApp monitoring application. The most convenient part is that you have no need to root your phone or target's phone with KidsGuard for WhatsApp.
Sync WhatsApp Usage Data – Take an overview of the target's WhatsApp activities, including chats, status, call logs, usage duration, etc. Besides, the Activities section records more details.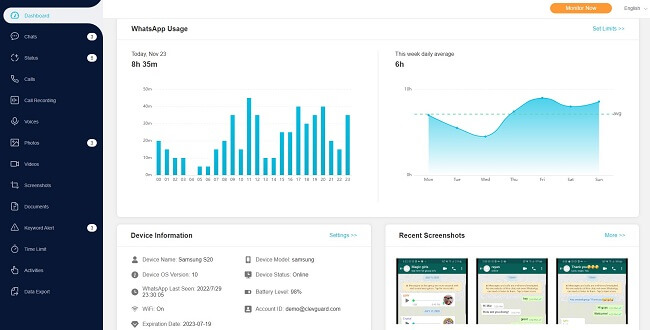 Real-time Status Viewer – Show target's WhatsApp status updates and history. Moreover, KidsGuard for WhatsApp records contacts status as well.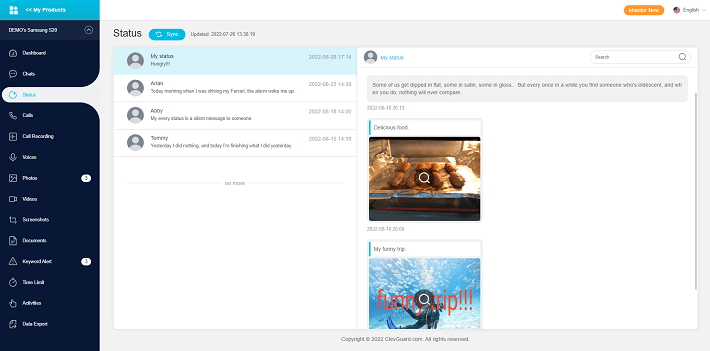 Check WhatsApp Chat Messages – Read the texts, contacts, photos, etc. as you chat on WhatsApp. Also, you can select the duration to check chat history at a specific time.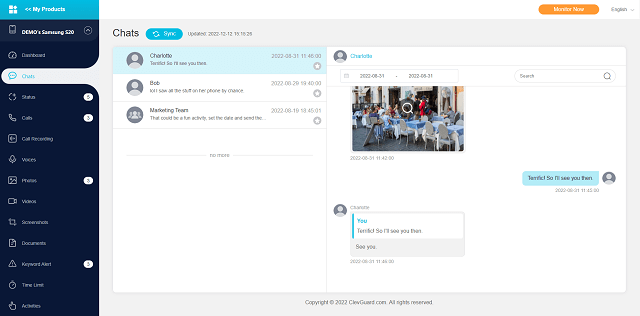 Monitor WhatsApp Calls – Show real-time WhatsApp calls with the type of call logs, the name of contacts, the duration of calls, and the date & time.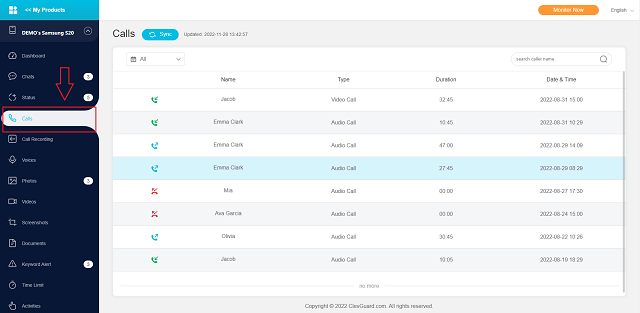 Record WhatsApp Callings – Record the target's WhatsApp callings. Easy to listen to them online and download them to a PC or phone.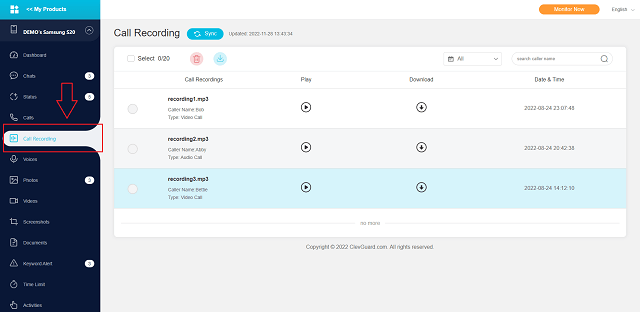 View and Download all types of Messages – Data stored in Voices, Photos, Videos, and Documents sections. Support to download them on PC or smartphone.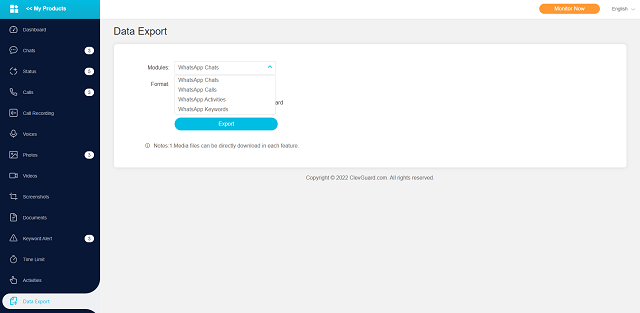 Capture WhatsApp Screenshot – Automatically capture WhatsApp screenshots while using WhatsApp. Disappearing messages and view once images can be seen too.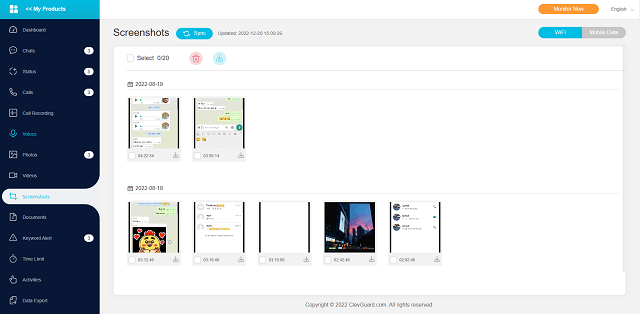 Keyword Alert Function – Set keywords as parents need. KidsGuard for WhatsApp can detect, record, and alert dangerous phrases and words.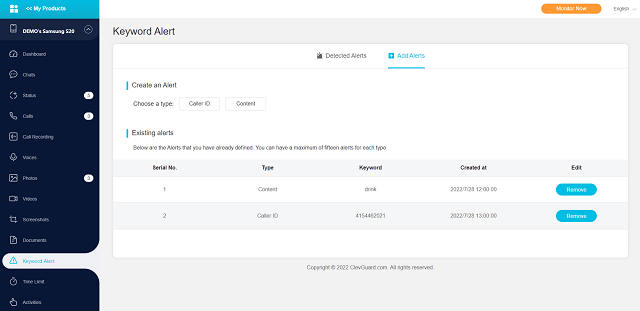 Limit WhatsApp Usage Time - Set daily screen time limits for WhatsApp. There will be a notification appearing on the target's phone when the limit is reached.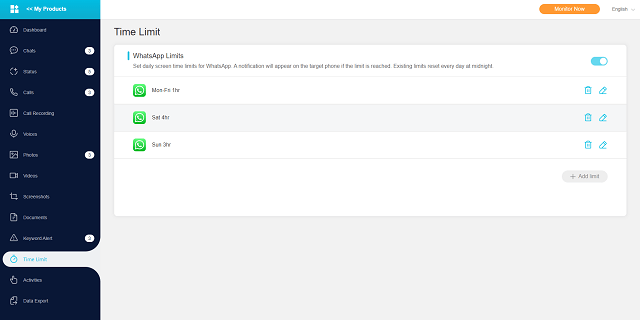 Steps to Use KidsGuard for WhatsApp App
Step 1. Download and install the KidsGuard for WhatsApp on your device.
Step 2. Open KidsGuard for WhatsApp on your device. Then create your account on the sign-up page and log in.
Step 3. Download and set up KidsGuard for WhatsApp on the target phone for only 5 minutes. You can follow the video guide below.
Step 4. Then, you can see someone else's WhatsApp chats and activities on your device.
Why KidsGuard for WhatsApp the Best Parental Control App
KidsGuard for WhatsApp is a powerful WhatsApp monitoring app that outperforms the majority of market competitors. Here are the reasons:
Dedicated to monitoring WhatsApp. You can monitor your child's phone like you use it.
This program switches to incognito mode and remains hidden. So children will never know they are being monitored.
Unlike other spy programs, you do not need to root or jailbreak the target smartphone.
The budget is extremely reasonable. On the market, you will not find an app with such extensive features at such a good price.
100% works. Tested and supported by many well-known technology websites.
Part 3. FAQ about WhatsApp Parental Control
Q1. Can my 12-year-old kid use WhatsApp?
It is a pretty secure social media app as long as a youngster just has trustworthy individuals as contacts on their phone. The most important thing to address with them is how to behave in group conversations, when individuals who are not in their contacts may view all of their messages and send them messages.
Q2. Can I see everything my child does on WhatsApp?
With KidsGuard for WhatsApp, you can.
Q3. Is it permissible for parents to search their child's WhatsApp?
In general, parents should be able to trust their children sufficiently not to check their phones. This will also preserve trust and a healthy partnership.
Q4. How long should a 12-year-old use WhatsApp?
Set limits on the general screen time. The American Academy of Pediatrics does not recommend any time limits for children above the age of six. But since the harmful influence of electronic displays has frequently been addressed, a two-hour restriction would be appropriate for pre-teens.
Part 4. Wrapping Up
Without a question, WhatsApp has provided several advantages to young people. However, everything has two sides, and WhatsApp has a negative influence on young people. Parents will learn why it is so important for WhatsApp to be blocked on their children's smartphones.
You may use a third-party parental control program to keep your children safe and secure online. KidsGuard for WhatsApp is a WhatsApp surveillance solution intended specifically for parents. You can remotely monitor your child's Android phone activity and call history to safeguard them from hidden risks.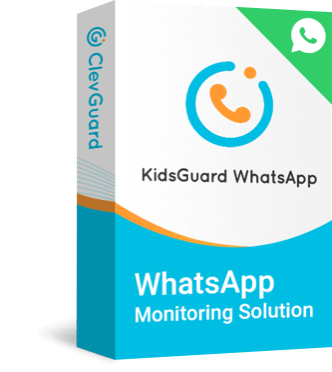 KidsGuard for WhatsApp
The Ultimate WhatsApp Monitoring App for You.