In this article, we are going to show you how to download WhatsApp for Android. WhatsApp is a messaging app with end-to-end encryption, which means that your messages are encrypted from end to end, and can only be read by the person receiving them and nobody else.
WhatsApp is also a very useful app with a lot of features. For example, you can view once a message, see the last seen time, and even archive messages.
Introduction to WhatsApp for Android
WhatsApp is a messaging app that is available for Android and other platforms. It is a very popular app for messaging, with over 1 billion active users.
The app offers several features, including the ability to send messages, photos, and videos. It also offers end-to-end encryption, which means that your messages are secure and can't be read by anyone else.
Additionally, the app has several other features, such as the ability to view your messages once, see the last seen time for a contact, and archive messages.
How to Download WhatsApp for Android
Downloading WhatsApp for your Android phone is easy as pie. All you need to do is make sure that your device meets the minimum system requirements and follow the steps below:
Launch the Google Play Store app on your phone.
Search for WhatsApp in the search bar.
Choose 'WhatsApp' from the list of apps
Tap the 'Install' button and wait a few seconds while it downloads
Once it's finished downloading, open it up and create an account or log in to an existing one
After that, you're all set! You can start using WhatsApp for Android right away!
And there you have it – downloading WhatsApp for your Android device isn't complicated at all! So don't wait any longer – download WhatsApp now and get texting in no time!
WhatsApp End-to-End Encryption
When you install WhatsApp, you automatically get end-to-end encryption. This means that your messages are encrypted on your device and can only be read by the person you're messaging.
This is especially important when it comes to sensitive messages, like those about your health or finances. End-to-end encryption ensures that your information is safe and secure, and nobody can access it without your permission.
Secure App to Monitor Your Kid's WhatsApp Usage
As a parent, you want to make sure that your children are safe when they're using WhatsApp. That's why it's important to use a secure app to monitor their activity. KidsGuard for WhatsApp is one of the best options on the market. It has many features that make it an ideal choice for parents.
How to Monitor Kid's WhatsApp with KidsGuard for WhatsApp
KidsGuard for WhatsApp is an app that helps parents to monitor their children's WhatsApp account activity. With this app, parents can see all the messages their children send and receive, as well as the date and time of each message. In addition, parents can also see the contact information of the people their children talk to on WhatsApp. This app is important because it helps parents to protect their children from online dangers, such as cyberbullying and online predators.
Purchase a Plan and Create an Account
To get started with KidsGuard for WhatsApp, you'll first need to purchase a plan and create an account.
Once you've created an account, you'll need to follow the setup guide and finish the settings. This will include verifying your email address and phone number.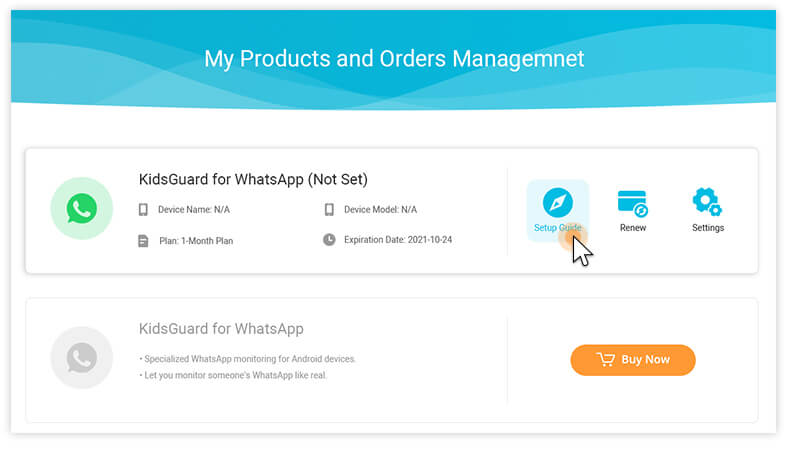 Follow the Setup Guide and Finish Settings
Once you have downloaded and installed KidsGuard for WhatsApp on your child's device, you will need to follow the setup guide to finish the settings. Once you have completed all the necessary steps, you will need to verify your setup before you can start parental monitoring.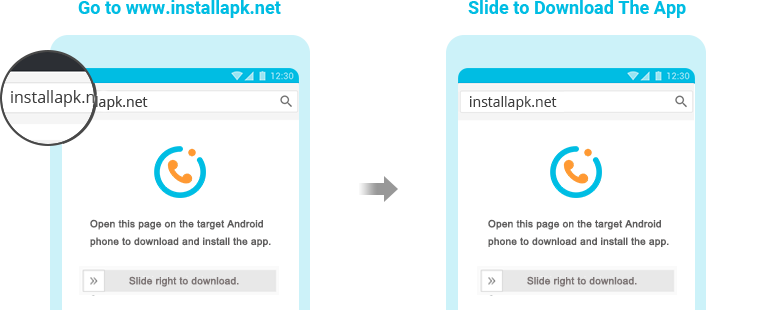 The setup guide is easy to follow and takes only a few minutes to complete. Make sure that you have entered all the required information correctly, including your KidsGuard account email address and password.

Verify Your Setup and Start Parental Monitoring
The next step is to verify your setup. When you're confident that everything looks good, log in to the KidsGuard for WhatsApp online dashboard.
Click on "Verify Setup" and wait while KidsGuard validates your setup. When it confirms that your settings are correct, it will take you to the parental monitoring page. From there, you can review messages, call logs, files sent and received—basically anything that happens on your kid's WhatsApp.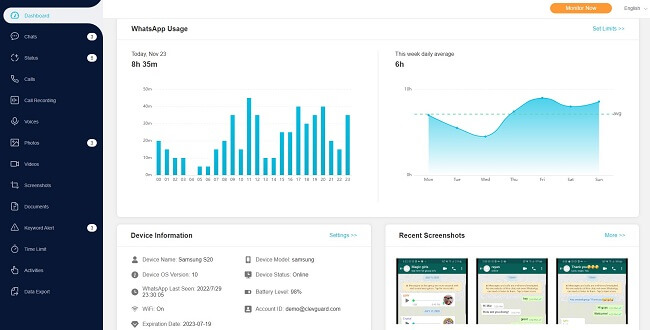 This way, you can make sure they're staying safe online and not engaging in any activity they shouldn't be engaging in. And with alert notifications enabled, you'll get an alert whenever they do something suspicious or dangerous on their device.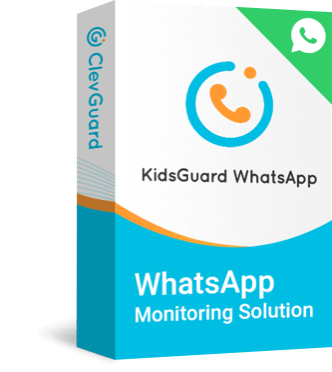 KidsGuard for WhatsApp
The Ultimate WhatsApp Monitoring App for You.
The Advantages of KidsGuard for WhatsApp
KidsGuard for WhatsApp is a flexible, innovative parental control that helps track and protect your kid's online safety.
Here are the main advantages of KidsGuard for WhatsApp:
You can monitor and restrict who your kid interacts with by setting up whitelists to restrict communication.
You can view the contacts your kid has logged into the app and the group chats that are joined in.
You get timely alerts about any suspicious activities that you need to be aware of.
It allows you to keep a check on the messages being sent and received on WhatsApp, including text messages, photos and videos shared, audio sent or received through the app, and also call logs.
It has an easy setup guide as well as fantastic customer service which facilitates quick configuration, support, and help whenever needed.
The Useful Functions of WhatsApp for Android
It's time to talk about WhatsApp for Android's amazing features. These include the View Once Message feature, Last Seen Feature, and Archive Feature.
The View Once Message feature allows you to send messages that can only be seen once by the recipient. This is great if you want to share sensitive information without worrying about it being leaked.
The Last Seen Feature is great for staying in touch with your contacts - it lets you know when someone was last online on WhatsApp, so you can gauge how responsive they will be when you message them.
Lastly, the Archive Feature is a great way to keep your conversations organized by storing old conversations away from the main chat list. This way, your chat list doesn't get cluttered and it makes it easier for you to find specific messages or chats when you need them.
Conclusion
So, there you have it. You can now download the latest version of WhatsApp for Android, and start using it to communicate with your friends, family, and colleagues. Additionally, you can also use WhatsApp to keep your conversations secure and private, by using the end-to-end encryption feature. And, if you have any questions or need help using WhatsApp, be sure to check out our other articles. Thanks for reading!