Are you tired of being tracked by advertisers or geo-restricted from accessing certain content? Do you need to test an app under different location scenarios? Spoofing your location on an iPhone can help you achieve all of these goals and more. In this article, we'll cover the most complete methods about how to spoof your location on iPhone.
Part 1: Technology related iPhone Location Spoofing
As for whether it is difficult to spoof your location on an iPhone, the answer depends on the method you choose to use. Some methods, such as using a location spoofing app or a VPN, are relatively easy to use and require no technical knowledge. Other methods, such as using a GPS spoofing device or manually editing your location data, are more complicated and may require advanced technical skills.
Apple has taken steps to prevent users from easily spoofing their location on an iPhone, particularly for security reasons. As a result, some of the methods that were once popular for location spoofing may no longer work or may require more advanced techniques.
Next, we will provide the most complete ways to change location on iPhone
Part 2: How to Spoof Location on iPhone-6 Ways
Method 1: Using A Location spoofing App
The easiest and most popular way to spoof your location on an iPhone is to use a location spoofing app designed for this purpose. These apps work by emulating the GPS signal on your iPhone, tricking it into thinking you are in a different location than you actually are.
Here are the steps to follow to spoof iPhone location:
Step 1: Choose a Location Spoofing App
There are many location spoofing apps that works on location spoofing but almost all of them are not available on the App Store. Also, not all of them are reliable or effective. Some popular options include ClevGo, iMyFone AnyTo and iTools. Be sure to read reviews and do your research before choosing an app to ensure it works with the latest iOS and has a good reputation. In this article, I take ClevGo as an example as I reviewed it a while ago and found it to work with ease.
The Features make me Recommend ClevGo

GPS simulation supported
Joystic mode
Compability to iOS and Android without Jailbreak or Root
Teleport instantly
Fully works on All Location-Based App without being detected
Step 2: Install and Open the App, Make the Connections
Install ClevGo on your Window or Mac and open it. Use a USB cable to connect your iPhone to the computer. Make sure your iPhone is unlocked and that you have trusted the computer before proceeding.
Download for WindowsDownload for Mac
Step 3: Confirm the Location Transmission Mode
Once connected, in the interface, you should see a map with your current location. Select one of the modes you preferred.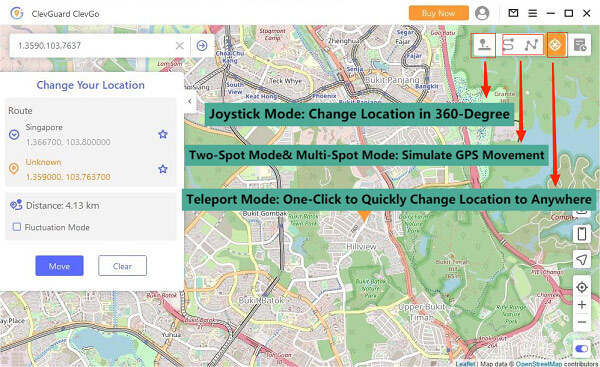 Step 4: Select a Location and Start to Spoof Your Location
For example, you have chosen "Teleport Mode" to quickly change your location. To change your location, you can search for a specific address or location by entering the name or address in the search bar. Alternatively, you can simply drag and drop the map to choose a location.
Once you have selected your desired location, click on the "Move" button. ClevGo will now start to spoof your location. You will find your location has been changed by checking Google Map, or sending a location on WhatsApp to your friends. Sure, other social Apps also work such as Instagram, Facebook, Snapchat or Tinder.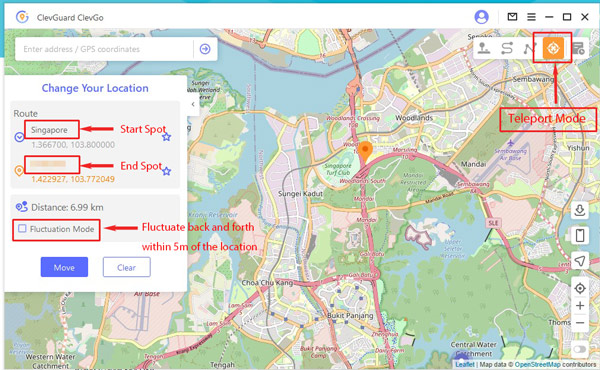 Tip: Stop Spoofing Your Location
When you're finished with your spoofed location, you can stop the spoofing by clicking on the "Stop Simulation" button in the ClevGo interface, or simply restart your iPhone to get back.
Method 2: Change Your Wi-Fi Network
Your iPhone uses Wi-Fi networks to determine your location, so you can spoof your location by connecting to a Wi-Fi network in a different location. This method is not as precise as using a location spoofing app, also, not available to change your location to another country, but it can be useful if you only need to change your location slightly.
Method 3: Use Xcode
If you have access to a Mac computer, you can use Xcode to create a custom app that allows you to spoof your location. This method requires some technical knowledge and may not be suitable for everyone, but it can be a powerful tool for advanced users. Here's how to use Xcode to spoof your location:
Step 1: Install Xcode
Download and install Xcode from the Mac App Store. This is a free development tool for creating iOS apps.
Step 2: Create a New Project
Open Xcode and create a new project. Choose "Single View App" as the template.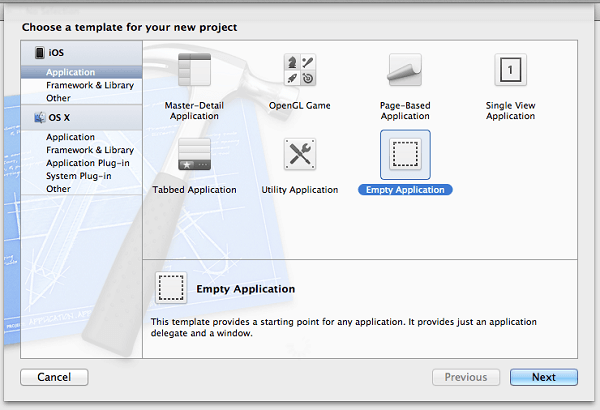 Step 3: Add a Custom Location
Open the project's Info.plist file and add a custom location under the "NSLocationWhenInUseUsageDescription" key. You can use any address or GPS coordinates for the location.
Step 4: Build and Run the App
Connect your iPhone to your Mac and select it as the build target. Build and run the app from Xcode. When prompted to allow location access, grant permission and select "Allow While Using App". Your iPhone's location will now be set to the custom location you specified in Xcode.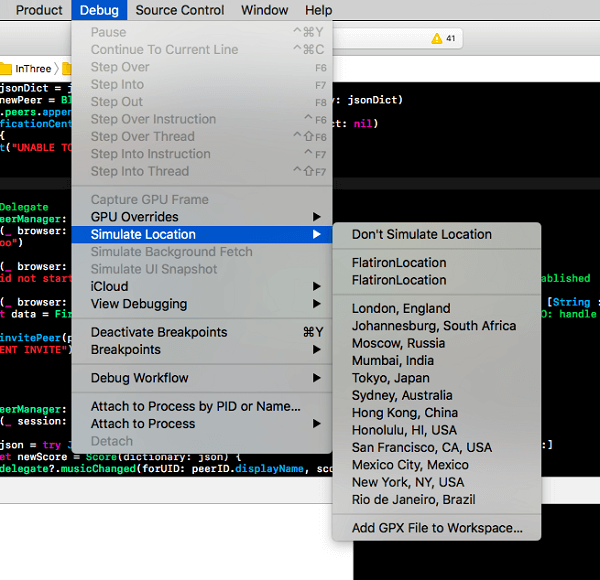 Method 4: Jailbreak Your iPhone
How to spoof location on iPhone without computer? If you are finding this kind of method, Jialbreaking is the answer. In a jailbroken iPhone, you can install a location spoofer directly that are not available on the official App Store onto your device. Cydia is a popular source for jailbroken apps, and you can find a variety of location spoofing apps on this platform. Keep in mind that jailbreaking your device can be risky, as it may compromise the security and stability of your iPhone.
Back to the topic, one popular location spoofing app that can be downloaded from Cydia is LocationFakerX, which is compatible with iOS 10 to 14. It does not work on GPS movement simulation, but it is enough to teleport on the map directly. Here are the steps to use LocationFakerX to spoof your location on a jailbroken iPhone.
Step 1: Install LocationFakerX from Cydia
Open Cydia on your jailbroken iPhone and search for "LocationFakerX." Install the app and then respring your device to complete the installation.
Step 2: Launch LocationFakerX and Spoof a Fake Location
Open LocationFakerX on your iPhone. Search or enter the destination on the bar. Then, add it to "Favorite". During that, you are required to create a favorite name for this project. Once done, click "OK."
Step 3: Make use of the "White List"
If you don't want to spoof all of the locations of your App, you can add them to the in-built "WhiteList."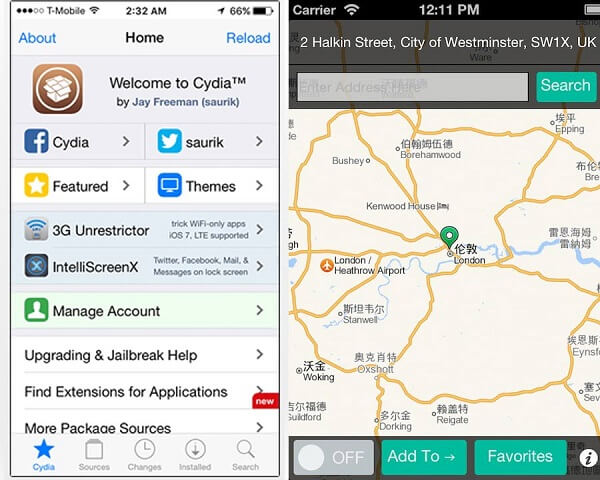 NOTE:
Location spoofing apps like LocationFakerX are only available on jailbroken iPhones and can potentially harm your device. Use caution when downloading and installing this kind of App.
Method 5: Use a VPN
A virtual private network (VPN) can also be used to change your location by routing your internet traffic through their servers. By connecting to a VPN server in a different location, When you connect to a location spoofing service, they will assign you an IP address in a different location. This will make it appear as though you are located in that location when you access the internet on your iPhone. However, this method is less precise than using a location spoofing app, and some apps may still be able to detect your actual location through other means such as IP address or Wi-Fi network.
There are many VPN services available, and some are free while others require a subscription fee. When choosing a VPN, it is important to select one that is reliable, secure, and provides good speeds. You should also make sure the service has servers in the locations you want to spoof.
Method 6: Manually Edit Your Location Data
If you have a jailbroken iPhone and are comfortable working with system files, you can manually edit your location data to make it appear as though you are in a different location. This method is not recommended for most users, as it can be complicated and may cause issues with your iPhone's stability.
Related Read: How to Change iPhone Location without VPN
Final Verdit
It is worth noting that some of these methods may not work with the latest versions of iOS, and using them may void your warranty or compromise the security of your device. It is always a good idea to research and understand the risks and limitations of any method you choose to use for spoofing your location on an iPhone.
And using the locaiton spoofing App would be a great choice to spoof location on iPhone with accuracy, security, and flexibility. You can free download the spoofing App mentioned above and have a try. Then, find the best way to suit your needs.