Google Chrome has various means of tracking your location by use of geological services. Most people prefer to fake location on Google Chrome so as to ensure work privacy and access geo-restricted content.
You should be aware that using Google Chrome in incognito mode won't necessarily fake or rather change your location on Google Chrome, though it's an upgrade in your online privacy status.
Here, I present the best way to completely fake location on Google Chrome (Android/ iOS/ PC).
Part 1: How does Google Chrome Locate you?
There are various means to how Google Chrome can locate and monitor your online activities that include:
Use of GPS
Google Chrome uses GPS services to navigate and identify your exact location and delivers the information to various websites. Some of the PCs don't have GPS services.
Use of IP address
IP addresses are key strings that your device uses to communicate to the internet and can be shared to various websites even without your permission.
Through Cookie tracking
Cookies are used to store your online activity such as logins that Google chrome could use to track your location.
Part 2: How to change location on Google Chrome on your Android or iPhone
Method 1.Using Chrome Location Spoofer
The Best way to fake location on Google Chrome (Android/ IOS/ PC) is using natural Chrome location spoofers such as ClevGo. You can access the application using the link.
ClevGo is a PC application used to naturally change or fake your location when browsing through Google Chrome on your Android or iPhone.
Using ClevGuard, you can easily spoof your GPS location to anywhere around the world while avoiding trackers, thus ensuring ultimate online privacy.
1.1 Features of ClevGo Location Simulator
ClevGuard is one of the most trusted Chrome location spoofers equipped with outstanding features that include;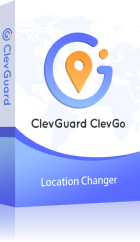 Features of ClevGo for spoofing Pokemon Go Walking
Supports all Android and IOS versions (including Android 13 and IOS 16.)
Easily change your GPS location to anywhere globally.
Works perfectly with all apps that need location access, such as Chrome, social media platforms or AR Games.
GPS movements are simulated naturally.
You can flexibly change your location using a joystick.
You can easily change the speed and route of your GPS movements.
No need for device rooting and jailbreaking.
1.2 How to spoof location on Google Chrome using ClevGo
Illustrated below is a detailed step by step guide on how to spoof or fake your location on Google Chrome using ClevGo:
Step 1: Download ClevGuard on your PC and connect your Android or IOS device using a USB cable. Click trust to pair the two devices.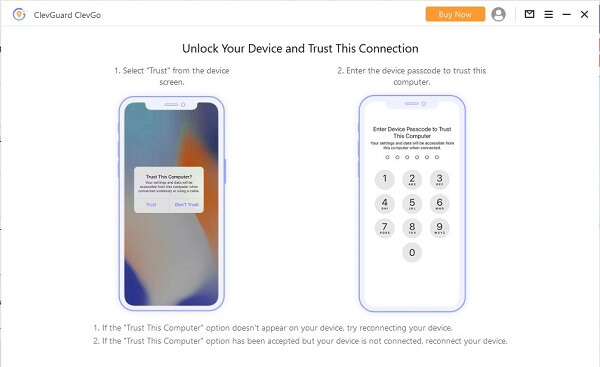 Step 2: Connect both devices to the same wifi and load the maps to find your location.
Step 3: Change your current GPS location by entering teleport mode and choosing your preferred location.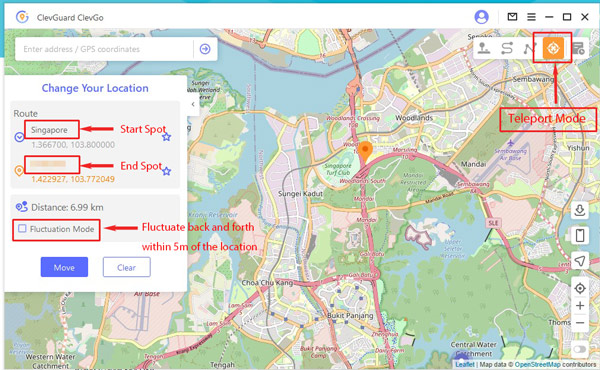 Tips:
If you want to change location on Android and iPhone more naturally, you can use other Modes:
Simulate your GPS movements by choosing either Two-Spot Mode where you choose two locations or Multi-Spot Mode where you can pick no-limited Spots.
Spoof your GPS location using the Joystick Mode which is easy and flexible.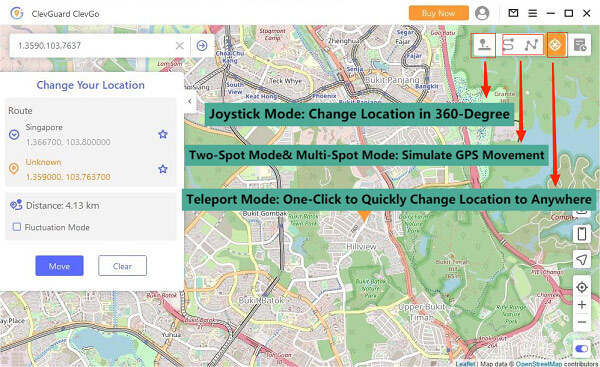 Method 2. Change Google Chrome Location Using VPN
You could also use virtual private networks to fake or spoof your location on google Chrome. Virtual Private Networks are used to protect your online activity while you surf the internet and mask your location. You can change your location to various parts of the world using a VPN.
In this case, we recommend you use Proton VPN, as it has a wide range of features and locations to choose from. It also has a fast and stable network connectivity. The application is also FREE for all and also easy to use, thus User-Friendly.
You can also access Proton VPN across all devices with different operating systems including PCs, Android & iPhone devices, and even routers.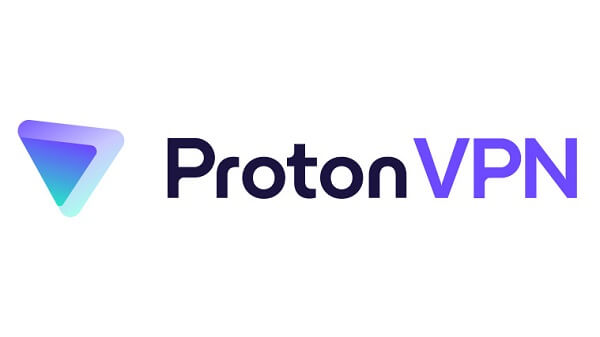 Method 3.Change Google Chrome Location Using default Location Settings
To change the default location settings on Chrome;
Step 1: Open Chrome browser and click on settings
Step 2: Scroll down and click on Advanced and select the option Privacy and Security.
Step 3: Click on the option site settings then select location.
Step 4: You can change location settings to block all websites or ask before accessing location It is advisable to change the region instead of a specific address so as to make it easier to revert back to your initial location later.
NOTE:
This way can not change the location to a specific address and it will get back to the real location once closed the browser.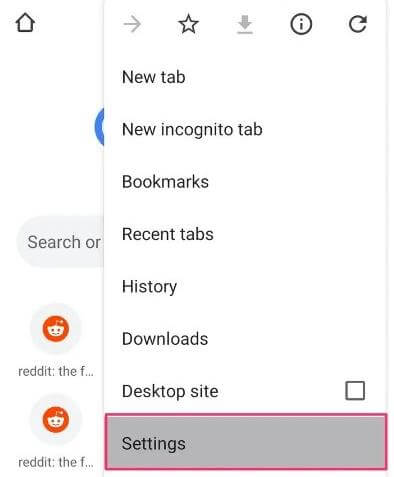 Part 3: How to change Chrome Location on Windows or Mac
There are various effective methods on how to fake location on Google Chrome using Windows or Mac. They include.
Method 1- Fake Chrome Location on Computer on Console
Steps on to manually spoof your location on your Windows/Mac computer.
Step 1: Open your browser. To open developer tools for Chrome, click Cmd+Option+I (Mac users) or Ctrl+Shift+I (Windows).
Step 2: Click Esc and on the left side of the console, click on the console tab menu.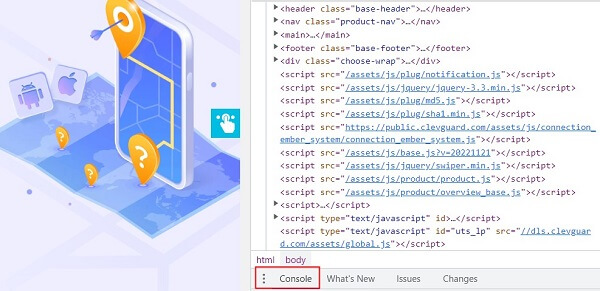 Step 3: Select the sensors option and spoof the geolocation tab to a custom location. Ensure there is no override by not exiting the window and the developer tools are open.
Step 4: Input any longitude and latitude of your choice.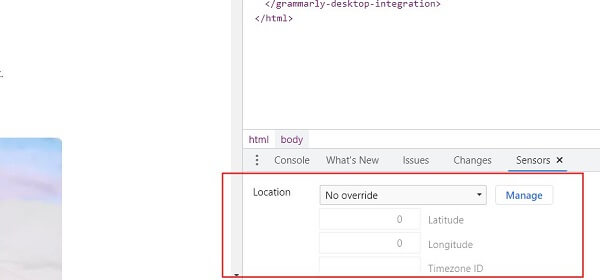 Method 2 - Get the help of Change Location Chrome extension
Another method to fake location on Google Chrome using Windows or Mac is by use of change location Chrome extensions. Here, we recommend using the 'Change Geolocation Extension' (location guard).
This extension helps you change and mask your location thus ensuring online privacy. Here are the few steps to follow and how to use it.
Step 1: Open the chrome extention page and search "change location extension" to download, then, add it to Chrome.
Step 2: Open the addons page and input the longitude and latitude of the location you desire.
Step 3: Reload the browser page to check if the location is in use.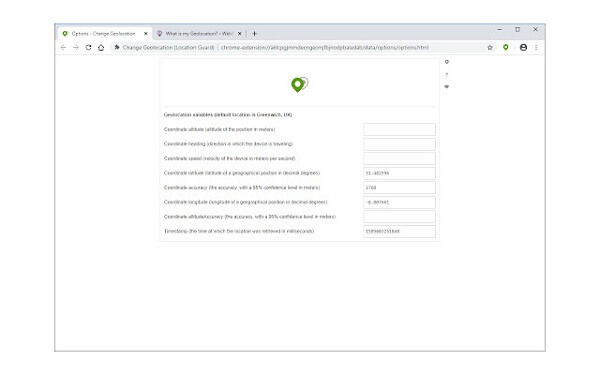 Method 3 - Change browser physical location on website
You can also change your browser's physical location using the following some websites like mylocation.org.
The website will show you your current location, browser geolocation, latitude and longitude, country and IP Address. Click on '
change IP address
', whereby you will be redirected to download and use ExpressVPN, which you can easily utilize to change your device's current location.
NOTE:
But this website is not certificated as secure, so keep cautions when using it.
CONCLUSION
As we have already discussed above, there are numerous methods on how to fake location on Google Chrome in a natural and realistic manner. However, I recommend ClevGo, the best natural location spoofer for Google Chrome (Android/ IOS/ PC), which even bypasses system-based location security systems.
After the test, I think ClevGo is one of the best Chrome location spoofers that can be used by almost all device platforms. It is easy to use and is one of the most trusted in ensuring online privacy and preventing location tracking.
It is always wise to always mask your location while surfing the internet to ensure your passwords and browsing data are secure, to prevent hackers from targeting you and manipulating your device and online activity.