Switching from an Android device to an iPhone can be thrilling, but it can also come with some challenges like transferring your WhatsApp messages and other data from your previous phone to your new one. Though, there is no need to worry, as there are numerous methods available for migrating WhatsApp from Android to iPhone.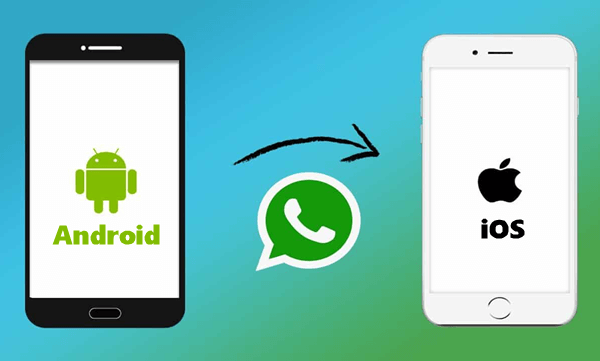 In this article, we will provide you with step-by-step guidance on how to migrate Android to iPhone for your WhatsApp. So, this guide will help ensure that your messages and data are successfully transferred to your new device.
What Does it Mean to Switch WhatsApp to a New Phone?
Migrating WhatsApp means transferring user accounts and data from one device or platform to another, which is usually necessary when a user buys a new device or changes platforms. This process requires;
The User to Back Up Their WhatsApp Data On the Previous Device
Restore That Backed Up Data On the New Device
This guarantees that all chat history, groups, settings, and other data are transferred. The exact steps to migrate WhatsApp may vary depending on the device, but we are providing you step-by-step procedure. By following these steps, you can migrate WhatsApp from Android to iPhone and preserve your data.
What Are the Requirements if I Migrate WhatsApp?
While migrating WhatsApp from the previous device to the new one, here are some mandatory requirements to follow
Compatible devices: While migrating your WhatsApp account, make sure that you have 2 compatible devices that can support the latest version of the application.
Stable internet connection: A consistent and stable internet connection is necessary to enable the smooth transfer of data from your old device to the new one.
Storage space: Sufficient storage space is important to store your chat history and media on the new device.
Back up: Make sure to back up your chat history and media is also very important to ensure that you do not lose any important data during the migration process.
By fulfilling these requirements, you can migrate your WhatsApp account and data to a new device, without experiencing data loss or other issues.

How to Migrate WhatsApp from Android to iPhone?
If you want to migrate WhatsApp from android to iPhone so KidsGuard for WhatsApp is an Android WhatsApp to iPhone migrator. Its efficient backup features offer a smooth and reliable transfer experience. you can easily transfer the following in just a few clicks;
Here follow these steps to migrate WhatsApp from Android to iPhone;
Step 1:
To begin, install KidsGuard for WhatsApp and open the dashboard in your computer.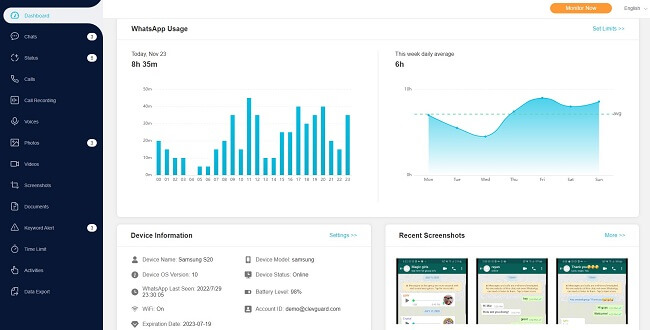 Step 2:
Then you can easily find WhatsApp chats history, call logs with contacts, videos, photos, etc in the left right bar. Scrolling down to "Export" option and choose what you want to transfer to your new iPhone.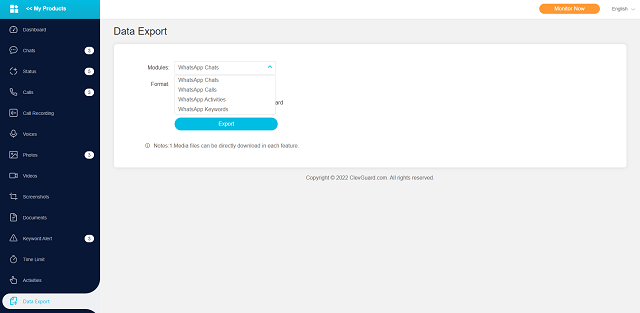 Isn't it easy to transfer WhatsApp data from Android to iPhone? Click "Start Now" to migrate your WhatsApp data!
Common Questions:
Q: Can I Migrate WhatsApp call logs?
Unfortunately, it is not possible to migrate WhatsApp call logs. However, this can be achieved using KidsGuard for WhatsApp.
Q: How to Migrate WhatsApp Call Logs to iPhone?
KidsGuard for WhatsApp can record the target's WhatsApp call logs, giving you access to information on call duration, and contact details. Moreover, to record WhatsApp call logs, KidsGuard for WhatsApp is also a complete WhatsApp monitoring tool that allows users to track all WhatsApp activity on a target device, including;
Messages
Photos
Videos
Audio Files
It works in secrecy mode, so the target user (kids) will not know they are being monitored.
Here are the steps involved in using KidsGuard for WhatsApp to record WhatsApp call logs:
Create an account on the KidsGuard website and purchase a subscription.
Install the app on your device as per the instructions provided.
Log in to the app and activate the WhatsApp monitoring feature.
The KidsGuard for WhatsApp will begin recording all the WhatsApp call logs on the target device.
Access the recorded call logs anytime and from anywhere by logging into your KidsGuard account dashboard.
It's vital to note that KidsGuard works in secrecy mode, so your kids will not know that their WhatsApp call logs are being monitored. Also, KidsGuard does not store any of the monitored data on its servers, ensuring complete privacy and security.
Q: What will change in my data?
While you WhatsApp migrate Android to iPhone, your chat history, including text messages, voice messages, photos, and videos, will not be transferred directly between the two devices.
WhatsApp currently does not provide a built-in way to transfer chat history between different devices. Though, there are third-party apps available that claim to be able to transfer your WhatsApp data from Android to iPhone, such as iCareFone.
If you choose to use this tool, it is essential to note that there may be some differences in how WhatsApp works on Android and iPhone.
Moreover, some media files, such as photos and videos, may not be compatible between the two devices. It means that some videos and photos may display only on iPhone or Android which could result in issues with displaying or playing them on the new device.
Final words
Migrating WhatsApp from Android to iPhone may seem like a daunting task, but with the right guidance, it can be done with ease. By following the step-by-step process outlined in this article, users can transfer their WhatsApp messages, chat history, media attachments, and other data to their new devices.