WhatsApp Business is an application that is specifically designed to help businesses interact with their customers. With over two billion users worldwide, WhatsApp is a popular platform for communication, making it an ideal tool for businesses to connect with their clients.
WhatsApp Business offers a multitude of features that cater to the needs of small and medium-sized businesses. However, is there a to monitor others' WhatsApp Business from another device? Is it possible for company to monitor WhatsApp Business users to check the content of messages and make sure the phone isn't being used for inappropriate conversations? You will find the answer through this article.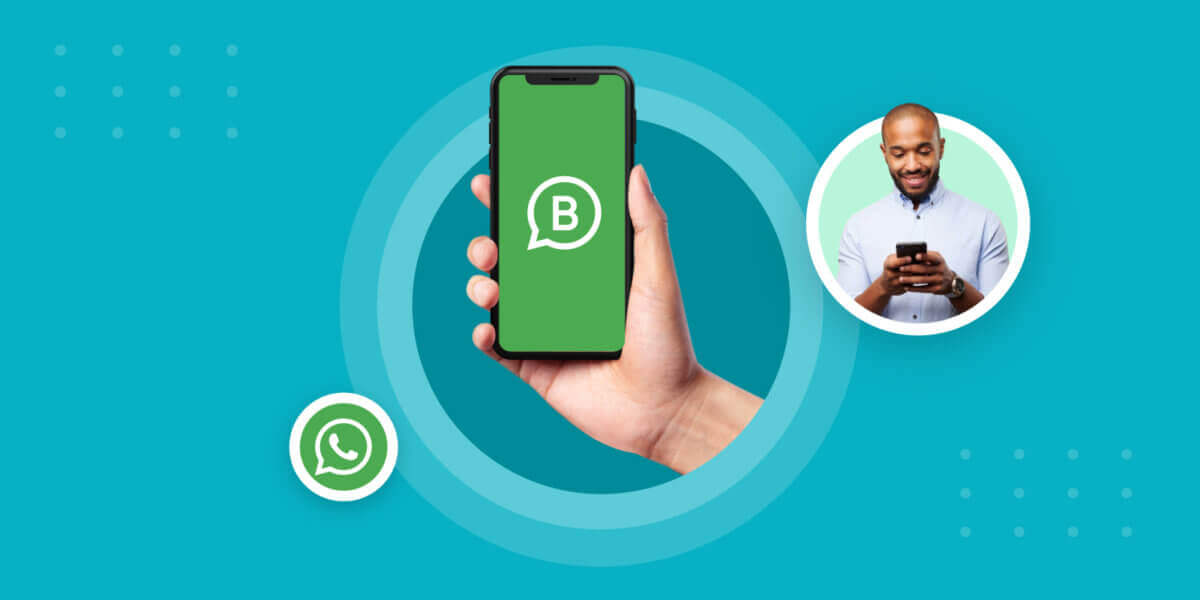 Part 1: Why is WhatsApp Business So Popular?
WhatsApp Business is equipped with a range of features that facilitate effective communication between businesses and their customers.
Features of WhatsApp Business
1. Business Profil. It provides creating a business profile with helpful information, which help customers konw the company and product.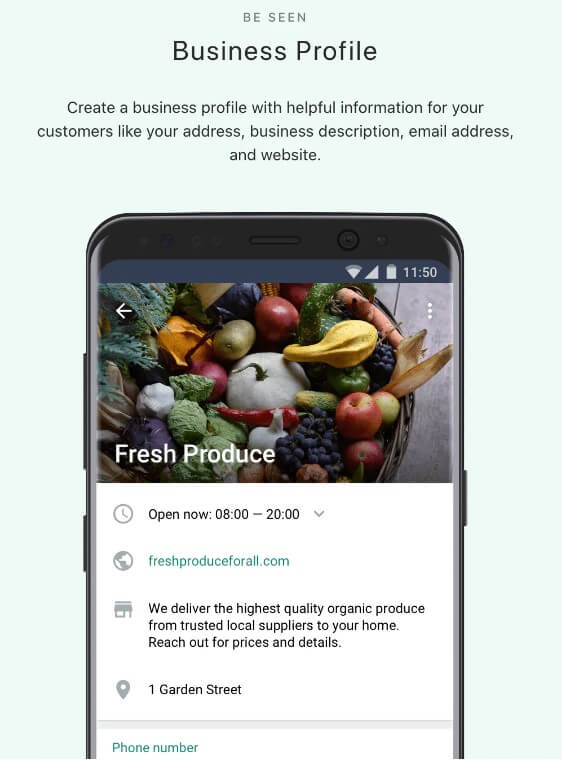 2. Set Business Hours. Clear working hours won't leave customers with a bad impression of the company by being left out.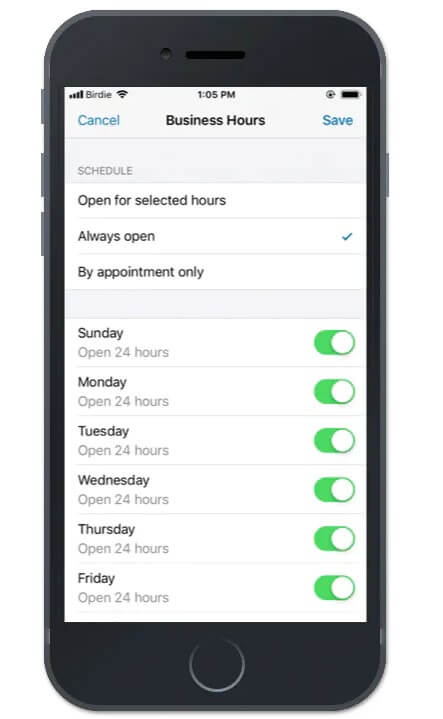 3. Automatic Message. Companies can set automatic greetings, quick reply, leave messages and other instant response.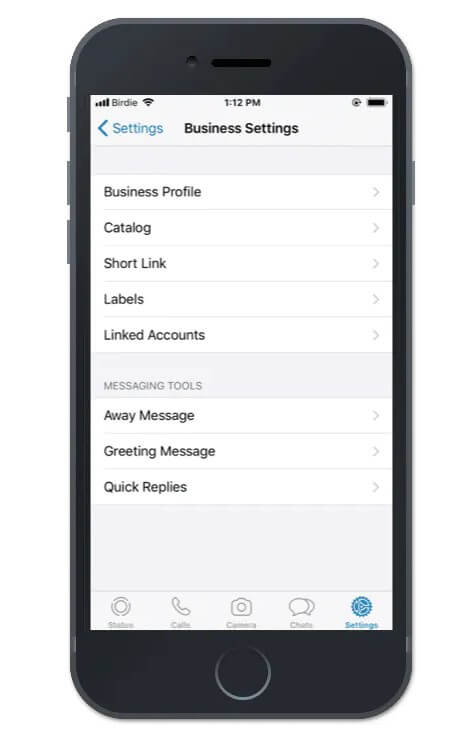 4. Product Catalogs. Companies can systematically list the company's products, which is convenient for customers to browse and buy.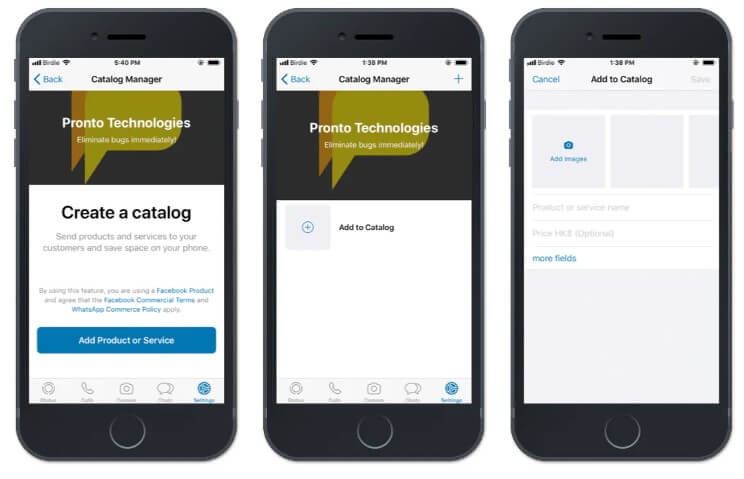 5. Contacts Labels. WhatsApp Business can strategically distribute offers through broadcast messages by classifying customers according to their characteristics or needs, such as new customers, repeat customers, and prospects.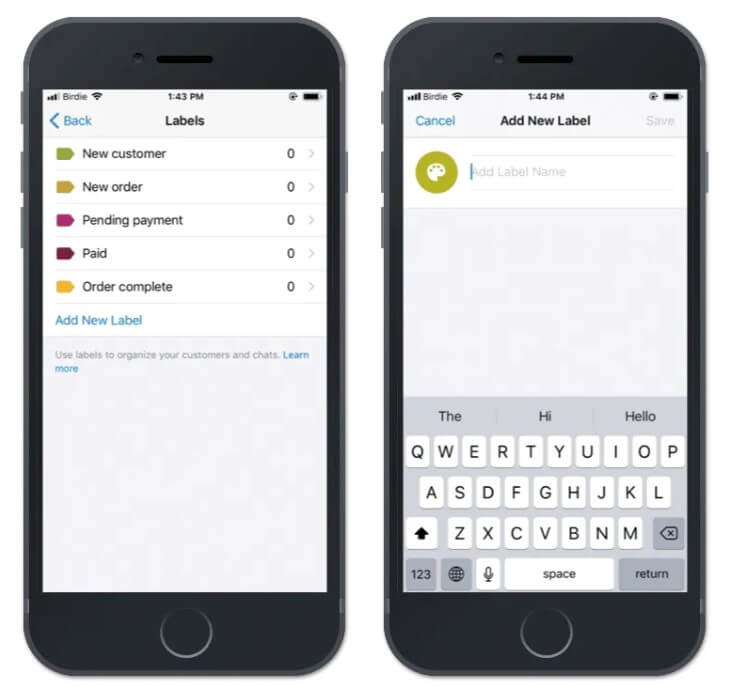 6. Message Statistics. One of the standout features is the ability for companies to analyze message statistics,which includes how many messages were successfully sent, delivered, and read to calculate customer reach and conversion rates. This data can provide valuable insights that can inform future marketing strategies and content creation.
Part 2: Is There a Way to Monitor WhatsApp Business From Another Device?
The answer is yes! It is possible to monitor WhatsApp Business from another device. This can be achieved through the use of monitoring apps such as KidsGuard for WhatsApp, which is designed to provide remote access to WhatsApp Business accounts, enabling users to monitor the WhatsApp Busniess data and activity.
KidsGuard for WhatsApp can be particularly useful for employers who wish to monitor their employees' use of WhatsApp Business. By using a monitoring app, employers can track their employees' messages, calls, and other activities on their devices but no need of login the WhatsApp Business account.
In addition, KidsGuard for WhatsApp can also be used by individuals who wish to check their partner's WhatsApp Business data. For instance, if a person suspects his partner of infidelity, he can use KidsGuard for WhatsApp to access all WhatsApp Business data without logging in.
Part 3: How to Monitor Someone's WhatsApp Business From Another Device?
KidsGuard for WhatsApp is a powerful monitoring tool designed to provide comprehensive insights into WhatsApp Business data. It allows to works with both Android and iOS. Also, it offers a wide range of features and functions that make it a top choice for monitoring WhatsApp Business data and activity.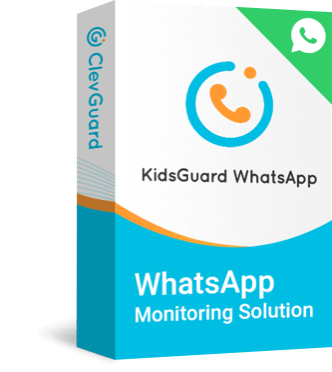 When it comes to checking WhatsApp without going online, you have multiples features to do using KidsGuard for WhatsApp. These include:
Monitor WhatsApp Messages to Know Everything Typed:
This is one of the most powerful features of KidsGuard for WhatsApp. It can record each sent, received and deleted messages including group chats. You can read deleted WhatsApp secretly. It also shows you about the contact the target user talks to on WhatsApp.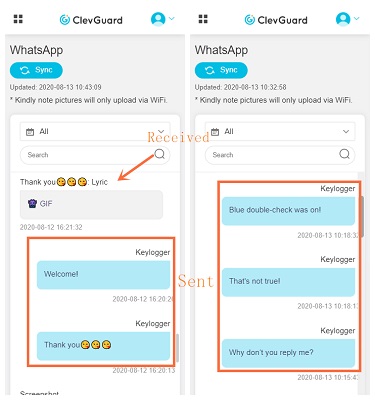 Capture WhatsApp Screenshot Once the Target is Online:
KidsGuard for WhatsApp automatically captures screenshots once the target is using WhatsApp. You can also manually send a screenshot request, which helps you find signs of WhatsApp addiction or check view once WhatsApp messages, as well as online status without being seen on WhatsApp.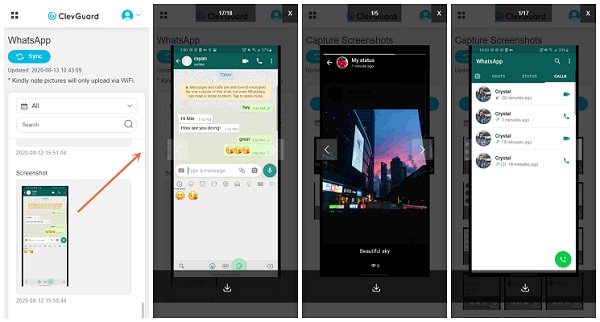 Detect Every Photo & Video Shared on Their WhatsApp:
It has a dedicated WhatsApp monitoring module that can show you all the sent and received media files of the WhatsApp user. Just go to the corresponding Photo or Video features, and select WhatsApp folder, all files will be shown in chronological order.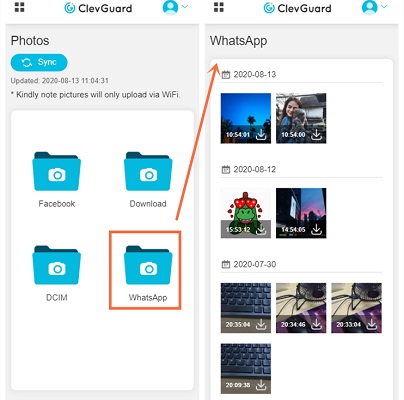 Additionally, you will be able to track their WhatsApp's daily usage, screen time, app detail and more. And if these features interest you, you will be excited to check out more than 30 other features apart from WhatsApp monitoring that KidsGuard for WhatsApp comes with. If you want a glimpse of these, you can click to check out its live demo for free!
Step 1. Visit the official website of KidsGuard for WhatsApp and choose a plan, then create an account.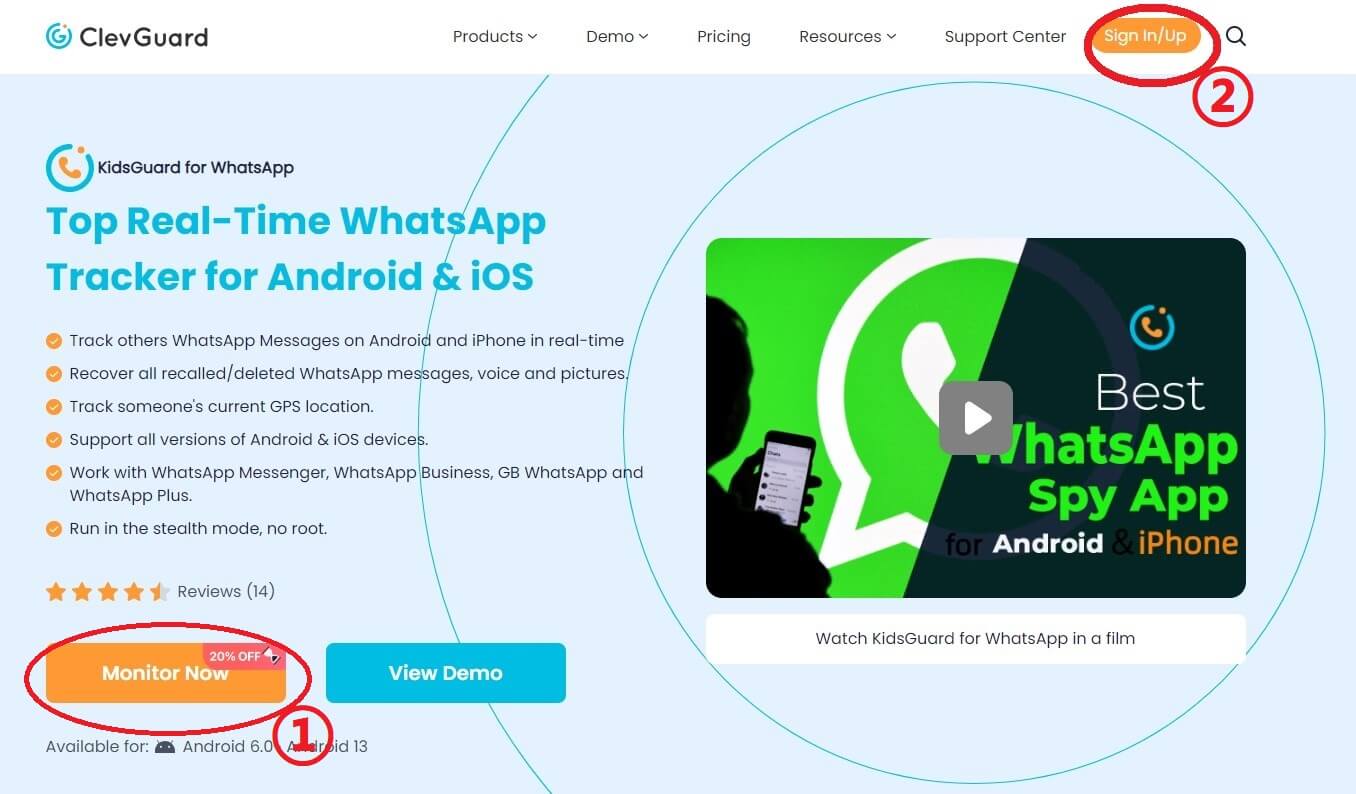 Step 2. Download from www.installapk.netand install the KidsGuard for WhatsApp app on the target device.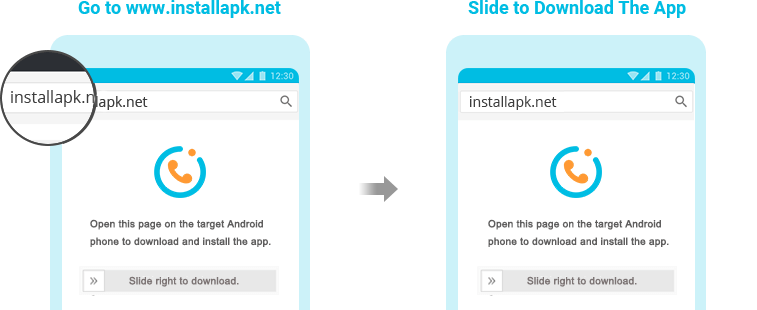 Step 3. Follow the on-screen instructions to complete the setup processes.

Step 4. Log in to your KidsGuard for WhatsApp account on your own device to start monitoring the target's WhatsApp Business activity.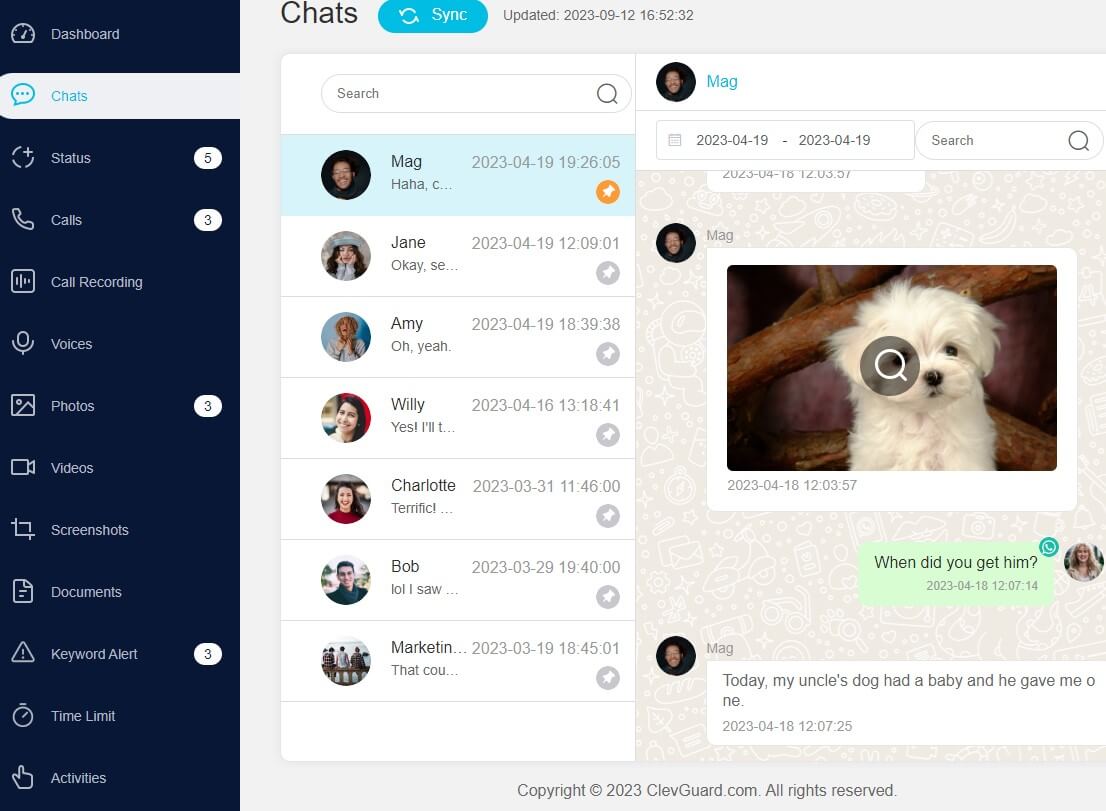 The Other Way to Monitor Other's Whatsapp Business
Monitor Others' Whatsapp Business Via the Settings:
You can join the beta program so that you can use and monitor the WhatsApp Business with multiple devices or users. This process is easy to make through.
Here is the steps: go to your WhatsApp Business app, then tap More Options > Settings/Linked devices > Multi-device beta >JOIN BETA.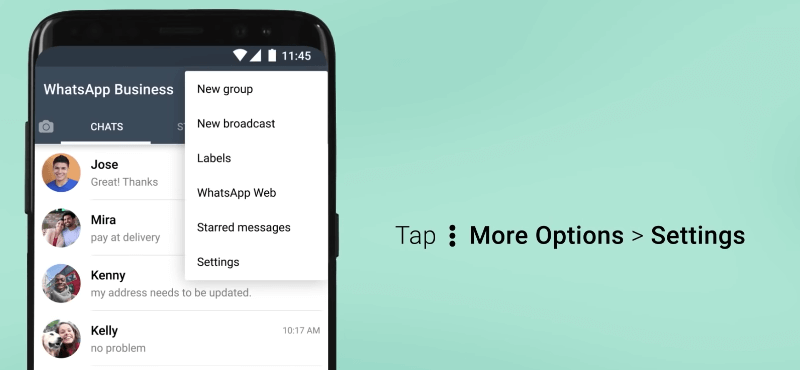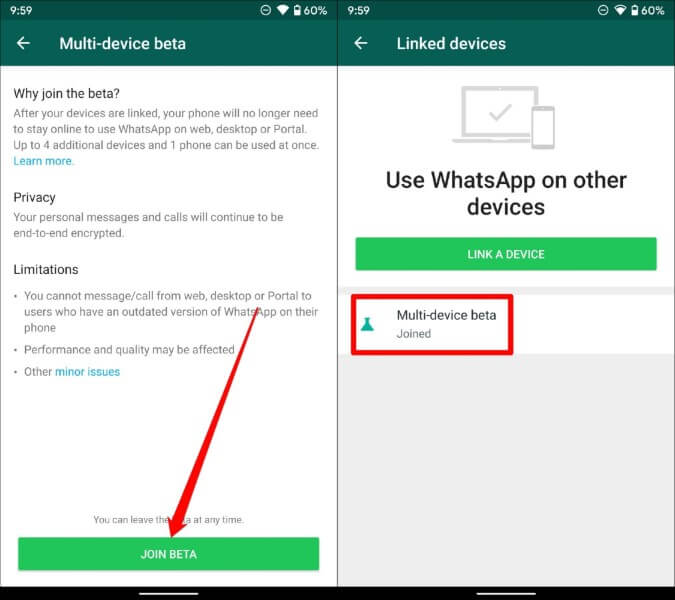 Monitor Others' Whatsapp Business Via the WhatsApp Business API:
The WhatsApp Business API doesn't come with its own interface. In order to use it, you'll need a customer service platform such as Trengo.
You're set up in no time: sign up for a free trial account; connect your WhatsApp Business number to Trengo; apply for the WhatsApp Business API.
Tips for Using WhatsApp Business and KidsGuard for WhatsApp
How to protect my WhatsApp Business from being monitored?
In orde to protect your WhatsApp Business from being monitored, you should always keep your device secure, never share your device or account credentials with others, and regularly check for suspicious activities on your account. You can also use a strong password, enable two-step verification, and regularly update the app for enhanced security.
How to read deleted WhatsApp Business messages?
With a monitoring app like KidsGuard for WhatsApp, you can access deleted messages as the app keeps a record of all messages sent and received on the target's WhatsApp Business account. Remember, with great power comes great responsibility. So, use these tools wisely and ethically, respecting the privacy and rights of others.
Conclusion
In today's digital age, monitoring someone's WhatsApp Business can provide valuable insights into their activities and interactions. Whether you're a concerned employer, a suspicious partner, or a parent looking to protect your child, KidsGuard for WhatsApp can help you keep tabs on WhatsApp Business usage effectively.
However, it's important to use monitor tools responsibly and ethically. Remember to respect others' privacy and only monitor someone's WhatsApp Business with their consent or for legitimate purposes. With the right approach, monitoring tools can be a powerful asset in ensuring safety and transparency in our digital interactions.