With the advancement of technology communication has become really easy and effortless. No matter where you're in the world unless you have a mobile and internet connection with yourself you can talk and see your loved ones even if they are at the other corner of the world. There has been many social media that served for this purpose, but skype has been considered more efficient when it comes to far off communication specially for group chats. You can add up to 600 people and share pictures, video, audio and documents with your school, friends, family, coworkers, and business partners.
Don't know how to start a group chat on skype? Don't need to do more searching. Here in this session we will show you how to create a group chat on skype android, desktop and iPhone.
Part 1. How to Create a Group Chat on Skype Android?
Step 1. Open the skype on your Android mobile and tap on the New Chat button.
Step 2. Now select New Group and set up your group.
Step 3. Set a name of your group and click Continue.
Step 4. Choose an image for your group by click on the upload button. Select the image in your gallery and click the check mark.
Step 5. Next pick the color of the chat by clicking on the Edit button. Tap the right arrow to confirm.
Step 6. Now select the contact that you wanted to add to your group. You can select them by typing the name of your contacts or from the recommended list.
Step 7. Once selected tap Done and start chatting with your friends, family or colleagues.
Doubt: Is It Possible to See Someone's Skype Group Chats without Knowing?
Yes! In the past hacking was considered as a difficult task as you need to have a strong technical background in order to peep into someone's mobile data. But today nothing is difficult as long as you have the right tool in your hand. There are many monitoring apps in the market that allows you to spy on someone's mobile activites without doing any technical work.
KidsGuard Pro has a long history of providing technical assistance to parents, partners and companies to keep an eye on their child, spouse and employee mobile activities without making much effort. The app comes with an extensive array of features that allows you to view the skype group chat on your target mobile. It is 100% safe to use and work in incognito mode to protect you from being caught.
Unlike other apps KidsGuard Pro cares about customer data privacy and doesn't require jailbreaking or rooting in order to access the target mobile data. You simply install the app on your target mobile and remotely see their activities on your Dashboard.
[Tutorial] How to See Skype Group Chat on Android?
Step 1. create an account
Head over to ClevGuard site and create a KidsGuard Pro official account by using a valid email and username. Now buy a premium plan it will unlock the features that you need to see the group chat on target skype account.
Step 2. download the app on target Android
After purchase you will be landed to My Product and Management page. Here you will get the link to download the app on target mobile. Grab the target mobile phone and install the app using that link. After installation you will need to configure the app by following the on screen prompts and setup guide. Once finished, close the app and leave the mobile phone.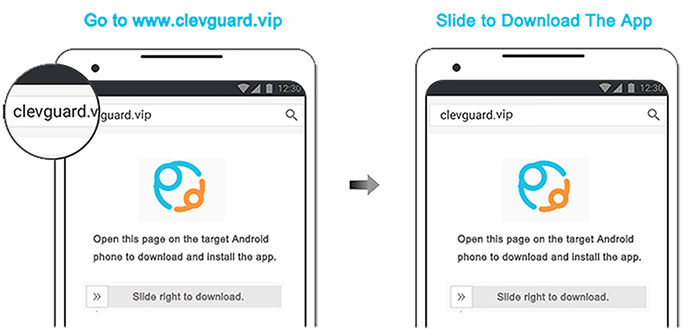 Step 3. see Skype messages
Now log in to your official KidsGuard Pro account on your mobile or PC. Open the dashboard and here you will see all the target mobile activities including the group chat on that skype account.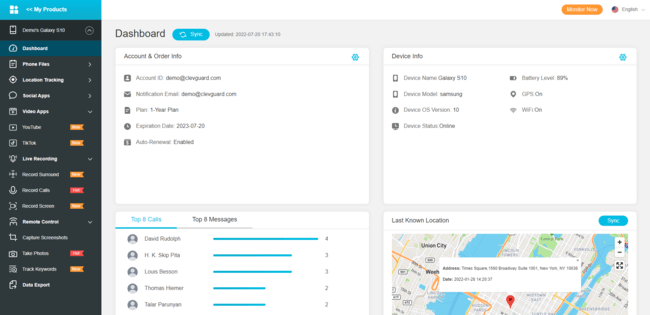 Other Chats KidsGuard Pro for Android Can Check
Text messages on phone
You can not only see the chat on target mobile skype accounts but also on all other social media apps like Whatsapp, Instagram, Snapchat, Facebook and more. You can also read all the text messages and imessage on the mobile phone.
Get call history
KidsGuard allows you to view the complete call history of your target mobile. You can see the record of all the incoming and outgoing calls along with the caller ID, time, date and call duration.
Record surrounding live, phone calls, phone screen
KidsGuard Pro is one of the best recorder that you will ever find when it comes to spying. It not only allows you to record live call, and screen activities on the target account but also enables the microphone to hear the surroundings of that mobile. In this way you can hear the offline conversation of your target person.
Track location
Whether you want to track the history location or real-time location, KidsGaurd pro keeps you updated for both. You can even mark specific areas on the map and get notified when the target mobile enters or leaves that place.
Check search history on browser, YouTube and TikTok
You can get a complete record of your target browser, youtube and tik tok search and watch history. This can greatly help you to see what your kids watch on the internet and take precautions in case of mishappening.
Keyword alarm
If you don't have time to read each outgoing and incoming message due to your busy schedule. Just set the keyword alarm and you will get notified when the found any word related to these keywords in these messages.
Part 2. How to Make a Group Chat on Skype iPhone?
Starting a skype group chat on your iPhone is way similar to that of the Android. The only difference lies in the graphical user interface. Here is how you can do that:
Step 1. Download skype for iPhone from the Apple store and create an account or log in to an already created account.
Step 2. After log in you will land on the main menu of the app. Click on the Notepad button on the top writer corner to start a new chat.
Step 3. Choose group chat from the menu and click on it.
Step 4. Follow the on screen instruction to create the name and add the contacts to your group. You can add up to 600 contacts in your group.
Step 5. Once finished click Done and start chatting with your contacts.
Part 3. How to Set up a Group  Chat on Skype on Desktop
Step 1. To start a group chat on the desktop , first download Skype on your desktop.
Step 2. Log in to your account and click on the New Chat button.
Step 3. Select New Group Chat from the drop down menu.
Step 4. Give a name to your group and click on the right arrow.
Step 5. Select your group contact from the recommendation below or by typing their name.
Step 6. Click Done and your group has been created. Type your message and start chatting with your friends.
Conclusion
That's all there is to it. Next time when you want to have a group chat with your friends, family members or colleagues in different parts of the world, you can do it by using the skype. It is straightforward and takes only few taps and click to start a group chat. Moreover, if you want to see your subordinates, kids, partner or friends group chat with their friends you can view it with the help of KidsGuard Pro. It's simple to use and provide real-time monitoring throughout the world.