Snapchat is an extremely popular messaging app among users around the world.
But currently, there is a growing safety concern about "is Snapchat safe?" among Snapchat's users, especially because there are many who share very personal photos and sensitive messages momentarily.
Therefore, in this article, we will review how safe Snapchat is and what you can do to keep your privacy intact.
Part 1. Is Snapchat Safe?
Unfortunately, Snapchat is not very safe in terms of privacy and security. Here is why we cannot call Snapchat safe for all users.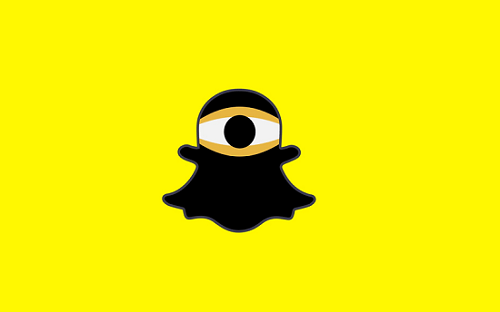 Privacy Issue
There had been multiple data breach incidents associated with Snapchat which exposed the personal data of Snapchat users. Hence, it is safe to say when Snapchat cannot even protect its databases, Snapchat privacy in terms of data and messages is not safe at all.
Hacking Issue
No app in the world is safe from hackers, and Snapchat is no exception. There are various ways hackers can hack and open your Snapchat account. They can get your account credentials from data exposed in data breaches.
They can deploy spyware and collect your account credentials from your phone. Even during email breach incidents, they can get your email address and password and, thereafter, get control over your Snapchat account.
Encryption Issue
Snapchat does not have end-to-end encryption for messages. It is only applicable for snaps. Besides, there are forensic experts who have proven that the disappearing snaps can be recovered using reverse engineering.
Therefore, the personal photos you share with your near ones momentarily and delete them after some time, are not removed from Snapchat's database. So, they can be recovered by hackers, and your life can become a nightmare.
Part 2. What Can You Do to Protect Your Snapchat Privacy?
Stopping the use of Snapchat is not an option as all your friends are available on Snapchat. But you have to protect your Snapchat privacy.
How to protect Snapchat privacy? Well, you can get the help of an external security app like ClevGuard anti-spyware that can provide complete protection from your Snapchat being attacked.
1. How ClevGuard SafeGuard Your Snapchat Privacy?
We recommend ClevGuard anti-spyware to safeguard your Snapchat privacy and prevent hacking attempts on your Snapchat account. Here is the list of features ClevGuard offers its users for ensuring safety and privacy.
Detect and Remove Spyware
Spyware can get downloaded on your phone from malicious websites as well as through email attachments. There could also be some spy apps on your phone that act as regular apps but spy on your Snapchat and phone activities in the background.
ClevGuard app scans your phone and spots spyware for you. If you find hidden spy apps that are threats to your Snapchat and phone, you can delete them instantly with a single tap to protect your phone privacy.
Protect Your Phone in Real-Time
Preventing the spyware from getting downloaded on your phone should be the priority to ensure no spyware is watching your phone activities including what you are doing on the Snapchat app.
ClevGuard app has a unique real-time protection feature that stays active 24/7 and alerts you as soon as any spyware tries to get downloaded on your phone.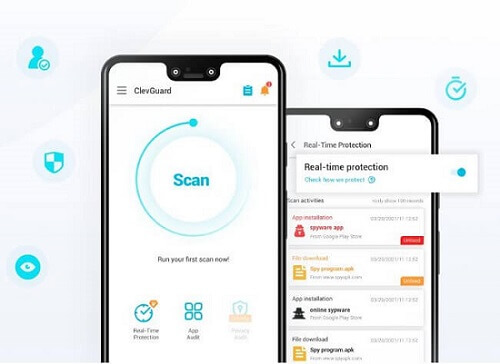 Check Email Breach
We have stated earlier that if someone gets your email account credentials with which you have opened your Snapchat account, he can hack your Snapchat account easily. Hence, you should know if your email address is exposed in any data breach incident.
ClevGuard lets you check email breach and provides all the details when exactly your email address was exposed. Most importantly, the app suggests the security steps that you should take immediately to prevent further damage.
Protect Your Phone Microphone and Camera from Being Hacked
ClevGuard app notifies you whenever any app tries to use your phone camera or microphone without being the active app on the screen. This will allow you to take prompt steps and prevent any spying activity the hackers planned by taking control of your phone camera and microphone.
This is a major step towards protecting your privacy, especially when you are taking personal snaps for Snapchat.
Clean Phone Junk Files
ClevGuard app lets you clean your phone junk files instantly with a single tap. Every app leaves behind junk files that uselessly take up space on your phone storage and even slow down the performance of your phone.
For example, Snapchat leaves behind a lot of junk files containing media files which take up a lot of space. You can clean junk files for all apps as well as selective apps as per your preference.
2. How to Protect Your Snapchat Privacy with ClevGuard?
Now that you know that Snapchat privacy issues are not a myth but real, you should immediately protect your Snapchat privacy with the ClevGuard app. Here are the steps to install and use the app.
Step 1. Download ClevGuard on Your Phone
Click "Google Play" button below, it will skip to the ClevGuard download page, and then you can install ClevGuard on your phone.
Step 2. Scan Your Phone with ClevGuard
After installation, open the ClevGuard app. From the home screen of the app, tap on the "Scan" button.
Wait for the app to scan your phone and to see if there are any spyware or malicious files that are harmful to your Snapchat and phone.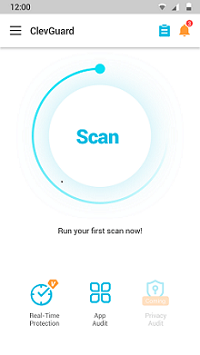 Step 3. SafeGuard Your Snapchat
After scanning is over, you can check the scanning report and see if there are threats to your Snapchat and phone. If yes, you can tap on "Resolve All" button to fix all the issues instantly.
Moreover, ClevGuard will provide you real-time protection and safeguard your Snapchat and phone 24/7.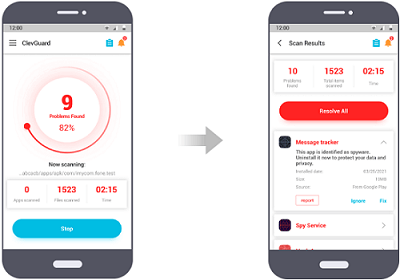 Part 3. Protect Your Snapchat via Doing Changes on Snapchat Private Settings
Even though the answer to the question of how safe is Snapchat is negative, there are some private settings you can change on the Snapchat app to protect your Snap account's privacy. Here are the steps to go to Private Settings.
Step 1: Open Snapchat app.
Step 2: Tap on the profile picture at the top-left corner.
Step 3: On the next screen, tap on the Gear icon at the top-left corner.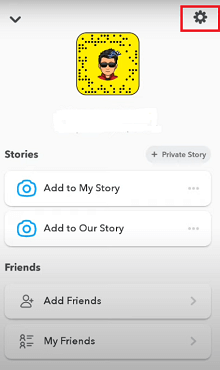 Step 4: Scroll down and under the Additional Service heading, tap on the Manage option.
You will see options such as Contact Me, View My Story, See My Location, and likewise. Here are the changes you should make immediately.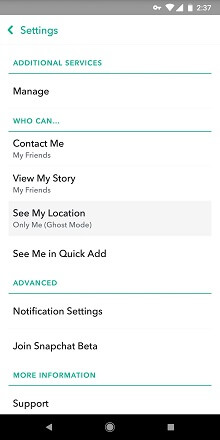 Change Who Can View My Story
The default setting on the "View My Story" option is Friends Only. However, if you think that some of your friends on Snapchat can misuse your Story by taking a screenshot, you can always opt for the Custom option. Under the Custom option, you can select only those friends who will be able to see your Story.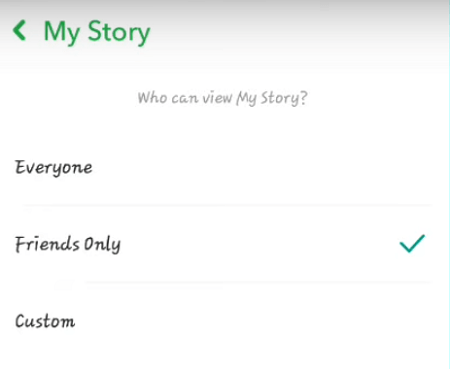 Customize Your Location on the Map
Your location shows up on Stories and Snaps as well as Snap Map as per your settings. You can change the settings from the "See My Location" option. Ideally, only a few close friends and your family members should be able to see your location.
Therefore, change the option from My Friends to Only These Friends option. Thereafter, select only those people on your friend list whom you want to show your location. If you do not want anyone to see your location, you can turn on Ghost Mode.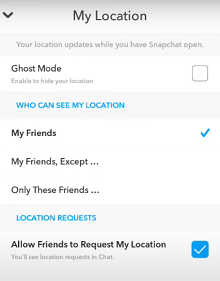 Control Who You Allow to Contact You
There is an option under Private Settings called Contact Me. By default, it is set to My Friends. However, if you have tweaked the option any time to Everyone, you should restore it back to My Friends.
Don't let everyone contact you easily because hackers are scamming people by deceiving messaging and sending spyware through Snaps.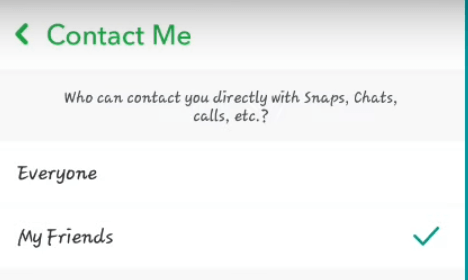 Part 4. More Tips of Staying Safe on Your Snapchat
Apart from installing ClevGuard app and changing Private settings on Snapchat, here are some more tips to follow to secure your Snapchat account.
1. Set up Two-Factor Authentication
Even though the answer to "Is Snapchat secure?" is no, Snapchat does provide some security steps for its users. Setting up two-factor authentication is a must for securing your Snapchat account.
Even when hackers get your Snapchat login credentials, they cannot login without the OTP sent to your linked phone number or PIN on your authentication app. Below is the steps of setting up two-factor authentication:
Step 1: Tap on your Profile picture.
Step 2: Tap on Gear icon to open Settings.
Step 3: Tap on Two-Factor Authentication option.
Step 4: Tap on Continue option to finish setting it up.
2. Keep Your Snapchat Updated
Snapchat updates their app not only to bring new features but also to fix any security issues through which hackers might have got entry.
Therefore, you should update your Snapchat app as soon as it is available. Do not delay it because your current (not updated) Snapchat app could be vulnerable to hacking attempts.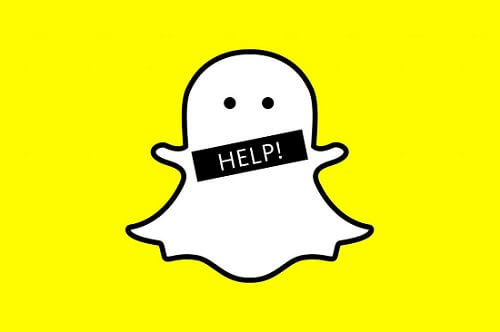 3. Don't Share Your Username or Snapcode Randomly
Snapchat is designed to let users chat among close friends only. This is because Snapchat has most features that are meant for sending to close friends only.
Therefore, do not share your username or Snapcode with everyone randomly. It can land under the radar of scammers and your privacy can be blown away.
4. Pay Attention to Screenshot Notifications
If you think the answer to the question "Is Snapchat safe for the privacy of your disappearing messages?" is yes, you are completely wrong. The person you are sending a disappearing message to can always take a screenshot of your message with another phone.
Snapchat only sends users screenshot notifications when the receipt takes screenshots with its own phone. Therefore, it is not safe to send compromising and private photos and messages on Snapchat.
Conclusion
Hopefully, you have received the answer to the question "Is Snapchat safe to use?" and understood why it is not safe at all. You have to ensure your own safety and safeguard your privacy while you use Snapchat.
We recommend you install the ClevGuard app for complete protection from hackers on your side. Besides, make the changes to your private settings and take the steps we have mentioned for safety and privacy.