Since 2017, you can make donations through Facebook. Personal fundraisers and nonprofit fundraisers are the most common requests for financial assistance via Facebook.
Donation is noble, however, due to the collection of vast sums of money, people's concerns about "is it safe to donate through Facebook?" arise accordingly.
In this article, we will discuss "is donating through Facebook safe" and show you how to secure your Facebook donations.
Is It Safe to Donate through Facebook?
Reports indicate that donations through Facebook crossed the $300 million in the first year of launch, with the donations reaching over $1 billion the following year. Thus, Facebook donations seem to be safe and fulfilling the primary goal.
However, there are still problems such as privacy and donating scams, therefore, the "is it safe to donate through Facebook" becomes the top concern of Facebook donors: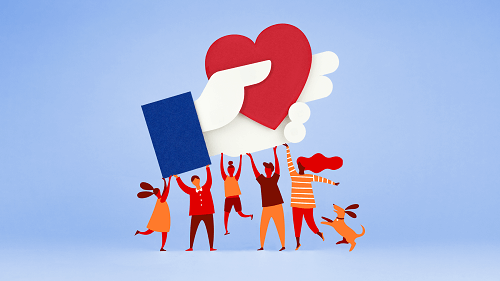 Data Breach:
Facebook has been in legal trouble concerning its approach to the data privacy of its users. Currently, the platform hosts over 2 billion users, making it the most effective platform to appeal for donations.
However, the 2016 whistleblower report on the mishandling of personal data of over 50 million users results in the public doubting the platform's capability to ensure your personal information's safety.
Furthermore, the involvement of marketing firm Cambridge Analytica in using the information to influence the 2016 US presidential election increases the public's negativity towards donations through Facebook.
Fundraiser Scams:
Another reason you may wonder is safe to donate through Facebook from the increase in fundraiser scams. Since Facebook Fundraisers in 2017, several cases of fake donation appeals have continued to emerge yearly.
Despite the company enforcing policies to prevent fraud on their platform, there are still several loopholes that fraudsters exploit to make you part with your money.
Moreover, investigations reveal that over $20 billion is lost annually through the above reasons. Therefore, in what ways can you determine is it safe to donate money through Facebook?
3 Safe Ways to Donate on Facebook?
With data breaches and donation scams being the leading causes of your uncertainty with Facebook Fundraisers, here are 3 safe ways to donate on Facebook.
Way 1. Ensure the Security of Your Facebook Donation with Powerful App
ClevGuard anti-spyware is a powerful app that offers you full-round protection against malicious software, which steals your personal data, running on your device.
Although Facebook is continuously improving its safety measures, using the ClevGuard anti-spyware tool further reduces your worry is donating through Facebook safe.
Here is how to get ClevGuard to secure your Facebook donation:
Step 1. Install ClevGuard on Your Phone
Click "Google Play" button below, then you can download and install ClevGuard on your Android phone in a few seconds.
Step 2. Detect Donation Threats on Your Phone
After the installation, you can click "Scan" button to check if there are Facebook donation threats on your phone.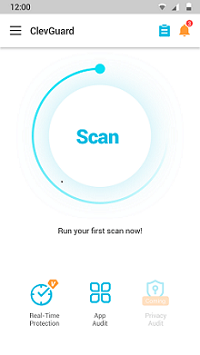 Step 3. Safeguard Your Facebook Donation
Once the scanning process is done, you will get a scanning report. Then you can check if there are threats to your Facebook donation. If yes, you can remove threats radically with clicking "Resolve All" button.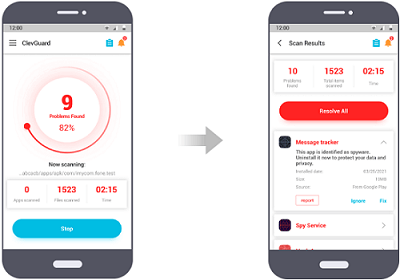 What You Can Do With ClevGuard When Donating on Facebook?
ClevGuard comes with a ton of features to ensure your safety when donating on Facebook. Below are some of them to help you familiarize yourself with its functionality.
Real-Time Phone Protection

ClevGuard offers your device 24/7 protection. If there are malicious files or suspicious files on your phone which might be harmful for Facebook donation and your phone data, it will notify you immediately, so you can be aware of that and take action immediately.

Check and Remove Spyware Completely

Typically, internet criminals will embed phishing links and other malicious software to acquire your personal and financial information illegally. These can include links to fake websites, malware, and spyware.

Your Facebook data and personal information might be stolen because of phishing links and spy apps. With ClevGuard, you can prevent phishing and find hidden spy apps on your phone. Also, you can use ClevGuard to protect your phone and data by deleting them completely.

Check Email Breach

Another way that ClevGuard ensures is donating through Facebook safe is by checking email breaches. You can enter your email address to check if it's leaked or not.

If your email address is breached, it will show you the records of your email breach. Also, it will provide you the professional tips on how to secure your personal information.

Phone Microphone and Camera Protection

Certain apps require permission to use your device's microphone and camera. However, criminals can also remotely access these devices to infringe on your privacy. Therefore, you can trust ClevGuard to notify you when such unauthorized access occurs.

Junk Files Clear

Over time, your device's storage decreases following the installation of different apps and media you receive. However, these can slow down your device significantly.

ClevGuard includes junk files clear feature that can free up your storage from junk files. Thus, it can speed up your phone and make your phone revert to its optimum performance level.
Way 2. Verify Charity's Legal Status
ClevGuard can protect you from any malicious attacks. However, also, before you determine donating through Facebook, you should also check if this Facebook donation program is safe by verifying the charity's information.
Below are some of the ways to verify if the cause you are donating to is legitimate.
Never donate to Facebook charities or groups that are less than a few weeks old. Most legal charities run independent websites where you can find information on their activities and registration status.
Fraudulent charities always use shock value to incite feelings of pity in you. However, if you find a page that contains this in excess, you may want to stay clear.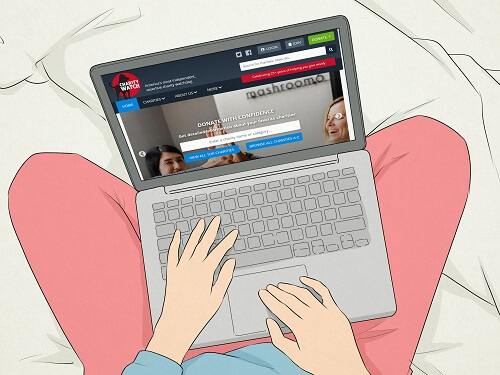 Way 3. Use Secure Donation Portals
Currently, donating through Facebook is possible through PayPal and credit/debit cards. Moreover, the platform also allows fundraisers to include bank details where you can transfer your payments.
Regardless, most payment methods require additional verification when using them. Therefore, always check for this before initiating a transaction.
FAQs About Facebook Donation
Q1. Is Facebook Fundraiser Legit?
Yes, it is. Since its inception, Facebook Fundraiser continues to transfer billions in donations. Furthermore, Facebook continues to implement stricter measures to ensure that the money reaches the rightful people. However, you can always use ClevGuard, to be entirely sure.
Q2. Does Facebook Charge a Fee for Donations?
Initially, Facebook charged 2% of your donation as an administrative cost and 3% for payment processing. However, the platform no longer charges processing fees for nonprofits since November 2017.
Q3. Do Charities Actually Get User's Donations?
Yes, Charities actually get donations. Facebook enforces a $100 minimum before it releases donations to the charity. It does so through two methods:
Facebook payments where the charity receives its donations every two weeks.
Network For Good, whose processing times can last 45-75 days.
Conclusion
So, are Facebook donations safe? It's not 100% safe, but it's a way to donate. If you want to donate via Facebook and protect your personal data.
Using ClevGuard guarantees that you contribute to a legitimate cause by offering you 24/7 protection against data breaches and spyware. Try out ClevGuard now to ensure your donations through Facebook are safe.