Facebook introduced the matchmaking feature called Facebook Dating a few years back, and it has been well received in the dating community.
However, is Facebook dating safe for you to use? Particularly, it has been reported that Facebook's recent data breach issue exposed the personal information of almost 500 million users. If you are a Facebook dating user, are you wondering if you are one of the victims and raising the doubts about how safe is Facebook dating?
In this article, we will understand if there is any risk involved in using Facebook Dating and what steps you can take to use the app safely.
How Safe is Facebook Dating?
Facebook Dating is completely free to use. But there are many safety concerns that should bother Facebook Dating users. On top of that, Facebook has a terrible record of protecting user data and privacy. Let's see the issues that Facebook Dating has exposed.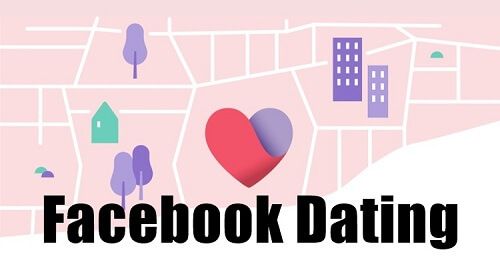 Facebook Dating Scams
Scammers are opening fake profiles and trapping innocent users. A user thinks of a fake scammer profile as a beautiful prospect for dating and gives in his personal data as the conversation progresses.
Moreover, the scammer can send phishing links and make you download spyware and malicious files. Scammers use these personal data for identity theft and spyware for remotely spying and controlling phones to get financial details and login credentials.
User's Data Collection and Usage
Since Facebook Dating is not a separate app and is integrated into the general Facebook app, the company collects user data and sells them to third parties. These data include personal information and account activities.
This is a violation of user privacy as the app tracks all your activities and stores them for interpretation by third parties for their mutual benefit.
User's Data Leakage
Facebook is storing sensitive and personal user data on their servers as well as giving them out to third parties. There are always some loopholes through which hackers get an entry and leak the data on public platforms for everyone to see and misuse them.
These loopholes may not always be on the Facebook app but could be on third parties that purchase user data from Facebook.
Therefore, the answer to the question 'Is Facebook dating app safe' is negative. There are scammers to trick you and data collection and leakage issues to top it all.
How to Make You Safe on Facebook Dating?
Facebook Dating is ideal for online dating but you should be careful and take the initiative to access Facebook dating in a safer environment.
We recommend you install the ClevGuard anti-spyware on your phone to protect your privacy while using Facebook Dating or doing any online activity as a whole.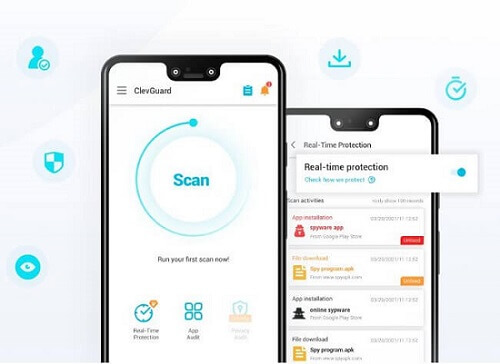 Here are all the features the app offers to make you safe on Facebook Dating:
Real-Time Phone Protection

ClevGuard Anti-Spyware app offers real-time protection for your phone. The app monitors your downloads all the time and alerts you when it detects any spyware or malicious files getting downloaded and installed.

You can take prompt action and prevent spyware from recording your Facebook Dating credentials and activities.

Check and Remove Spyware Completely

Sometimes you might get spyware accidentally via clicking the phishing links on Facebook Dating scammers. ClevGuard app lets you scan your phone thoroughly to find hidden spy apps and disguised files. You can review the list of issues on your phone after scanning and delete them instantly to avoid any further damage.

Phone Microphone, and Camera Protection

The ClevGuard app can detect any app that turns on your phone camera or microphone when the app is running in the background.

If the hacker records your conversation and remotely turns on your cell phone camera on Facebook Dating, ClevGuard app will send you a notification as soon as it detects any such spying activity so that you can force stop or delete that app after reviewing it.

Check Email Breach

Use the ClevGuard Anti-Spy app to find out if your email address associated with your Facebook account was leaked in any data breach incident.

If your email account credentials were exposed, all the online accounts, including Facebook account are vulnerable to hacking attempts. The app also suggests steps to secure your email account from hackers.

Junk Files Clear

You can clean your phone storage space by deleting the junk files that accumulate on your phone from time to time. Junk files are discarded temporarily files from apps as well as your phone OS.

Certain junk files from Facebook Dating contain sensitive metadata which could be misused if hacked. ClevGuard app has a dedicated section whereby you can delete all the junk files on your phone immediately.

How to Use ClevGuard to Make You Safe on Facebook Dating?

Here are the steps to install and deploy ClevGuard app for safety while using Facebook Dating.

Step 1. Install ClevGuard on Your Phone

Tap on the "Google Play" button to download ClevGuard on your phone.

Step 2. Detect Any Threat on Your Phone

After installation, open the ClevGuard, and tap on the "Scan" button to scan all your phone files to see if there is any threat to your Facebook Dating app and phone.

Step 3. Start Protecting Your Privacy with ClevGuard

After scanning, review the list of issues the app has found on your phone. At that time, you can check if there is threat to the Facebook Dating app and your phone. If yes, just tap on "Resolve All" button to remove all the threats.

More Safety Tips for Using Facebook Dating

Apart from installing the ClevGuard app, there are some of the safety steps you can take to avoid romance scamming Facebook while online dating.

1. Watch Out for Scams

Facebook is, unfortunately, the most popular platform among scammers who create fictional online personas to scam users. Therefore, you should be watching out for scams every time you have a conversation with a stranger on Facebook Dating. Here are the warning signs to identify scammers.

a, The person may ask for gifts as well as money citing an emergency situation.

b, The person will insist on having conversations through messages only and no calls.

c, The person will immediately ask you to share your email address or phone number to continue the conversation.

d, The person will confess to being in love with you very quickly much to your surprise so that you fall into the trap and give in personal details.

2. Don't Transfer Money

The most common scam on Facebook Dating is asking for money. The scammer creates a fake account of a beautiful female to trap innocent males. He will start showing immense internet in the target person and confess her love for him very quickly.

He will even plan to meet, but just before that, he will ask for money by creating an imaginary emergency situation. Never send any money to such a request, and you should block the person immediately.

3. Share Your Information Carefully

You may not realize the harm you can do to yourself when you share your personal data and information with a scammer. He can go for identity theft and ruin your reputation on social media platforms.

You should be careful while sharing information with a stranger. For example, you should never share your contact number, email address, home address, date of birth, and financial information.

4. Don't Do Share Intimate Pictures

The practice of sending intimate pictures to the matches is quite common in young adults. You should stay away from such a practice because you never know who the person is on the other side and what he/she will do with your image if your conversation does not go well.

In fact, scammers use those intimate pictures to blackmail victims and extort money with the threat of making those pictures public.

5. Take Action When You Feel Uncomfortable

If your match insists on going on a date within a few hours of having a conversation with you, it is a warning sign and you can back out of such a date. There have been incidents where people are robbed, molested, and humiliated on dates with strangers.

Whenever you feel uncomfortable in a conversation, you have to option to block the person and move on to the next match. Moreover, if you spot a scammer by his suspicious activities, do not hesitate to report the person's profile to Facebook Dating.

Facebook Dating Alternatives

If you do not feel safe with Facebook Dating policies and you have come across Facebook dating app scams, you can switch to various alternatives to Facebook Dating.

1. Tinder

Tinder is the most popular dating app across the world. Therefore, there is no dearth of matches, and the gender ratio is perfect for singles to mingle all the time. Tinder is free to use, but there is a Plus membership with additional perks. Tinder has created over 60 billion matches to date.

2. Match

Match is the pioneer of online dating, and it is still popular to this day. It has nearly been 2.5 decades, and the online dating platform is available in 50 countries with 15 different languages. You can find matches randomly as well as selectively by setting the filters such as interests, looks, professions as per your preference.

3. Bumble

Bumble is a social networking platform that brings friendship, dating, and even career-building under the same roof. Bumble is extremely popular among women because Bumble lets women make the first move. Bumble also eliminates the chance of a person dropping random messages for no reason. Therefore, there are comparatively fewer spambots, and it is changing online dating for good.

4. Hinge

Hinge is popular as a dating platform among those who want a serious dating experience rather than casual dating as on Tinder. The focus is on quality rather than quantity, and there are premium services available for serious candidates who want to find true love. You will get recommendations from prospects who have the maximum compatibility with you.

FAQ about Facebook Dating

1. Do I Have to Download the Facebook App to Use It?

Yes, you have to download Facebook app to use the Facebook Dating feature. There is no separate app for Facebook Dating. After installing the Facebook app and signing into your account, search for Facebook Dating to find it and use it for online dating.

2. Is Facebook Dating Free to Use?

Yes, Facebook Dating is absolutely free to use. They do not have any paid or premium features or services to purchase for special privileges.

3. Can My Facebook Dating Profile be Seen by My Friends?

No, your Facebook friends cannot see your Facebook Dating profile. In fact, Facebook automatically hides your Facebook Dating profiles from your existing Facebook friends.

However, if you mark some of your Facebook friends as secret crushes and if they are available on Facebook Dating, they can see your profile.

4. How Can I Hide My Facebook Dating Profile?

By default, Facebook hides your Facebook Dating profile from your current Facebook friends. However, you can take an additional step to ensure that your Facebook Dating profile stays hidden from friends of your friends.

Step 1: Open your Facebook Dating profile.

Step 2: Go to Settings and tap on General tab.

Step 3: Tap on Privacy Settings.

Step 4: Turn off the Suggest friends of friends option.

Final Words

Even if the question to the question 'is Facebook Dating good' is yes from a dating perspective, it is not at all safe from privacy and security perspectives. Facebook is the favorite platform among hackers and scammers.

Therefore, you should take extra steps to ensure your safety and privacy. We recommend you install ClevGuard for complete phone privacy.