Question:
Can someone track my phone without me knowing it?
Are you worried that someone has violated your privacy? Do you think someone is tracking your online activities or reading your messages without your consent?
If these are your concerns, this article will furnish you with all there is to know about phone tracking; whether it is possible, ways to find out if someone is tracking your phone, and tips to keep your phone safe from spying.
Part 1: Can Someone Track My Phone without My Permission?
The answer is YES! It is possible for someone to track your phone without your knowledge or consent. With the advancements in software development, device monitoring has become easy.
Sometimes phone tracking apps are used on kids' phones to ensure they are safe, while other times, they can be maliciously used on anyone to collect confidential data or steal financial information or identity.
Phone tracking is mainly done by installing a spyware app on the victims/target device. The spy application will then collect your phone data in the background and remotely send it to the person spying on you.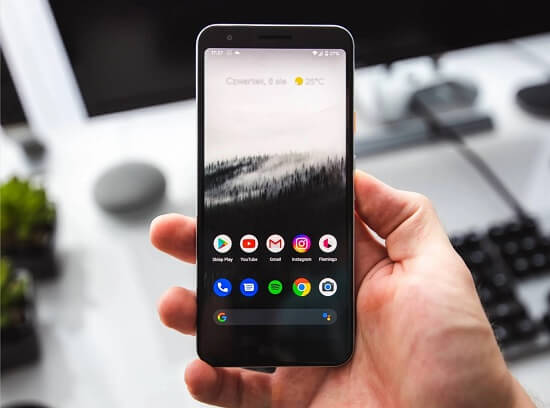 Part 2: How to Tell If Someone Is Tracking My Phone
You will probably never know if someone is track your phone. However, if you are keen, it is possible to tell is someone spying on your phone. The trick is to look for uncommon phone behaviors such as slow performance, high data usage, poor battery life, etc.
However, these signs are not a confirmation that you are being tracked, and in that case, you need an anti-spyware app to tell if someone is actually tracking your phone.
Use a Professional App to Detect Tracking Apps
Using anti-spyware is the most effective way to find out if someone is tracking your phone. Luckily, the internet provides a variety of anti-spyware applications. However, a considerable number of them are crappy, and that is why we would like to introduce you to a tried and tested anti-spyware solution - the ClevGuard anti-spyware.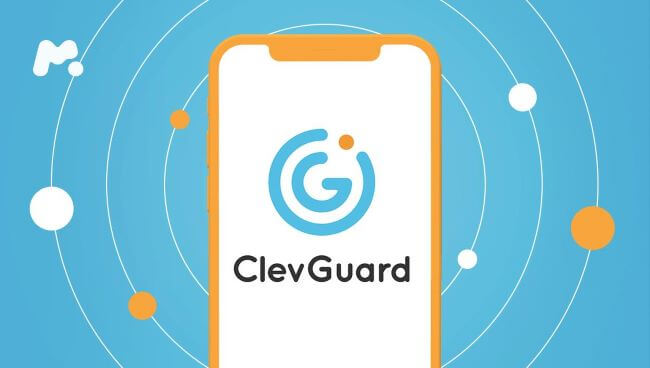 Steps to Use a Professional App to Detect Spyware
ClevGuard anti-spyware is a lightweight Android anti-spyware designed to help your detect, remove and keep your phone safe from spyware 24/7.
With one click, you can scan and remove malicious software and files from your phone. But, how do you get started with ClevGuard anti-spyware?
Here is a quick installation guide.
Step 1: Download and Install ClevGuard Anti-spyware App.
Click the "Google Play" button below to download and install the app on your phone.
Step 2: Scan and Detect Spyware Apps
Next, open this app, and tap on the "Scan" button to detect any spy applications and malicious files.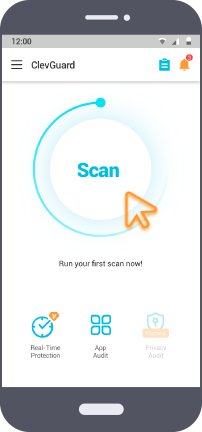 Step 3: Remove Spyware with ClevGuard Anti-spyware
Wait for the scan to complete. It will give a detailed report, and you can see all the detected issues and check if there is any spyware on your phone. If yes, you can click the "Resolve All" button to remove all the threats on your phone.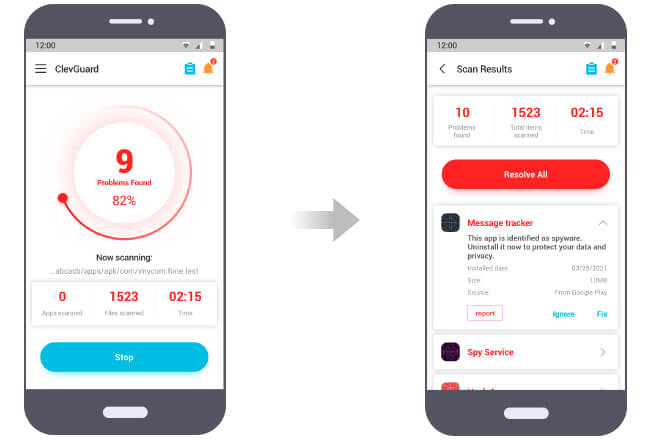 What Can You Benefit from ClevGuard Anti-spyware?
The ClevGuard anti-spyware app is a one-stop-shop software built to help you safeguard your phone at all times, thanks to its advanced security algorithm. The application comes with several benefits to its users, including the following.
Detect Hidden Spyware:
Spyware is designed to run in stealth mode, and therefore it isn't easy to find out if someone is tracking your phone without you knowing. It is close to impossible to spot a suspicious app.
However, the ClevGuard anti-spyware has advanced detective capabilities to help you unveil suspicious applications with hidden/ disguised icons and names-it is possible to find invisible threats.
Protect Phone in Real-Time:
The ClevGuard anti-spyware offers 100% real-time protection against security threats. Typically, the anti-spyware app performs heuristic scans to detect new spyware apps, hacker attacks, and trackers.
In case of any new threats, the app will automatically alert you and promptly recommend action to remove the threat with one click.
Check Email Leakage:
Emailing has become a profound way of sharing confidential business and personal information. A simple breach of privacy could mean a melt-down of classified data. You might be wondering have I been pwned?
However, with the ClevGuard anti-spyware, you will get the answer. You can quickly scan and tell if your email has been exposed in a data breach. It makes it possible to protect essential data from snoopy characters on the internet. You also get to receive regular tips on protecting your personal information.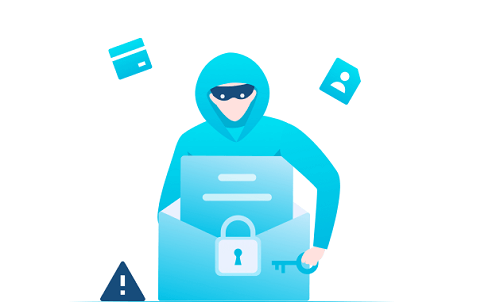 Protect Microphone & Camera:
With the help of Spyware, hackers can easily monitor your location or steal your facial and voice identity using your phone's microphone and camera. However, if you have the ClevGuard anti-spyware app on your phone, you will receive a notification on any app that turns on your camera or microphone without your consent. You also get a detailed report of microphone and camera usage.
Clean Junk Files:
ClevGuard anti-spy app users can use the app to analyze and remove junk files from their phones. This includes residual and cache files that may hinder your phone's optimal performance.
Part 3: Common Signs of Being Spied
Detecting spyware on your phone requires an anti-spyware application. However, you can look for red flags that can inform or point you to potential spy threats on your phone. So, how do you know if someone is tracking/spying on your phone? Here are a few hints.
Sign 1. Unfamiliar Apps on Your Phone
If you find an unfamiliar app installed on your phone and did not install it, then the chances are that it is a spyware. Most spyware will disguise as games or utility apps. Therefore, always be on the look for unfamiliar apps.
Sign 2. Your Phone is Rooted or Jailbroken
Jailbreaking or rooting a device means that the device's security protocols are compromised, and it is even possible to install unapproved apps. Therefore, if your smartphone is rooted or jailbroken and you did not do it, then someone is most likely tracking your phone.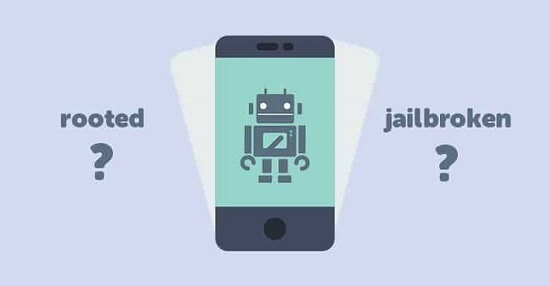 Sign 3. High Data Usage
After collecting data from your phone, the spy app then remotely sends the data to the hacker's servers, and this requires internet data. Hence, if you notice abnormal data usage on the phone, you should install the ClevGuard anti-spyware app to detect hidden spy apps.
Sign 4. Phone Gets Hot Easily
Spyware typically runs in the background to mine for data, even when not using your phone. These continued processes cause your phone you get hot unnecessarily and consequently drain your battery.
Part 4: What Are the Common Spyware Names?
There are hundreds of spyware apps on the internet, and here are some familiar names you come across.
Daddy's Eye
This is the spyware specifically designed to record voice calls, SMS, MMS, and GPS location on your phone without you knowing. It is often used to monitor kids and employee devices.
Spyzie
Spyzie is a undetectable spy application designed to help parents keep their kids safe. The app monitors call logs, WhatsApp, location, contacts, etc.
iSpyoo
iSpyoo is a mobile spy application available for Android users. The application comes with an arsenal of monitoring functions. You can also use it to backup and clones phones.
Auto Forward
Auto Forward prides itself as the ultimate solution to safeguard kids and keep employees productive. It has excellent features, including web, WhatsApp, call, and SMS monitoring.
Part 5: Useful Tips to Keep Your Phone Against Spying
If someone is tracking you without you knowing, then they are most likely using a spy application. So, how do you avoid it? How do you keep your phone safe from spying? Below are a few tips you can borrow.
1. Install Anti-spyware App
Remember, most spyware applications are designed to be undetectable by the phone user. Hence, an anti-spyware app will come in handy to help you detect hidden spyware applications on your phone. Also, some anti-spyware apps like ClevGuard anti-spyware offer real-time device protection.
2. Install Trusted Apps
The internet is stuffed with malicious apps looking to mine data. In that case, we recommend that you are extra careful while installing applications. Only download apps from the App Store or Google Play Store. Also, check to download apps with a well-established user base.
3. Don't Click Unknown Links
Cases of phishing have been on the rise. Usually, hackers will entice phone users to download unsafe apps or visit unsecured sites via links sent via email or message. To avoid such situations, please refrain from clicking unknown links.
4. Don't Jailbreak or Root Your Phone
Jailbreaking or rooting your smartphone grants freedom to customize your device. However, the breached security protocol leaves your phone vulnerable to hacker attacks and malware infections.
Conclusion
If you have been wondering, can someone track my phone without me knowing? Well, the answer is YES! Unfortunately, you might not notice it until it is too late. As a precaution, we highly recommend that you avoid sharing your phone and safeguard it with a professional anti-spyware app like the ClevGuard anti-spyware. The app features advanced protection features and keeps your device safe from threats 24/7.