Do you know that the best and easiest way of stealing your personal data and account credentials is through a keylogger? Anyone can deploy a keylogger app on your phone in your absence, and the app will stay hidden on your phone.
Under your nose, the app will record everything you type on your phone and send it across to the person who deployed it in the first place. Therefore, it is essential for you to know how to detect a keylogger on your phone that could be operating safely on your phone. In this article, we will illustrate how to detect if I have a keylogger on my phone.
What is a Keylogger?
Keylogger is a spyware app that records everything you type on your phone. It logs your keystrokes categorically depending on the apps where you typed. In most cases, the keylogger stays hidden on the phone where it is installed so that the person using the phone does not become aware of its presence. It records secretly in the background without getting detected by the phone owner.
The advanced keylogger apps send the recorded keystroke logs to the person who deployed them on the target phone. Therefore, scammers get to see what you typed starting from usernames and passwords to personal information and messages. In fact, a keylogger can also record what you typed in the Incognito mode on your web browser.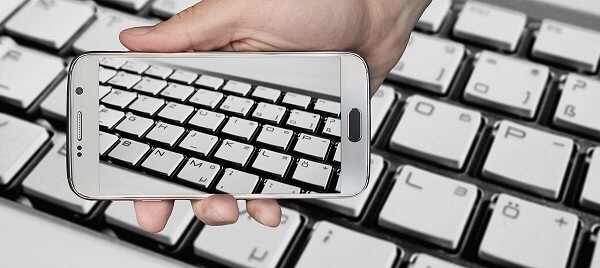 How Can I Tell If Have Keylogger on My Phone?
There are different ways to detect a keylogger on your phone. An anti-virus app is the answer to your question on how to detect keylogger virus. However, most keyloggers are not detected by anti-virus apps. This is because a keylogger acts as a regular app, and it has all the app permissions to operate in the background.
Another way on how to detect keylogger is by checking the battery usage of your phone. You can check which apps are active and draining your battery. You can check battery usage from Settings > Battery.
However, most keyloggers have disguised names, and if you have too many apps installed, you can unlikely detect the keylogger app installed on your phone from the list of apps that are draining your battery. That is why we recommend a professional keylogger detector app to find out if you have any keylogger apps installed on your phone.
How to Detect Keylogger?
You will need a professional app to detect any keylogger present on your phone. Since advanced keyloggers are actually spyware, you need a powerful anti-spyware app. We recommend ClevGuard anti-spyware app that can detect any keylogger present on your phone.
Not just detect the presence of keyloggers, it can also detect any keylogger that is getting downloaded on your phone and notifies you so that you can take prompt actions. Here are the steps on how to detect keylogger on Android using ClevGuard Anti-Spyware app.
Step 1. Install ClevGuard Anti-Spyware App
On your Android smartphone, click the "Google Play" button or open Play Store. Search for "ClevGuard Anti Spy" to install ClevGuard anti-spyware on your phone.
Step 2. Scan Your Phone for Keylogger
Open ClevGuard anti-spy scanner app and tap on "Scan" button for keylogger detection. Wait patiently for the app to scan your phone and list out the threats present on your phone.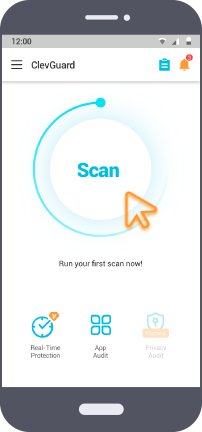 Step 3. Remove the Keylogger
Go through the list of threats that the app lists out after the scanning is completed. You can easily find out if any keylogger app is installed on your phone which is a threat to your privacy. To remove the keylogger app, tap on "Resolve All" button.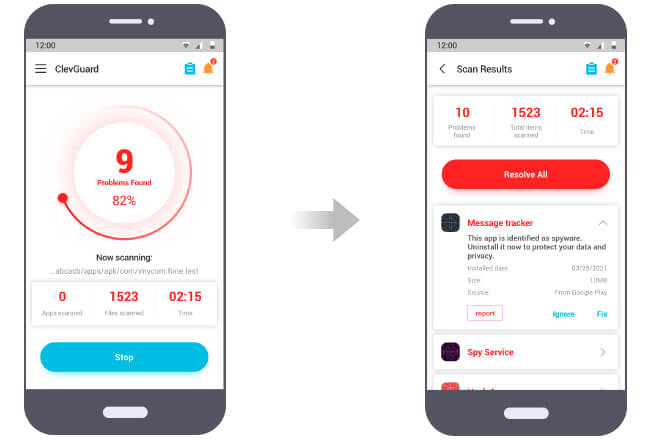 What Can You Do with ClevGuard Anti-Spyware?
Here are all the features of ClevGuard Anti-Spyware app that are equally useful for any smartphone user to protect his privacy and strengthen phone security.
Real-Time Spyware Detector and Remover

The app comes with the real-time protection feature to scan and detect spyware apps and trackers all the time. As soon as it detects any malicious file or app in real-time, it notifies you so that you can review and remove the threat instantly.

Email Leak Checker

You can use the app to find out if your email address has been exposed to any data breach incident. It is important to detect at an early stage to prevent your emails from getting leaked in public by hackers and keep your personal information private. The app also provides professional security tips to protect your email account.

Clear Junk Files

You can use ClevGuard Anti-Spy app to analyze and clean junk files from your phone. You should clean junk files regularly to prevent your phone from slowing down, and the app offers a 1-tap boost to free up space.

Protect Phone Microphone and Camera

The app notifies you instantly when it detects any app secretly turning on the mic and using the phone camera without your consent. You can also check the detailed report of mic and camera usage by different apps to find out the apps that are potential spyware.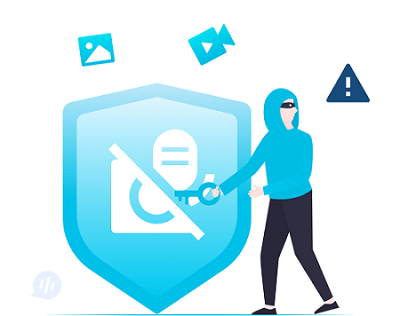 How Can I Protect My Phone from Keyloggers?
Here are the ways to protect your phone from keyloggers so that your personal data do not land in the wrong hands.
1. Use Professional App:
The best way to protect your phone from keyloggers is to use a professional app that can detect keyloggers instantly. We recommend ClevGuard Anti-spyware app which comes with real-time protection.
The app detects keyloggers as soon as it downloads or operates on the phone and notifies the user to take action immediately. Besides, you can scan your phone from time to time with the app scanner and detect if any keylogger is present in your phone.
2. Protect Your Personal Information:
You should use a trusted password manager that can automatically fill your account credentials when you log in to your accounts on different apps and online platforms. You should also use the autofill feature of the browser so that you do not have to type your account credentials and personal information when required.
Hence, if any keylogger is present, it cannot record anything as you are not going to type personal details.
3. Keep Checking Installed Apps:
First of all, you should not download random apps just to try them out. You should not install apps from external sources and only install from Play Store. Besides, you should install only those apps that you use.
This is because when you check the installed apps from time to time, you should spot any unwanted app which could be a potential keylogger and delete it immediately. You should also check battery usage by different apps to understand the active apps and delete the ones that are working secretly in the background.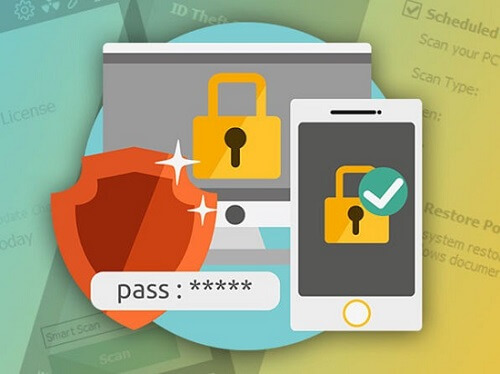 Why Are Keyloggers Dangerous?
Keylogger detection is important at a very early stage because keyloggers can be dangerous for the phone user. Even though keyloggers are not harmful to phones, they are a serious threat to the privacy of phone users.
Records Account Credentials:
Keyloggers are designed to record every keystroke, and that includes the usernames and passwords when you log into your accounts on different apps and online platforms. If these account credentials get into the hands of cybercriminals, your accounts will get hacked, and they can cause havoc in your life.
Records Personal Data:
When you fill out any form on any app or website where you have to enter your personal details, a keylogger can record them. Hackers and scammers can use these personal data for identity theft. Thereby, they can open online accounts in your name and trick others. They can also extract important information from different companies by tricking them with your personal data.
Records Personal Messages:
Keyloggers can record the personal messages that you send on social media and instant messaging apps. Scammers can get hold of these personal messages, and they can blackmail you and extort money by threatening you. Your messages and recorded keystrokes can be sold to third-party companies that can misuse them without your consent.
Conclusion
We have illustrated how to detect if I have a keylogger on my phone. It is crucial for you to detect any keylogger on your phone as soon as possible to avoid any damage to your privacy. That is where a professional app to detect keyloggers is extremely important to have on your phone. We recommend the ClevGuard Anti-Spyware app where you can turn on the real-time protection feature as well to detect keyloggers instantly all the time.