In today's online world, privacy and security are at stake due to widespread malware and spyware attacks.
Worst, there are various means by which a spyware file can get downloaded on your device, stay hidden, and perform its sneaky operations. It monitors your life, steals your private data, and even ruins your life.
Therefore, you should at least know the names of the infamous spyware so that you can delete or avoid them instantly to protect your privacy from spyware.
In this article, we will provide you with a list of the common Android spyware files, what they can do and what you can do to get rid of spyware file.
Part 1. List of Android Common Spyware Names
There is literally an endless list of spyware names because hackers are coming up with new spyware regularly to sneak into devices and spy on people's activities.
Here is the list of some common spyware file names you should be aware of.
XNSPY, Cocospy, FlexiSpy, PhoneSpector, Auto Forward, Highster Mobile, Daddy's Eye, iSpyoo, Spyzie, SpyEra, Spyier, Spyine, Hoverwatch, Qustodio, mSpy, Spy Video Recorder, Ino spy, and HelloSpy.
The list can go on and on, but these are the most common spyware files and apps that wicked people often use to spy on target persons.
Important NOTE:
Spyware files and apps can change their names and even stay hidden on the target phones. Most spyware apps disguise themselves as "system update", "sync service", "update service" and likewise.
In the background, they monitor the phone's activities such as recording phone conversation, viewing browsing history, etc, and seat phone's data and transfer them to the hacker's server.
Therefore, even if you know the common Android spyware file names, you may not be able to find them in their original names in most cases.
Part 2. Why does Spyware Conceal the Real Name after Installing
There are various reasons why spyware conceals their real names after installation, and they are listed below.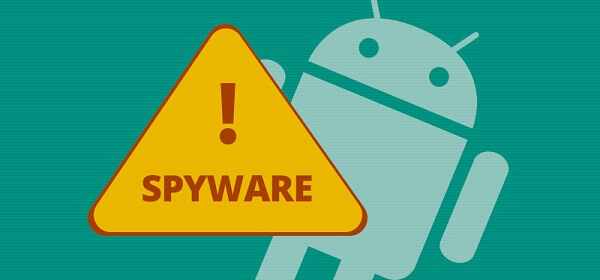 Deceive the Target Person – If the target person knows about the common Spyware files and apps, he can identify the spyware instantly. Therefore, in order to deceive the target person, the spyware changes its real name immediately after installation.
Nobody Deletes Them – It is very usual for an aware target person to delete a file or an app if he finds out that the name of the item matches any common spyware name.
That is why spyware conceals its name and changes it to something like "ystem update" so that the target person does not even dare to delete them.
Deceive Spyware Scanner – There are some basic spyware scanners available as apps that scan the phone and search for files that match their list of spyware files. They generally have a database containing the names of almost all the spyware files and apps in the world.
That is why when the spyware changes its name after installation, such basic spyware scanners do not find any match on the phone.
Part 3. What does Spyware Do on Your Phone
Spyware is the greatest threat for smartphone users in today's world. If spyware gets installed on your phone, the hackers can know everything you do on your phone.
This is not just breaking your privacy but also leading to the hacking of your online accounts as well as monetary losses in some cases.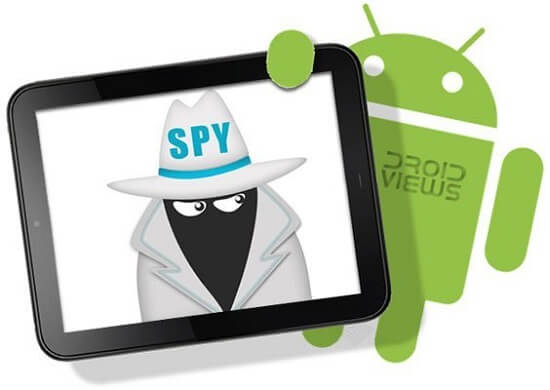 Let's see the list of harmful activities spyware does on your phone.
Record Your Keystroke
The modern spyware comes with an inbuilt keylogger that records everything you type on your phone.
By analyzing them, the hacker can find out the username and password you typed for any online account, bank details, and credential card details you shared, and even the personal messages you sent.
Thereafter, the hacker can transfer your bank balance, use your credit card for online usage, and take control over your online accounts.
Stealing Passwords
There are times when you save your username and password on your web browser so that you do not have to type in every time you log in. Spyware can easily steal those saved usernames and passwords.
In fact, some advanced spyware can steal system passwords as well as network credentials. Moreover, they can copy and transfer any document present on your phone to the hacker's server.
Stealing Identity
Websites identify a user by the cookies they save on the device. Spyware can steal those cookies, and this enables the hacker to use the websites with your identity and get all the information it requires as well as perform any illegal activity.
Live Monitoring
Spyware lets the hackers get control over your phone's camera. They can turn on your cell phone camera remotely, and therefore, they can watch you live anytime they want. This is a scary scenario as your inappropriate videos could be online anytime.
In fact, those videos could be on your social media accounts if hackers have already got those accounts' credentials. Thereafter, blackmailing and extortion of money are very common.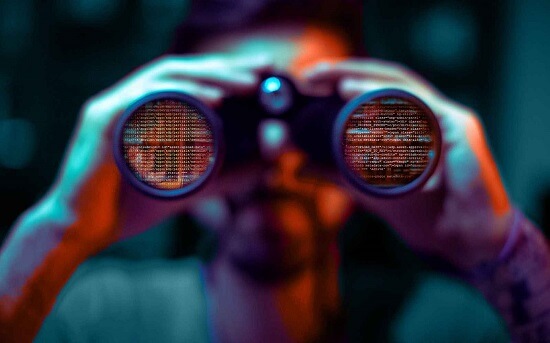 Capture Conversation
Just like your phone's camera, spyware lets the hackers get control over your phone's microphone anytime they want.
They can record your conversation not just on phone calls but also when you are talking with anyone around your phone. They can extract sensitive information from your conversations that can bring misery to your life.
Track Locations
With spyware installed on your phone, the hacker can see your location in real-time.
Besides, he can also check on your location history. Therefore, even when you are on vacation with your family, and you think nobody knows where you are, you are being watched.
Access To Photos & Videos
Spyware lets the hackers get complete access to your phone's gallery. Therefore, all your intimate photos and videos can get stolen, and you know the damage it can bring to your personal life and social status if they get exposed.
The list of harm that spyware can bring to your life is unimaginable. Therefore, you should take the issue seriously because spyware is ruining people's happy lives and turning them into never-ending nightmares.
Part 4. How to Detect Spyware with Hidden Names
You cannot depend on the basic spyware scanner and detector for spotting spyware with hidden names. You need an advanced and proven spyware scanner, and that is why we recommend you install the ClevGuard Anti-Spyware app on your phone.
Even when the spyware changes its name and stays hidden on your phone, the app can detect such spyware automatically and delete them instantly.
Detect Automatically with ClevGuard Anti-Spyware
Here are the steps to install and utilize ClevGuard app.
Step 1: Download and Install ClevGuard from Google Play Store
Click "Google Play" button below, it will skip to Google Play Store directly, and then you can download and install ClevGuard on your phone.
Step 2: Scan Your Phone to Find Out Hidden Spyware
Launch ClevGuard after installation and tap on "Scan" option. ClevGuard will scan all your phone files to check if there is any hidden spyware on your phone.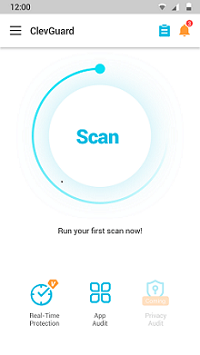 Step 3: Radically Remove Spyware on Your Phone
After scanning gets over, you will see all spyware and malicious files and apps present on your phone. Then, you can tap on "Resolve All" to remove spyware instantly.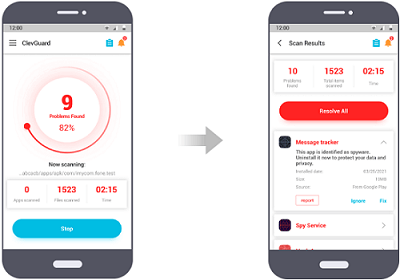 Other Important Features of ClevGuard Anti-Spyware
Real-Time Protection

Prevention is better than cure, and you can prevent spyware from getting into your phone by turning on real-time protection feature. The app provides protection 24/7 and alerts and warns you as soon as it detects any spyware getting downloaded.

App Audit

Spyware often disguises itself as a useful app and stays installed on the smartphone. This feature points out if an app has unnecessary app permission and the risks associated. Thereafter, you can take your decision if you need to remove the app.

Phone Camera and Microphone Protection

The app can detect if any installed app is turning on your phone camera or microphone for spying activity and notifies you instantly. The app can also find out if there is any hidden spyware app on your phone.

Email Leakage Check

Your email is breached might be caused by spyware attacks. With ClevGuard, you can find out if your email address and password were exposed in any data breach.

Also, ClevGuard provides you with the details of the leakage records and tips for protecting your email, so that you can take action instantly.

Junk Files Clean

Moreover, ClevGuard provides the function of clean junk files to free your phone storage and speed up your phone. ClevGuard will scan and check all your phone junk files and then you can completely and selectively clean phone junk files.
Conclusion
Hopefully, you have noted down the list of spyware file names so that you should have them at the back of your mind. You should take every possible step to ensure spyware does not get downloaded and installed on your phone.
In fact, there are times when someone you know can install it directly on your phone by getting physical access for a few minutes. That is why we recommend you install ClevGuard Anti-Spyware to scan and eliminate spyware as well as prevent their entry with real-time protection.