If you are a parent and your children are always on the phone watching videos, then you must be worried about one thing: how to put parental control on YouTube? YouTube contains a lot of inappropriate content, such as violence and nudity, that children should not be exposed to. This is why YouTube has included parental controls. But you might be wondering how to put up YouTube parental controls.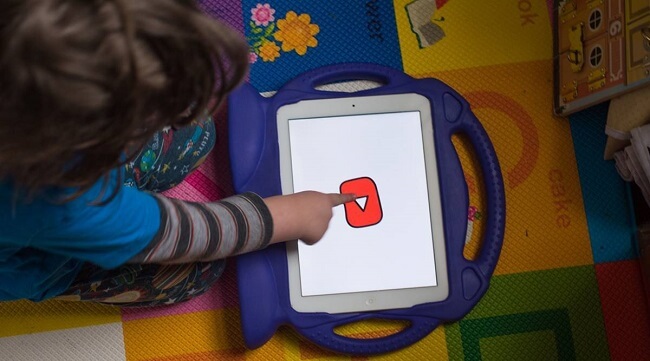 Here is the solution to your problem, a detailed guide on enabling YouTube parental controls:
How to see if there is Parental Control on YouTube?
1.Check if the content is children-appropriate
Check the content of your kids' account to see if it's children-inappropriate. Information or pictures that upset your kid, material that is geared at adults, erroneous information or information that can encourage your child to engage in illegal and/or harmful behaviour are all examples of inappropriate content. Many softwares also put filters and add blocks to social media apps which can help block this inappropriate content.
2.Look for a third party app
Check whether there is a third-party app that can put parental control on your kid's account. Anti-spyware softwares are being used these days to put up parental control and they have been quite remarkable in their job.
ClevGuard - Best Anti-Spyware Software
If you are looking for the most feasible and best anti-syware software, then ClevGuard might be your best choice. It has a very fast and reliable method of detecting the spyware that can harm your device. It follows the following processes to detect spyware:
24/7 heuristic scanning to find additional spyware.
Real-time detection of dangerous files and unsafe programmes.
Highlight the anomalous records and support mass removal.
Unlimited Whitelist and Blacklist updates.
This spyware tracker is a one stop shop for all the needs of a parent to put up parental control for their kids. It's the most recommended software!
How to put parental control on YouTube for your kids?
There are a lot of ways that you can use parental control for YouTube app. Some of them are discussed below:
Method 1: Turn on the Restricted Mode on YouTube for Parental Control
YouTube's current parental control options feature a Restricted Mode option. Restricted Mode, which is available on the YouTube website and app, aims to automatically filter YouTube search results. Following are the steps to enable restricted mode:
Sign in to YouTube using your Google account on the page.
Click on your profile photo in the upper-right area of the site to access your settings.

Restricted Mode will be switched off by default in the pop-up menu at the bottom of the pop-up menu.
Activate Restricted Mode by clicking the switch next to it in the pop-up box that displays.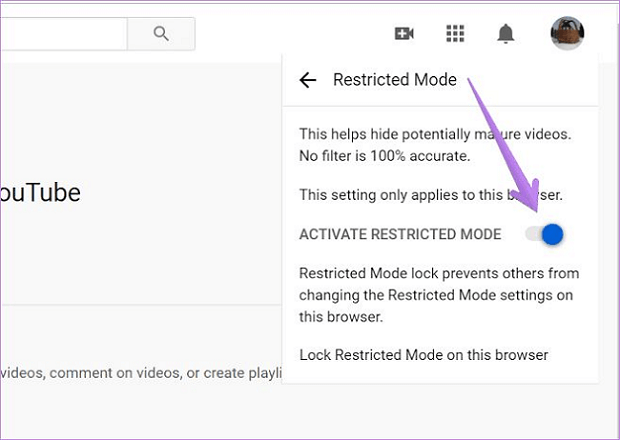 Limits of the Restricted Mode:
Logging out and using ordinary YouTube is simple for kids.
Kids may use YouTube.com as long as it's open. There's no way to monitor or control it.
The history of your browsing is not retained.
If your child is 13 or older, they have full access to the site, which may be unsuitable for adolescents and tweens.
Method 2: Install YouTube Kids App for Parental Control
YouTube Kids aims to create a more regulated environment filled with family-friendly entertainment by curating content, providing parental control tools, and filtering problematic videos. It is available on the app store so you can simply download it from there and follow the following instructions:
Open the YouTube Kids app, and follow the on-screen instructions.

When you're prompted to, enter the year you were born.
Choose the content experience that is suited for you. This key option affects the videos offered in the app.

You may also sign in for extra parental controls (Approved Content Only mode and ability to blacklist movies and channels) (Approved Content Only mode and ability to block videos and channels).
Features of YouTube Kids App:
Parents may limit the videos or channels their children watch on the YouTube Kids app.
Parents may choose from four established levels for material selection in the app: Preschool, Younger, Older, or Approve content yourself.
Approved content only: If you choose this option, your kid will only be able to watch content that parents have hand-selected.
Limits of YouTube Kids App:
There have been cases of violent and inappropriate video being submitted to YouTube Kids getting through the content screening process in place.
Fake channels mimicking prominent child shows spring up frequently on the YouTube Kids platform and distribute disturbing/inappropriate content that kids might unknowingly stumble upon.
Method 3: Install Family Link App for Parental Control
Whether your children are toddlers or teenagers, the Family Link app allows you to set digital ground rules remotely from your smartphone to assist and oversee them while they study, play, and explore the internet. Family Link app can be setup through following steps:
Install Family Link!

Select which child you want to monitor.

Tap Set up on the App activity card. Within a few hours of enabling App Activity, you'll notice your kid's app use.
Features of Family Link:
Control children's access to various Google services and manage the applications your kid has access to.
Limit the amount of time your youngster spends on their gadget each day.
See where your child's phone is located and get a list of all the devices where your child's account has been activated.
Limits of Family Link:
Family Link actually doesn't screen inappropriate content. It only provides certain filters to restrict the use. Many of the inappropriate videos may pass through.
How to see what your kids are doing on YouTube without them knowing?
Are you looking for the best way of setting up parental controls of YouTube? Well, it's possible with KidsGuard Pro for Android!
KidsGuard Pro for Android
In a word, the parental control app offers secure and anonymous monitoring functions. You can keep track of your child's phone use without them even realizing it. KidsGuard Pro for Android, a relatively new surveillance application, has made a number of significant developments and has become a popular option for millions of users.
Set Up Guide for KidsGuard Pro for Android
The installation process is very simple and easy. It comprises of the following steps
1. Sign Up and Get Your Plan
Click Monitor Now to sign up using a valid email address. And get your plan that fits you the most.
2. Download KidsGuard Pro for Android
Then on your kid's smartphone, open a browser and visit www.clevguard.net to download the KidsGuard Pro APK file.

3. Sign in and Start Monitoring Kid's Device
Once KidsGuard Pro for Android is installed, log into the account and follow the onscreen instructions to complete the setup procedures.
Finally, you could log in on your own device and start monitoring. Go to Your Order on the website and Click Dashboard. And you are free to view anything you want on the target phone.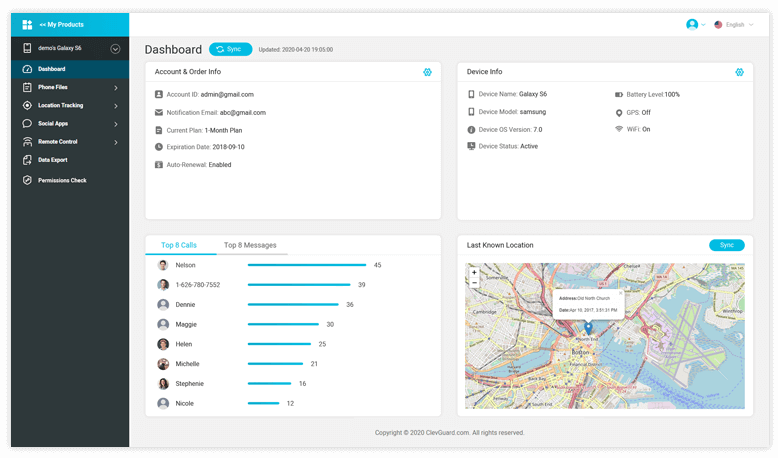 Features of KidsGuard Pro for Android
KidsGuard Pro for Android has some remarkable features listed below:
1. Keep an eye on social media applications
WhatsApp, Facebook Messenger, Snapchat, Instagram, LINE, Wechat, Telegram, Tinder, Kik, Viber, and QQ are among the major messaging applications covered by KidsGuard Pro for Android. More applications are being looked into.
2. GPS location tracking
This program uses the GPS or Wi-Fi positioning technology to locate a mobile phone. You may also look into the history of the site. Furthermore, the Geofencing function will alert you when someone enters or exits a designated region.
3. Monitoring Web browser history, phone calls and messages
If you want to check someone's browser history, you could also do that with just one click. Any sent or received text messages and calls can also be monitored.
4. Screen capture
You can take screenshots, snap photographs, and even record all incoming and outgoing calls with the Remote Control function.
FAQs About YouTube Parental Control:
1. How to set screen time for YouTube on iPhone?
If you want to set a time restriction on your child's iPhone or iPad, here's how to do it:
Take a look at your screen time in Settings.
Choose Limitations for the App from the drop-down menu and enter a new value.
Check the box next to Entertainment to set a restriction on all entertainment applications.
Finally, press the Add button to complete the process.
2. How effective is the Restricted Mode on YouTube?
During Restricted Mode, you will not be able to see comments on videos you are watching. Each browser or device has its own Restricted Mode, so you must switch it on for each one you use. It is necessary to activate this option for each profile if your browser supports multiple profiles.
3. How to block a YouTube channel on mobile phones?
It's just as simple to block YouTube channels on your smartphone or tablet.
Log in to your YouTube account using your iPhone or Android app, and then go to the channel you wish to ban.
Tap the three dots in the top-right corner on their channel page to choose Block user.
Use the Block button to permanently block the channel.
Conclusion
Talking to your kids about the dangers of the Internet isn't a replacement for setting up parental controls and enforcing YouTube's filtering and other safety measures. You should always discuss your children's viewing habits with them in order to instil in them the habit of becoming thoughtful consumers of media for the rest of their lives.