Twitter is among the most popular social media networks out there. It is quite popular among teens as well. According to a recent study, it has been identified that around 33% of teenagers in US prefer to use Twitter for microblogging.
However, there can be dangers in using Twitter as well. That's mainly due to the presence of inappropriate content on Twitter. This is where you will come across the need to figure out how to mute words on Twitter.
Table of Contents
Why Parents should Mute Words on Twitter
Twitter can lead your child to the risk of being exposed to adult content, hatred and violence, self-harm, bullying, and even crime and drugs.
As a parent, you should learn how to block words on Twitter, so that your child will not be exposed to them. Let's take a look at some of the harms on Twitter.
1. Adult content
It is possible to find lots of adult content on Twitter. A child can easily access such adult content as well. Kids are quite curious, and they will go ahead and take a look at adult content out of curiosity.
2. Bullying
There are people who use Twitter as a platform for bullying. Cyberbully can create a major negative impact on the mental health of a child. Hence, you should be mindful not to expose the child to bullying.
3. Self-harm and suicide
Continued harassment can lead your kids to depression, which will eventually end up with self-harm or suicide.
4. Crime and drugs
There is a high possibility for kids to get into crimes and use of drugs due to Twitter as well. Even though Twitter blocks such content, there is a possibility for the kids to get exposed to such content.
5. Hatred and violence
Your child on Twitter can interact with anyone. Due to the same reason, there is a possibility to promote hatred and violence as well.
How to Mute Words on Twitter
As parents, we are necessary to help our kids to mute words. Here are 4 ways to guide you on different devices. Let's learn it!
Way 1: Install Parental Control App to KidsGuard
KidsGuard is one of the best tools available out there as of now to block unwanted words on Twitter. Before you use KidsGuard, it is a good idea to be aware of the great features that come along with it.
Impressive parental control features of KidsGuard.
You can monitor child's phone with the help of this app.
You can keep your child safe on the internet by blocking access to apps.
You can keep track of real-time location.
You can get useful reports about your child's device usage.
You can access browser history of the child.
How to Install KidsGuard.
It is also easy to use KidsGuard. We can restrict the time using of Twitter by KidsGuard, so that child will not learn more behaviors on it. Here are 4 steps. Let's do it together!
Step 1. Install KidsGuard App on Parents Devices. 
Click the button below to download KidsGuard to your phone and use a valid email address to register an account.
Step 2. Log into Account on Parents' Phones. 
Once you have logged into your account, click on the "Bind Now" button, copy the URL from the setup instructions and send it to your children's mobile phones. Or scan the QR code with your child's mobile phone.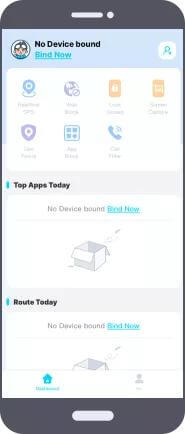 Step 3. Download KidsGuard Jr on Kids Devices. 
Open Url in your child's phone or scanning the code. Then download KidsGuard Jr on his/her phone.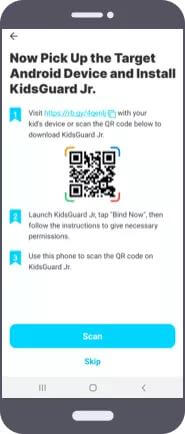 Step 4. Start to Set up Restriction for Specific App. 
Once installed, you can connect your device and manage your account from the KidsGuard Dashboard and you can create restrictions for several apps, including blocking the user from viewing apps.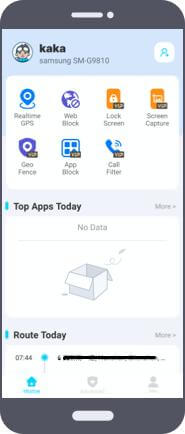 Way 2: for iOS
If you want to learn how to mute words on Twitter within your iOS device, you may go through this.
Step 1. You should initially open up Twitter app.
Step 2. Then you need to long press on the word that you wish to block and you can click on the option "Mute" from the pop-up that you can see.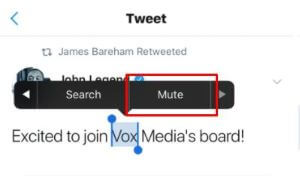 Step 3. Now you will be taken to a page where you can add the word to mute. You will also be able to define to whom you are going to mute the word. On top of that, you can set up a duration to make the word muted.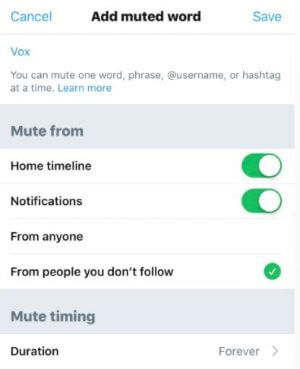 Way 3: for Android
If you are using an Android mobile device, you will also be able to mute words on Twitter. However, the process can be quite lengthy. Let's take a look at the steps associated with it.
Step 1. You should initially click on the notifications tab. This is the bell icon, which you can see at the bottom right hand corner.
Step 2. Then you should tap on the gear icon, which you can see on top right corner. Then you can select "Muted Words".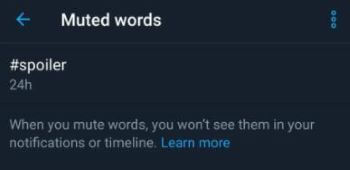 Step 3. You can tap on the plus sign that you see on this interface and specify the word that you wish to mute. Then you can see some options on to whom you should mute the word and for how long you need to keep the word muted. You can enter the word and save it..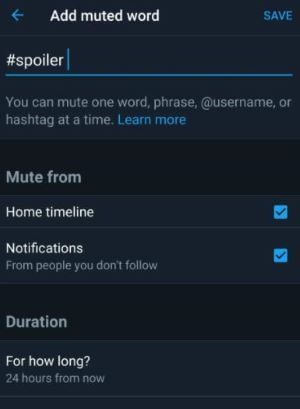 Step 4. If you want to delete the word at a later stage, you should get back to this screen and then tap on the word that is in question. Then you can pick the option named "Delete Word".
.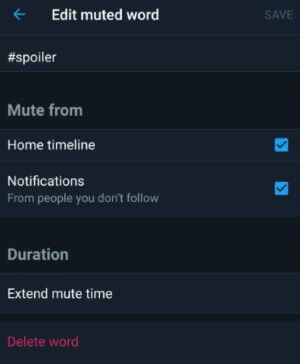 Way 4: for Desktops
Here are the steps to block words on Twitter while you are using the desktop computer.
Step 1. You need to log into your Twitter account on web browser. Then you should navigate to "Settings and Privacy". Then you should click on "Privacy and Safety" option.
.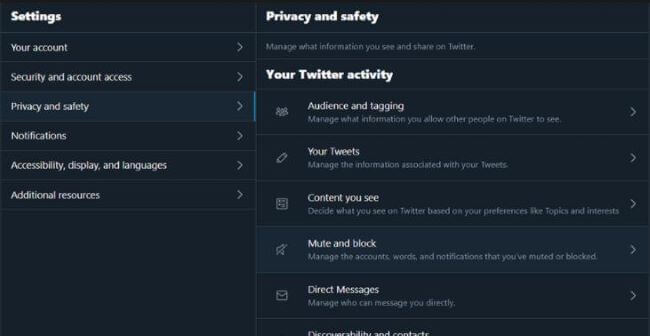 Step 2. Now you need to click on "Mute and Block". In here, you can click on the plus button on top right hand corner and add words to mute.
.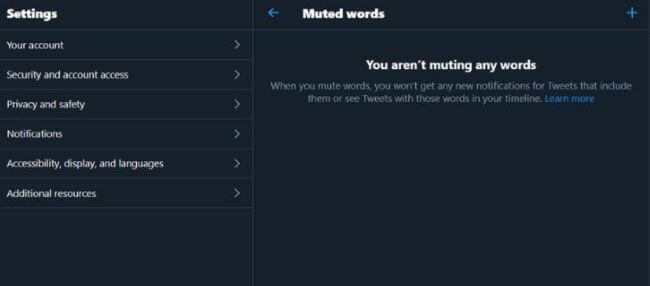 Step 3. Add words to mute and save them.
.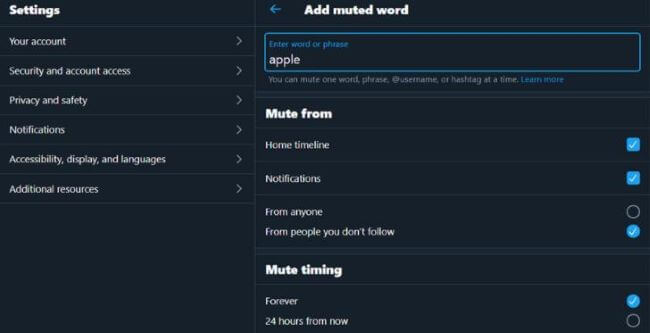 FAQ about Mute Words on Twitter
Q1. Why are muted words still showing on Twitter?
This can happen when you don't follow the correct steps to Twitter mute. Hence, you should go through the steps mentioned above carefully and see whether you have successfully muted them or not. If you haven';t added the words to mute successfully, you need to do it again.
Q2. How do I stop topics on Twitter?
You will be able to locate the keywords in topics and mute them. Then you will be able to stop those topics from being suggested to you or your kids. Above-mentioned steps on how to block words will help you with it.
Q3. Can you soft block on twitter?
Yes, you can do a soft block on Twitter. At the time of blocking a word, you will be asked to specify a time duration. You just need to click on it and specify a time duration to add the block.
Q4. How do I stop getting replies on twitter?
Along with learning how to mute on Twitter, you will also come across the need to stop getting replies. This is where you should get to the privacy settings of your Twitter account and adjust the privacy settings accordingly. Then you can stop getting replies on Twitter.
Q5. How do you mute a word on Twitter on a Mac?
When you want to mute someone on Twitter, you will need to adhere to the stops we shared above. If you are using a Mac, you can follow the desktop steps we shared and get your work done.
Conclusion
Now you have a good overall understanding on how to block or mute words on Twitter. While adhering to these steps, we also encourage you to take a look at other possible ways of safeguarding your child. This is where you may think about using a tool such as KidsGuard.