Have you decided to delete the TikTok account permanently? Deleting a social account is normal because most of us delete social accounts often. There could be different reasons for deleting TikTok. Most people delete applications like TikTok because they waste too much time on these platforms and can't focus on work. Another main reason for deleting an account on TikTok is a privacy concern.
If you are one of those who want to get rid of TikTok, then you are lucky because you can delete your TikTok account permanently.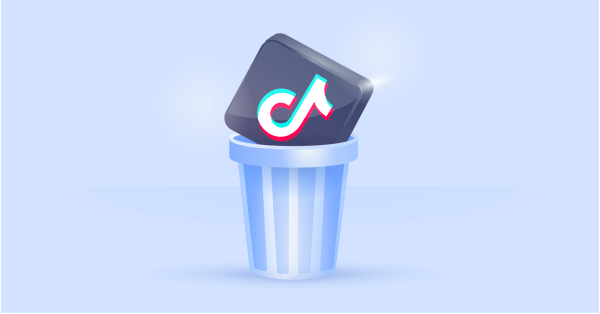 This article will guide you on how to delete a TikTok account in 2022.
Things You Need To Know Before Deleting TikTok Account
Once a person is tired of TikTok or simply don't want to be addictive to it, he either choose to block TikTok or delete his TikTok account. If your final decision is to delete the TikTok account, then you have to know a few things before deleting your TikTok account permanently. Because once you delete your account, everything in this account will be deleted like messages, videos, downloaded filters, coins, purchases, followers etc.,
So here are some things which you have to look at before deleting the application, such as:
1. Back up Before You Delete TikTok Account
When you delete an account, all data will be deleted automatically, so backup before you delete your TikTok account.
If you want a backup of your data, follow these steps:
Open the TikTok app. Go to your Profile.
Next, go to Settings and Privacy. Go to Privacy and download your data.
If you choose TXT, then you will get a human-readable file. If you choose the JSON option, you will get a javascript format. It can be easily fed into computer programs.

After your profile has been created, it will be on the "Download your data" screen in the download data tab.
Usually, it takes a day or two before your data is available for download. So you should wait before deleting your account.
2. Check for Purchases on TikTok Before Deleting TikTok
When you want to delete your account, the TikTok purchase will be affected by it. If you order something from the TikTok shop, check your purchase and wait for your order because if you delete your account, purchased products will be deleted. So it is suggested to check your purchases before deleting the TikTok account.
Additionally, the unused coins present in your account will not be refunded, But you can give these coins to other users of TikTok.
3. Delete Your TikTok Videos Before Deleting Your TikTok
You should delete all your profile information and videos you have uploaded prior to deleting your account. So if you want to delete your account, there must not be any content on your profile. This is because the app keeps your data for almost a month before deleting your account.
You can delete your videos from your TikTok profile in the following way:
Go to your TikTok Profile.
You will see More options on the bottom right corner of your screen. Tap on it.
Now you will see the Delete option.
How to Delete a TikTok Account without Phone Numbers?
How to delete a TikTok account without phone numbers? Have you forgotten your TikTok register phone number and still want to delete your account? If yes, don't worry. You can easily delete your TikTok account with easy steps.
Here are 2 methods to delete TikTok without phone numbers. Check it out!
1. Delete Your TikTok Account on Mobile
Do you know how to delete TikTok account on cell phones? If you want to delete your TikTok account on your iPhone or Android phone, then you can easily delete it by following these steps.
Go to your iPhone or Android phone and open the TikTok application; tap on the profile icon.
Click on three dotted lines, tap on the Settings and privacy option and click on Manage account.

Now scroll down and click on Delete account, choose your reason for leaving and tap on continue.

Now put your password, click on next. 
Your TikTok account is deactivated for 30 days; after 30 days, your account will be permanently removed from the platform.
2. Delete a TikTok Account on the Web
How do I delete my TikTok account on web? If you are using the TikTok web version like me and made a decision to delete the TikTok account, you can do this easily. For this purpose, You can use your computer. You just have to put your username and password in it.
You can delete your account in the following way:
Open your browser and search Tiktok.com;
Enter your password and email to sign in;
Tap on your Profile photo and select Settings;
Tap on the Delete option.
How to Delete a TikTok Account with Email?
if you have created your TikTok account with Gmail, Facebook, or Twitter, you can easily delete your TikTok account by Email. You can follow the steps below:
first of all, go to your TikTok account, look at the right corner and tap on the Profile icon.
next, click on Settings and privacy here, many options will be appear, click on manage account. 
tap delete account, select a Reason for deleting the account, tap on continue. 
In the last, you will be asked to add the email of your account, add your TikTok email address.

Verify email address. 
now your account will be deleted.
TikTok Parental Controls: Alternative App for Deleting TikTok – KidsGuard
KidsGuard is an easy to manage parental control application that makes it easy for parents to monitor all hidden online activities of kids. This application comes with all solid and advanced features that allow the parents to fully control kids' mobile devices. No doubt, it's the best application that keeps the kids safe from online hazards.
Parents can easily install an application on kids' phones and also set screen time or block apps from kids' devices like TikTok, YouTube, WhatsApp, and Instagram etc.
How to Install KidsGuard to Enable TikTok Parental Controls?
Here are some easy steps to install KidsGuard application:
Step 1: Download and install the KidsGuard application
First of all, download the KidsGuard application on the parent device from Google Play Store or Apple App Store.
Step 2: Create a KidsGuard account
After installation, put your verified email address and create an account and log in to this account on the parent device.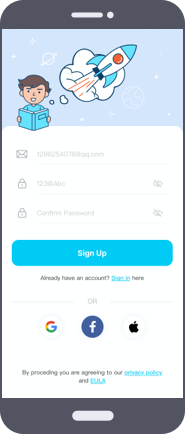 Step 3: Install KidsGuard Jr on kid's device
Tap "Bind Now" on the homepage, and you will see a QR code and a URL, choose either of them to download and install the KidsGuard Jr application on your kid's device.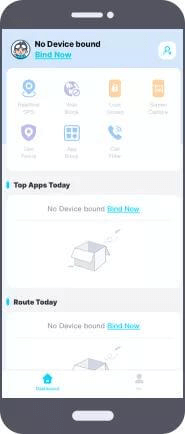 Step 4: Start monitoring child's TikTok with KidsGuard
Go to the dashboard on parent's device and now start monitoring TikTok with parental controls.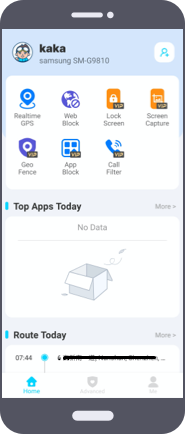 What Can KidsGuard Do?
The KidsGuard is a helpful parental control application which has a wide range of useful features. KidsGuard's features help a lot in the aspects of TikTok parental controls, such as limiting TikTok screen time, blocking apps and websites to keep their child safe on Internet.
Limit TikTok Screen Time: The KidsGuard feature aids the parents in limiting kids' screen time. They can set an on-screen limit for each and every application, like parents, can decide how much time their kid can spend on the phone.
Block TikTok: The KidsGuard user can easily block or restrict any application on the targeted phone like TikTok. If parents are not happy with the TikTok application, they can easily block this application permanently, and the kid can't download TikTok.
Check App Activity: Parents can easily check app activity like how much time a kid has spent on each application, what he searched on apps and what kind of stuff he watched.
Track Location: KidsGuard allows the parents to know the real-time location of their kids. They can check the location history as well to know where their kid was visiting with day, date and time details.
FAQs about Deleting TikTok Account
1. Will the TikTok videos disappear after I delete my TikTok account?
Yes. When you delete your account, your videos are automatically deleted. This is good for users because you don't have to delete videos separately.
2. How long for TikTok to delete an account permanently?
Titok deactivates your account for a month before permanently deleting it. It takes a maximum of 30 days to delete the TikTok account permanently.
3. Why can't I delete my TikTok?
If you are facing a problem deleting the TikTok account, it may be because of entering the wrong account information, like the wrong email address or phone number. Additionally, it could be a bug if TikTok is not letting you delete your TikTok account; in this case, wait for a few minutes, restart your phone, and try to delete the account again.
4. How do I delete my TikTok account without waiting 30 days?
If you want to delete your TikTok account permanently without waiting for 30 days, you are not able to delete it permanently before 30 days because TikTok policy first deactivates your TikTok account for 30 days; after that, they will permanently delete your account.
Conclusion
Tiktok is a most entertaining application, but it is also considered a time-wasting one. There are many users who delete this application after using it sometime. If you want to delete the TikTok application from kids' or partners' phones, download KidsGuard, which is the best parental control application and delete the TikTok application from the targeted device within a few seconds.