Did you ever wonder how to remotely activate someone's cell phone microphone? Being a parent, lover, or whatever it is, it happens many times when you need to know what's happening in their lives and save them from wrong hands. Those days are gone when things were impossible. Now, when technology is capturing the nick and corner of every field, making a remote mic is not a big deal. In this article, you will learn how to remotely activate someone's cell phone microphone and what are the best Android cell phone microphone spying apps out there.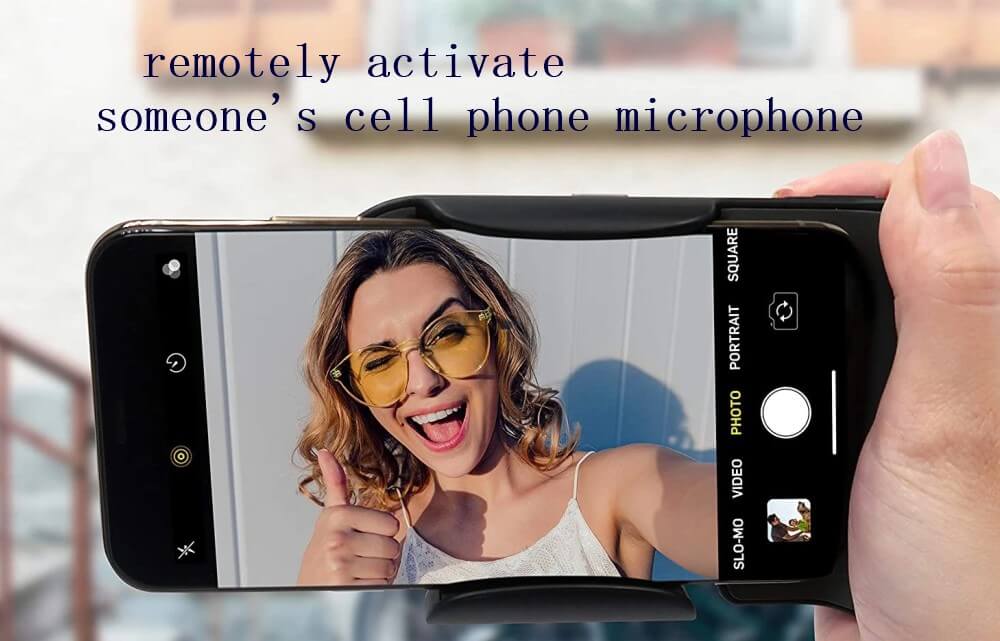 Part 1: Can Cell Phone Microphones be Turned on Remotely?
It's been noticed that people usually ask can cell phone microphones be turned on remotely? As we know, Android mobiles don't have this feature yet. Though, there are Android microphone phone spying apps that can help you to do it. They can hack into someone's cell phone and gain access to microphone, so that you can remotely record the phone conversations using the mic of that device.
Howver, there are too many remote mic apps in the market that prove to be scam and take out your hard-earn money. It's neccessary to polish your eyes before making a choice. And we have selected some reliable spy microphone apps after careful investigation. Check it out!
Part 2: How to Remotely Activate Cell Phone Microphone? Only 5 Minutes.
After knowing the fact that there are also scams out there if you are worried and don't know which app to trust, worry not all. I am proposing an ultimate and safe Android microphone spy app – KidsGuard Pro. This cell phone monitoring app is vetted by millions of users and professional tech sites.
It is good for those who want to know everything about the person and listen to their call conversations by hacking phone microphone or taking screenshots secretly because KidsGuard Pro commits that it can do all of this without any kind of detection. Besides, the user interface is inuitive and all actions can be done with a few clicks.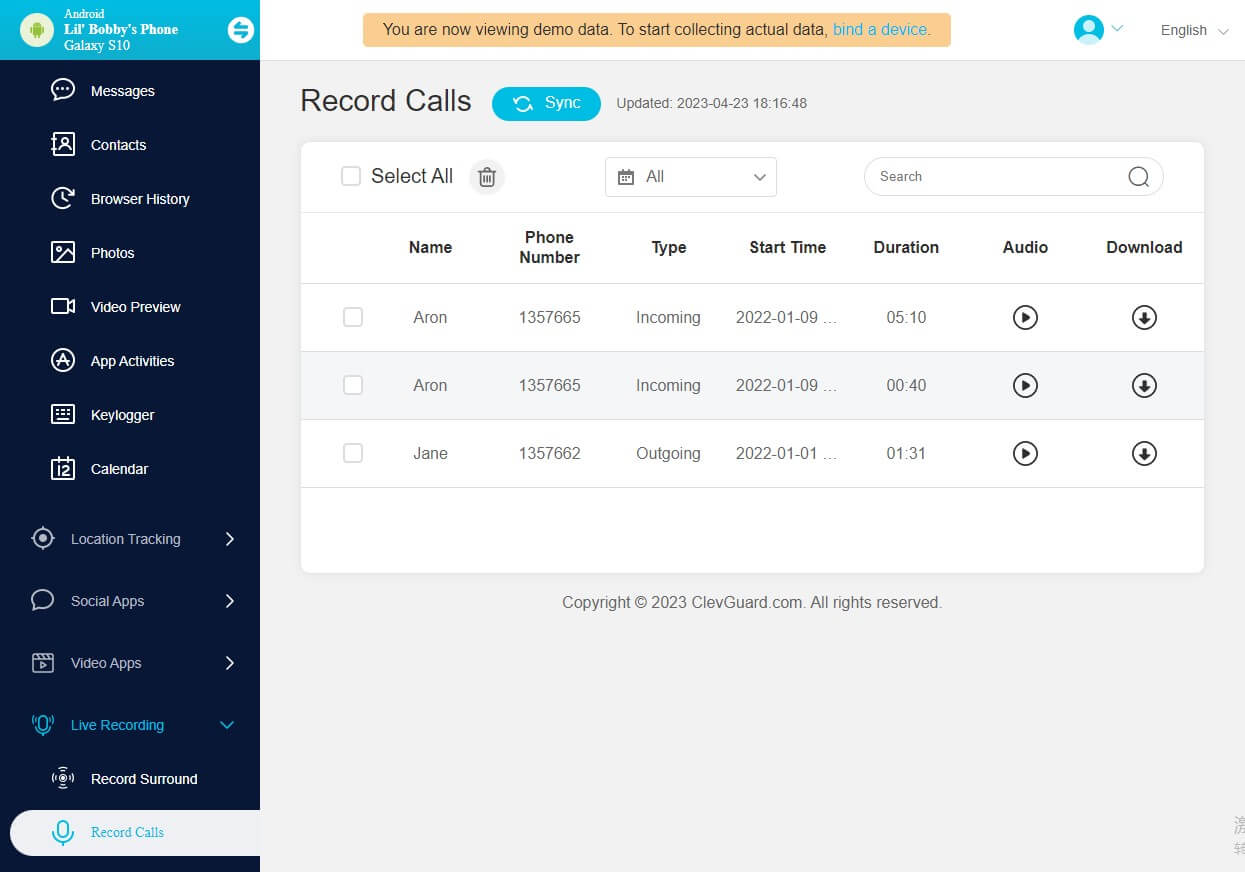 Highlights of using KidsGuard Pro to remotely activate cell phone microphone
Automatically activate microphone:It doesn't require to activate every time whenever a call received/made on the target phone. It is programmed to start automatically call recording. You can listen to that call whenever you are free in your dashboard.

Unable to detect:This might be the best thing that you won't being caught because the app icon disappears from home screen and it works secretly in background without notification after the installation.

Quick setup within 5 minutes: It is by far the only spy microphone app that comes up with an extremely easy to learn GUI and steps to start spying on other's cell phone microphones. As a novice, you can comfortably use it without any knowledge.

Remote monitoring: After the setup on target phone, you can leave it alone and start your minitoring through a completely web-based panel remotely from any device without touching target phone again.

Comprehensive solution: This app is packed with 30+ spying features that provide every detail of target phone. Apart from hacking microphone, you can monitor social media apps, check call logs, track location, take instant screenshot, etc.
Follow the steps below to hack remote microphone using KidsGuard Pro
Step 1: Create an account with a valid email and purchase a license for Android monitoring.
Step 2: Visit www.clevguard.net using browser on target phone to get the download link. Open the downloaded files to initialize installation according the on-screen wizard.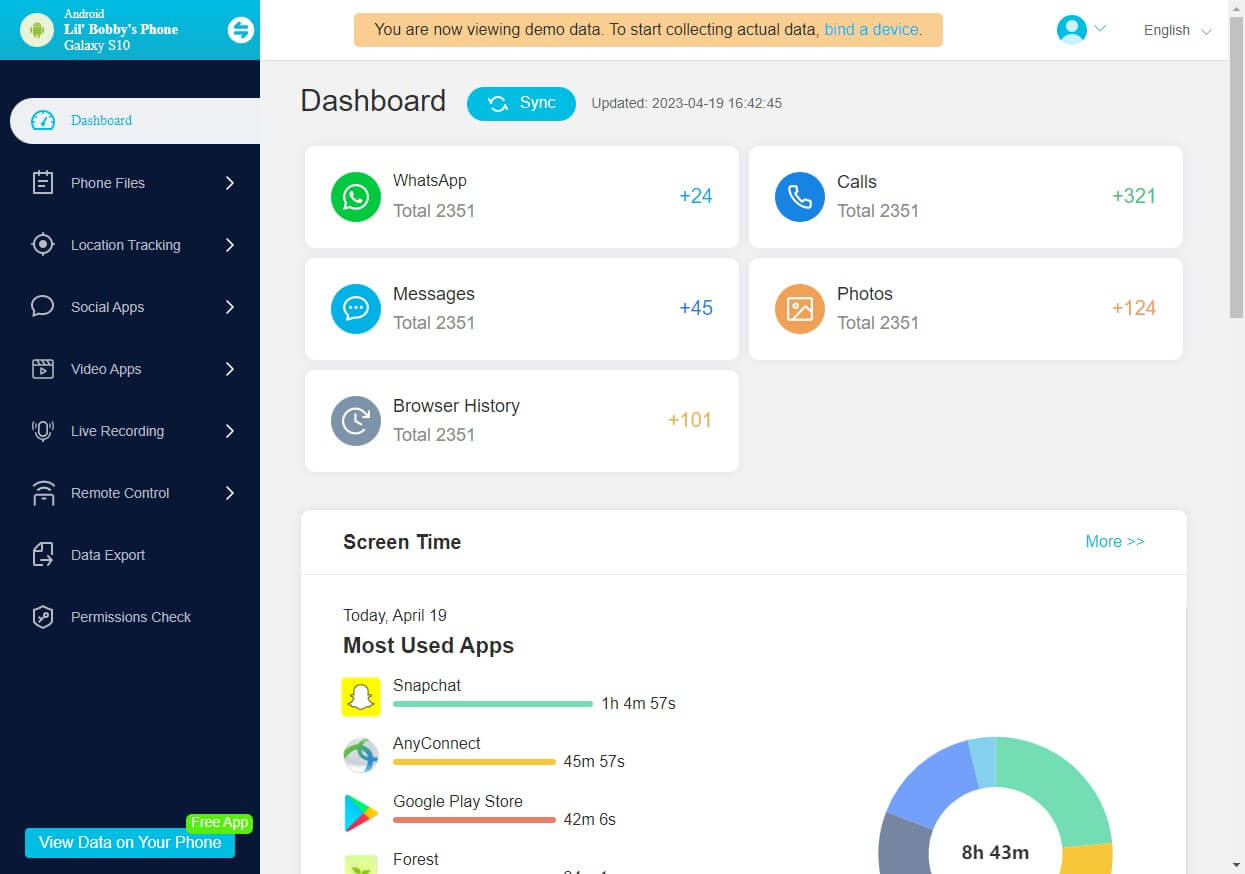 Step 3: After the installation is complete, the app icon will disappear from the target device to prevent being caught. Now you can log into KidsGuard Pro's dashboard to check all collected data.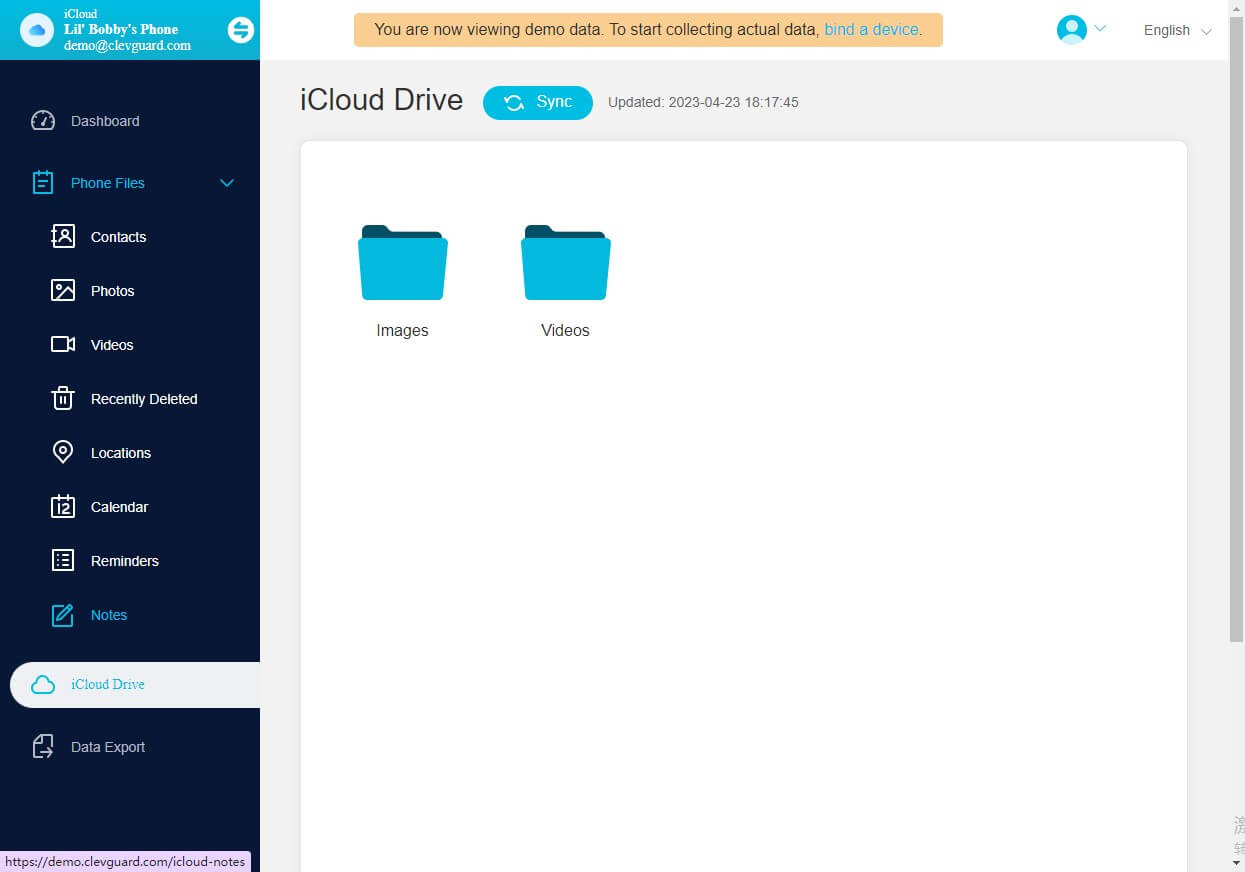 Part 3: Others Spy Microphone Apps for Android Without Knowing
No doubt, KidsGuard Pro is the best application to remotely activate cell phone microphone yet there are some other great cell phone microphone spying apps that can be used to remotely spy on someone's telephonic activities. However, we have also found some non-negligible drawbacks while using these apps. It' s better for you to know first before purchasing.
You may be caught by target user while using those apps because some aren't 100% invisible on target phone.

Sometimes those apps can't be triggered, so you will miss some important call details.

The recorded audio files have no sound or poor audio quality due to the lack of advanced technology support.
Due to those disadvantages, they rarely can beat KidsGuard Pro. Nevertheless, we will cover some of them which help you hack remote microphone.
1. Blurspy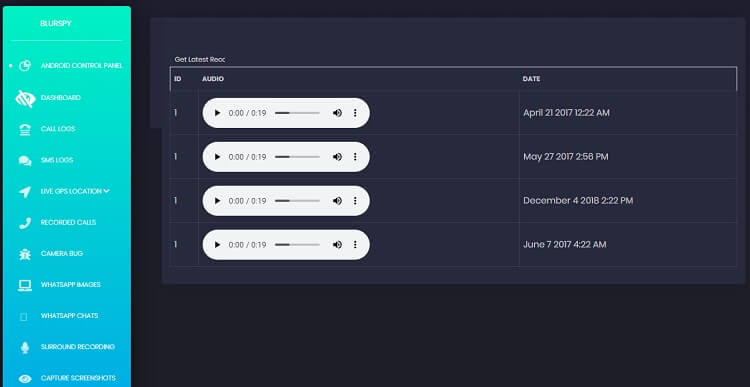 Out of many remote spy microphone apps, Blurspy is a powerful one that can be used to remotely spy someone's microphone and listen in their call recordings online. It comes up with countless exceptional features like surround recording and location tracking that make it a wonderful Andriod call phone microphone spy application.
2. TTspy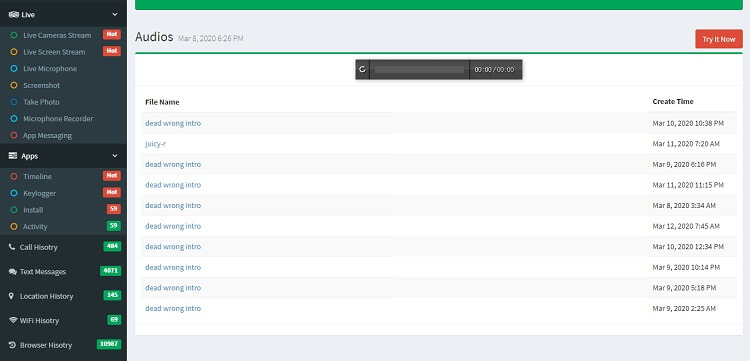 TTspy is another great remote microphone spy application. It is efficient in remotely opening cell phone's microphone to listen and record everything that's going on in the surroundings. TTspy also claims a full money-back guarantee if you find it outmoded and that makes it an outstanding cell phone microphone spy app. You also can give it a try.
3. TheOneSpy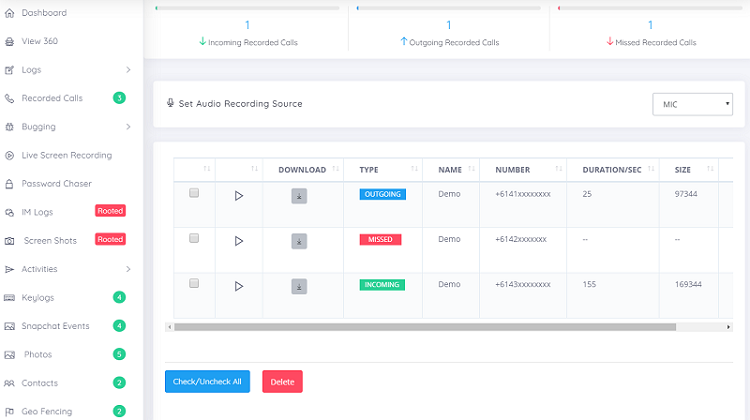 TheOneSpy is a good choice to record live phone calls on Android OS, save over the web, and track call logs with complete time stamp. It does not need any kind of jailbreak or rooted device to remotely spy the Android cell phone microphone. Moreover, TheOneSpy application is equally feasible for Android, Windows, and Mac.
Conclusion
Well, we truly hope that by the end of the article you have learned remotely activated mobile phone microphones without letting them know. Sometimes, using an Android remote microphone spy app becomes necessary. You can take advantages of it to find out many facts like it can help you to spy on your children to keep them safe or spot a cheating spouse.
To sum up, KidsGuard Pro is the best solution that can help you to secretly keep an eye on someone's actions and activities from all aspects.