Question:
"My boyfriend is spending a lot more time chatting on Facebook than ever before. I've checked his Facebook but nothing was found. I'm still suspicious about his behavior. Is he using secret conversation on Facebook?
Every day, we receive lots of similar questions like this. However, Facebook adds Secret Conversations which makes it a hotbed of infidelity.
Although this feature is close to impossible to track secret conversation history on Facebook Messenger, we tested multiple methods and found out an ideal solution.
So, if you want to see someone's private messages on Facebook and know how to see secret conversations on Facebook, keep reading.
What is a Secret Conversation on Facebook Messenger
Before we start to view the secret conversation on Facebook, let's figure out what the secret conversation on Facebook is first. Maybe most people probably have no idea about secret conversation or even don't know the existence of it.
Facebook has made a lots of effort to ensure users privacy. For example, you could make photos private on Facebook. Likewise, Facebook Messenger adds a function called Secret Conversation that allows users to encrypt their messages. It employs end-to-end encryption, which means that only users and their recipients can be able to see communications.
Also, users can even set a timer for messages to self-destruct to make them even more private and irretrievable.
Furthermore, your locked phone screen notifications will never show who gave you a message; instead, it will simply say, "Someone sent you a message." Therefore, no one can know who messaged you from your locked phone screen.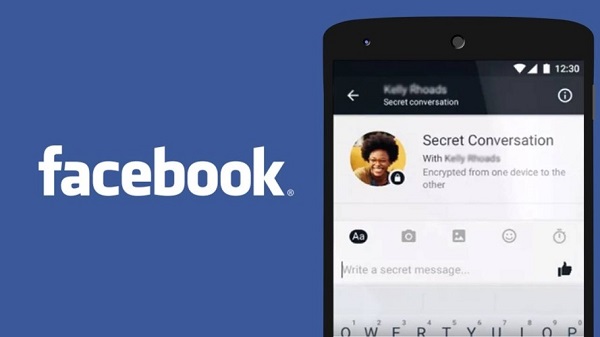 How to Start a Secret Conversation on Facebook Messenger
Well, some people use the secret conversation feature for the purpose of protecting their privacy. However, how to start a secret conversation?
Actually, there are two ways to start a secret conversation. The first one is to create a new message and tap on "Secret", then compose your message to someone. The second method is to open an existing conversation, tap the contact name at the top and enable Secret Conversation.
Then how to look at secret conversations on Messenger? It is quite easy if you take advantage of a tracking app. Once installed, it is able to record all deleted secret conversations on the phone and upload to your online control panel where you can check on your own device remotely.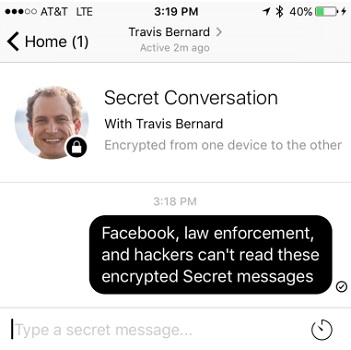 How to Track Secret Conversations on Facebook Messenger via 3rd Party App
How to find someone's secret messages on Facebook Messenger? There are numerous Facebook Messenger tracking applications available, but most of them are not as effective as advertised. So, after due consideration, we came across the best Facebook Monitoring app - KidsGuard Pro for Android.
It is an awesome program that has been used for years and it consistently adds new features often. It lets you view everything they do in secret conversation without them knowing. Let's have a closer look at how you could get into someone's Facebook.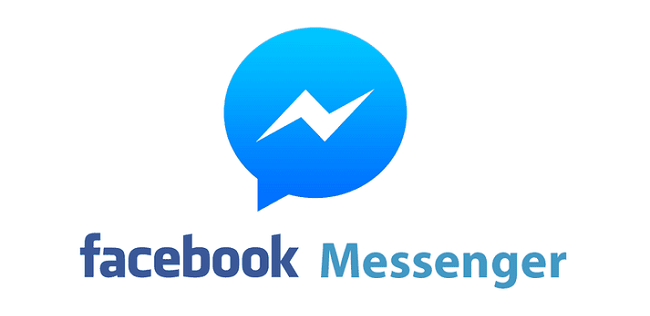 KidsGuard Pro - Your Private Detective to Hack Secret Conversations on FB
Record Secret Message: It will record all sent and received secret and normal messages on the phone before the user deletes them.
View Secret Images and Videos: All secret images and videos shared in the conversation can be monitored too.
Read App Notifications: It can also intercept the embedded information, like interactions, account activities and more.
Take Live Screenshot: You can see the whole screen when the target is currently using Facebook secret conversations.
So, it is pretty clear that KidsGuard Pro for Android is good at monitoring Facebook Messenger account and provide users a good way to see activities on Facebook.
Other realted features also include searching keywords in chat history, exporting secret conversation history and more. Another good thing about KidsGuard Pro for Android is that it's completely hidden on the target device.
Except for Facebook and Messenger, there are plenty of features offered, let's check them out:
You will be able to remotely capture the screen of the target device without being discovered.
You can check the call logs as well as record the phone conversations.
You can easily track real-time location and location history of the targeted phone.
With it, you can view other social media apps like WhatsApp, Instagram, Snapchat and more.
The operating procedure of KidsGuard Pro for Android is very simple.
You can listen to phone surroundings of the target phone and know what the target person is doning.
You can also take the phone screen and know what your target person is doing on the phone.
NOTE:
KidsGuard Pro monitoring app has an iOS version named KidsGuard Pro for iOS. If your target person is an iOS user. You can click the "View Demo" button to know more features about KidsGuard Pro for iOS.
Steps to View Secret Conversation on Messenger via KidsGuard Pro
KidsGuard Pro for Android is a long-term solution to view the secret conversations on Facebook as it only needs one-time physical access to the target device.
After the easy configuration, you can check the data on your remote dashboard without touching the target device again.
Step 1: At first you need to click the button below to choose a plan to access all the excellent features. Then you will enter My Product page where you can get a detailed set up guide.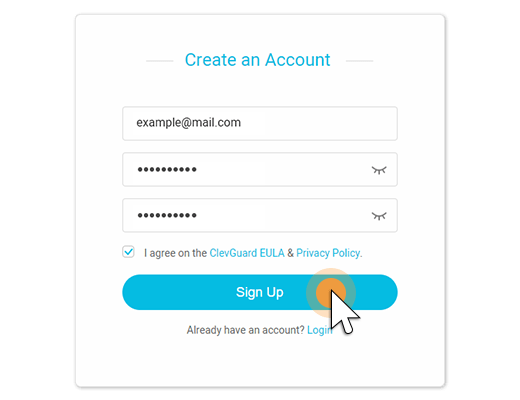 Step 2: Get hold of the target device and visit www.clevguard.net from a browser. Download KidsGuard Pro Assistant for free and finish installation.
To make this app work, you will need to enable some permission settings following on-screen instructions.

After the installation, the app icon will disappear from the home screen and works in undetectable mode so that the target user would never know the Messenger secret conversation is being monitored.
Step 3: You can go back to KidsGuard Pro website and log in to the same account and wait for the data syncing. After that, click Messenger under Social Apps and you will be able to see the secret conversations.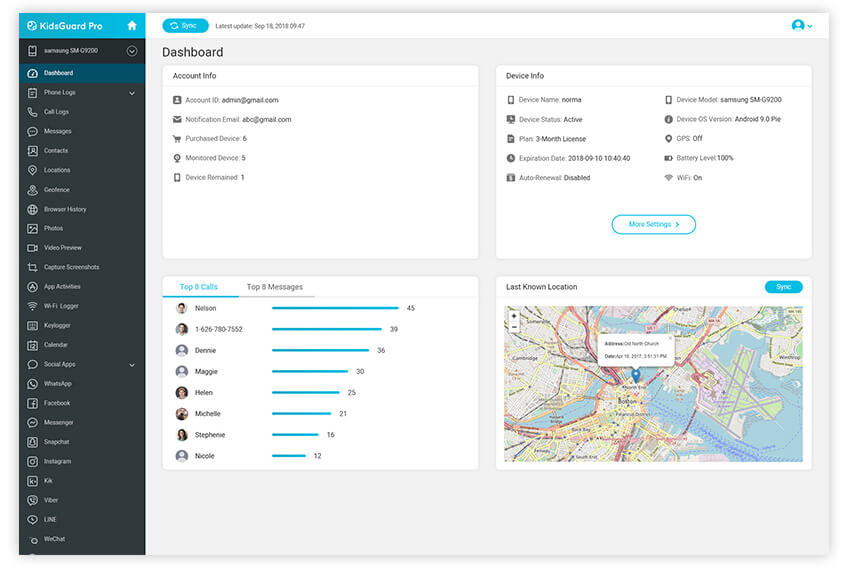 The whole process will not take more than 5 minutes, so even if you are not tech-savvy you can handle it easily. Process like rooting the device is not required.
Seemingly Effective Ways to View Secret Conversation on Messenger
Way 1: View Secret Conversations on Messenger with A Known Password and ID
How to tell if someone is having secret conversations on Messenger? You can get the target phone and the Facebook account as well as password of the person you want to monitor, then follow the steps below:
Open Messenger app.
From the Chats, tap the Edit icon in the top right.
Tap Secret in the top right.
Select the name of the person and view the previous messages exchanged.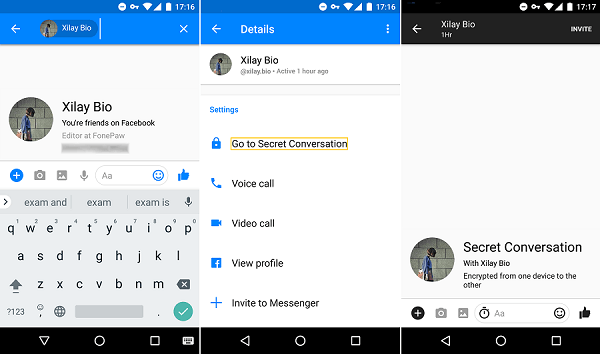 The Downside of this Method
You have to access the target phone every time and may be caught by the person.
If the person has set the timer on secret conversation, then you will see nothing as the messages will disappear after reading.
You can't view someone's secret conversation in time or save it as evidence on your device.
Way 2: View Hidden Inbox on Facebook via Message Requests
If someone who isn't a Facebook friend with the target person sent a secret message, it won't show up in the regular conversation view.
You can follow the below steps to find the hidden conversation on Facebook:
Open Facebook with a browser. Then enter the target person's Facebook account and password to login.
Click on the Messages icon in the top right of the page.
Choose Message Requests right next to Recent.
Hit See filtered requests. Here you will see more secret Facebook messages from non-friends accounts.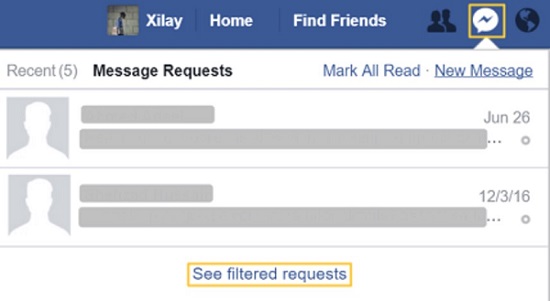 The Downside of this Method
If you log in other people's Facebook accounts, they will be logged out.
It's hard to get someone's Facebook password.
The Necessity to Read Secret Conversations on Facebook Messenger
As a matter of fact, you have a clear idea of how to view secret conversations on Facebook after reading the rest of the article. But most people stumble upon the idea behind the need and the necessity of using such a procedure.
As the messages are going to be deleted automatically, the system is prone to be used for some other use. It can be used for cheating on partners, selling business secrets and bullying someone.
Cheating
As the secret conversation history mode deletes the messages automatically and is quite secure, it is preferred by the people who are cheating on their partners.
There will be actually no evidence of the conversation and it is sort of unhackable. So, if you suspect such, you have to look for a way to hack secret conversation.
Business Secrets
Industry espionage is nothing new but a few years back people had to access different, not easy to get programs to hide their acts. But these days it has become very simple with Facebook Secret conversations.
Obviously, you would want to protect your business and having a keystroke reader app could come in handy.
Cyber Bullying
You may find this odd but such feature is also used for cyberbullying. Nobody wants to keep such conversations safe, and as the mode deletes the chats automatically; those vulgar people find it very handy for such abolished use.
Summary & FAQs about Secret Chats on Facebook Messenger
We have introduced the best way to help you figure out how to track secret conversations on Facebook. Although the secret conversation mode was introduced for the safety and security of the users, KidsGuard Pro for Android comes with dedicated features you can use to find secret conversations history on Messenger. It won't let you down.
1. How to know if he's using secret conversations?
If a message is sent through Secret Conversations, the message bubble which is usually blue, will be black. It will read 'Encrypted from one device to the other' to let both participants know.
2. How does secret conversation work on Messenger?
You can click on the "secret" option on the top right of the "new message" screen. Tap Secret in the top right-hand corner and select who you want to send a secret message. You set the timer to let the secret conversation self-destruct.
3. How to view deleted secret conversations on Messenger?
If you have your messages archived in your Facebook Messenger app, simply search the conversation that you previously archived and press Unarchive Message option to unarchive it. If you didn't archive the message, don't worry, you can still view the deleted secret conversations by using a third-party app - KidsGuard Pro for Android.
4. Can I see secret conversations on another device?
The same as how to view secret conversations on messenger from another phone, to some extent, the answer is no. You can't see the messages from previous secret conversations on another or a new device. Because a secret conversation in Messenger is encrypted end-to-end. But if you use a third-party app, the results could be really different.
5. Can Facebook secret conversations be recovered?
If the Facebook cache is not deleted from the original device, you can recover the deleted secret conversation on Facebook, but if it is deleted, you can only view deleted secret conversation via a third-party app like KidsGuard Pro for Android.