If someone lost his iPad or it might be stolen, then there is no need to be worried because we are living in the 21st century where technology is very fast.
There is now no need to purchase a new iPad because you can find out the lost one. The main purpose of my writing is to tell my readers how to find missing iPad?
From this article, you can gain the knowledge of how to locate the missing or stolen iPad in different ways.
Here comes the question in the mind that how to locate iPad with the 4 best methods to track the iPad are the following:
Let us discuss these methods one by one.
1. Locating an iPad with Family Sharing
Family sharing is a method used to find the location of the lost or stolen iPad. Family sharing is a service that connects up to 5 family members.
They can share content as well as the apps. The other important and most useful feature of family sharing is finding the missing iPad.
Requirements
The first requirement for using this method is to give access to other family members or friends to your content and purchases from the different software.
How to locate an iPad with Family Sharing?
If the family members are already using the family sharing, the steps should be followed:
Firstly open find my on iPad and then click on the device button.
This will open the list of all the devices in the group and then select that device is missing. Then it will show its last location.
You can also click on play sound; it will start creating a pinging sound.
You can also click on the direction option.
If you scroll further down then here in the mark as lost section comes to the option of activating. This can lock your phone and nobody can get access.
If by all these above you couldn't be able to find the iPad, then you can select erase the device, this will remove the personal data and information.
2. Locating an iPad with Find My App on Computer or iPhone
When the question arises how do I find my iPad? One more method which comes to my mind is locating an iPad with Find My app on either computer or iPhone.
Find my app as the word itself shows that this app is used to locate or track the missing or lost iPad. As the world progresses it makes life easier and fast. If someone has lost the iPad, then there is no need to buy a new one.
Find my iPad last location is a big challenge. There are many methods to find it as the one easy method is finding an iPad with Find My app.
Requirements
The iPad will remain active for 24 hours then there is a chance to find the device by the Find My app. If the iPad will remain inactive for 24 hours then the chance will be lost to locate the iPad.
To use this service, time and date should be correct on the iPad and it must be up to date.
How to locate an iPad with Find My App?
To locate an iPad with Find My app follow the following steps:
Firstly, open the Find My app on the other computer or iPhone of your friend or relative.
Then click on the option of Find iPhone.
Select the option of iPad. This will show the map, if the mobile will be in the range you can click on the play sound option and a pinging sound will be created.
This is also an option to mark your iPad as lost always. This will help you to lock your iPad with the passcode. From this feature, you will keep track of your iPad and the banking transactions through Apple Pay will remain suspended.
This also gives the option of erasing my device. With this option, you will be able to remove all personal information and data. Once your iPad will be turned off you cannot track your device.
The last way to find the iPad after turning it off is to report or claimed your lost iPad to local law enforcement.
Related Read: How to Put Parental Control on iPhone and iPad?
3. Locating an iPad with an Android Phone
The next easiest and quickest method to find your iPad is from android. Everyone don does not have computers or iOS so these people can use android phones to locate the iPad. You can also track iPhones from android as well as iPad.
Requirements
Choose the option of finding the last location. This will help in the situation if the mobile is turned off.
Or another way to use the android phone that is not yours, then it is suggested to use the incognito window or private browser from this your personal information will be secured.
How to locate an iPad with Android?
The steps which should be followed to locate the iPad with android phones or track iPhone from android are:
Firstly, sign in to icloud.com with your Apple ID.
Secondly, select or click on the option of Find iPhone.
Then, select your device name.
You have the next 3 ways to find the iPad.
You can select either play sound; this will emit the sound from the device just like the audible signals or you may select lost mode so no one will have access to your computer or no one can hack the data.
You may select Erase the iPad option to remove all the personal data.
Bonus: KidsGuard Pro for iOS - Location Tracking App
KidsGuard Pro for iOS is a parental control app. Sometimes parents are worried for their children might be daughters or sons. There are many online bullies, there might be a stranger who can talk with our children and can trap them.
So parents want to check with whom their children are in contact. The parents also want to check where they are at the present moment, KidsGuard Pro for iOS also provides its services to locate someone.
It also enables parents to track their location. So this app KidsGuard Pro can help parents to keep an eye on their children. It is also a location tracking app.
How to use KidsGuard Pro for iOS to track someone's location?
Step 1.
Click
Monitor Now
button below and skip to KidsGuard Pro's website, use a valid email address to sign up an account.
Step 2.
After registration, log into your account and go to
My Products
page, click
Setup Guide
button and follow the instruction to download KidsGuard Pro for iOS onto your computer and then finish connecting. This step only needs to take 5 minutes.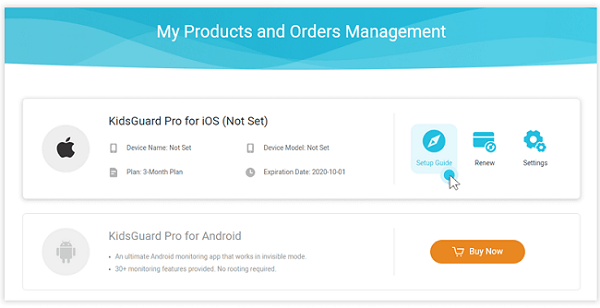 Step 3.
After setting is finish, you can start to view the target phone's activity on dashboard.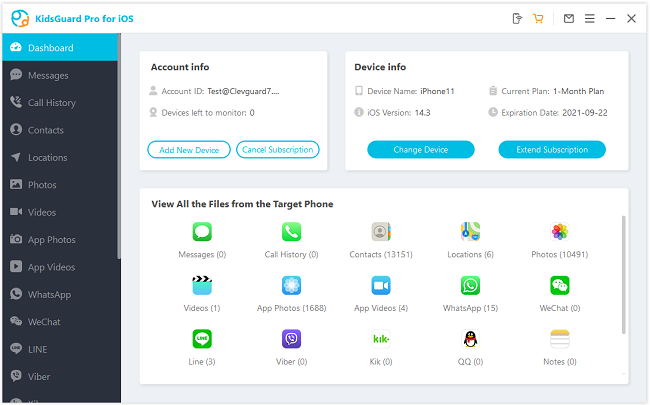 Conclusion
New inventions made our life comfortable and easier. We can locate our iPad which is lost inside the home or outside the home by various methods such as iCloud, family sharing, Find My App, and even from KidsGuard Pro for iOS which are discussed above in the article.
By following all the steps you can easily track your mobile because these are the simplest ways. Before these methods, it was severe tension that how to locate the iPad?
These apps reduce our tensions and save our time. Everyone can rely on these methods. But for attaining these services your device must be up to date.