In today's ever-evolving work landscape, remote work has become increasingly prevalent, and with it, the need for effective remote employee monitoring. To ensure productivity, maintain data security, and optimize performance, businesses are turning to remote employee monitoring software solutions. In this article, we will explore the top 5 remote employee monitoring software options available.
Table of Contents
Part 1. Reviews of Top 5 Remote Employee Monitoring Software
In today's segment, we will delve into the world of tracking and monitoring employees who work from home. As the remote work trend continues to gain momentum, it becomes crucial for organizations to ensure productivity and accountability in their virtual workforce. In this article, we will explore the top 5 remote employee monitoring software solutions available in the market, focusing on how to track employees working from home and effectively monitor their computer activity. By the end, you will have a clear understanding of the features, benefits, and limitations of these software tools, enabling you to make informed decisions that best suit your organization's needs.
1.1 ClevGuard MoniVisor
Among the top remote employee monitoring software solutions, ClevGuard MoniVisor stands out as a powerful and comprehensive tool designed to meet the unique needs of businesses. With its advanced features and exceptional performance, MoniVisor provides unparalleled monitoring capabilities for remote teams. Gain a deeper insight into employee activities, track productivity in real-time, and ensure data security with MoniVisor's robust monitoring and control features.
Key Features
You will be able to monitor social media activities. Get all the chat messages from web WhatsApp, Facebook (Messenger), Twitter, Skype and Instagram. Check the profile, chat media files like images, videos, emojis, documents, shared contatcs, etc.

Take automatic screenshots of the target computer screen at specified intervals. And sync the captured pictures to your dashboard in real time. You can also download or delete them as you like.

Record all the created internet browsing history. Check the specific visted page in your own computer and know the exact visiting time. Check all the created download history, even know the file storage path.

Read all the emails sent or received via web-based email platform. Get into someone's email account without them getting a notification.

See everything that is typed on the keyboard. View even the deleted keystrokes or those typed in incognito browsing mode.
Cons

There could be sometimes you can't sync all the data and thus missing some employees' activities, but you can contact our support center to help you with this issue.
Step 1. Sign up for a valid account
Sign up for an active account on MoniVisor website or just click the Monitor Now button below. Review the available plans and purchase one according to your requirements.
Step 2. Installation and configuration
MoniVisor website has a page "My Product and Orders Management" where you will find a detailed guide to install and configure your software after the successful purchase.

Step 3. Install Chrome Extension on target computer
Chrome extension allows monitoring employees' social media chats and emails. So we strongly recommend you to install the extension for more monitoring features.
Step 4. Start Monitoring on your own computer
When all setup on target's computer, you should go back to your own computer for remote monitoring. Your dashboard contains all the details and settings to monitor your employees. You can see the tabs at the left hand side panel.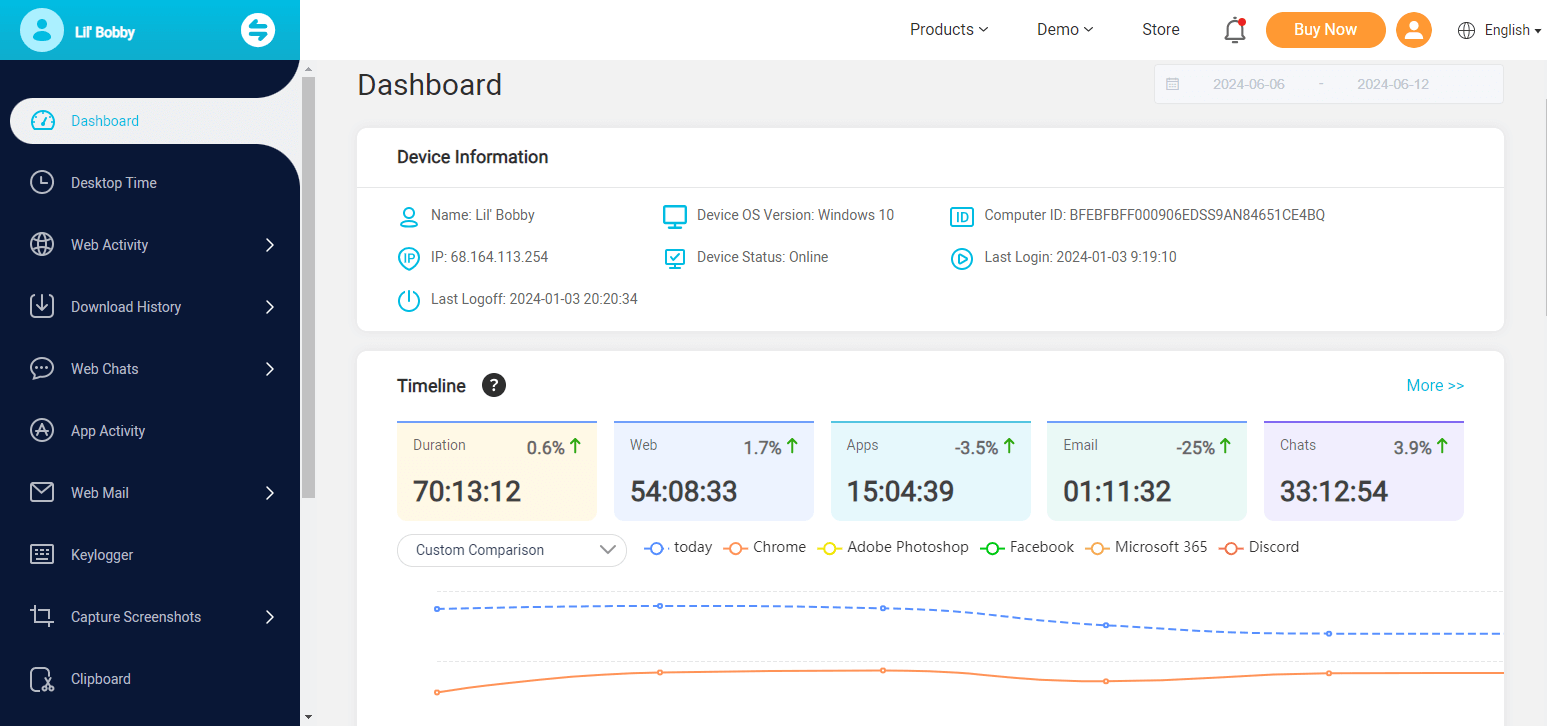 1.2 Insightful
Insightful employee monitoring is an essential practice for modern businesses seeking to enhance productivity, efficiency, and data security. By leveraging advanced monitoring solutions, employers gain valuable insights into employee activities, enabling them to identify areas for improvement, track performance, and ensure compliance. Insightful employee monitoring goes beyond simple time tracking, providing comprehensive analytics and real-time data to drive informed decision-making.

Cons

Limited times for taking screenshots (up to 30 per hour).
Separate billing plan for time tracking and automatic time mapping.
1.3 RemoteDesk
RemoteDesk is a cutting-edge remote employee monitoring software designed to revolutionize the way businesses manage their distributed workforce. With its state-of-the-art features and advanced technology, RemoteDesk provides real-time visibility into employee activities, ensuring productivity and compliance with company policies. This comprehensive solution offers robust monitoring capabilities, including time tracking, application usage monitoring, and activity analysis.

Cons

RemoteDesk may have a higher price point compared to other remote employee monitoring software options.
Given the nature of employee monitoring software, privacy concerns can arise.
RemoteDesk's level of customization may vary.
1.4 Monitask
Monitask is a feature-rich and intuitive remote employee monitoring software that enables businesses to effectively track and manage their distributed teams. With its comprehensive set of tools, Monitask offers real-time monitoring of employee activities, task management, productivity analysis, and more. Streamline your remote workforce, boost productivity, and gain valuable insights with Monitask's user-friendly interface and powerful features.

Cons

Users may find the user interface of Monitask less intuitive or visually appealing.
Its compatibility with other software or tools used may be limited.
The level of customer support and frequency of updates provided by Monitask may vary.
1.5 Hubstaff
Hubstaff is a powerful remote employee monitoring software that empowers businesses to effectively manage their remote teams. With its comprehensive suite of features, Hubstaff offers time tracking, activity monitoring, productivity analysis, and more. Gain valuable insights into your team's performance, streamline workflows, and optimize productivity with Hubstaff's intuitive interface and robust capabilities.

Cons

It's initially complex to set up and navigate.
The cost per user or team member can add up, and additional fees may be incurred.
It primarily focuses on time tracking and employee monitoring, so there are limited advanced project management capabilities
Its mobile app lacks certain features available on the web version.
FAQs: More About Remote Employee Monitoring
1. Is it illegal for employers to monitor their employees at work?
The legality of employer monitoring of employees at work can vary depending on several factors, including the jurisdiction and the specific monitoring practices involved. In many countries, including the United States, employers generally have the legal right to monitor their employees' activities within the workplace, as long as certain conditions are met.
2. Do employees know they are being monitored?
Usually, employees have no idea of remote monitoring. However, employers may be obligated to inform employees in advance about the types of monitoring conducted, the purpose of the monitoring, and the extent to which their activities are being monitored. This disclosure allows employees to understand and consent to the monitoring practices in place.
3. Can my employer track my activity if I am not connected to their VPN?
It always depends on which methods your company take to do remote employee monitoring. If employers use MoniVisor, they will get all your web and app activity conducted on computer.
Conclusion
In conclusion, remote employee monitoring software plays a vital role in managing and optimizing remote work environments. The top 5 solutions discussed in this article offer a range of features to enhance productivity, track performance, and ensure data security.
Among these options, ClevGuard MoniVisor stands out as a comprehensive and powerful tool. With its advanced monitoring capabilities and exceptional security measures, MoniVisor empowers businesses to effectively manage their remote teams. Don't miss out on the opportunity to experience the benefits of MoniVisor for yourself. Take action now and try MoniVisor to unlock the full potential of your remote workforce