Niantic, the developers behind the Pokémon Go App, recently incorporated the much-cherished fan-favorite trade evolution gameplay mechanic in their game. Although this feature has been long present in the franchise's video game series, it was only introduced to Pokémon Go in 2020.
However, it's worth noting that Niantic has implemented the Pokémon Go Trade Evolution feature in a slightly different way. Nevertheless, the good news is that it is now easier than ever to trade Pokémons!
Part 1: Pokemon Go Trade Evolutions Explained
1.1 Background
Pokémon Go Trade Evolution goes all the way back to the 1998 Pokémon Blue and Red video games. Back in the day, trainers traded their Pokémons via the Game Boy link cable. This is partly because the Pokémon franchise has always encouraged Pokémon trading and ensured the existence of a healthy trading ecosystem between versions of the Pokémon games.
Consequently, some Pokémons were made native in every game version. Also, these Pokémons could only be further evolved through trading. As a result, in order to complete one's Pokédex, trading Pokémons was necessary.
1.2 Requirements for Pokémon Go Trade Evolution
When it comes to Pokémon Go Trade Evolution, there are certain requirements that need to be completed.
First and foremost, make sure that your selected Pokémon is eligible for trade. It will be eligible for trading if you see a trade icon (two Poke balls with arrows pointing toward each other) next to the evolve button.
Also, since Pokémon trading is done between 2 Pokémon Go Trainers, both of them need to be friends with each other and be at least at level 10. If the person you are trading with is not your friend, make sure to exchange your trainer codes with each other.
Lastly, both of you need to be within 100 meters (328 feet) of each other. This is because, as of now, trading cannot be done remotely.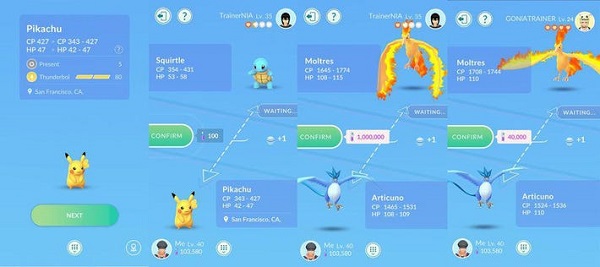 1.3 Pokémon Go Trading Costs
Now before you start trading Pokémons, know that the Pokémon Go Trade Evolution does not come for free. There is a trading cost present that both the trainers need to pay. This can range anywhere from a mere 4 stardust to 100 stardust.
The major factor governing cost is your friendship level with the other Pokémon Go trader. Other factors include the rarity of the Pokémon being traded and the distance between the traders.
1.4 Rewards for Pokémon Trading
To compensate for the trading fees, Pokémon Go Trade Evolution is full of rewards for the traders.
The most immediate reward for trading Pokémons is free evolution. Since all Pokémons in Pokémon Go require candy to evolve, when you get a Pokémon in trade, you can evolve it for free.
Consequently, it saves you a boatload of candies by trading Pokémons. Moreover, it also saves you time that would be consumed in order to get more candies in Pokemon Go and get that Pokémon to its next evolution form.
Also, it is a great way to
complete your Pokédex
since the other player might have a certain Pokémon eligible for trade that is not available in your region. Yet another reward for trading Pokémons would be the higher CP and HP you get upon trading it.
Part 2: Pokémon Go Trade Evolution List
Since not all Pokémons qualify for trading, it is important to know which are available for Pokémon Go Trade Evolution.
As of February 2023, here is the updated list:
| Pokemon | Evolves into | Pokemon |
| --- | --- | --- |
| Boldore | --> | Gigalith |
| Graveler | --> | Golem5 |
| Gurrdurr | --> | Conkledurr |
| Kadabra | --> | Alakazam |
| Machoke | --> | Machamp |
| Phantom | --> | Trevenant |
As seen above, despite the large roster of current available Pokémons in the game, only a few are eligible. However, no need to worry though. We can say for sure that in the near future, this list will only grow!
Part 3: How to Trade Pokémon for Evolution
After you have met the preconditions for Pokémon Go Trade Evolution, you can begin the Pokémon trading process.
When both the trainers are within close proximity (within 100 meters of each other), the first person needs to go to their Map View and then the Trainer Profile. From there, he needs to open his Friends List and tap on the other person's username.
Thereafter, the first person clicks on the trade button and the other person receives a notification on his app a couple of seconds later. When both of them join the trade session, they can choose their desired Pokémon to be traded.
Upon confirmation and paying the required stardust fees, the trade process will be complete and both trainers will receive some candy.
However, do keep in mind that the exchanged Pokémon cannot be re-exchange and the one you get in return will have different CP and HP stats.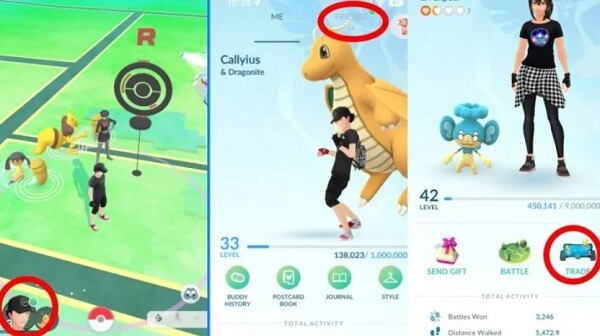 Part 4: How to Trade Pokémon Without Distance Restrictions
And now you have everything to get started with Pokémon Go Trade Evolution. However, there is still a "bonus" key information that you need to know.
As we mentioned in the requirements section, both trainers need to be within 100 meters in order to trade Pokémons. However, it is possible to bypass this distance limitation. But how is that possible? Read on to find out!
Step 1: Choose a Reliable Location Spoofer for Pokémon Go
To begin with, you need a reliable location spoofer for Pokémon Go. ClevGuard ClevGo is one such location spoofer that outperforms every single of its competitors. And NO, it does not get you banned.
With its underlying state-of-the-art features, it smartly tricks the Pokémon Go app into believing you are somewhere else. For instance, within a couple of seconds, you can put yourself anywhere on the map as well as simulate your movement naturally.
Moreover, ClevGo presents you with 4 different functionalities for location spoofing and it works on both the iOS and Android platforms. Also, there is no need to jailbreak your device.
Step 2: Download and Connect the Location Spoofer to Your Device
ClevGo is only available to download from its official ClevGuard website. Moreover, when compared with other location spoofers, what makes ClevGo so attractive to download is its super easy process to set up!
Here is an overview for an iOS device:
Download ClevGo on your PC (either desktop or laptop). Run the app while also connecting your mobile to it via the USB cable. Click the "
Trust
" option on your iOS screen and wait for the map to load on your PC. That's it!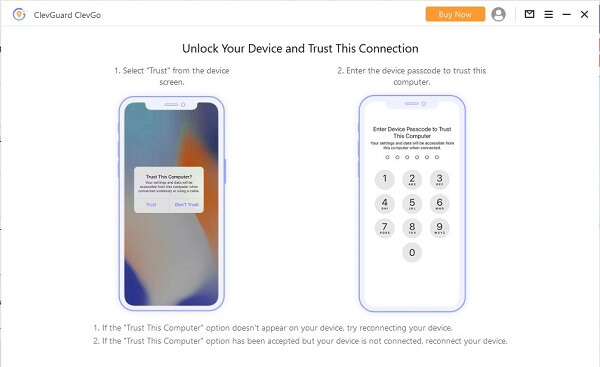 And now, 4 different modes will be available in front of you: Teleport, Two-Spot, Multi-Spot, and Joystick. Choose any and begin your Pokémon Go Trade Evolution journey!
All these modes will be located on the upper right side of your screen. In order to use a mode, you need to click/tap on it. Let's look at each of these below.
Teleport:

It is the fourth option. Here, you only need to put in the address or coordinates of the place you need to go.

Two-Spot:

It is the second option. Like before, you need to put in the address or coordinates but both your starting and ending location. Also, you be required to put in the number of moving times as well as the speed of movement.

Multi-Spot:

It is the third option. Here, everything is the same as Two-Spot mode except for the number of locations (you can add up to 100 instead of 2) where you can simulate your movement in.

Joystick:

It is the first option. Here, when in a spoofed location, you can move in any surrounding direction with complete 360-degree freedom via the help of a virtual joystick.
Step 4: Trade Your Pokémon Go Without Distance Limitation
So, with ClevGo by your side, it is possible to trade Pokémons with your faraway friends since you are near to them (at least the Pokémon Go app thinks you are!)
Conclusion
Now before you go, there is one thing you need to bear in mind. Although ClevGo makes it possible for you to trade Pokémons with distant friends and relatives, make sure not to trade any Pokémon which you might potentially regret in the future as you will not be getting them back.
If you have already decided that you would like to trade it, ClevGo would be a great tool for you to bypass the distance restriction in Pokemon Go.