Is it possible to change the location on Samsung? you will be glad to know that yes you can change location. Because of different reasons Samsung users want to fake their location which wasn't possible in the past. But now you can do it.
If you are wondering how to change location on Samsung? Keep reading. Here we will tell you various tips about how to change location on Samsung in 2023.
Part 1:How to Change Location on Samsung
There are various ways to change the location on a Samsung phone; here, we enlisted easy and trusted methods to help you change your location.
Method 1: Making use of Location Changer
The easy method of changing the location on Samsung is to use the location changer application ClevGo.
ClevGo is one of the smartest location-changing tools that lets you change your location in less than a minute. It supports multiple devices at a time and supports different modes. The ClevGo allows all its users to change the virtual location of all their phones like Samsung, iPhone, etc. this location changer tool is useful for a variety of purposes such as accessing geo-restricted content, gaming, and testing location-based features of the software.
Other Features of ClevGo
The ClevGo comes with cutting-edge features that can help you customize your location at any time. Here are some useful features of ClevGo.
360-degree remote control
It is the best feature of the ClevGo application that allows the user to control the movement in all directions. This feature is available in joystick mode only.
Multiple modes
The ClevGo has different modes, such as teleport mode, two-spot mode and multisport mode.
In two-spot mode, you can only set the initial and final destination. In multi-spot mode, you can set different spots. Additionally,under these two modes, auto marching is available. You can add customized speed, and it will automatically change your location in the desired direction with the desired speed.
Generate GPX file route
This is the best feature of ClevGo that helps you to import any GPX route file to a set location, and the user can also export any GPX file from it.
Favorite route list
A favorite route list feature lets you generate a favorite route, which can be used for the future too.
history record
This feature keeps a record of all locations you have added, and you can take help from it in the future.
How to Spoof Location on Samsung with ClevGo?
Are you a Samsung mobile user? Do you want to spoof your location? If yes, follow the below mentioned steps and change your Samsung phone location quickly.
Step 1. Download and install the ClevGo application on your personal computer and connect your Samsung device with PC by using a USB cable.
Download for WindowsDownload for Mac
Step 2.
After connecting devices, you will see a notification on PC: select your device" so choose your device.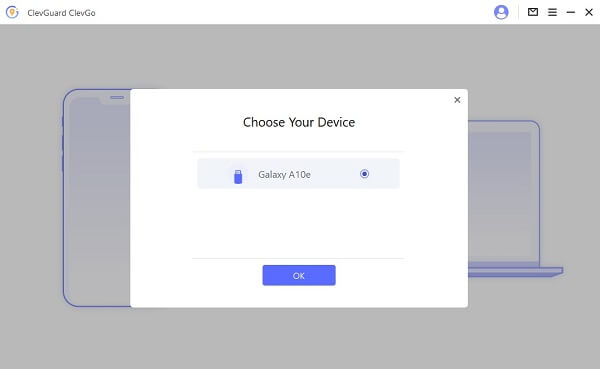 Step 3. Now set your Samsung mobile phone USB mode on media transfer protocol, and turn on Allow debugging.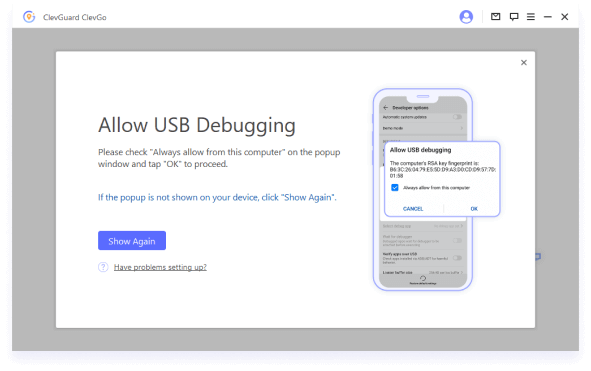 Step 4. Next, you have to select social mode or gaming mode; after selecting the mode, go to the dashboard, select teleport mode, and tap on the move, and your Samsung location will be changed.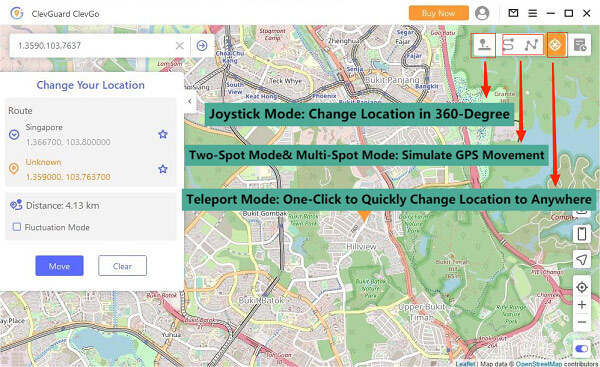 Method 2: Improve Location Accuracy by Using "Google Location Services"
Google location services are available on Android devices that provide more accurate location services to android devices. These services use different sources, including GPS, WIFI, and mobile networks, to provide you with accurate and up-to-date information about the device's location. Some popular services include google maps, google places API, and geolocation API.
It is easy to hide your location of Samsung. In this way, you can hide the location from people and different applications. Here is a step-by-step guide to hiding the location.
Turn on your phone, touch the screen, and swipe down.
Click on a location and hold it for a short time; it will direct you to a new page, where you will see different options.
Click on google location accuracy, and turn it off.
Now your Samsung phone will not be visible to anybody.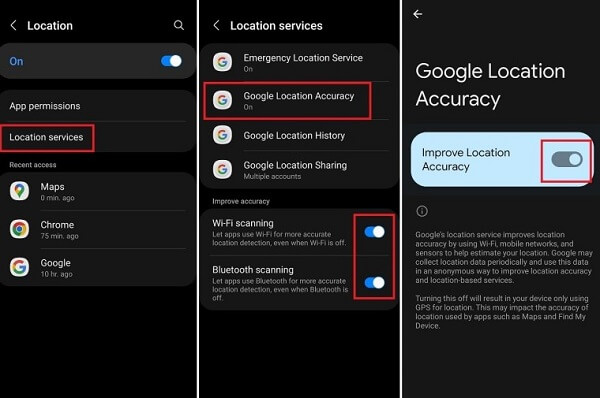 Method 3: Using a Reliable VPN
VPN is the third and most used method to change the location of a Samsung device's location. These VPNs allow their users to change location on Android in one click only. There are a lot of VPNs available, but few are paid, and few are free. (Keep cautions to those free VPN with data leaking issues.) You can download the best VPN from the Google Play Store on your Samsung device. After downloading the VPN, it will automatically change your location, and various VPNs have the option to set a customized location. But before using any VPN, make sure the VPN you are using to fake your location is secure and reliable.
Related Read: How to Change iPhone Location without VPN?
Part 3: Other Tips about Samsung Location
Here are some useful tips for Samsung users; if you are using Samsung, read these tips.
Tip 1: How to Switch Location on Samsung?
Hold your Samsung phone, turn its screen on
Tap on the screen and swipe it down
Tap on the location icon
If it turns blue, it means your Samsung location is on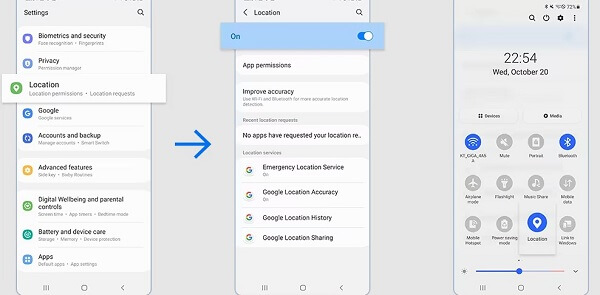 Tip 2: How to Change Your Country or Region on Samsung Play Store?
Open the Google Play Store app on your Samsung device. Tap the menu button (three horizontal lines) in the top left corner of the screen.
Tap "Account." Click on "Country and profiles."
Select a new country of your choice.
Follow the on-screen instructions to add a new payment method for the new country.
Restart the Play Store app and finally your country is changed now.
NOTE:
Changing your country or region may result in loss of content or availability of apps in your previous region.
Tip 3: How to Fix Location Wrong in Samsung?
Go to Settings > Location. Turn on Location.
If it's already on, turn it off, wait for a few seconds and turn it back on.
Make sure Location Mode is set to High accuracy.
After that, restart your app and now your device will show a real location.
Tip 4: How to Change the Country in Samsung Account?
It is difficult to change location in your Samsung account because you are not allowed to change location. If you want to change your location on the Samsung account, you have to create a new account, and in that new account, you can choose the country of your choice.
Tip 5: Is there such a Samsung phone locator like iPhone?
Yes, a Samsung phone locator feature is "Find My Mobile." You can use it to locate your lost or stolen Samsung device.
To use "Find My Mobile" to locate your Samsung phone:
Make sure your Samsung phone is connected to a Wi-Fi or mobile network.
Go to the Find My Mobile website (https://findmymobile.samsung.com) and log in using your Samsung account.
Once logged in, you will be able to see your phone's location on a map.
Tip 6: How to Track Someone's Location at Samsung?
Tracking someone's location is now easy and secure with kidsGurd Pro. KidsGuard Pro is a third-party app that allows users to track the location of another person's device. To use KidsGuard Pro to track a Samsung phone, you would need to install the app on the target device and log in to your account.
After logging in, you can easily locate the people's location quickly.
Tip 7: How to Find Location History on a Samsung Phone?
Go to Settings > Location.Turn on Location.
Scroll down to the "Location History" section.
Tap on "Google Location History" (if your device uses Google services).
Here, you can see your location history, including the dates and times of your movements.
Conclusion
Changing location on Android Phone such as Samsung is helpful in various cases, such as getting access to banned content, geo-restricted games, blocked apps and software. Now it is possible to change the location of any Android device like Samsung with different methods, but the most reliable method is the ClevGo spoofing application because it is easy to use and a trusted application.