Question:
How Can I Track Someone on Whatsapp Without Them Knowing?
There are a large number of people want to track their family or friend's WhatsApp, but it's not easy to do. Being one of the best free chatting platforms, WhatsApp has over 2 billion users around the world and becomes so relevant, meaning it may give you an insight into a person's life. Especially if you want to track their movements, WhatsApp will be very useful.
Then how to track someone on WhatsApp? Well, it is not as difficult you may think. We will detail some genuine ways as well as disclose the fake ways below.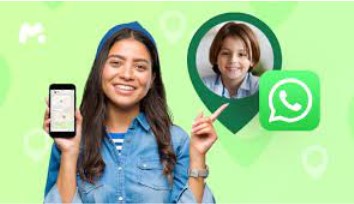 How Do You Track Someone's Phone on WhatsApp?
The official way to track WhatsApp user location is easy. You have to use the sharing feature of WhatsApp itself to track the location.
Once the other party accepts your sharing request, you can check the real-time location immediately. However, since you have to ask the person for permission, there are possibilities that he can refuse or stop the sharing anytime.
If you don't mind, keep reading how can you track someone on WhatsApp with this method below; if you want to find out how to track someone on WhatsApp without them knowing, jump to the technical way directly.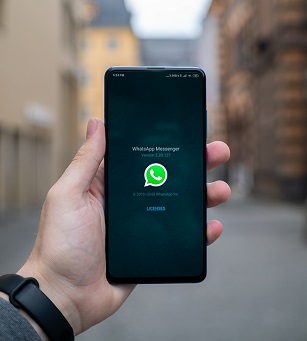 Track WhatsApp Number Location with Share Location
Step 1. Open WhatsApp on mobile and tap on the name of the recipient, whom you want to send the location.
Step 2. Now, tap on the 'Plus' icon.
Step 3. After that, you'll see a popping window, tap on 'Location' and allow WhatsApp to access your mobile's location.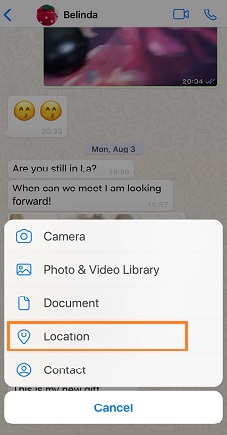 Step 4. A map will appear, tap on 'Share Live Location'. A warning message will appear. Tap 'OK' and choose the period you would want to share your location.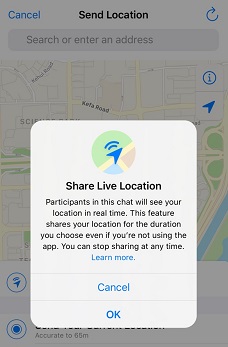 Step 5. Tap 'Send'. The location share feature can track WhatsApp user location in real-time. If you are moving, it will show it and show you movements as well.
How Can I Track Someone on WhatsApp Without Them Knowing?
Can whatsapp be tracked? The answer is YES! The technical way of tracking WhatsApp messages without them knowing involves using a professional WhatsApp tracker application.
There are numerous online services, but we recommend using KidsGuard for WhatsApp. It allows you to monitor everything happened on the target's WhatsApp, including calls, chats, photos, and videos etc.
using KidsGuard for WhatsApp
With only 3 simple steps, you can start to track someone on WhatsApp:
Step 1: Start by clicking the button to choose a plan to get a KidsGuard Pro account with all the advanced tracking features.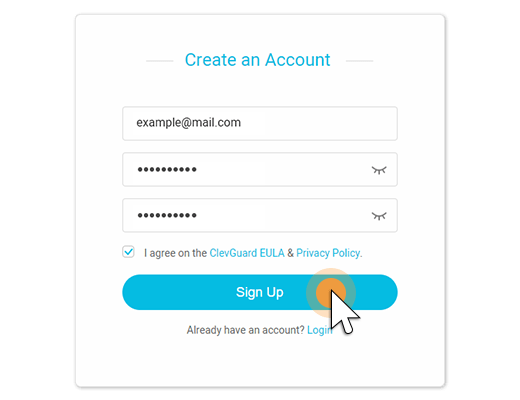 Step 2: After the purchase, you will be navigated to the 'My Products and Orders Management' page. Click on the 'Setup Guide' and you will have access to the relevant downloading site. Then access the target device. Install the app there and complete the necessary configuration.

Step 3: After the configuration is finished, go back to its website and hit 'Verify Setup' to check everything. Now, you can choose 'Chats' and any other options in the left menu. Every aspect of the target phone can be monitored from there remotely and discreetly.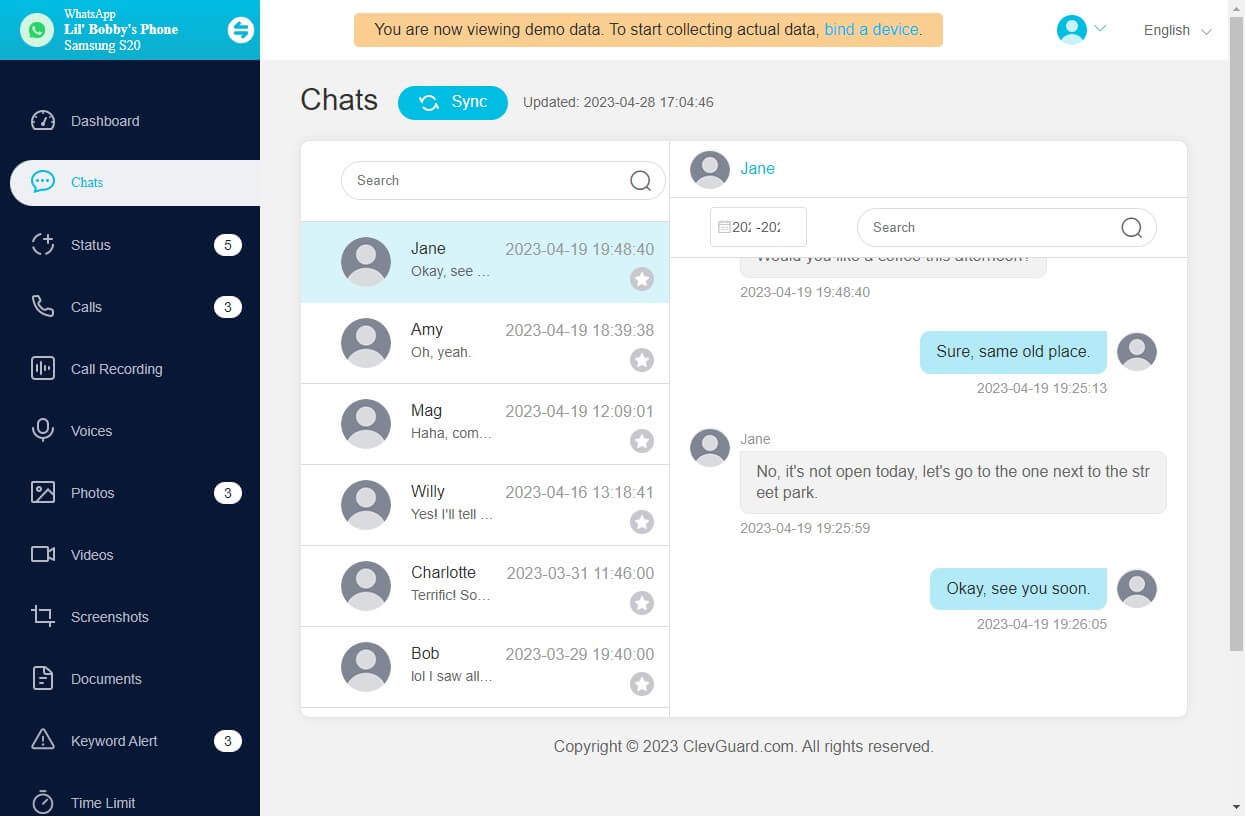 Features of KidsGuard for WhatsApp: Remotely Track Someone on WhatsApp
Check all the sent/received messages on WhatsApp about their movements without them knowing;

View their whatsapp call history with accurate details (coordinates, address, date, and time) and you can even record the calls;

Capture screenshots when WhatsApp is in use and you could see whether they are sharing location with someone else;

See all the WhatsApp status whether is private or public;

Track all the WhatsApp activities through a complete web-based dashboard that can open on any web browser on any device;

Never be concerned about your data privacy as it employs top security measures to ensure that all your private data is safe.

Set screen time for WhatsApp so the parents could control child's WhatsApp usage.

Get instant notification if you set keyword alerts. Once the target enters some certain keywords that you set, you will get a notification through dashboard.
If I want to find out how to track someone on WhatsApp without them knowing, I wouldn't think twice about using KidsGuard for WhatsApp. It is my prior solution in all scenarios.
3 Fake Ways to Check Someone's Location on Whatsapp Without Them Knowing
We have discussed the official of tracking WhatsApp location and the Technical way of tracking WhatsApp chats, which involves using an efficient WhatsApp tracker called KidsGuard for WhatsApp. But it is time to discuss the fake ways.
1. Command Prompt to Track WhatsApp User Location
Step 1: You have to use a desktop or a laptop to execute this method. You should open the WhatsApp web and start a chat with the person whose location you want to track.
Step 2: Then, you need to close all the background app using the Task Manager, which can be opened by pressing 'Win+R' keys together. Type 'cmd' to run the command prompt.
Step 3: Now, type 'netstat-an' and hit 'Enter'. An IP address will appear on the screen, write it down. No that, you have the IP address, trace the exact location.
Sadly, the steps are not as simple as they are described—especially the part where you trace the IP address. But even if you go through all the steps, you will find that this method doesn't work.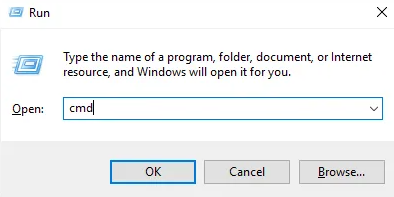 2. Tracking Links to Track WhatsApp User Location
Another way of WhatsApp location tracking you will find on the internet that involves using Tracking Links. It requires you to create a tracking link and send it to the target person. When that person clicks on that link, you will receive their location. Here's how to find someone on WhatsApp:
Step 1: You have to create a free web hosting account on Hostgator and My3gb, etc.
Step 2: Go to the 'File manager' option and download 'Tracking ZIP File' to your computer.
Step 3: Extract and upload the files to the file manager's root (public_html) folder.
Step 4: Send the link to the person you want to locate.
This is not an easy task. Even if you were able to create a download link and were able to send it, no one clicks on unknown links these days. But we still tried to execute this procedure, and it failed to get the real location.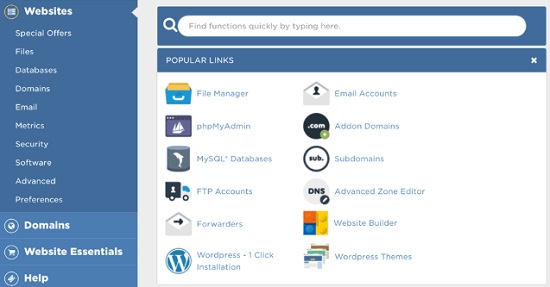 3. Inspectlet to Track WhatsApp User Location
Inspectlet is a service to track the IP address of the person with whom you were chatting on WhatsApp. Here's how to track WhatsApp number location:
Step 1: You have to create an Inspectlet account and log in.
Step 2: Then, you will receive a code that needs to be sent to the target person.
Step 3: When they click on that link, you will receive location information.
Similar to the second fake method, this tool is totally a scam and won't tell you the right IP address. Besides, it is expensive.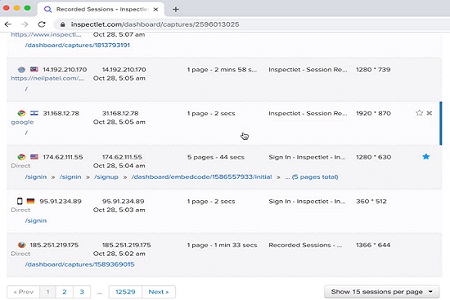 Conclusion
We explained several great alternative on how to track someone on WhatsApp without them knowing, which is somehow hopeless without the user's consent. And multiple fake ways are thriving on the internet and scamming people. So, if you want to really track someone's WhatsApp, then use KidsGuard for WhatsApp. It is a professional tracking tool, efficient and safe to use.