Nowadays, our phone stores the most profound secret and personal information. Many people are wondering how to protect their privacy on their phones. The easiest way is to turn off your phone location tracker unless you need to use it.
This article will show you different ways to trace the phone's location. After reading, you'll acknowledge how a phone tracker works and how to avoid the unknown location tracker.
Part 1. How to Track Phone Location Easily?
1.1 Location Tracking on Android
First, let's see how to track phone location on Android. If you have a Samsung, you can jump to How to track phone location on Samsung.
1. Google Find My Devices
The first is the easiest way. But you should take a few minutes to prepare now. First, you should sign your phone into a Google Account. If you don't have it, please register one immediately. Next, you should turn the location on and keep it connected to the internet. At last, turn on "Find My Devices" option on your phone.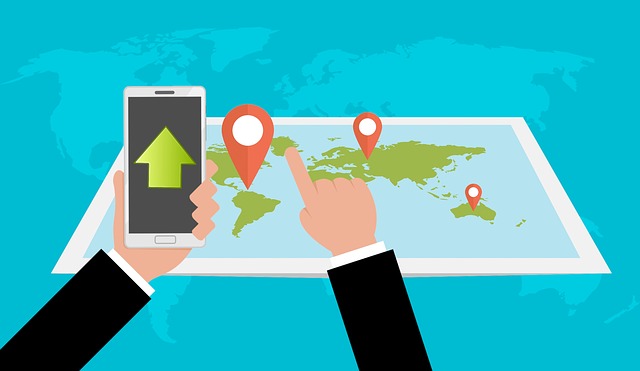 Track Cell Phone Location Accessible on Google Maps
Another way is to use Google Maps to trace the target's phone. Google Maps is a superior online navigation service that allows users to find their location. This program has several built-in functionalities that enable users to explore new areas. This software is entirely free.
If you open Google maps, you can share the target device location by scrolling down and choosing "Share location" from the left bar list. Besides, in Google maps, one can quickly locate more than one device simultaneously. Different from the Google Find My Devices function, the accuracy of google maps' location tracing is high because it uses GPS, GPRS, or Wi-Fi. So you can find the target's phone even if the phone does not connect to the internet.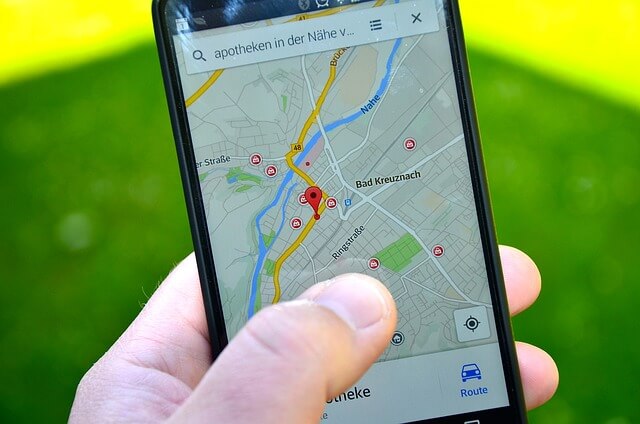 Tip:
Google Maps is available for Android and iOS devices.
2. Mobile Number Tracker
You may rapidly determine a device's location on a map with Mobile Number Tracker by using phone numbers rather than mobile networks or Wi-Fi. Installing an app on either the other person's or your phone is unnecessary.
Step 1. Go to the website.
Step 2. Enter the phone number you want to track.
Step 3. You can view the state and country of this phone number.
Pros

Mobile number tracker can quickly pinpoint the target's device location on the map. The primary benefit is it is free of charge.
Cons

Mobile number tracker has low accuracy of location tracking. The result is only for reference.
3. Track Cell Phone Location with WhatsApp
Do you know WhatsApp can share the location with others? Follow the steps below. You can share the live location on WhatsApp.
Step 1. Launch WhatsApp and open a chat/group chat you hope to track.
Step 2. Choose the "Paperclip" on the right side of the text field.
Step 3. Click "Location." > "Share live location."
Step 4. Select sharing duration from 15 minutes, 1 hour, or 8 hours. Then click "Send."
While sharing one's location using WhatsApp is simple, there is no method to check another person's location unless that person commences revealing their own. Additionally, WhatsApp has a time limitation in tracing the location.
If your child is addicted to WhatsApp chatting, there is another powerful software named KidsGuard for WhatsApp, which aims to help monitor their kids' social activities remotely. There is no need to root yours and target's phone. Tap "Buy Now" easily to start the monitoring now.
Bonus Tips: Track Someone's Phone Location Without Them Knowing
If you want to track kids' phone location without them knowing, I recommend KidsGuard Pro, a robust monitoring software for parents to monitor their kids' activities on their phones. You can easily spy and locate the target on WhatsApp without them knowing.
Step 1. Launch your account and tap on "My Product."
Step 2. Open KidsGuard Pro for Android or KidsGuard Pro for iOS, and click "Dashboard."
Step 3. Scroll down the left bar, choose "Location Tracking" on KidsGuard Pro for Android, or click "Location" on KidsGuard Pro for iOS.
Step 4. View the target's phone location on your device.
With KidsGuard Pro, you can not only see the real-time location of the target's phone, but also you'll know the historical location of your device. Moreover, KidsGuard Pro supports exporting location statistics to your device.
Isn't it convenient? Why not start monitoring and protecting your child's safety online and offline?
1.2 Free iPhone Location Tracker
As an iOS user, you may wonder about a cheap or free method to find a phone location. Here, you can try KidsGuard Pro for iOS. It is a real-time iPhone location tracker. More than that, this powerful software can see SMS, calls, WhatsApp, and more with or without jailbreaking. You can check the full guide on find lost iphone without the phone.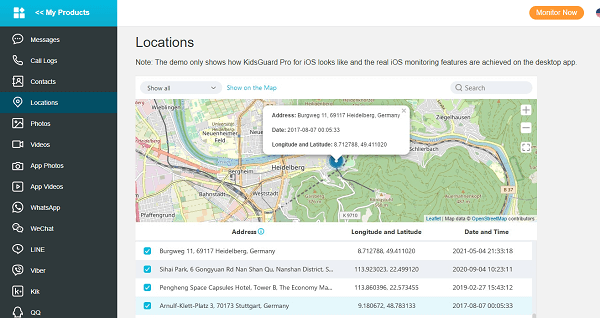 There is two other free iPhone location trackers. Without further ado, let's see how to trace your iPhone free of charge.
1. Find My iPhone
Similar to Android Find My Devices, Find My iPhone is a Find My app that comes preinstalled on iOS devices. It enables users to trace missing iOS devices and view their current or last known position. You may also use it to locate someone for free. However, you must first activate it in the device settings.
From the first beginning, you should enable it from the device settings. It would help if you went to choose your "Account"> click "Find My" and activate it from there. Also, it would be best if you chose the" share my location" option.
Then you can find your lost phone in 6 steps:
Step 1. Sign in to iCloud.com/find, and find your device on a map.
Step 2. Remotely lock your device with a passcode when you mark it as lost.
Step 3. Report your missing device to the local law enforcement agency.
Step 4. File a claim for an iPhone replacement if AppleCare+ protects your missing iPhone from Theft and Loss.
Step 5. Erase your device remotely. If your device is iOS 15 or later installed, you can still use Find My to locate it or play a sound on it.
Step 6. Go to appleid.apple.com to remove the missing device from your list of trusted devices.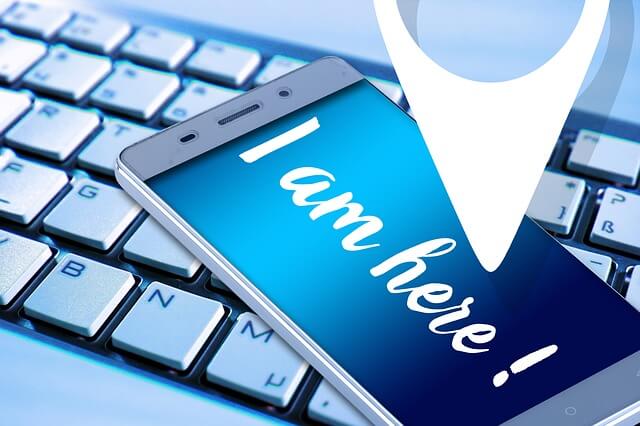 2. iCloud Location Tracking
Another fantastic way to track iPhone location is by iCloud location tracking. It is an Apple service that securely saves files, images, documents, passwords, and other information on iOS devices. It maintains all of your data in one location, regardless of how many iOS devices you have. Data uploaded to iCloud, including location, may be shared with other iOS devices. As a result, it may be used as a simple location tracker app.
Sharing an iPhone's location with it is so easy:
Step 1. Signing up with target's Apple ID.
Step 2. Go to iCloud > Tap "share my location"
Step 3. Select the person who you want to share. Then you can start to trace the iPhone's location.
Step 4. Log in to iCloud with the target's Apple ID to trace the iPhone location.
Step 5. Select "All Device"
Step 6.Select the device you want to find.
Step 7.The iPhone location will pinpoint on the map.
NOTE:
iCloud location tracking will contain up to 5GB to store the data. If you don't want to make a location tracker that takes your phone's storage, KidsGuard Pro for iOS can monitor the target's location on the computer and guarantee accuracy.
Part 2. FAQ about Tracking Phone Location
Q1. Can I track phone locations for free?
Yes, you can. If you're an Android user, you can take Google Maps, and Google Find My Devices as the ways. WhatsApp can also share the phone location with contacts over a while. Besides, iPhone launched Find My iPhone, similar to Google Find My Devices for Android. You can also use the iCloud account to track your iPhone location if you are an iOS user.
Q2. Can I find my phone location by number?
Yes, you can. It is achievable because service providers do it. The location is pinned from the cell phone tower when a call is received. However, the accuracy of location is not as precise as other methods.
Q3. Can I track anyone's location without their knowing?
Yes, you can. KidsGuard Pro is a parental control tool for both iOS and Android users. Parents can remotely monitor their child's phone's location in stealth mode. Besides, the Geofence setting is also available on KidsGuard Pro. It will alert if the child is out of the safe place.
Q4. Can I track a Phone without installing an app?
You certainly can. You may ask your service provider to do it or upse websites offering such services. You can utilize Google Find My Device if there is a recovery email. Geo-tracking websites are an option.
Part 3. Conclusion
Turn off location on your phone can avoid being tracking. Thankfully, most methods of tracking phone locations above are based on someone turning on location tracking on the phone. If you turn off location on your phone, you could avoid being tracked somehow. However, phone number trackers can still check your phone's country or city.
There are disadvantages if you turn off location on your phone. You may need help finding where your phone is. Parents may miss location information when children are in danger. You can find out where someone is and where they've been with just a few simple steps on the above methods. If you want to find out a comprehensive application on spy and locate one's phone, KidsGuard Pro is a good solution.