Photos can contain a lot of information and sharing photos may put you or your kids at risk. It could be your kid who thinks it is necessary to document every aspect of his or her life and posts their images on social media. Or through photos, an employee may share the company secrets. Or simply you are suspicious that your spouse may be cheating and sharing pictures with someone else. All these can be supervised and tracked using a photo viewer app. This can help you to check if there are some secrets on your spouse's album or track what the kids or employees are sharing. The article below contains all the necessary details on photo tracking and how to do it.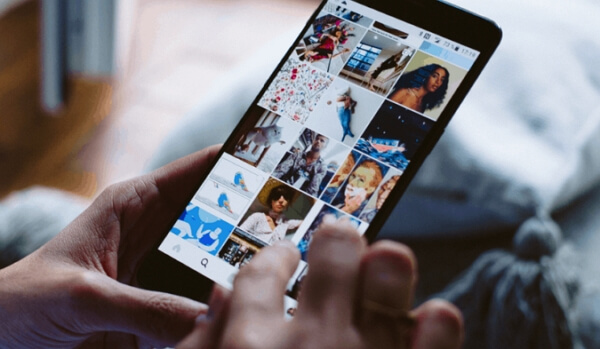 When is it Necessary to View Other Phone's Photos
A picture tells more than words; they convey a deeper meaning. But more often or not, inappropriate pictures find their way into the phones of our kids or the employees which could be very damaging. So, it is very important for the parents as well as the employers and even us as an individual to scrutinize the photos sent or received by the smartphones. So, let's get into the details.
For the Parents
Our kids are getting access to a smartphone at a very young age. And these days, children have the urge to document everything from their outfits, daily routine to their food habits. This may seem like a cool thing for them but it is not healthy.
Sadly, things could get out of hand pretty easily. Even if a single inappropriate photo gets out, there is no stopping it from going viral. So, as parents, we need to monitor such stuff in order to prevent the inevitable. Such as find apps to monitor child's phone.
For the Employers
Every business has its own information circle and your employees have access to such sensitive material. More often or not, employers are known to panic as they have trusted the wrong person with such information.
So, in order to protect your business, you should monitor the photos and documents exchanged by your employees by installing a monitoring app on the company-provided mobile device. It would be beneficial for your business.
Can I View Someone's Photos Remotely?
As for Apple device users, you can try to download their photos from iCloud if they already backup data into iCloud. However, you must know his/her iCloud account and passwords. Furthermore,you can view someone's photos through monitor apps. These apps have a lot of functions, we can see pictures remotely of someone's iPhone and Android. The use of these apps is now in a wide range. Millions of people around the world are using these monitor apps to view their partners and children's online activities.
How To Access iCloud Photos On Apple Devices?
When the target user whose photos you want to view is using iOS device, you will see that all things are connected via iCloud. For example, photos you take on your phone will be available on iPad or iCloud for viewing in a few minutes. Therefore, you need to confirm that it is "On". If iCloud Photos cannot turn on, there is no storage space on the iCloud left. If you want to sync iCloud photos with devices, this is the method to allow the feature and access it.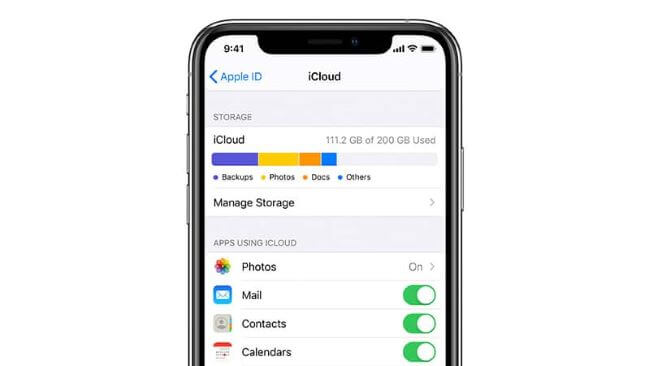 1. How to Turn on iCloud Photos fiction?
First of all, go to the settings app on your Apple device.
Secondly, you should click on "Photos".
If it is already disabled, you should swipe the button to the right side to turn on the iCloud Photos.
2. How to View iCloud Photos on an Apple Device?
It is a good way to view photos and pictures on someone's mobile when you know his/her Apple ID. You can follow these steps to view iCloud photos on other apple devices. Or you are finding how to hack icloud photos.
You need to log in Apple ID and make sure turn on iCloud Photos fiction, tap on "Download and keep originals".
Waiting for sometimes let photo backup into your devices.
Now, you can view all photos stored in iCloud and captured on your device.
How to View Photos On iPhone in Secretly?
Do you want to secretly check other people's photos and pictures? The best way to view photos and pictures on someone's mobile is to use a monitor app.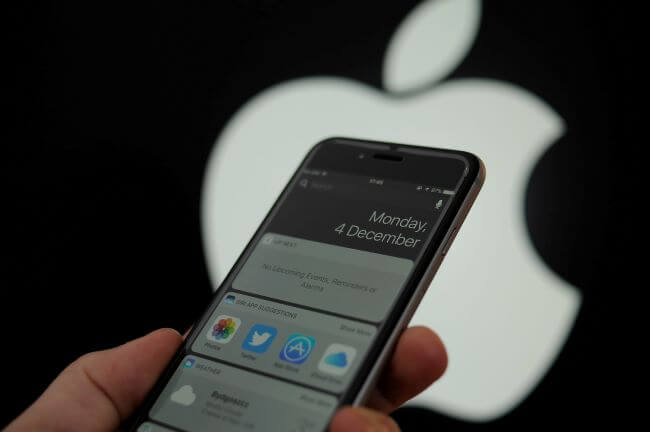 KidsGuard Pro For iOS
You can get all the personal information of the target iPhone through KidsGuard Pro. The app can record all phone calls, store all text messages, locate the location, and access its browser history, videos, photos, and app activity.
How Does KidsGuard Pro Photo Tracker Work?
If you want to track photos on someone else's device then your best option is to use a professional photo tracker app. These sort of apps are excellent and perfect for this task.
Simply searching on the internet you will find an image tracker app but after trying and testing a few of them, we have decided to use KidsGuard Pro for this purpose. KidsGuard Pro is an exceptional photo spy app and it stands out among similar products.
How To Use KidsGuard Pro For iOS?
Step 1: First, you need to create and register an account with KidsGuard Pro. Tap the Try It Now button and provide your email ID to create your account.
Step 2: Choose a plan of your choice. When you have completed the purchase, you can go to the My Products and Order Management page. You will find the same order that you have already purchased. After reading the setup guide, you will learn the method to start with this iPhone monitoring software.
Step 3: Install the KidsGuard Pro for iOS app on the PC according the detailed guide (prefer to set it up on a computer that you prepare to use to monitor).

Step 4: Connect the target iOS device with the computer using the USB connection to get the monitored data. Moreover, if you are nearby of the target device then you can also get the monitored data via the same Wi-Fi. (Note: First time synchronize data must use USB line.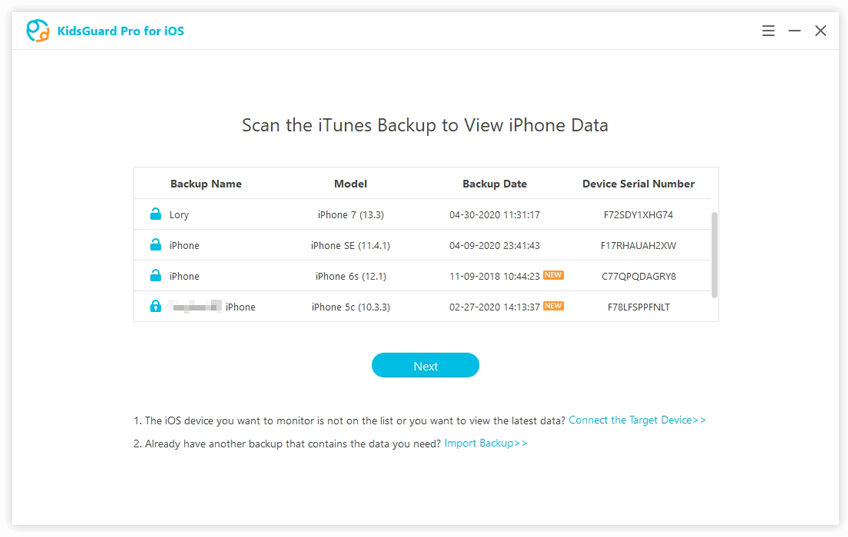 View iCloud Data
This fiction allow users to view the target's iCloud data without target's iOS device. All files uploaded to iCloud can be monitored by our KidsGuard Pro for iOS. This allows you to have complete insight into the target's device activity. You can even download these files as and when you need.
View iTunes Data
If you click on the "View iTunes Data" option and start the scanning process. KidsGuard Pro for iOS will present you all the personal information on the target mobile. It does not matter who connects the target iOS device to the computer in the future, this app will directly record and show you the current information.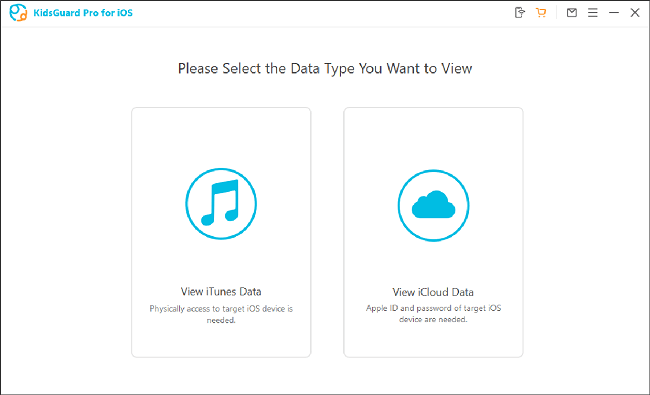 Additional Significant Features of KidsGuard Pro For iOS
Monitor Social Media Apps
Check out the iPhone's WhatsApp, QQ, Kik, Line, Viber, WeChat, and other messaging apps and monitor their chat history.
View Call Logs
Through this feature, you will be able to monitor each outgoing and incoming call from Apple's target device.
View Browse History
KidsGuard pro is a handy application to track Safari history. It will also help you to track bookmarks on a monitored iPhone.
Conclusion
In the end, we would like to say that, you must have realized the importance of tracking photos and how important it is to do it via a safe and secure photo tracker app. This is where KidsGuard Pro succeeds. It is equipped with all the features that any user will need in order to successfully track photos sent or received by the target device.