Photos can contain a lot of information and sharing photos may put you or your kids at risk. For example, it could be your kid who thinks it is necessary to document every aspect of his or her life and posts their images on social media. This may cause personal information leak, digital kidnapping or cyber-violence etc.
Or through photos, an employee may share the company secrets. Or simply you are suspicious that your spouse may be cheating and sharing pictures with someone else. All these can be supervised and tracked using a photo tracking app. This can help you to check if there are some secrets on your spouse's album or track what the kids or employees are sharing. The article below contains all the necessary details on photo tracking and how to do it.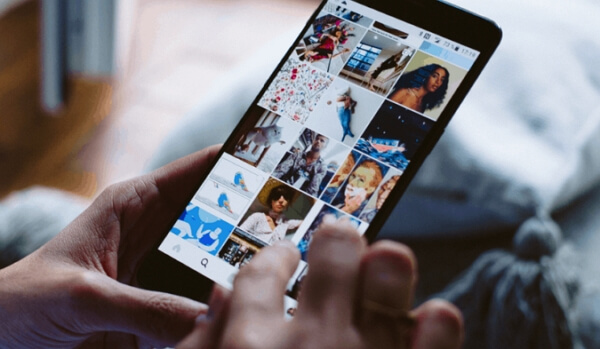 How Does KidsGuard Pro Photo Tracker Work?
If you want to track photos on someone else's device then your best option is to use a professional photo tracker app. These sort of apps are excellent and perfect for this task.
Simply searching on the internet you will find an image tracker app but after trying and testing a few of them, we have decided to use KidsGuard Pro for this purpose. KidsGuard Pro is an exceptional photo spy app and it stands out among similar products.
Why you should choose KidsGuard Pro for photos tracking:
If you use KidsGuard Pro, you will be able to view all the photos captured via the camera and even the screenshots.

Even all the photos downloaded from the internet or from other places will be accessible.

All the details regarding a specific image like the time and time will be available.

The photos can be monitored remotely via KidsGuard Pro's web portal.

Thumbnail viewing is also provided.

Even if the photos are deleted from the device, if they were uploaded to the dashboard, you will be able to view them.
All these advantages will be available to you if you are using KidsGuard Pro in order to track photos. The installation and operation of this app are also very easy. There is also a 3-day free trial available if you want to try it out. Let's have a brief look into the operating procedure of KidsGuard Pro.
Step 1: First, you need to create and register an account with KidsGuard Pro. Tap the Try It Now button and provide your email ID to create your account.
Step 2: Now, you have to get hold of the target device. This is the only time you need to access the target device in order to install the app. So, open a browser and visit www.clevguard.net to download KidsGuard Pro assistant app.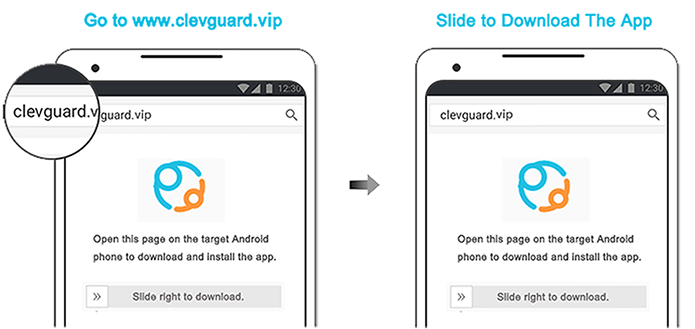 Step 3: Then, tap on the APK file in order to install the app. Simply follow the on-screen instructions and complete the installation.

You can delete the APK file after the app is properly installed. Otherwise, the owner of the target device may find out about the existence of the installed app.
Step 4: After the installation is finished, the application icon will disappear and you have to navigate to the web control panel and login to your account to view or track the photos.
Step 5: In the web control panel you can click on Photos tab to find all the collected images from the target device. Since it's the first time to use KidsGuard Pro, you may need wait a while till device is synced to the dashboard.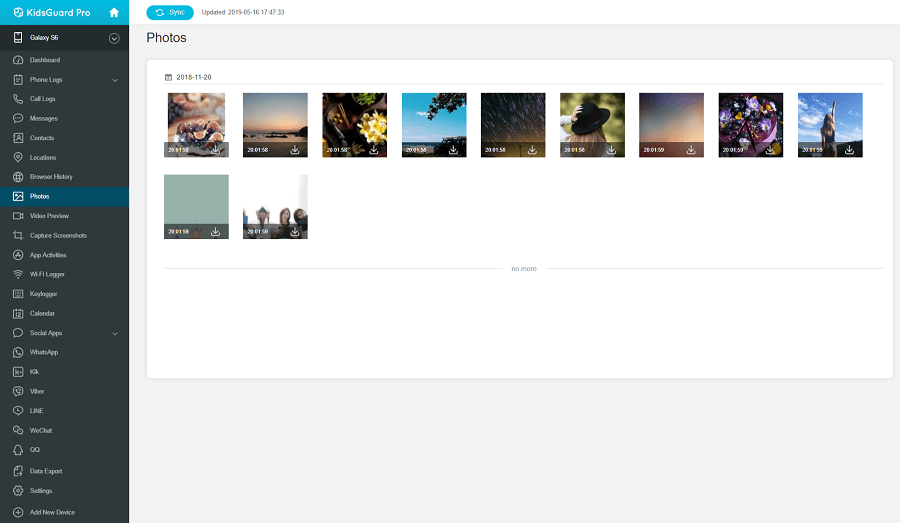 So, this is how KidsGuard Pro can help you to remotely spy on photos of the target device.
Additional Significant Features of KidsGuard Pro
But photo tracking is not the only feature of KidsGuard Pro. It is a very sophisticated cell phone monitoring app and it is packed with a number of versatile features. The other features of KidsGuard Pro include:
Advanced and accurate GPS and Wi-Fi location tracking.

Powerful mobile activity which includes app activity monitoring, incoming and outgoing messages and calls tracking, etc.

This app can even take screenshots of the target device screen in real-time.

Its Geofence feature provides virtual boundaries if they are crossed you will be notified also.

Supports to monitor 3rd party apps include WhatsApp, Instagram, Kik, WeChat, Viber, Facebook, Snapchat, Messenger, LINE etc.

The keylogger feature lets the app monitor every typed word on the mobile.

Operates in incognito mode so that the user doesn't figure out about the existence of this app.
When is it Necessary to Spy on Photos
A picture tells more than words; they convey a deeper meaning. But more often or not, inappropriate pictures find their way into the phones of our kids or the employees which could be very damaging. So, it is very important for the parents as well as the employers and even us as an individual to scrutinize the photos sent or received by the smartphones. So, let's get into the details.
For the Parents
Our kids are getting access to a smartphone at a very young age. And these days, children have the urge to document everything from their outfits, daily routine to their food habits. This may seem like a cool thing for them but it is not healthy.
Sadly, things could get out of hand pretty easily. Even if a single inappropriate photo gets out, there is no stopping it from going viral. So, as parents, we need to monitor such stuff in order to prevent the inevitable.
For the Employers
Every business has its own information circle and your employees have access to such sensitive material. More often or not, employers are known to panic as they have trusted the wrong person with such information.
So, in order to protect your business, you should monitor the photos and documents exchanged by your employees by installing a monitoring app on the company-provided mobile device. It would be beneficial for your business.
Conclusion
In the end, we would like to say that, you must have realized the importance of tracking photos and how important it is to do it via a safe and secure photo tracker app. This is where KidsGuard Pro succeeds. It is equipped with all the features that any user will need in order to successfully track photos sent or received by the target device. Go for it!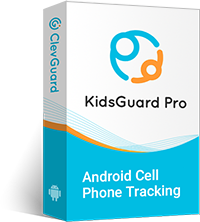 An Array of Amazing Features
Remotely access the files on the target phone, like contacts, photos, call logs,keylogger, etc.

Track the real time location and view location history

Check all incoming and outgoing calls & SMS

Monitor app activities and know which app is frequently used

Monitor social media apps like WhatsApp, Instagram, Snapchat, Facebook, Viber, WeChat and more