With the increase usage of smartphones, it has become difficult to track someone's activities on the Internet, which has worried many parents. Children often unintentionally share personal information without realizing that it turns out to be a threat to them and their families. Now how to view someone's browsing history from a different phone is no longer a matter of concern with two good parental monitoring apps. You can track your children's browsing history with KidsGuard Pro for Android and KidsGuard Pro for iOS.
Table of Contents
How to Track Someone's Web History on Another Phone
1. Track Browsing History with KidsGuard Pro for Android
KidsGuard Pro for Android enables the parents to monitor real-time location, access phone files, and detect inappropriate content on target device. It also provides an opportunity for Android users to keep an eye on the browsing history of their children with a different phone.
Parents are able to obtain children's browser history information like the past and last visited URL, viewing timestamp, web titles, and frequency of the visit. Just click the Sync button and parents can grasp the latest browsing history in real-time.
KidsGuard Pro for Android has become popular among millions of people worldwide and is considered the best browser monitoring solution for many parents.
The app supports multiple languages to cater to various users.
The installation process is user-friendly and takes around 5 minutes.
It is 100% undetectable and has a feature of stealth monitoring that enables you to track the history without being discovered.
Monitor all popular social applications including WhatsApp, Snapchat, Instagram, Tinder, Facebook, Kik, Viber, and calls, messages, to view chat history, multimedia, and all activity records.
Installation of KidsGuard Pro for Android
Step 1: Click the buttons bellow to create a KidsGuard Pro Android account

Step 2: Download and install the KidsGuard Pro Android
You will see the My Products and Orders Manager page. Select the Setup Guide on the target Android device.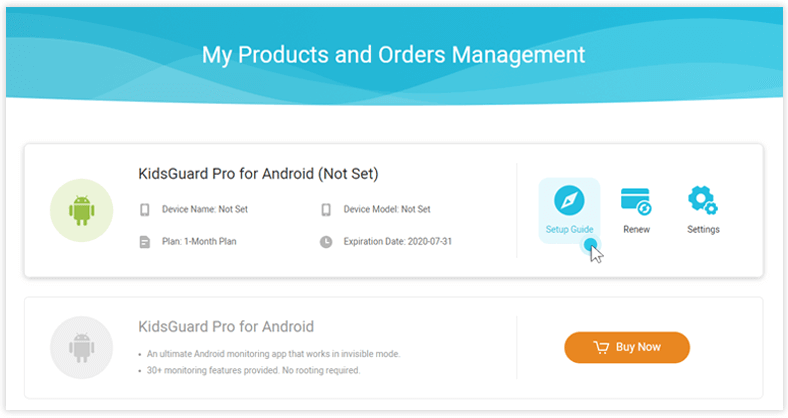 Step 3: Confirm your configuration and begin monitoring your account.
Log into your account and you'll see the data on the dashboard. On the very first occasion you should sync data from your phone to the dashboard so as to get the latest information.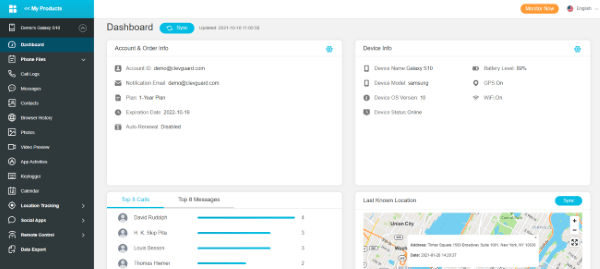 More Features
As an advanced Android phone monitoring app, KidsGuard Pro for Android offers myriads of powerful monitoring features. Here, we will tell you not just how to track web history on another phone but monitor other aspects with so many amazing remote-control features.
Record Videos & Photos
You are capable of viewing the latest pictures and videos and the app offers a remarkable feature of recording videos and capturing photos. By enabling the camera on the target device, you can take some secret photos. Also, you can take a screenshot in real-time which will synchronize with you automatically.
Location Tracking
With the app you can track the current or past address of your children alongside with specific information such as map view, location time, longitude and latitude. Besides, Wi-Fi logger provides you with your kid's connected Wi-Fi name, duration and location. You will get alerts when your child enters or exits a virtual boundary of the Geofence.
Monitor Social Apps
The app helps you track over 30 widely used social media applications like WhatsApp, Facebook, Snapchat, Twitter, Tinder, Instagram, and Telegram. Parents can easily monitor your child's textmessages and calls. The photos and other multimedia can also be obtained and retained.
Track Calls and Messages
The call and messages can be easily retrieved from the target device without even disclosing your identity. The app facilitates you to remotely view the phone calls on the target device, including duration, date, and contacts. The speaking voice can be recorded and downloaded.
Key Logger
It allows the user to monitor all the keys pressed on the device which helps to figure out what your child has typed or searched on the internet.
2. Track Browsing History with KidsGuard Pro for iOS
KidsGuard Pro for iOS is another cutting-edge monitoring application for iPhone users to keep a track of your child's activities, such as Safari history on the iPhone/iPad.
It allows parents to retrieve the information of website history remotely, referring to time, date, title, and the exact URL of the site. Even if the child has deleted the history, the data can still be collected.
Its powerful function makes it popular with millions of people.
No jailbreaking is required.
The effortless installation makes it a user-friendly application that requires almost 5 minutes to get started.
Even the deleted files can be retrieved, checked, and monitored.
The target's iCloud data can also be viewed without the iOS device.
Automatically collect the iPhone data next time if the iPhone is backed up successfully.
NOTE:
KidsGuard Pro for iOS is a PC-based software, supported by Win and Mac Operating systems.
Installation of KidsGuard Pro for for iOS
Step 1: Click button below to create a KidsGuard Pro for iOS account
Step 2: Click https://www.useapp.net/ to install KidsGuard Pro for iOS app on your Windows or Mac computer.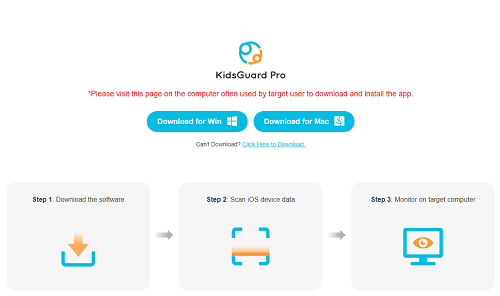 Step 3: Scan the target iPhone data with/without Wi-Fi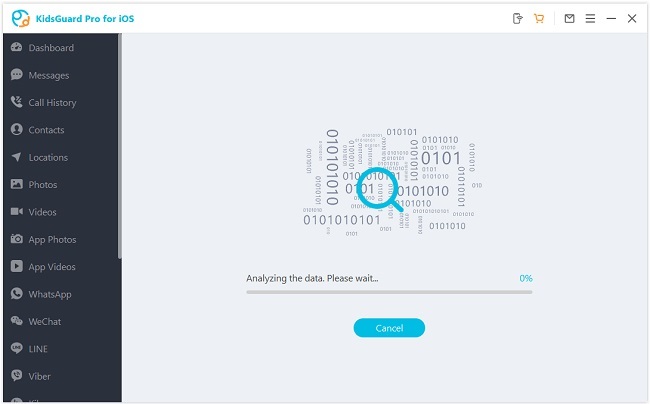 You have two options to connect the target device.
Option 1: Use USB to connect the target iPhone to your computer
After your computer gains the target iPhone' allowance, you can back up the target data on your computer with a USB cable.
Option 2: Use Wi-Fi to get the data from a target device
The computer and iPhone should be under the same Wi-Fi. Then the data can be remotely backed up and viewed.
NOTE:
If it is the first time you use KidsGuard Pro for iOS, you need a USB to connect a target iPhone. Next time, you can use USB or Wi-Fi to connect the device.
Step 4: Monitor the iPhone on the Computer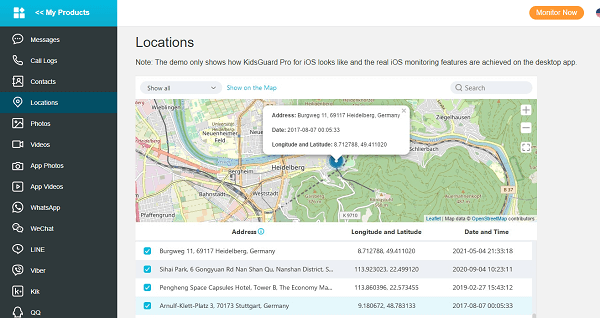 More Exciting Features:
KidsGuard Pro for iOS comes with more than 20 advanced features to monitor the activities of your child on the targeted iPhone/iPad.
Track Calls and Messages
The call and message on the target device can be recorded even after the call log has been deleted. All the applicable data of the incoming and outgoing calls just like the names, caller ID, number, duration, date, and timings may be traced.

Monitoring Social Media Apps
The chat history of social media apps such as WhatsApp, Facebook, We Chat, Viber, QQ, and Kik, can be monitored. The media files exchanged like emojis, photos, and videos can all be traced.
Record Videos and Photos
With the KidsGuard Pro for iOS you can track the photos and pictures on iPhone even the voice memos on your targeted device. It can track the multimedia files on the device no matter if it is stored in the internal or external storage of the device.
View Text Files
The user can also see the content written in the reminders, calendars, and notes of the targeted iPhone/iPad.
Automatically Archives iPhone Data
If your iPhone is backed up then the application will automatically retrieve the data next time.
Track Location
The app will offer a map to let you know your child's recent location with date and timestamp. In addition, Address, longitude, latitude, are also offered to you to get more comprehensive details.
Track Search History with My Google Activity
Even if there is no app on the iPhone still the data can be retrieved using My Google Activity feature that keeps the record of google chrome's activities. The sites visited can be easily traced also, and the YouTube history can also be recovered. To check your child's search history, you need to have their google ID and password. Here are the following steps:
Search My Google Activity.
Enter the user email id and password.
Now you can look for all the search terms. The date and product can also be filtered.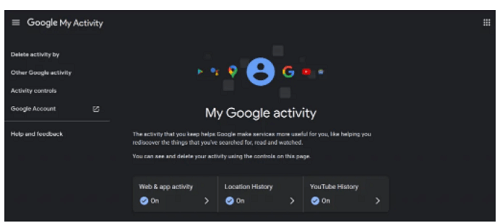 If you do not have the access to the email id and password, then third-party apps like KidsGuard Pro for Android and KidsGuard Pro for iOS can help you get your work done, but make sure that you follow the installation steps as requirement.
FAQ
Q. Can I see someone's search history on phone remotely?
Yes, you can even view someone's deleted browsing history remotely. KidsGuard Pro for Android allows parent to remotely access the search history of their children from anytime at anyplace. KidsGaurd Pro for iOS also allow to remotely see someone's search history but user needs to make sure that the device and target devise are connected with the same Wi-Fi.
Any person can install this spyware on your device and can easily track your phone remotely from anywhere around the world.
Q. How to check other's internet history in real-time?
You can use KidsGuard Pro for Android to sync data of targeted phone over the same Wi-Fi or with USB connection, which enable parents to monitor internet history of their children in real-time. Real-time Syncing is also feature of KidsGuard Pro for iOS but it needs a USB to connect the target iPhone for the first time.
Q. Is rooting or jailbreaking required for tracking browsing history?
NO, there is no need to root the target device for KidsGuard Pro for Android and KidsGuard Pro for iOS. It is pretty easy to operate. You can monitor someone's device without knowing.
Conclusion
KidsGuard Pro for Android and KidsGuard Pro for iOS is the most appropriate and convenient choice for you. They are fully equipped monitoring apps that enable you to keep a track of browsing history of your children remotely, cover all popular social media apps, give you the real-time location with other exciting features. So what are you waiting for? Spare your 5 mins now and install these amazing apps to keep an eye on your loved ones!