Are you in a serious relationship with someone? Worried that they are cheating on you? Don't know how to verify your suspicion? Have no idea of catching cheaters?
This article gives out some of the best couple tracker apps which can be very useful in tracking your partner and knowing if they are cheating on you. Just keep reading!
What Important Features Does A Couple Tracker App Need?
Before introducing those apps to track your partner's phone, you need to know what necessary features are required in such a partner tracker app first. Then you can make a quick selection for choosing the suitable one. So, a great couple tracker app needs features like:
GPS location tracking: Help you to track the real-time location of your partner at all times.
Calls & SMS monitoring: Allow you to check the details of every outgoing, incoming call and message (even deleted messages) on your partner's phone.
Browser history hacking: Then you can view all sites that your partner had visited.
Social media apps monitoring: You can monitor all the activities on social media app cheaters used on the target phone and find out what's happening.
Phone Recorder: It can help you record phone live, phone calls, and phone screen, caputure screenshot and take photos secretly and remotely.
Set sensitive words: Setup content or name you doubt and you can get alerts when they match.
Works in hidden mode: These couple trackers need to work in stealth mode that can prevent being detected by the target.
Support data export: All informationn can be sync from their phones to yours in case that you need evidence.
Based on the above-mentioned features, we have selected 12 couple tracking apps for iPhone and Android, and displayed them according to the rankings. You can check them out each by each and make a decision.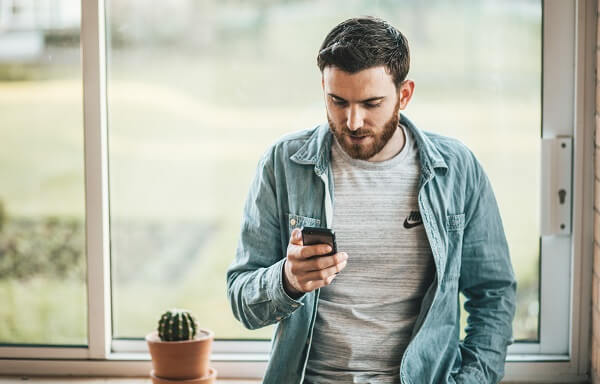 Top 12 Couple Tracking Apps for Android
1. KidsGuard Pro
KidsGuard Pro is an excellent couple tracking app which has the most efficient monitoring and management functions. This can be used by the couples to know where their partner is at all times.
You could even have access to the messages, contacts, images and other data which they would have stored in their phone to check if they are cheating on you or not. This app is highly recommended by several satisfied users and is definitely worth trying.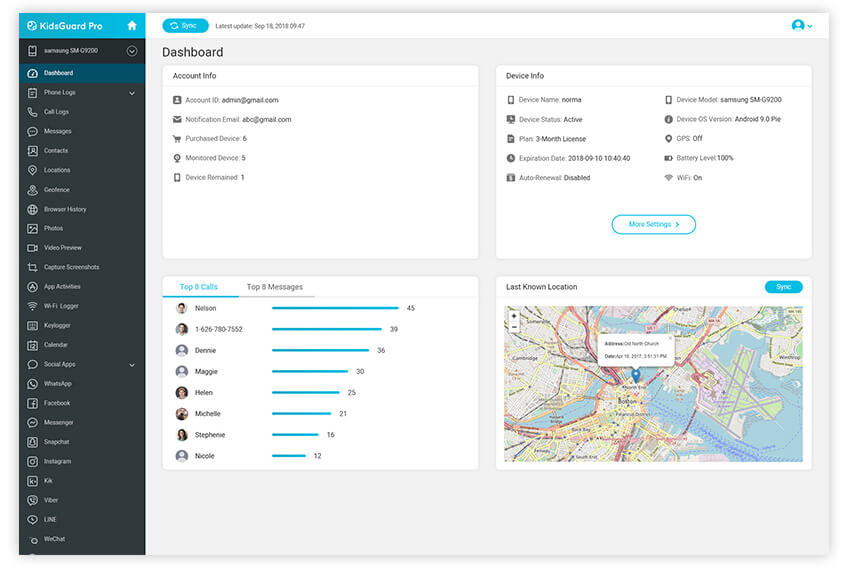 Couple Tracking Features:
Track the real-time location of your partner's phone and view the location history.
Monitor all the sent and received messages, even the deleted ones.
View the calls incoming, outgoing and missed.
Check all the incoming and outgoing calls made on the monitored phone.
Record all phone conversation of the target phone.
Listen to phone surroundings of the monitored phone.
View browser history even in the incognito browsing mode.
Check social media activity and messages, like WhatsApp, Line, Facebook, Snapchat, etc.
Check every file stored in the target device including photos, videos, calendars, contacts, etc.
Record keystroke on the target device.
Automatically take screenshots and show you the current screen activity.
Pros

Up to 30+ monitoring features.
Works in 100% stealth mode.
Installation can be done within 3-5 minutes.
Sync the monitored data in real time.
No need to root or jailbreak the target devices.
Multi-Language dashboard is offered for different users.
Cons

You can only monitor one device at a time.
It is not one-fee product.
2. Hoverwatch
This is free-to-try couple location app that can be very helpful for all the members of the family, including your partner, to keep a check on the whereabouts of each other.
You would no longer need to keep sending messages and calling your partner to know where they are. All you have to do is download this app on their phone and get to know where they are by remotely accessing their location details.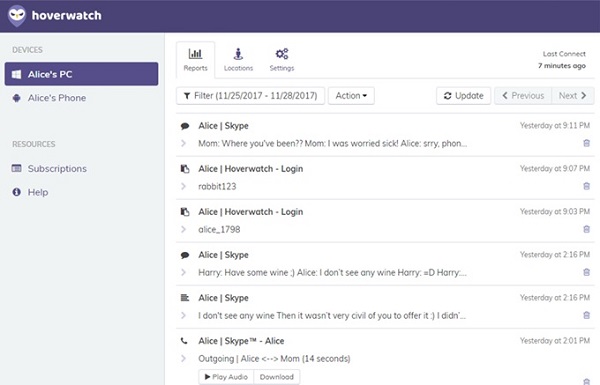 Couple Tracking Features:
Track real-time location of your partner.
Facebook, Whatsapp, Viber and other social media tracking features.
Track all messages and calls on the target phone.
Check the sites and URLs that your partner has visited.
Take real-time screenshots on the target device.
Pros

It can monitor up to 5 devices at one time.
Different editions are available for different needs.
Easy to install and use for monitoring someone.
All of the monitored data can be exported as reports.
It provides a free trial version.
Cons

It needs to be rooted before using this app.
It does not have a demo.
3. All Tracker Family App
This is a family tracker app that has been specifically designed for all Android users. With the help of this app, you can know who is contacting your partner and sending messages to them. You could also get to know their location whenever you want. This app has several features which can help the couples track their partner to be sure that they are not cheating on them.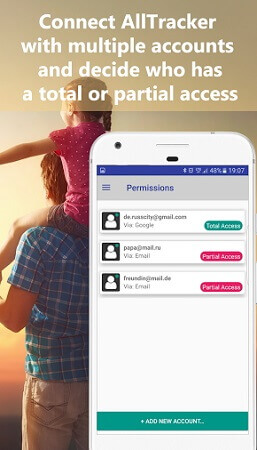 Couple Tracking Features:
Track the real-time location of the target device.
Check notifications from popular apps like Line, WhatsApp, Viber, and many others.
Record the sound of the microphone from the monitored phone.
Take photos on the rear camera of the target device to check their surroundings.
Online dashboard which can be accessed from anywhere using any device with a stable internet connection.
Pros

A free trial is provided to experience the product.
Supported to track multiple accounts.
The monitored file archive can be stored for 30 days.
The installation and setup are easy.
Cons

You can not hide this app on your parner's phone.
Demo version is not available.
4. Flexispy
Flexispy is one of the best tracking apps for couples. It gets the job done in whichever cell phone it gets installed. You can install it on any of your partner's devices to track it and keep a check on where they go, and whatever they are doing throughout the day. This is an excellent app with advanced GPS monitoring functions and text message tracking to monitor any number of devices as you desire.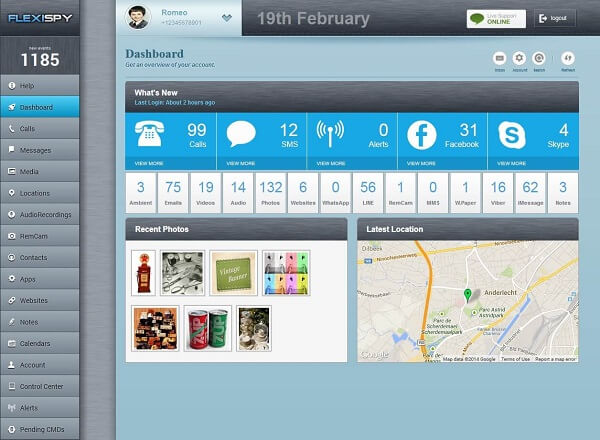 Couple Tracking Features:
Location monitoring feature is offered.
Allows you to track multiple devices.
Supports iOS, Android and Windows devices.
All types of text message monitoring from social media apps to normal texts.
All types of call monitoring include various social media apps like LINE, Skype, Hangout, Facebook call, etc.
Pros

It is invisible to the phone's owner.
A free demo account is offered to try out the app.
It can be installed remotely.
Premium and extreme package options are available for you to choose from.
Cons

Its dashboard is not user-friendly.
The price is pretty high.
5. Highster Mobile Tracker App
With the help of Highster Mobile app, you can track and locate your partner at any time remotely. The best part about this app is that it works with almost all the versions of iOS and Android devices. If you are suspicious about the behavior of your partner or you want to know where they are frequently visiting without telling you, this is the right app for you.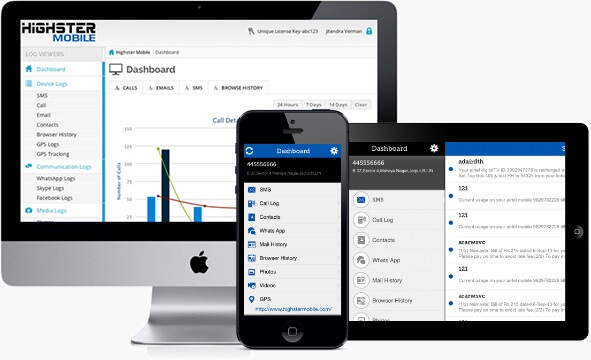 Couple Tracking Features:
Track every text message even the deleted ones.
GPS location details are updated on Google Maps.
Stealth camera and a control panel with live updates.
Access to the photos and videos stored in the target phone. You can also check activity on social media platforms.
Access to call logs and browser history on the target device.
Pros

It can be used on multiple devices.
One-time payment can access all features.
The app is undetectable.
Cons

The jailbreaking of the target iOS device is required.
No free trial.
Its features are limited.
6. Couple Tracker App
With the help of this app, a couple can share all the information on their phone with each other. This way they would know what their partner is up to at all times. This works more like a prevention app for cheating and having affairs. All the activities can be followed by each partner in real-time.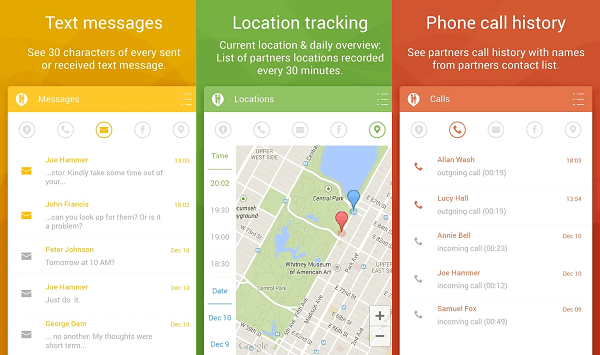 Couple Tracking Features:
Both partners can track each other at the same time.
Offers call history tracking features.
Calls, messages and locations can be exchanged.
Messages and other details on the target phone cannot be deleted.
Your partner's real-time Location can be tracked.
Pros

It can be used for monitoring multiple devices at one time.
A free trial version is available.
Cons

The app can't be hidden on the target phone.
No clear and direct user guide.
Very limited features for the pro version.
7. FoneMonitor
FoneMonitor app is a great couple tracker for iPhone and Android which can be used by anyone who would want to monitor all the activities on a phone without the phone users' knowledge. This has a pretty sophisticated design which is loaded with several useful phone monitoring features. This app supports both iOS as well as Android users.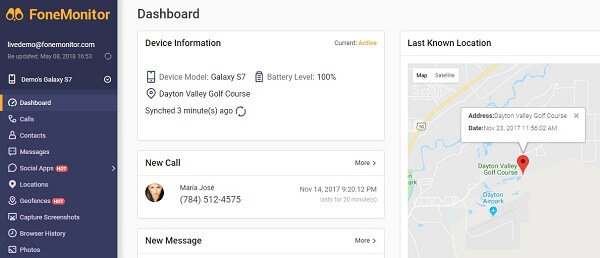 Couple Tracking Features:
Get the live location of target device.
Get access to the data stored in the target device including photos, call logs, videos, etc.
Know the social media activities on target phone.
Monitor each sent and received text message.
Comes with a keylogger feature.
Keep track of browsing history of your partner's phone.
Pros

A good and easy user interface.
Compatible with iOS and Android devices.
Cons

The installation of this app is really complicated.
The price is a little bit expensive.
It is only available for desktops.
8. PhoneSheriff App
This is one of the most advanced apps which can be used to track your partner and know what they are up to. You can get all this information remotely by just installing this app on your partner's device. This app, once downloaded, works incognito.
So, your partner would not even get to know that their activities are being monitored. From new contacts added, photos on the device and detailed call history, etc, everything can be tracked meticulously with PhoneSheriff.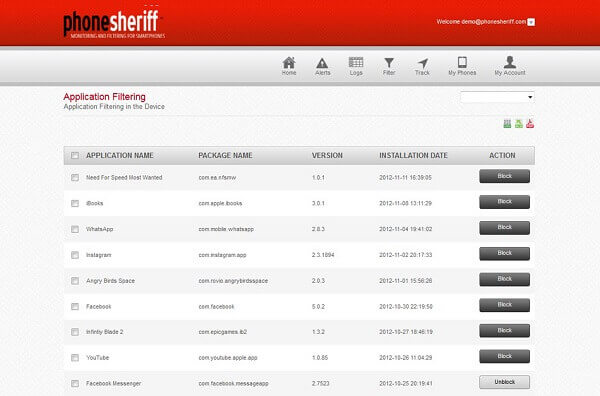 Couple Tracking Features:
Monitor the text messages which are sent or received from your partner's phone.
Get the real-time location of the target.
Track both incoming and outgoing calls.
Keep track of the browsing history of your partner.
Pros

This app is available for tracking Android, iOS, Windows.
Cons

Jailbreaking is required for iOS devices.
It is not hidden on the target phone.
The installation process is complicated.
9. Family Locator App by Life360
This app helps all the members of the family get closer. It has several features which are designed in such a way that they connect and protect all the members of the family including your partner. Through this app, you can create a private circle just for your family and share all the necessary information with each other.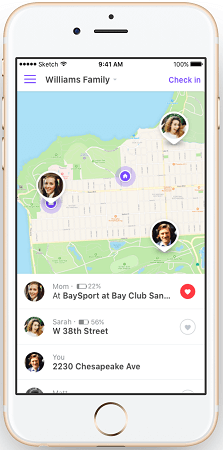 Couple Tracking Features:
Share the real-time whereabouts of each other.
Get notified when your partner reaches any place which they visit frequently.
Detects crashes and accidents, then alerts your emergency contacts.
Pros

The data syncing feature is good.
Cons

Insufficient number of features.
No online dashboard and demo.
No clear use or install guide.
10. mCouple App
This is again a great couple tracker app that prevents each of the partners from cheating or engaging in any inappropriate behavior. Both the partners would gain remote access to the contents and activity on each other's phones with the help of this app. Using this app you can avoid any harm to your loved ones and keep them safe.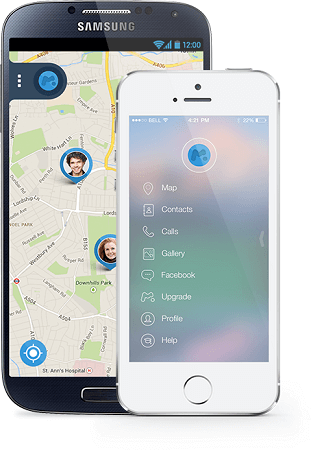 Couple Tracking Features:
Always know where the target is by tracking their locations.
Access incoming and outgoing calls on each other's cell phones.
Read all the sent and received text messages.
Pros

Free trial is available for testing the app.
Cons

Very limited features.
Not a very intuitive user interface.
There is no live demo for trying out.
No direct user guide.
No data exporting.
11. Spyzie
Spyzie is primarily a parental control program, but it includes everything you need to keep tabs on your partner's private life. You can use it to learn about a variety of topics, let's see what you can get from Spyzie.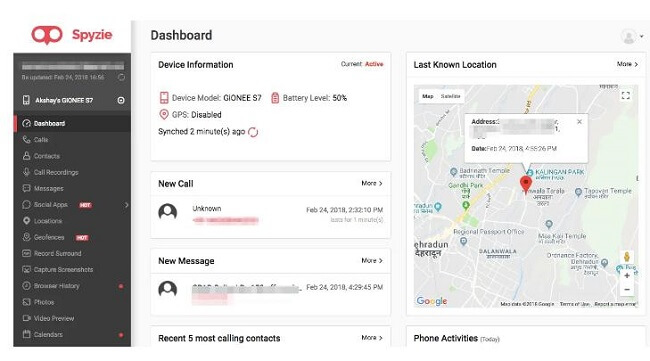 Spyzie Features:
Check all whole call history of target phone, including both incoming and outgoing.
View all browser history and bookmarks of the target phone.
Read sent and received text messages, including the deleted messages.
Check chats and messages of social media apps.
Pros

Easy to set up.
Updates in Real-time.
Apps restriction tool that can be used remotely.
Cons

Unable to block calls from selected phone numbers.
Sometimes the website doesn't work.
12. Aispyer
Aispyer is a program that allows you to keep track of your partner's social activity. You may look at the message history and details of the messages sent and received on the most prominent social media networks. If you choose, you can also prohibit the use of a certain app installed on your partner's phone.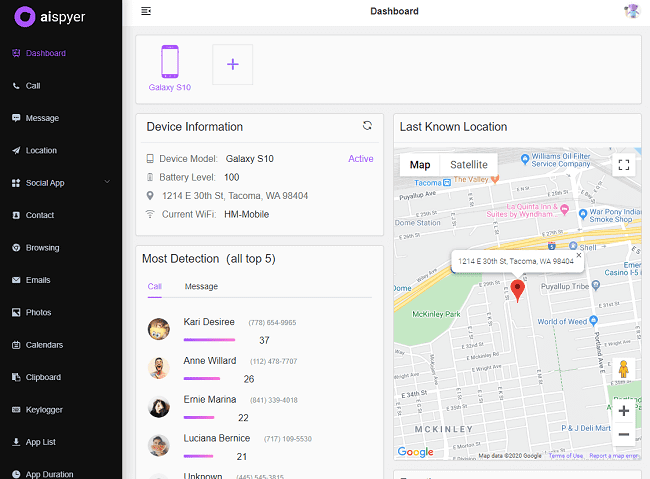 Aispyer Features:
View social media like WhatsApp, Snapchat, Facebook.
Track GPS location, including the current whereabouts, date and time of visited location.
Check partner's browsing history and know what they have viewed.
Pros

You can track partner's social media.
The power saving mode can save your phone's battery.
Cons

No free trial version.
Browsing history feature doesn't work every time.
Unable to see the videos of target phone.
People Also Ask about Couples Tracking Apps
Q1. How does the couple tracker app work?
After you install the couple tracker app on your partner's phone, it will start tracking the location and report to you. Some powerful apps will let you see more data, like chat history, call logs, social media activity, etc.
Q2. Can I track my wife's phone without her knowing?
Yes, for sure. There are many ways for you to track your wife's phone location without knowing, for example, you can use the Android/iPhone location sharing feature and disable notifications. You can also use KidsGuard Pro partner tracker, because it works in stealth mode.
Q3. What is the best couple tracker app?
Although all the above-mentioned apps are great as couple trackers, they do lack in some areas. After careful evaluation, KidsGuard Pro is the best couple tracker app. This app is extremely easy to use and comes with a set of advanced features which can make it work great as a couple of tracker app. This is why it is highly recommended by lots of users.
Q4. Are these couple tracker apps legal?
Yes, these apps are legal. Some states, however, demand your partner's consent, so make sure to verify your local laws.
Q5. Is there a free app that can track phone calls and texts?
There are no apps for free, but some apps provide great policies and services such as refund policy, free demo, discounts, and so on. There is one thing that you should be aware of if you find a completely free program, be aware that interacting with such a free couple tracker apps can easily lead to you being scammed and your personal information being stolen.