If you want to monitor and control your kid's activities when you are gifting him a Chromebook, you have to set up parental control on the device. Parental control is necessary when a kid gets a Chromebook to ensure he is not misusing the device and accessing forbidden apps and websites.
Chromebook parental control is operated through Google Family Link. Parents should know how to set parental control on Chromebooks so that you can put it on perfectly before handing it over to your kid.
In this article, we will illustrate the steps to set parental controls through Family Link and discuss all the features and limitations. We will also recommend a better alternative for complete parental control and monitoring remotely.
Table of Contents
How to Put Parental Control on Chromebook?
When you purchase a Chromebook for your kid, you will want to exercise strict parental controls so that your kid does not misuse the device. To put parental control on Chromebook, you have to use Google Family Link.
1. What Is Google Family Link?
Through Google Family Link, you can create and manage your family member's Google account and exercise certain control on the operations on the device of your family member. For example, parents can create their kid's Google account through Family Link and manage the screen time and lock the device of your kid where your kid's Google account is linked.
Here are the steps on how to put parental controls on Chromebook.
Step 1: Click on the bottom-right corner of the Chromebook. From the pop-up menu, click on the Gear(Settings) icon.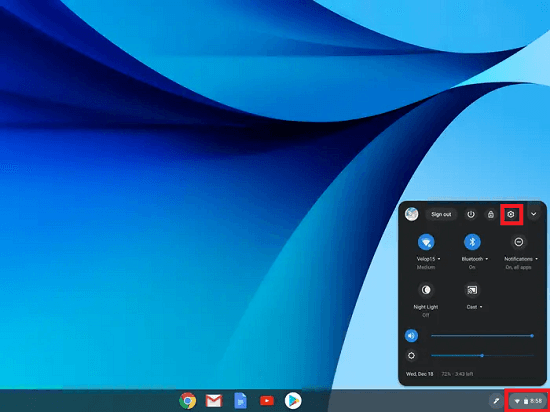 Step 2: Go to the Advanced option left side menu to see more options under it. Click on the Privacy and Security option.
Step 3: Scroll down and go to the People section and click on the Set Up button against Parental Controls.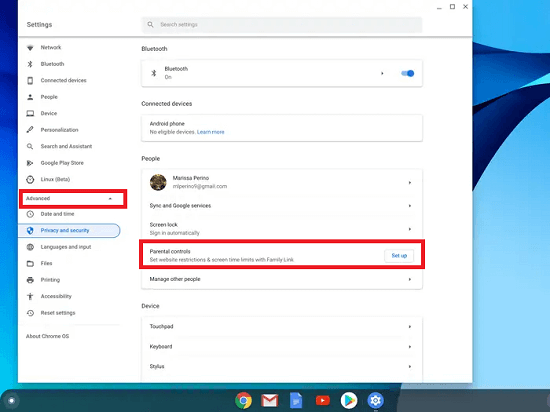 Step 4: Follow the on-screen and you will be asked "Is this the child you want to supervise?", click on Yes.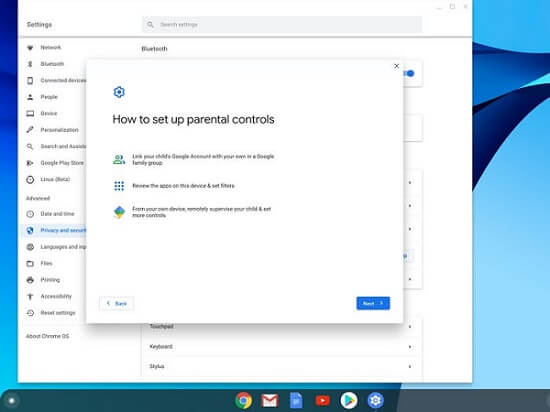 Step 5: Keep following the on-screen instructions and log into your(parent) account. Finally, you will reach the page where you have to enter the password of your account and click on Agree button.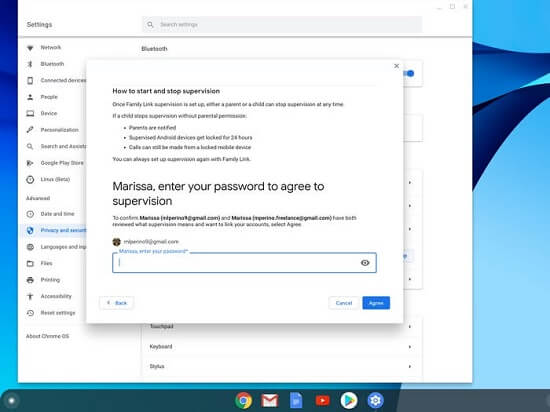 Now, your (parent) account will be linked with the child account and you have successfully set up family link Chromebook. Thereafter, you can exercise parental control on Chromebook from Family Link app from any device.
2. Features of Google Family Link
Now that you know how to set up Chromebook for children, here is the list of the parental controls you can exercise with Google Family Link.
Restrict daily screen time on the child's device.
Restrict screen time for individual apps.
Approve or block app installations and purchases.
Lock the child's device remotely.
Track your child's device location.
Monitor your child's app usage with activity reports.
Locate your child's device by playing a sound remotely.
Restrict Google Play content based on age.
Set SafeSearch filter on Google search.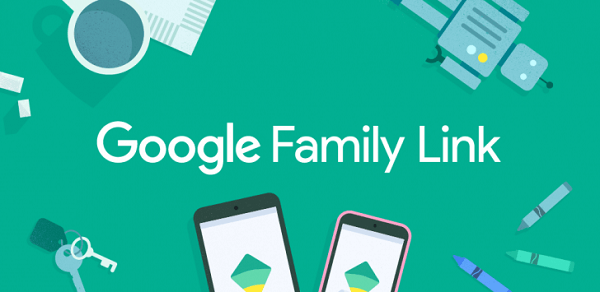 What are the Current Limitations of Using Google Family Link?
The biggest limitation of Google Family Link is that you cannot track anything that the child does beyond Google account. This means you cannot track their conversation on social media platforms where kids are so active these days.
There are child predators waiting to trap kids, and your kid can easily fall into their traps if not monitored properly.
You cannot capture screenshots of the child's device screen so that you can see what exactly he is doing. This means you can see if the game he is playing is violent or not, what he is doing on social media sites, and likewise. There is no keystroke recording option that could help you to find out what he is searching in incognito mode.
In short, parental controls through Google Family Link fail to provide all-around protection on Chromebook.
How to Give Kids A Full Round Protection on Chromebook?
A full round protection on Chromebook means you can not only limit screen time but also monitor what your kid is doing on Chromebook. Based on your monitoring, you can take appropriate steps to ensure complete protection.
We recommend a professional parental control software MoniVisor for complete protection on Chromebook.
How Can MoniVisor Protect Your Kids?
Here are all the features of MoniVisor that are effective in protecting your kid while he uses Chromebook.
Monitor Social Media Conversation:
Kids are highly active on social media platforms where they communicate with their friends. Instead of blocking the sites, you should first monitor your kid's activities on social media platforms.
MoniVisor lets you check all the conversations on different social media platforms that your kid is active. Besides, you can check their profile, all the media files exchanged, and even call history.
Capture Screen:
MoniVisor automatically takes screenshots of your kid's computer from time to time and you can see those screenshots on your Dashboard. Therefore, there is no way your kid can trick you by using Incognito mode, deleting browser history, and likewise.
The screenshots are synced in real-time and therefore, you can see the latest screenshots on your Dashboard conveniently.
Capture Keystrokes:
MoniVisor captures everything your kid types on the computer, and this includes the keystrokes in the web browser's Incognito mode. You can check the logs to find out what your kid typed at what time.
Along with keystrokes and timestamps, the logs show the app name what the kid typed them for better understanding.
Monitor Emails:
MoniVisor lets you check all the emails sent and received on your kid's computer. You can literally spy on your kid's email account, and he will not get a notification about your spying. You can check the file location of the attachments in emails.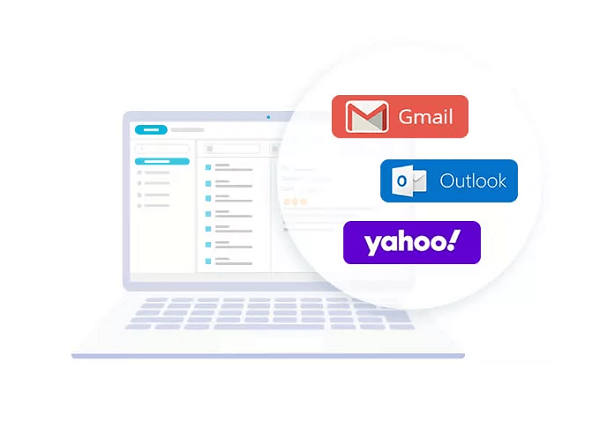 Track Internet Activities:
You can check all the browser history of Chrome, Firefox, Opera, Edge, and even Internet Explorer. You can open the visited websites on your device instantly. Besides, you get to see the download history along with the file storage path.
Track App and Login Activities:
You get to check the time spent by your kid on the installed apps on his computer and even check the last used time for any app. Besides, you can when your kid logged in and logged off the device. You can even know if he is currently active on his computer.
Monitor File Activities and Others:
You can check all the activities on different files stored on the target computer. This means you can check if any file was deleted, moved from one location to another, renamed, and likewise. Besides, you can track printer activities and USB connect activities such as when any external device was connected.
MoniVisor stays in stealth mode on the target computer and therefore, you can monitor your kid's activities on the target computer without him knowing. Besides, all the recorded data are syncing with the web portal in real-time, and hence, you will always get the latest activities to monitor.
SafeGuard Kids with MoniVisor within 4 Steps
Here are the steps to deploy MoniVisor and start monitoring and controlling all the activities on the target computer.
Step 1. Click the "Sign Up" button below to register an account for MoniVisor with a valid email and choose a plan as per your suitability.
Step 2. Download and install MoniVisor on your kid's computer and follow the on-screen instructions to complete the configuration.

Step 3. You need to install MoniVisor Chrome extension on your kid's computer so that you can monitor all the social media conversations and emails.
Step 4. On your device, go to the MoniVisor web portal and log into your account. From Dashboard, start monitoring any and all activities on the target computer.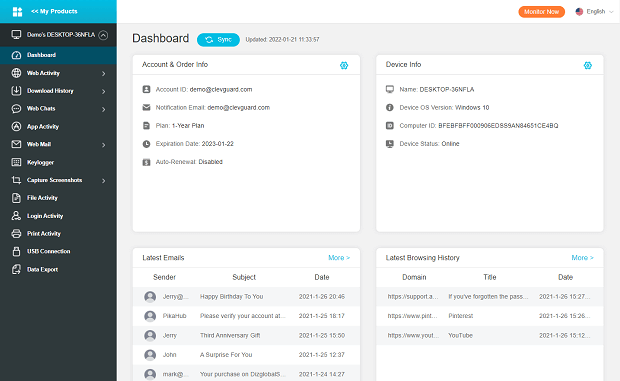 Conclusion
We have illustrated how to set up parental controls on Chromebook in simple steps. All you need to do is to follow them minutely and start parental control on the target device. However, parental controls on Chromebook through Family Link do not provide all-around protection. That is why we recommend MoniVisor for complete monitoring on the target device and take measures accordingly.