When communicating via text, sensitive information and content can be included. Through the evolution of smartphones, it is even more possible for prying eyes to access text messages.
In some cases, your texts will appear in a dropdown menu or on your lock screen. When you lock your phone, you might want to hide notifications that show up on your iPhone/Android, especially if they pop up while it is locked.
There are some people who don't like strangers seeing their text messages when they pop up on their phone. Our article will discuss the ways you can hide text messages from your iPhone/Android phone.
How to Hide Messages on iPhone Lock Screen?
Consumers can get the best performance from the iPhone. Besides being simple to use, the iPhone performs well. With an iPhone, you can access several different services such as emails, messages, and social networking accounts.
A handy feature of this phone is that you can check your emails and Facebook statuses quite easily. You will see a pop-up notification once you receive an email or message.
In most cases, the message's preview will appear on the screen. It is possible to hide a message from prying eyes in some cases. While in a public area, it makes sense to use this feature so that others cannot read your messages.
Can you hide messages on iPhone? You can receive a message notification even while not seeing the message preview on your screen simply by following the steps below:
Open "Settings"
Select "Notifications" then "Messages"
Select and slide "Show Preview" to OFF
Exit Settings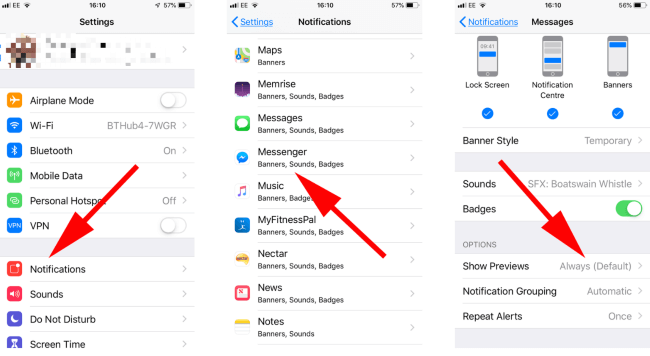 The following steps will help you hide your text on the iPhone lock screen completely.
Go "Settings" and click on "Notifications"
Open "Messages" and scroll through
If "View in Lock Screen" is selected, it should be set to "OFF"
You can also hide all alert types by selecting "None"
The steps below can be followed in order to turn off the notifications previews for all apps.
Go "Settings" and tap on "Notifications"
At the top of the screen Select "Show Previews"
Choose "When Unlocked"
Choosing "Never" will prevent you from seeing previews even when your phone is unlocked.
In this digital age, most people use spy app to track their boyfriend/girlfriend's text messages. Such as KidsGuard Pro,it is a powerful app which is undetectable. User can view target phone's files secretly through this app. Such as calls history, location history and social media activity.
How to Hide Messages on Android Lock Screen?
How to hide messages on lock screen? Text messages appear on the lock screen as one of the newer features of the Android operating system.
If someone sends you a text, you can review it quickly without unlocking your screen. Snoopers can read your messages too, unfortunately, since it is so easy.
Below are the steps for hiding your texts from the home screen:
Your Messaging app needs to be opened. Using the three dots at the upper right corner, you can access the Settings menu.
Click on Notifications.
Select the In-App Notifications tab.
Make sure that Preview new messages are turned off by clicking the switch next to it. By doing so, none of your messages will be visible in pop-up windows.
You will no longer see new texts displayed on your Android's lock screen or home screen. However, a notification will not display the content of the message. You will still be notified when a text message arrives.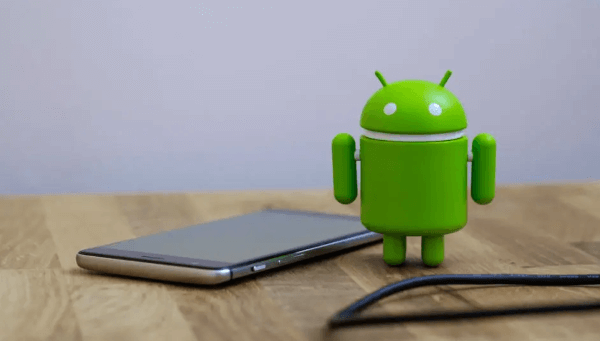 NOTE:
If your phone is manufactured by a different company, the steps may differ. You can quickly locate message previews on your phone using the search feature in its settings.
How to Hide Messages on Samsung and HTC?
For some Samsung phones:
Go to Settings > Tap Lock screen > Notifications
Tap Hide content /Notification icons only.
Specify which apps you want to show or hide notifications from.
Each switch toggles a particular app's notification.
For HTC users this process is almost the same.
How to Hide WhatsApp Messages on Lock Screen?
Turning off WhatsApp message previews on Android's lock screen:
Go to settings
Tap on 'Apps & Notifications
Find the WhatsApp app
Go to Notifications
Turn off 'Show Notifications'. Your WhatsApp messages will no longer show up on the lock screen or notification panel of your phone after doing this.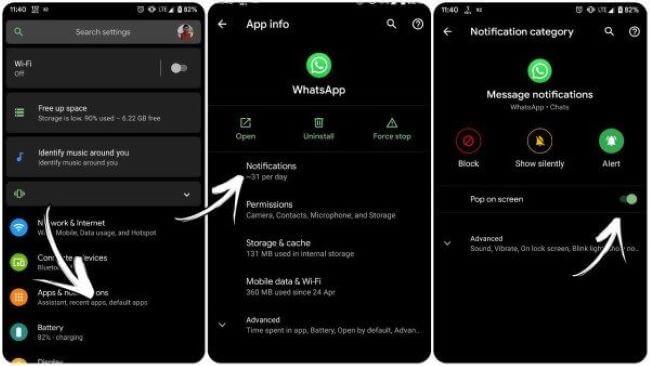 In order to hide messages from the notification panel without disabling notifications, WhatsApp's 'High Priority' feature can be disabled.
It offers users the ability to manage push notifications more effectively, in case you are unaware. With this feature enabled, incoming notifications will be displayed over the notifications center.
Private messages, as well as group conversations, will be displayed in this way. Messages with a lot of priority can be turned off in the notification panel and you will still receive notifications.
The messaging app should be turned off in the Settings section of your phone to avoid any security issues.
The best way to disable the lock screen preview of WhatsApp messages in iOS:
When you open WhatsApp on your iPhone, you will find the Settings section in the bottom right corner of the screen
Click on 'Notifications'
Turn off 'Show Preview'
No one will be able to see your messages anymore when you receive a new WhatsApp message. You will only see the sender's name and the "Message" label if you follow these steps.
How to Disable iMessage on a Mac?
On a Mac, the first way to disable iMessage is to uninstall it, and the second is simply by hiding notifications.
What you need to do to turn iMessage completely off on a Mac? Follow these steps to turn off iMessage if you never want to receive text messages via the program on your Mac.
Open Messages app > Click to Messages > Click Preferences > Click the iMessage tab > Click Sign Out
The confirmation box will appear again after you click Sign Out. Until you sign back into your account after turning off iMessage, you won't be able to send or receive any more messages for your Mac.
Related Read: Best 7 Keylogger for Mac in 2022
How to Hide iMessage Notifications on Mac?
The following steps will help you disable iMessage notifications on your Mac so that you aren't distracted by them:
Click the Apple menu > Click System Preferences > Click Notifications > Click Messages.
The Allow Notifications slider on the Messages page should be turned off. You can still get and send texts while staying signed into Messages, but you won't get distracted by notifications.
Do you need to have the ability to temporarily block iMessage notifications or to schedule when you want to block and allow messages? The macOS operating system includes a feature called Do Not Disturb.
FAQ: Can Someone Read My Text Messages from Their Phone?
In this digital era, there are a lot of ways to hack someone's phone and read their text messages. There are a lot of spy apps in the market, such as KidsGuard Pro for Android.
Not only text messages, but it can also be used to view someone's phone activities. Parents choose KidsGuard Pro to control their kid's phone usage. Moreover, some people choose it to check their boyfriend/girlfriend's phone files.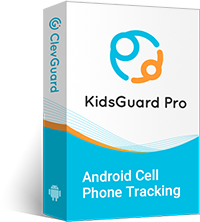 KidsGuard Pro for Android Features
Track cell phone location in real time and view location history
Check all incoming and outgoing calls & SMS
Spy on social media apps like WhatsApp, Instagram, Snapchat, Facebook, Viber, WeChat and more
Remotely access the files on the target phone, like contacts, photos, call logs, etc.
Conclusion
If you want to avoid any deliberate or accidental invasion of privacy, hiding sensitive information from your phone lock screen is always a good idea. Depending on the custom user interface on your device, the settings may differ slightly.