Would you like to keep your Skype messages private? Well, there is no better way to do it than to delete Skype conversations.
But you are probably wondering, how can I delete messages on Skype? Don't worry, in this article, we will walk you through several tips on how to delete Skype messages.
Just in case that you might want to recover your Skype messages in some circumstances, we will also enlighten you on how to recover deleted Skype messages.
Let's do it!
Part 1: How to Delete Skype Messages on Computer
Skype has a pretty versatile messaging function that allows you to edit, resend, forward, and delete messages on your computer, especially if you want to keep the conversation private on a shared computer. So, how do you delete Skype on computer?
Well, below is a quick guide you should follow.
Guide 1: Delete Skype messages on Windows
Step 1: Click on the "Tool" option on the menu bar and select the "Options" option on the drop-down menu.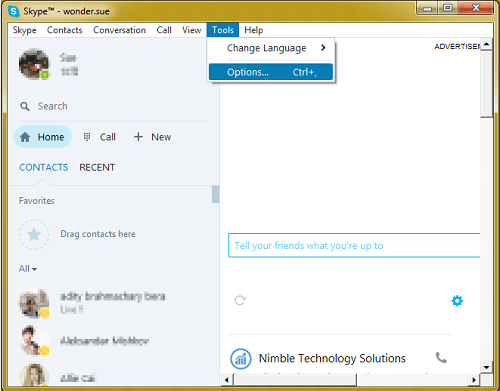 Step 2: Hit the "IM & SMS" option on the left side and select the "IM settings" > "Show Advanced Options" option on the right.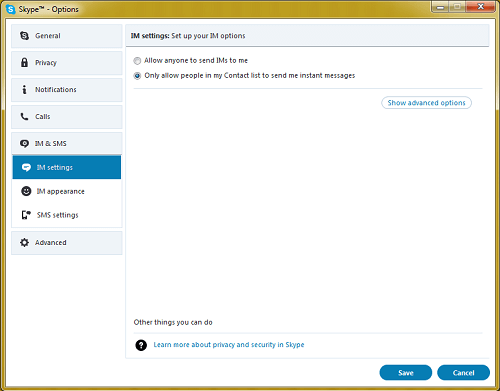 Step 3: Click on the drop-down menu between the "Keep history for" and "Clear history" option and select the period of history you want to delete, and hit "Clear history" option.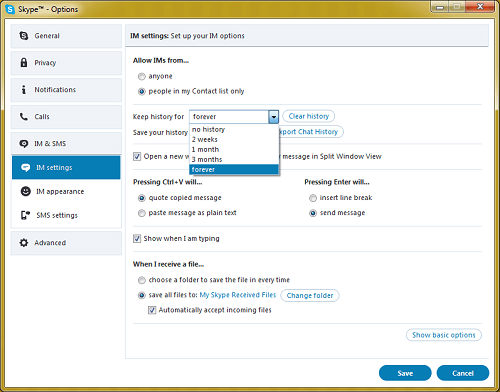 The is also a "No history" that you can select to make that no Skype messages are retained on Skype. Remember to hit the "Save" button to save the changes.
Guide 2: Delete Skype messages on Mac
Step 1: First, sign to your Skype account.
Step 2: Next to the Apple icon, click on the "Skype" menu on the left top corner.
Step 3: A drop-down menu will show on your screen. Now, select "Preferences" option.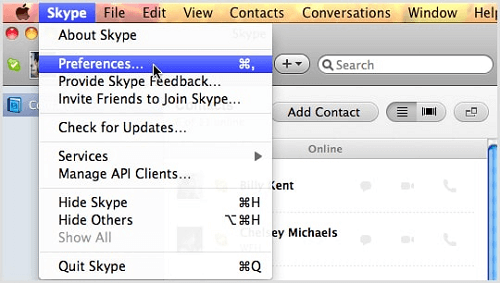 Step 4: Access the "Privacy" settings and then click on "Delete All Chat History" option.
Step 5: The new screen will prompt you to hit the "Delete All" option to confirm the action. That should delete all your Skype messages in a blink of an eye.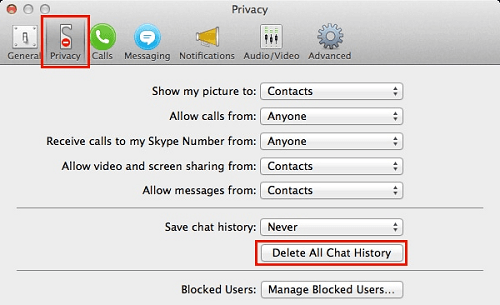 That's it! That's how you go about deleting Skype messages on your computer.
However, it is worth noting that if you delete Skype messages, you will no longer be in a position to view or refer to them.
Once they are deleted, they are simply gone! The good news is that you can view your deleted Skype message by using a third-party app like MoniVisor. You can click the below button to view its demo. Or you can directly jump to the part of how to view deleted Skype messages.
Part 2: How to Delete Skype Messages on Mobile Phone
Besides, its computer client, Skype, also has mobile applications available for iOS and Android smartphones. Their functions are similar to those of a desktop app, meaning that you can call, video chat, write messages to anyone over the internet from the palm of your hands.
If you do not have a computer around, the next best option to delete Skype messages is by using the Skype mobile application. It is effective and effortless.
So, we have done a quick and well-illustrated guide on how you can delete Skype messages using your Skype mobile application. However, you should note that the guide may slightly differ depending on your device's make and model. So, let's get right into it!
Guide 1: Delete Skype messages on Android
Step 1: On the main menu, launch "Settings" and scroll down to find "Apps" settings. Tap on it to access a sub-menu.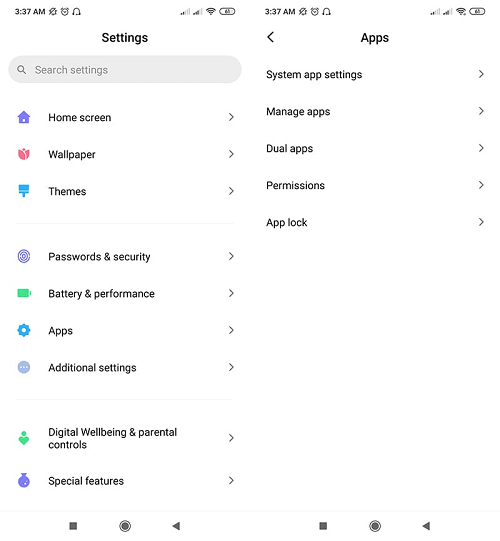 Step 2: Now, select the "Manage Apps" option.
Step 3: You will see a list of all installed applications. Scroll down the list to find "Skype" app and tap on it. If you are using a recent Android version, you can alternatively search "Skype" on the search bar.
Step 4: Finally, tap on "Click Data" or "Clear App Data" to clear Skype app data. Once the process is complete, your android smartphone will no longer have your Skype chat history.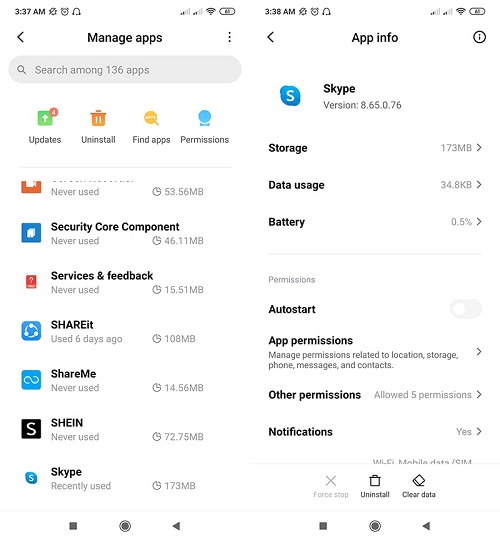 Guide 2: Delete Skype messages on iPhone
Step 1: First, enter your login credentials to access your Skype account.
Step 2: Now, select the conversation you want to delete.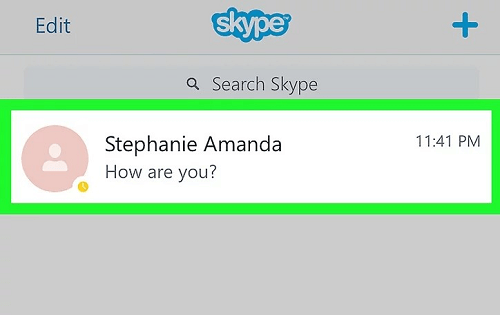 Step 3: Select the name of the conversation. For instance, if it is a group conversation, tap on the group name and if it is a personal conversation, tap on the person's name.
Step 4: A pop notification will show on your screen. Tap on "Delete Chat" option.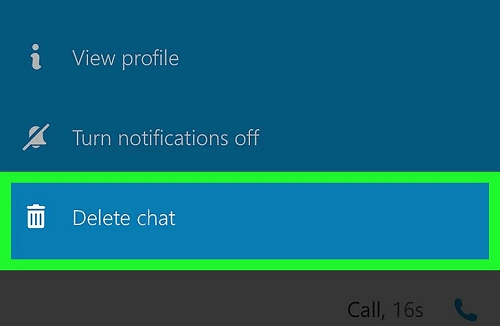 Step 5: Tap on "Delete" on the following popping notification to confirm the action.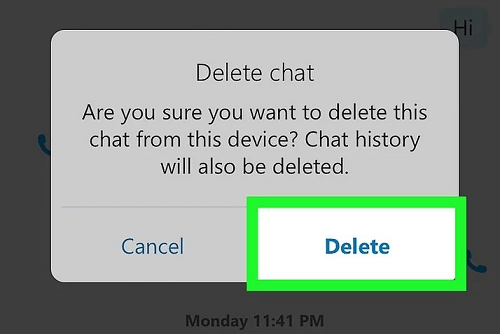 Bonus: How to Read Old / Deleted Skype Messages?
You are probably wondering: can I recover deleted Skype messages? The answer is YES! However, you will need a powerful computer monitoring tool, and that is where the MoniVisor app comes in.
It is a profound, immense, top-rated tool that allows you to read deleted Skype messages in 3 simple steps, as illustrated below.
3 Steps to Read Old / Deleted Skype Messages
So, how do you use MoniVisor to recover Skype messages? Well, do not worry! It is pretty straightforward, and here is a quick 3-steps guide you can refer to.
Step 1: Create a Valid MoniVisor Account
Click the "Sign Up" button below to create a MoniVisor account with your valid email address. Then, pick a suitable plan to activate the MoniVisor software features.
Step 2: Setup MoniVisor on Computer
After registration, you will be directed to a new web page to download the MoniVisor software. Next, please follow the set-up guide to install and configure the software on the target computer.

Step 3: Read Old / Deleted Skype Messages
After installation, the software will run in the background to collect data. Next, log in to your MoniVisor account.
Next, click on "Dashboard", and here you can see all the recorded data, including your old Skype message.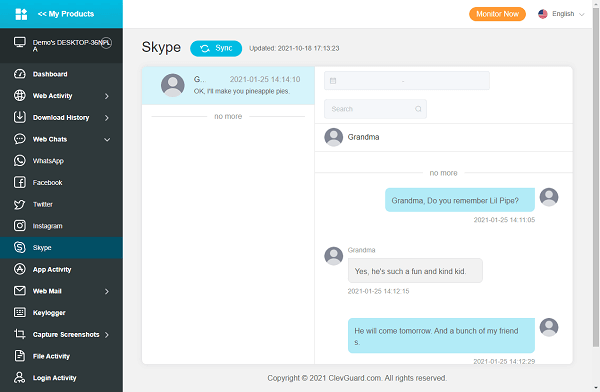 What Else You Can Do with MoniVisor?
As we mentioned earlier, the MoniVisor is a versatile tool with a whole of monitoring functions.
Besides recovering deleted Skype, here are other valuable features you can explore with the MoniVisor monitoring tool.
Monitor Social Media Conversation

Using the MoniVisor, it becomes easy to monitor the activities of social media such as Facebook, Skype, Twitter, Instagram, WhatsApp, etc., on the target device.

Say, for instance, the MoniVisor is used to monitor target person's social conversations; who they are communicating to and what they are communicating. MoniVisor also intercepts shared media files on social media.

Track Internet Activity and Download History

Besides spying on internet activities, the MoniVisor monitoring allows you to view their download history, including the download time and the downloaded file.

You use the download path to find and access the specific file. This way, you can see and monitor their internet usage and how much time they spend on the internet.

Read Sent & Received Emails

Emailing is today a huge part of business and personal communication. Spying on your target person's web email allows you to monitor their communication.

The MoniVisor software grants you access to the target person's email account such as Gmail, Outlook and Yahoo. It allows you to see all sent or received emails.

Capture Screen

You can use the MoniVisor app to take screenshots on your target device. All you have to do is find the screenshot settings and hit "Start", and the MoniVisor will automatically take screenshots for 5 minutes.

You can access the screenshot through the "Download icon." The screenshots are small-sized, but you enlarge them with a single click.

Record Keystrokes

MoniVisor has a perfect keylogger feature that allows you to see all keystrokes on your target computer. Typically, the apps will show on the left, and by clicking on the particular app, you can see all the keystrokes from the app on the right side.

Track App Activity

Tracking app for your target person's activity such as your kid allows you to come up with measures to curb addiction to particular applications.

The MoniVisor monitoring app runs in the background and watches app activities. This way, you can tell which app is consuming most of your kid's time on the computer and put necessary actions to stop the addiction.

Monitor File Activity

The file activity feature allows you to perform deeper scrutiny on your target person's computer files. This feature reveals all the created, deleted and renamed files and the date and time when files were created.

Login, Print Activity

Sometimes, even after putting restrictions on computer usage, children seemingly find ways to use it without you knowing. However, with the MoniVisor login feature, you can see how many times and when someone logged to the computer.

Equally, the print feature allows you to see what was printed from the PC when you were away.

USB Connection

File sharing via USB is very common. Even though you cannot keep track of specific shared files, it is possible to tell the date and time when a particular USB drive was inserted and ejected from your target computer via the MoniVisor USB connection feature. The feature could really come in handy at the workplace.

Conclusion

From our guide, we are optimistic that you can know how to delete Skype messages. However, in some circumstances, you might want to recover your deleted Skype messages. At this time, MoniVisor would be your best choice.

The app is easy to set up and use, affordable, and with a variety of helpful features. The MoniVisor is a genuine app, and you should definitely try it out today!