Drawing increases the creativity of kids and makes them confident. It's a parent's duty to Provide their kid's paper, pencil and different types of color to enhance their kid's creativity but sometimes it becomes difficult to collect all things because of a busy routine.
But now, technology makes it easier for parents, they don't need to worry about paper and pencil for drawing. If you have an iPad, your kid can learn drawing simply on the iPad.
This article enlisted the benefits of the iPad drawing app for kids in 2022. Additionally, we have enlisted the top 5 iPad drawing apps for kids.
Part 1. 5 Best iPad Drawing Apps
Here are the top 5 iPad drawing apps for your kids or beginners.
1. iBis Paint X
iBis Paint X has impressive features, but the major price you pay is having advertisements in the corners of the app. It Provides an amazing collection of pens and brushes for beginners as well as experienced people.
It also features touch gestures that come in handy during painting. It also gives options to set different filters, which is quite unique to this app.
iBis paint is great for beginners venturing into comics and manga as there are options to add text boxes as well.
Additionally, it opens into a gallery where you click the plus icon to open a new Project. It also has the option of creating multiple layers and downloading all the artwork without background as a transparent PGN file.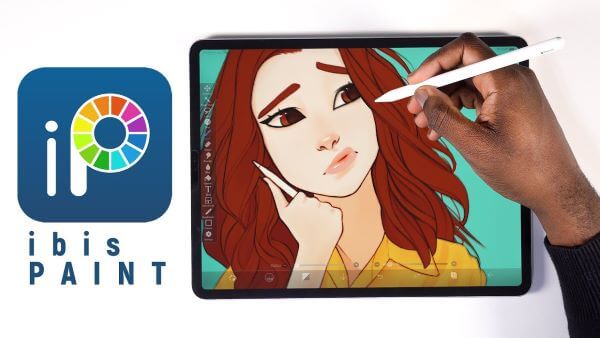 Pros
Easy to use app.
This app offers various brushes.
You can easily erase anything and redesign.
It Provides transparent file.
Quick download option.
2. Adobe Photoshop sketch
Adobe has stopped upgrades for Adobe photoshop sketch as it focuses more on Adobe Fresco, which is perfect for beginners. It is quite minimal and simple app. it Provides touch gestures for ease, it a best iPad drawing app for kids in 2022.
Photoshop sketches is allow you to select screen sizes for new Projects, after which it opens into a screen where various pen tools are displayed on the left side, and the options for multiple layers sit on the right.
Adobe photoshop sketching is free but Provides more storage and sync features when the adobe creative cloud is purchased.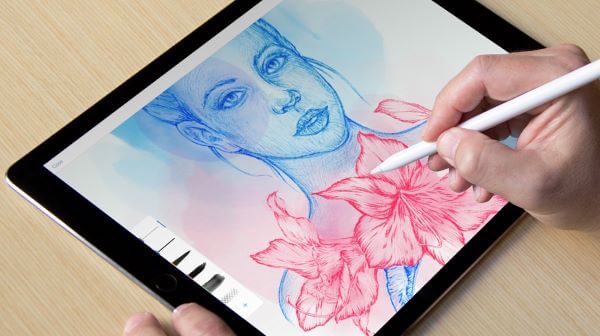 Pros
Easy to use app.
Contains multiple advance features.
Great community gallery for creative idea.
NOTE:
If you are finding a parental control app which can download onto iPad and monitor its activities, KidsGuard Pro for iOS is the best choice for you.
3. Drawing box
Drawing Box is a free iPad drawing app for kids. It's a kid-friendly app, and its interface is super easy for the kids. It's such an excellent application. On the drawing box, kids and teenagers can learn the basics of drawing.
This app is available in both free and paid versions. The free version of the drawing box contains a lot of advanced drawing and sketching tools that help the kids to imProve this artwork. This is also known as Spple pencil apps for kids.
Additionally, this iPad drawing app contains many ready-made pictures and stickers for coloring the kid's coloring activity, so it is best for kids who just started drawing, and it makes your kid busy in this fun activity.
Moreover, the drawing box iPad app includes IPA for drawing lessons. You can join this. In short, it is a worthy app for kids' activities.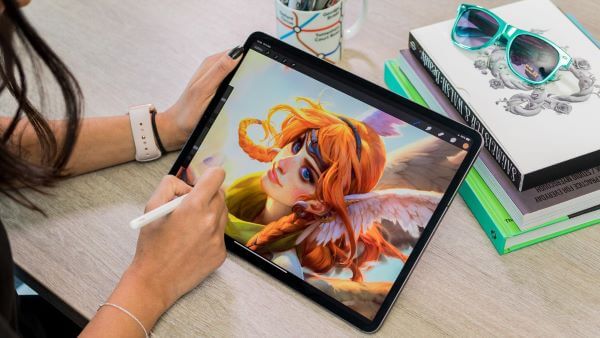 Pros
Minimalist and simple.
Includes customizable drawing tools.
This offers two amazing feature Special effects and deco art.
You can add text on our art work.
You Can record video and imports to MP4 format.
Canvas and backgrounds are adjustable.
It is offering undo and redo option.
Related Read: Top 5 Online Drawing Classes for Kids
4. Tayasui Sketching
Tayasui Sketching is an amazing basic yet sleek iPad painting app for a beginner. You can create sketchbook folders to organize your artwork into different collections.
This app Provides 14 tools, including a pencil, fine liner, brush pen, ink, and watercolor pens. These pens are versatile and create different effects by applying pressure or tilting the Apple Pencil.
Tayasui Sketches offers the option to create multiple layers. Its Pro version gives more features with the flexibility of backing up and syncing your work to iCloud.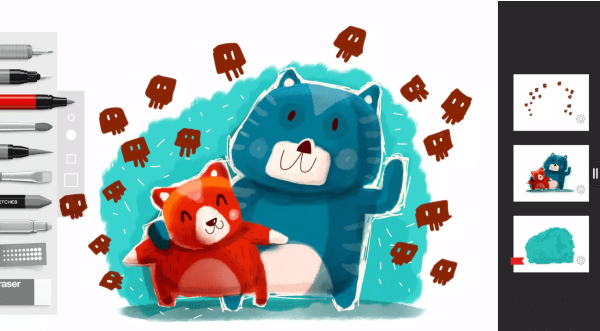 Pros
A responsive canvas is available on this app.
This app includes realistic pen, pencil, and brush stroke effects.
You can easily share your creativity on social media.
5. Autodesk sketch
The Autodesk sketchbook is one of the best drawing apps for kids and teenagers. This app is surprisingly packed with the latest drawing tools that help your kid to imProve their drawing skills. This amazing app also offers you a 7-day free trial where you can enjoy all amazing free features for a limited time. But for using the free or paid version, you have to put an account on it and verify it with an email or phone number.
Additionally, this app gives you a comprehensive tutorial that makes it easy for you to use all tools.
Moreover, the Autodesk app includes different brushes that help you make different shapes or a complete picture. You can adjust the brush size, opacity, and pressure.
The toolbar is well organized where you can find all tools easily.
The best thing about the auto desk is that you can import your artwork in this app by using the camera scan.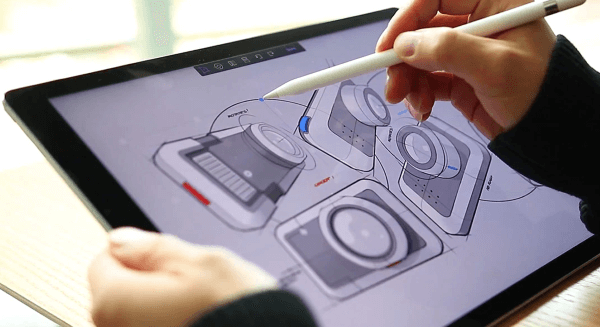 Pros
It has cameras caning option.
Copic color library is available.
Includes 190 plus brushes.
This app supports JPG, PNG, BMP, TIFF.
Part 2. What are the Benefits of Digital Drawing?
Digital drawing has a lot of benefits; first of all, it saves you time because, for paper drawing, you have to collect so many things like paper, clipboard, lead pencils, colors, drawing books, etc.
You need time to collect all things with you for drawing. But for digital drawing, you just need a digital device and no tension of tools because these devices already have drawing tools.
Additionally, it saves you money because you know people waste so much paper while drawing. Different things are needed like a pencil, colors, watercolors, pencil color, etc. These things are all expensive.
But for digital drawing, you just need a single device that is a single time investment, investment and you can use it for other purposes. So we can say digital drawing is way better than drawing on paper.
Related Read: [Solved] How to Block Websites on iPhone and iPad?
Bonus: What is the Best Parental Control App for iPad?
Providing a kid with a new iPad is not bad, but not monitoring their online activities is not printable. Because the internet world is full of all kinds of content like good content and bad, there is a lot of inappropriate stuff available, which is not good for your kid.
So, monitor your kid's activities with parental control apps like the KidsGuard Pro.
KidGuard Pro for iOS is the best parental control app for iOS users because it does not require any jailbroken. Additionally, this monitoring app includes 20 plus monitoring features that help you to check your kid's social accounts, SMS, calls. Media, etc. you can also know about the location with the help of the KidsGuard Pro.
Part 4. What is the Best Note-Taking App for iPad?
People know different things on their devices, it is needed because many of us forget important things like meeting dates, birthdays, important messages, office tasks, borrowed money, etc.
That's why people note these things to keep them safe. There are a lot of note-taking apps available, but few are extraordinary. The note-taking devices are different for iPad and android. The best note-taking app for iPad is
Notability. It is such an amazing app, easy to use, friendly interface, and the body can easily note they are important things. Additionally, you can save pictures here, and it also has an option for voice recording. Finally, there is an option for sketching and drawing; different tools and colors are available, which you can choose while drawing.
Part 5. Final Verdict
The iPad users can easily learn to draw or sketch at home without spending extra money on paper, pencil, and color. Usually parents spend too much money on buying drawing stuff for their kids, but now they have an easy way. Their kids can learn drawing on their iPad screen they don't have to collect a lot of things, just an iPad is enough for them. A lot of drawing apps are available for iPad; there are best iPad drawing apps mentioned above.
So you just have to download the best one and install it into a kid's iPad. Additionally, there are multiple note-taking websites available where you can not use important things as a reminder. Additionally, if you are giving an iPad to your kids, don't forget to monitor their activity online with KidsGuard Pro.