Question: Why is A Keylogger Dangerous?
Keylogger are a popular form of spyware because they allow criminals to stral credit card numbers, passwords, and other sensitive data. Keystroke-logging software may also be installed by someone close to you.
Keyloggers are one of the more dangerous forms of spyware, as you won't realize they're running if they're doing their job well. They hide in the background and don't cause any trouble, capturing credit card numbers and passwords as long as they can evdade detection.
Do Mobile Devices Get Keyloggers?
Both Android and iPhones are vulnerable to software keyloggers - Spyware. Spyware is malicious software that aims to collect information about a person or organization and send it to the third party in a way that harms the user.
For example, by violating their privacy or endangering the security of their device. Spyware is a very dangerous program. Spyware keylogger can collect many types of personal information such as user's name and passwords. So, if your phone is tapped, it is imperative to install a anti keylogger software when you find your phone already got the invasion as below: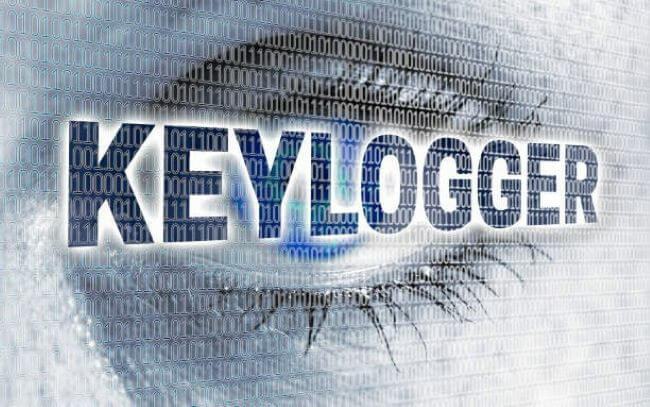 5 Signs your Android phone is infected with a keylogger
Rapid data loss
Very common and one of the first signs is a rapid loss of data. Spyware often run many activities in the phone background, therefore stealing most of your personal information or making them damaged.
Pop-ups
Never click any pop up or display advertising ,it's always good practise for android user.In Android operating system users get many ads pop up ads may be attractive but users should be more cautious before click or open and pop up.
Draining battery
It's not a very common issue but if your phone drains out and you think it's not as usual then be careful about spyware. Because sometimes phone virus run many programs in your phone background that drain your phone power.
Unknown apps
When you will notice any unknown app are automatically download on your phone but you didn't download this app, it's likely you have a new threat on your device. Sometimes many people use unreliable phone virus cleaner apps but they don't know this unreliable source can be more dangerous for you phone security.
Apps crash
Apps crash on occasions but not frequently but if you start noticing that your apps are crashing over and over again, it is undoubtedly a sign that there can be new hazard on your device.
How to Detect keylogger on Android?
A well-organized list of keyloggers usually works flawlessly, it doesn't affect the performance of the program at all. When a key logger sends messages to a remote operator, it disguises itself as normal files or traffic. So user need to find a professional app to detect and remove keylogger.
Best Android anti-keylogger software - ClevGuard
Of course, the best way to protect yourself and your equipment from falling victim to spyware keyloggers is to install ClevGuard anti-spy app in your system regularly with a quality cyber security program.
How to Remove A Keylogger on My Mobile Phone With ClevGuard?
Step 1. Download and Install ClevGuard
Click "Get it on Google Play" button below to download and install ClevGuard on your phone. After downloading the application, it will ask you for certain approvals to access yours files and data for check for spyware.
Step 2. Start scanning and Detect Spyware
Open ClevGuard Anti-Spyware, click "Scan" button to detect spyware or any keylogger app that has been installed on your device. It will scan all your files and data and found any spyware or unusual activity will notify you and remove that file from your system.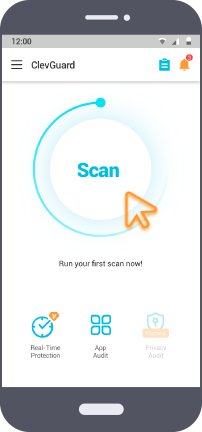 Step 3. Remove Spyware with ClevGuard
After Scanning, you can check the results and remove spyware in few seconds. It will keep running in the background and will checking your mobile constantly.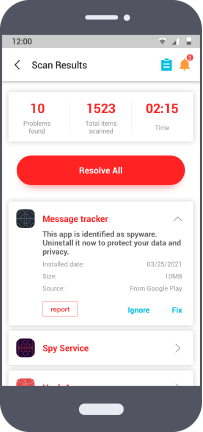 Tip:
It will add your applications in two different categories whitelist and blacklist so you can see which application is not safe for your system.
How to Detect And Remove Keyloggers from Computer?
What Are the Warning Signs of Computer Keylogging?
Slow Internet Performance
Key logger software can be very difficult to find. Common features when your device is installed may include slow computer browsing when you are browsing or starting programs, unusual delays at work, pop-ups, new icons on your desktop or program tray, or excessive hard drive or network activity.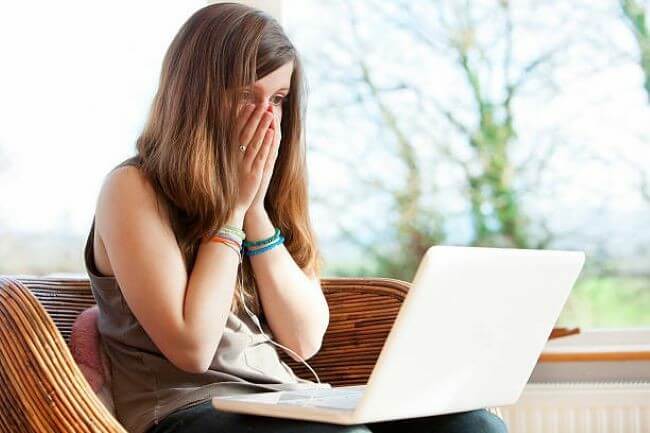 Interrupted Keystrokes
It happens when a Software key logger is installed on the computer when the user downloads the infected program. Once installed, the key logger looks at the keys of the operating system you are using, looking at the paths for each keystroke. This way, the software key logger can keep track of your keys and record them individually.
Suspicious Software on your Computer
If your computer appears to be asleep when typing objects, which can be a key logger indicator, the check is there any suspicious software is on the computer that you didn't download.
Keylogger detector on Mac/PC
Malware Bytes
Malware Byte is primarily a scanner that scans and removes malicious software, including powerful software, adware, and spyware. Malware byte tests batch mode instead of scanning all open files, reducing the inconvenience when other anti-malware software also runs on a computer.Malware byte is available in a free and paid version of premium.
The free version can be manually operated by the user on-demand, and the paid version can perform scheduled scanning, automatically scan the files when it opens, block IP addresses of malicious sites, and only scan those device resources, programs, and drives currently in use.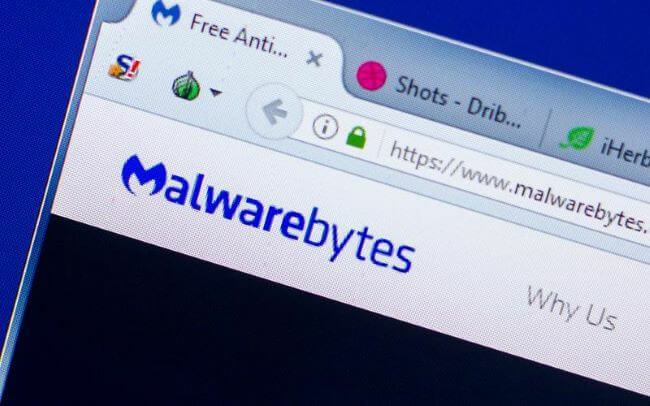 Sophos Home
Sophos Group plc. is a British security company and hardware company. Sophos develops end-to-end communications products, encryption, network security, email security, mobile security, and integrated risk management. Sophos focuses on providing security software to organizations with a population of 100- to 5,000 people.
While not the main focus, Sophos also protects home users, using free and paid antivirus solutions (Sophos Home / Home Premium) target at, explaining product performance. This product runs on Windows and macros-based systems. It can easily detect keyloggers on your computer.

Final Thought
To protect our private information, we need to pay more attention to the protection of equipment. Not only our computer, mobile phone accompany us every day, it storages all our important information. ClevGuard is an anti-spy app which can offer 24 hours real-time protection to your Android phone. Don't miss it !