Before We Start
Have you received any text message from apparently Social Service asking you to call a certain number to fix an issue with your Social Security number?
Well, if you have, the first question that should come to your mind is "Does Social Security send text messages?"
The General Inspector of Social Security has warned citizens regarding a new scam where scammers send deceiving text messages to get your personally identifiable information and steal your money.
In this article, we will illustrate what to do when you receive such scam text messages, how to prevent Social Security texting scams and how to protect your privacy.
Part 1: Does Social Security Send Text Messages?
Under general circumstances, the Social Security Administration(SSA) does not send text messages. However, there are two circumstances when SSA may send you text messages.
If you have requested to receive updates from SSA.
If you have enabled Social Security's enhanced Security service while accessing your personal Social Security account.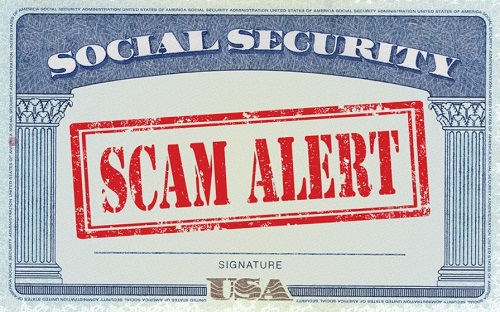 But you will NEVER get a special message from Social Security regarding the following subjects.
Suspending your Social Security number.
Asking you to call an unknown number to fix a problem with your Social Security number.
Demanding an immediate payment through gift cards, wire transfer, and various such means.
Threatening you with legal actions.
If you have not subscribed to notifications or enabled enhanced Security service, you will not get any text messages or emails from SSA.
Part 2: Why Am I Getting Scam Social Security Text Messages?
There are various reasons why you are getting scam Social Security text messages.
Data Leakage:
It is quite possible that your personal data including your phone number and email address had been leaked during any data breach incident. Scammers need your Social Security number and other personal identification information to hack your online accounts as well as steal your money from your bank.
Phishing Trap:
Scammers may send a phishing link through text messages pretending to be SSA. Once you open such a link and give in your details, they will have all those data to become your clone in the online world.
Moreover, they can send you a phishing payment link, and if you give in your bank credentials or credit card details, they can easily steal your money any time they want.
Spyware Deployment:
When your number or email address must have come under the radar of scammers and hackers, they want to deploy spyware on your phone so that they can tap your cell phone remotely and view all your activities.
Under monitoring them, they can get all your Social Security account, online account credentials, bank account details, personal photos and videos, and much more. They can also hack your phone camera and microphone for real-time monitoring.
Part 3: How to Prevent Yourself from Social Security Texting Scam?
If you are receiving Social Security number suspended message or payment message, they are just a trap set by scammers for you to fall into.
Unfortunately, there could be a time when you may just fall into their trap, and hence, you need to prevent yourself from such scams. We recommend you install ClevGuard app to safeguard yourself from scammers.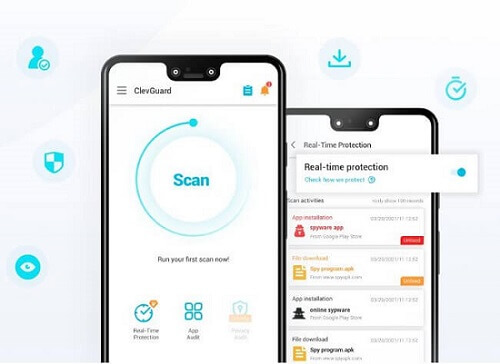 Real-Time Phone Protection

Our focus should always be on preventing scams rather than what to do when you are scammed. ClevGuard real-time protection feature is for offering your phone complete protection 24/7.

The feature alerts you immediately as soon as it detects any threat such as you downloading any malicious files from scam Social Security text messages.

Check and Remove Spyware Completely

We discussed above that you might get scam Social Security text messages because of spyware.

If there is already any spyware deployed on your phone by scammers, ClevGuard lets you spot them easily after a thorough scan.

Apart from spyware, ClevGuard detects malicious files and threats and lists them for you to review. You can delete them instantly with a single tap of a button to protect yourself from Social Security scams.

Check Email Breach

We have stated that data leakage is one of the reasons why scammers are after you. They might have partial data from data breach and they want more data from you so that they can steal your money and cause havoc in your life.

Therefore, the ClevGuard Anti-spyware app offers one function of checking email breach and lets you check if your email address and password were leaked in any major data breach incident. It also provides suggestions to protect your email account from hackers and Social Security scammers.

Phone Microphone and Camera Protection

ClevGuard app notifies you instantly when any app uses your phone camera or microphone uselessly. It is very likely that such an app is spyware that is letting scammers monitor your activities in the physical world and that too in real-time. You can detect those apps and take action accordingly.

Junk Files Clear

ClevGuard Anti-spyware lets you clean junk files present on your phone instantly. Junk files take up space on your phone unnecessarily, and they slow down the performance of your phone. Worst, it might increase the risks of being hacked and receiving the scams like Social Security text scams.

Therefore, you need to clean them from time to time. ClevGuard allows you to clean all the junk files from all apps entirely as well as selectively.
How to SafeGuard You from Social Security scam with ClevGuard?
Scammers are coming up with innovative techniques to scam people in the name of Social Security. Here is how you can install ClevGuard, and you can safeguard yourself from such scams.
Step 1. Install ClevGuard on Your Phone
Click the "Google Play"  button below and then you can directly download and install ClevGuard on your phone.
Step 2. Detect Any Threat on Your Phone
After installation, open the ClevGuard app on your phone and then tap on the "Scan" option available on the home screen of ClevGuard.
Wait patiently for the app to scan your phone thoroughly and detect all the threats that might cause Social Security scams.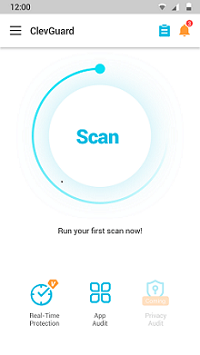 Step 3. Start Protecting Your Privacy with ClevGuard
After scanning gets over, you will have a list of all the threats present on your phone. You can tap on the "Resolve All" button to remove all the threats immediately to keep you away from Social Security scams.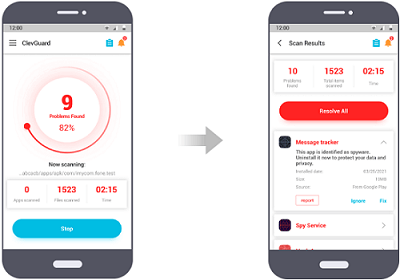 Part 4: What are Other Common Social Security Scams?
Apart from scammers sending your text messages pretending to be from SSA, there are various other Social Security scams you should be aware of.
1. Fraudulent Threatening Phone Calls
Scammers can call you on your phone and identify themselves as Social Security administrators. They use spoofing techniques to replicate Social Security helpline numbers so that you think that the caller is a genuine SSA.
In such a scam call, the scammer can use a threatening tone to state that your Social Security number was involved in illegal activities.
He may threaten you with legal actions and force you to perform activities like give your personal details by calling a certain number or going to the phishing link sent in a text message.
You should know that SSA officials never use any harass or threatening tone. They will not ask for your personal information over a phone call.
2. Fraudulent Friendly Service Phone Calls
There are some scammers who provide free Social Security services for a premium price. Generally, these services are available for free, but scammers trick people into buying them at a price for monetary gain.
For example, services such as getting a new Social Security card, enrolling a new family member, getting a record of Social Security contributions are available for free of cost, but scammers may charge a price for them in a very convincing tone and steal away your money.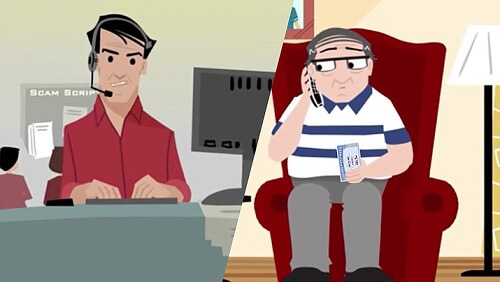 3. Fake Email Headers and Phishing
Apart from text messages, scammers can send your emails containing phishing links. The email address of the scammers may look similar to the Social Security official email address which is why many people believe the emails and perform as directed to get scammed.
On top of that, the fake email header may look exactly like the email header you get on the official SSA emails. Moreover, these fake emails may contain some attachments, which when downloaded, may deploy spyware on your phone.
4. Social Security Fraud by Mail
Scammers find it's easy to scam elderly people as they are generally not aware of the Social Security scams.
Therefore, scammers send direct mails containing a form whereby one has to fill up his personal details and mail them back to the given address. The mail may also contain instructions to send money in cash or cheque.
Part 5: Tips for When You Receiving Social Security Scams
It is important to know what to do when you receive Social Security scam messages, emails, and even phone calls. Any misstep can be fatal for you in the future, and you should follow the following steps strictly.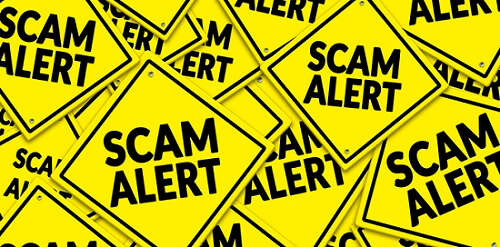 1. Hang Up Suspicious Phone Call
When you receive a call from a suspicious number and the caller says that he is an SSA official, you should immediately think of it as a scam. If the caller is giving you general information, you can listen to him.
However, as soon as he asks you something relating to your personal details and payment details, you should hang up the call immediately and block the number.
2. Don't Reply To Texts and Emails
If you received text messages and emails and they appear to come from the Social Security department, you should never reply to them.
The Social Security department will never send your any text message or email whereby they will ask you to reply with details or perform any action in return.
3. Report Social Security Scams
If you have received suspicious calls, text messages, or emails claiming to be from Social Security, you should report it immediately at oig.ssa.gov/scam.
Even if you have fallen into the trap of the scammer and gave up your personal details, and even made some payment, you should not hesitate to report.
4. Don't Give Money and Your Personal Information
Whenever you receive phone calls, text messages, or emails from supposedly the Social Security department or any government department, you should never pay any money and give any of your personal information.
You should not panic or feel threatened because no government department will never threaten you or ask for personal information or money immediately in this manner.
5. Check Your Credit Reports Regularly
You should make it a habit to check your credit reports regularly. This is to ensure that your financial information has not been compromised.
Scammers can get your financial information if you have entered them on a phishing webpage or if they get your personal details through which they extract your financial information. If it is compromised, you should report to the concerned authority immediately.
Conclusion
You now know the answer to the question 'Does SSA send text messages?' You should install ClevGuard Anti-spyware immediately on your phone as that you can detect spyware deployed by any scammer without you knowing about it.
The app will prevent you from getting into Social Security texting scams. You should also keep all the mentioned steps and actions in your mind to deal with Social Security scams promptly.