Question: Can you install spyware via text messages?
Unfortunately, the answer is "NO". Technology is yet to reach that advanced level where it will allow you to do so. Though it's impossible to install spyware via text messages, it doesn't mean you should give up. Installing a spy app on someone's phone is not that of a big deal. Do you have physical access to the target phone for only 3 to 5 minutes? If yes, there you go. Now it has gotten way easier for you to install the spyware.
In this article, we'll explore the best monitoring app that can help you in tracking someone's phone activity remotely and that too without them knowing. You wanna know how? Keep reading!
Can Spyware Be Installed via Text Messages?
"How to install spy app via text messages?" This curiosity to know the truth has been aroused for quite a long time. However, it is still impossible to install any cell phone spy software remotely, since it's rather a complicated technology.
Now that remote installation is out of the question, installing spyware via text message is also unattainable. Here we'll talk about its specific reasons: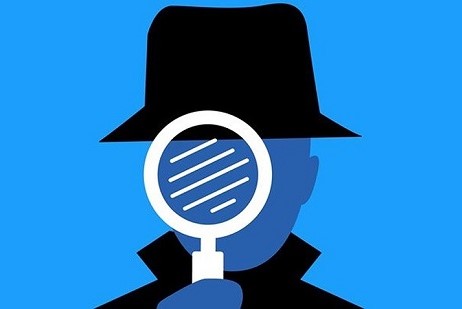 Privacy Issue:
Laws expressly prohibit stealing individual information or spying on someone without their permission. Installing a spying app on someone's phone is never the thing that our society approves, let alone installing spyware via text message.
Phone Permissions:
It requires a variety of permissions to install a spy app on someone's phone, which prevents an app from being automatically installed without the user's consent. Therefore, if any service claims to install spyware remotely/via text message, they could be liars to cheat you out of your money by only sending you fake or wrong information.
NOTE:
That doesn't mean all the spy apps on the market are not reliable. Accessing the target phone is necessary to install the spyware on it.
How to Install a Spyware on Someone's Phone
Installing spyware on someone's phone through text messages is as impossible as flying pigs. However, we can always look out for the best options available. So, what's the one we have right now? 'Getting physical access to the target phone and simply installing it in their phone without letting them know', seems tough?
Well, it isn't. Let us tell you why. If you are planning to install spyware on your family member's phone, you can easily get it when they're asleep or in the shower, or you can make an excuse like "My phone is not working, can I use yours for a minute?" You just need to look for the right time.
But before that, you will have to decide which app you are gonna use. Not all are trustworthy and efficient at the same time. However, KidsGuard Pro is the most reliable and straightforward app intending to provide the simplest and most protected tools to help you keep an eye on your loved ones.
Considering the fact that not all of us are tech-savvy, the installation process is made super easy for everyone. Follow these instructions step by step and you'll land on someone's phone.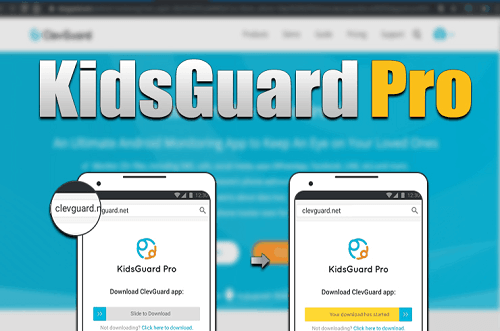 Step by Step Guide:
Step 1. Click the "Monitor Now" button below to create an account with your valid email address, and then choose your best-suited plan to gain access to all the premium features.
Step 2. After the registration, you will be redirected to the 'My Orders and Management' page. Here you will see an icon with the title 'Setup Guide'. It will help you install the app on the target phone.
Access to target phone > Open www.clevguard.net > Download the app > Open the APK file from Download Manager > Sign in with your credentials > Complete all the activation and configuration requirements.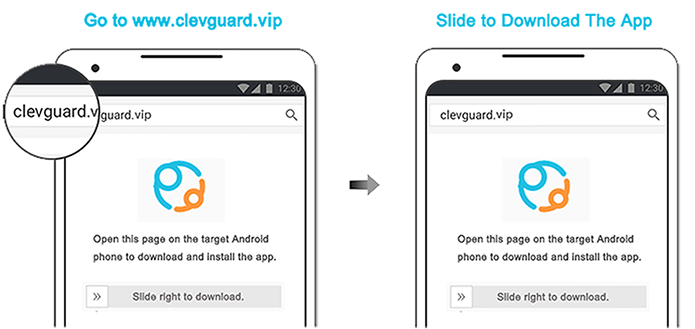 Step 3. After completing the activation procedure on the target phone, come back to your ClevGuard to sign in your account. Now, you'll see all the data of your target device on the online dashboard. It may take some time to sync the data from the phone to your dashboard, so be patient while sipping coffee. Once syncing is done, you can access all the activities and data of the target device.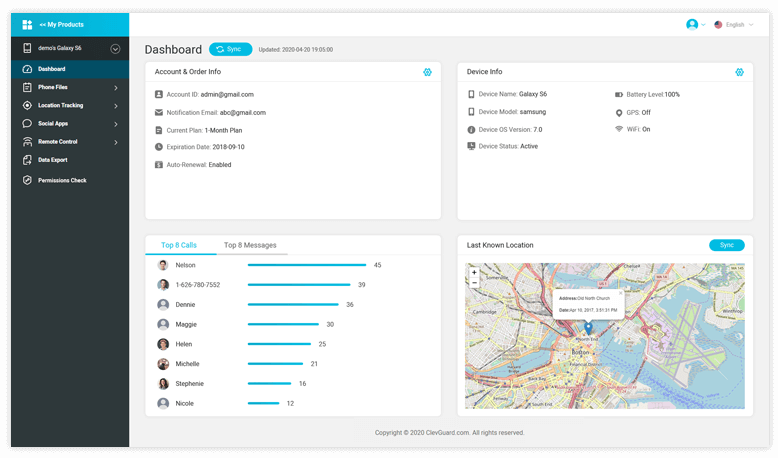 What Can You See on Someone's Phone with a Spyware
You must be wondering how much access this app does offer? Messages? Phone calls? WhatsApp? Snapchat? Location? Photos? There must be a limit, right? Well, to be very honest there is no limit to how much access KidsGuard Pro offers you with its amazing features.
It allows you to navigate through everything on the target phone and that too without letting the phone's owner know. Quite amazingly it disappears on the target phone when you complete the configuration and start working in a stealth mode. Not only this, but it also enables you to download the data to the local whenever you want.
Enlisted are a few of the wonders of the KidsGuard Pro app:
Phone Files

You can access all phone files including Messages, Call Logs, Contacts, Keylogger, Photos, Video Thumbnails, App Activities, Browser History, and Calendar. For example, if you are doubtful of your kids whether they are in good company or not, this is the right spot for you.

Keep an eye on them, monitor all the messages, logs, and photos, and keep them safe. You can also download and save the files you want.

Social Apps

Accessing Social Apps used to be one hectic task, but KidsGuard Pro has made that much simpler now. With its premium features, you can access all popular social media applications like WhatsApp, Facebook, Messenger, Snapchat, Instagram, Tinder, Telegram, Line, and Viber.

Remote Control

Remote Control access may seem unreal at first, but it has been made real now. Without any hassle, you can record calls on the target phone, take screenshots, and capture secret photos. Our app works on the Stealth Mode, so they would never get to know what's going on.

Phone Location

Our inbuilt GPS and Wifi location tracking system enables you to keep monitoring the location of your loved ones even when they're out. The world is not much safer out there, so you gotta do whatever you can in order to ensure their safety. Moreover, it gives you the option of setting up Geo-Fence (setting up a virtual boundary), so whenever they leave or enter that boundary, you'll get Geofence alerts instantly on your device.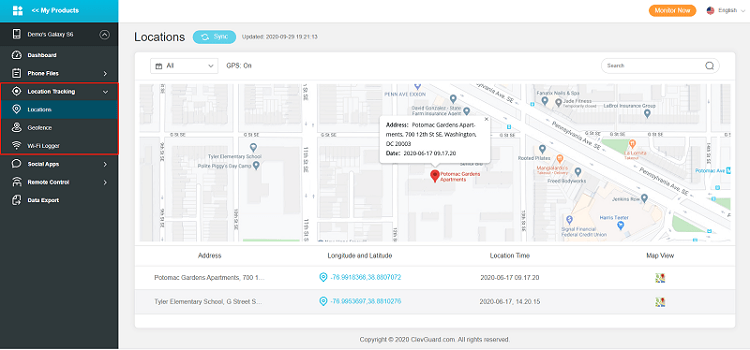 Conclusion & FAQs
It is a fact that technology does have some limitations and one of them is 'to install spyware via text messages'. Many websites are claiming to make it possible for a certain cost; don't buy their lies.
However, KidsGuard Pro has come up with a safe, simple, and remote tool, so that you can monitor and control a phone without creating any drama. You can access the target phone from anywhere you are, from any device you have, and whatever time it is.
About the topic of spyware installation, you may get other questions:
Q1. Can you spy on text messages without installing software?
They are sure to be no workable way to spy on text messages without installing software. If any service claims to do that, they could be cheats. If you want to monitor an Android phone, installing an app on the target phone is a must. If you want to spy on an iPhone, installing software on the target computer and one-time access to the target iPhone might be needed.
Q2. Can someone put spyware on your phone without touching it?
It's never possible to put spyware on someone's phone without touching it. So only if someone gets the chance to get access to your phone can they install the spyware successfully.
Q3. Can someone install spyware on my phone remotely?
There is no chance to install spyware on anyone's phone remotely. Since one-time access to the target phone is indispensable. So there is no worry if you keep your phone safely right around you.
Q4. What is the best free app to spy on text messages?
To be honest, there is no free spy app available for you to spy on someone's text messages. The spying technology is not an easy thing, so those related monitoring products on the market have to charge a fee. Among all the services, KidsGuard Pro is the best and most cost-effective.