Are you wondering if you can spy phone without the phone you are spying on? Well, you can definitely do this. Earlier, we would have to get the target phone and quickly browse through the contents before anyone else knows about it. But thanks to technological developments, some amazing spy apps have been introduced which are designed to let the users spy on a phone for free without having it.
After testing most of remote spy apps in the market, we highly recommend KidsGuard Pro to free spy phones without the phone you spying on. This hidden spy app will make it possible for you to spy on the activities of your loved ones all the time and you won't even risk them finding out via your Windows PC, Mac computer, Android phone or iPhone. In the following part, we will dive deeper into its capabilities.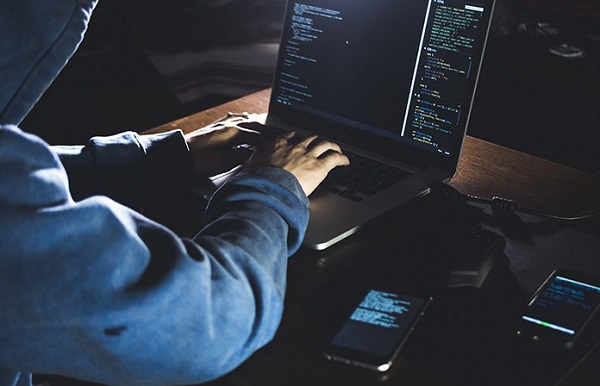 About KidsGuard Pro - the Best Way to Free Spy Phones Without the Phone You Spying on
If you are looking for a spy app to spy on a cell phone without holding the target phone in your hands. There are many spy apps on the market that designed to monitor everything on a target phone. After you set it up to work, you can leave the target phone away and start monitoring.
KidsGuard Pro is such a remote spy app that stands out from the crowd. It is used by millions of people in 200+ contries and equipped with 28+ monitoring features. You can remotely keep an eye on each activity that happened on the target device on a web panel. It also happens to be one of the top-rated tracking apps for a mobile on the market nowadays.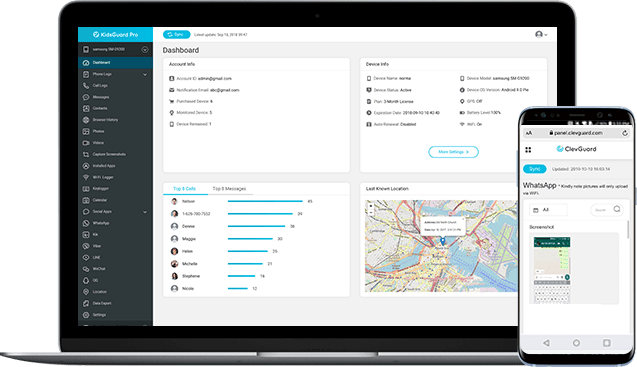 What makes KidsGuard Pro successful in cell phone spying?
KidsGuard Pro is a powerfully monitor app to spy on a phone which beats most competitors in the market. Here is the reasons:
Quick setup and ease of use: It can be set up within minutes without any technical knowledge. After that, you can spy on a phone at anywhere like a pro.

Completely undetectable: This app works discreetly without any notifications.

Feature-rich: The app provides a bunch of monitoring features that completely meet your needs.

Real-time upload: This app offers 100% data and privacy protection.

Adorable price: You cannot find an app with such powerful features but at a competitive price like it on the market.

Trustworthy: KidsGuard is trusted by many tech sites and it is used mostly all over the globe.

We recommend that you should check out its live demo here for free.
What's more, this programme is compatible with both iOS device and Android device. But there may be some differences between setup procedures and features. For your convenience, just pick the part accouding to your need.
How to Spy on iPhone Without Installing Software on Target Phone
If you want to spy on an iPhone or any other iOS device without having access to it, it is absolutely easy to do this, simply because all the information and files on any iOS device are generally backed up in iCloud. So, the best way to access or spy on the iPhone would be to get into the target user's iCloud account. This way doesn't require you to touch the target device at all.
Is it possible to hack iCloud?
Since there are multiple apps available online to offer this service, it would sure be confusing for you and some companies are frauds to rob your hard-earned money if you're not careful. So we did some researches and found out of all the apps, the most recommended one is KidsGuard Pro for iCloud. This app has been specially designed to monitor the activities on any iOS devices. All you need is the iCloud credentials of target iOS device.
How to set up KidsGuard Pro for iCloud within minutes?
As explained above, it's 100% web-based. You won't have to worry about jailbreaking the iPhone or iPad. Here are 3 simple steps to follow to set up KidsGuard Pro within 5 minutes.
Step 1: First, create an KidsGuard Pro account using a valid email address and choose a plan that fits your need and select the Operating System: iPhone/iPad.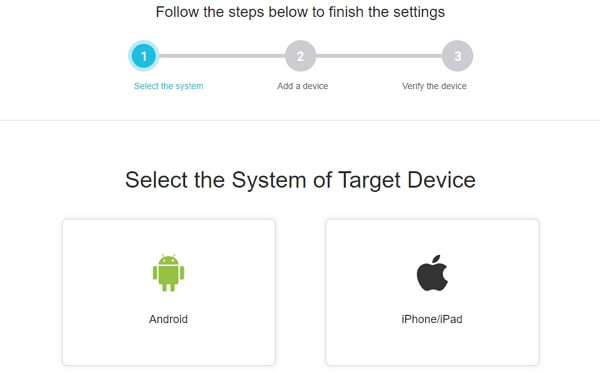 Step 2: Then, enter the iCloud credentials of target iOS device and hit the "Continue" button to verify. If the two-factor authentication is turned off, then you will be redirected to the web control panel of KidsGuard Pro. Otherwise you have to enter the verification code.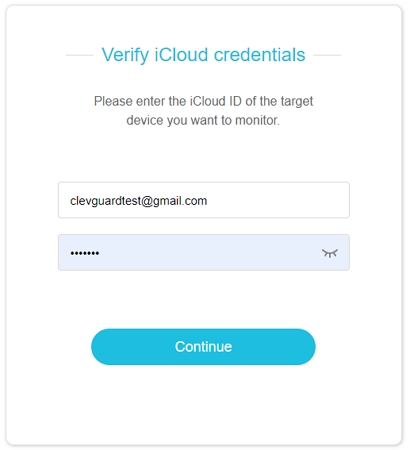 Step 3: Congratulations! You are led to the web control panel of KidsGuard Pro, and you are able to spy on the iPhone and any other iOS device.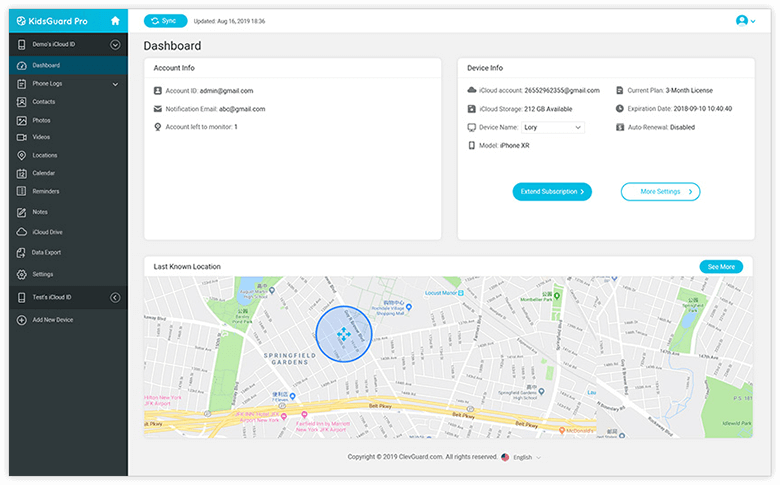 Please note that it may take some time to sync the data for the first time. So, have patience.
A wrap-up insight of KidsGuard Pro for iCloud
Now, let us get to know the general idea of KidsGuard Pro iCloud solution in more details:
Do you need to have access to target phone: No. If two-factor authentication is off, you will be lead to KidsGuard Pro's web control panel after entering iCoud credentials of target iOS device.

Will this app be detected by target user: Since there is no app installation involved, there is no chance for target user to find out this app.

What activities can I monitor using KidsGuard Pro for iOS: Contacts, photos, locations, videos, notes, calendars, reminders, all files in the iCloud Drive.

The compatibility of this app: It is available for iOS 9.0 - iOS 13 or latest version.

Can I monitor imessage via KidsGuard Pro: The current version doesn't support imessage monitoring. But they are trying their best to fulfill this function in the next version, of which the updating time will be in a few months.
How to Spy Android Phone Without Being Found out
What if your target device is an Android phone and you want to spy phone free, you will definitely need to install an app in it first. Due to the limitations of Android OS and privacy concern, there is no way to spy on an Android phone without accessing it at all even with the progresss in technology. However, if any app claims so it is not reliable at all and should ring alarm bells!
Is it possible to spy on an Android phone remotely?
As mentioned before, install a spy app first and the rest of the spying process can be done remotely. Usually, you can log in a web panel and check all collected data in the target Android. KidsGuard Pro is one of the most trustworthy and lightweight spy apps. It is the most easiest to install and takes up less than 10M of space. What's more, it will disappear from main screen and rename itself in settings after that, which reduce the risk of detecting by target user.
There are many spy apps for Android but most of them require you to root the device. This needs technical skills to complete the installation and takes more time. However, KidsGuard Pro does not require you to root the target Android at all!
How to spy a phone using KidsGuard Pro Android solution within minutes?
With just three simple steps, you can easily install KidsGuard Pro on target Android and start monitoring. Here's we will guide you step by step on how to spy on Android phone remotely free.
Step 1: First of all, you need to sign up an account with KidsGuard Pro. Then you need to buy a license in order to use this advanced app.
Step 2: You need to download KidsGuard Pro on target Android phone from www.clevguard.net. Tap the APK file to initialize installation and then log in to your account. For the first time to use this app, you will need to grant some permissions. But don't worry, you will get clear instruction from the app interface and most of them can be enabled automatically. So even if you not tech-savvy, you can set it up correctly within 5 minutes.

Step 3: Finally, to check the data on the target phone, you can go back to KidsGuard Pro official website and log in the online dashboard. Therefore you can remotely spy on the target phone without the need to access it anymore.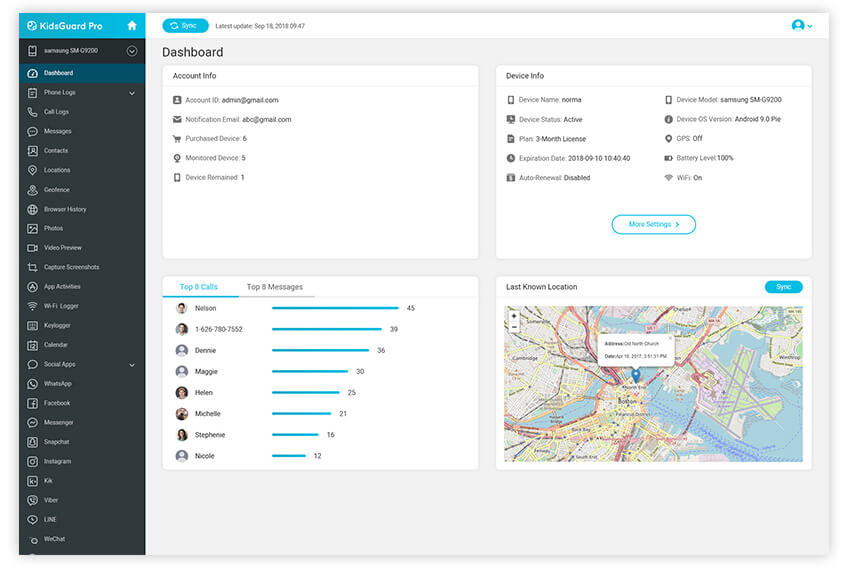 This is how easy it is to remotely spy on Android phone free.
A wrap-up insight of KidsGuard Pro for Android
KidsGuard Pro Android solution is more invasive as you might think. It's almost as if you can remotely access the target phone from your own phone. A little creepy, but it is true. Here's everything you would want to know about it:
Do you need to have access to target phone: Yes. After one-time and easy installation, you can leave it alone and monitor the target remotely without having it.

Will this app be detected by target user: No. This app will automatically delete its icon after installation and work in the background secretly.

What activities can I monitor using KidsGuard Pro for Android: Call logs, location, message, social media apps, browser history, photos & videos, record calls, take surrounding photos, take screenshot, geofence, app activities, and more.

The compatibility of this app: It is available for Android 4.0- Android 10.

What social media apps can I monitor via KidsGuard Pro: This programme supports most popular social media apps, including WhatsApp, Facebook, Messenger, Line, Snapchat, Instagram, Tinder, Wechat, Viber, Kik, QQ, Telegram.
There are much more powerful monitoring features and we can't even list them all. Why not check its free demo immediately? Believe me, you would be thanking me!
Closing Words
As you can see, it is quite possible and easy to free spy phones without the phone you spying on via KidsGuard Pro. You just need to know the right method to do it and the app will get the job perfectly done for you. It is recommended because for iOS, it is easy to use and quite effective without any installation. For Android users, it is inevitable that you will need the target device only once to get the spy app installed. Without this step, it is quite frankly not possible! Nevertheless, KidsGuard Pro gives a bunch of remote monitori features that you can't miss. It comes with a live demo if you want to check out how it actually works. Go for it!