As a most popular parent control app system for 24-hour online care of children's activities. Webwatcher supports preventing children to make predators friends on the Internet. The Webwatcher collects info from a target device and shows it on a secure web-based account. Parents can monitor call logs, text messages, web browser history, photos, GPS locations, and some social networking apps, like Facebook Messenger, WhatsApp, Tinder, and a lot more with the help of Webwatcher. You can get access to this app remotely from almost any device running on iOS and Android.
A lot of people think that web watchers are not best for those who are low tech-savvy. After read this Webwatcher reviews, you will know this application is perfect for every parent who want to monitor their kids' online activity. After its installation on a particular device, it records somebody's online activities. Then, it shows the information on your account.
Webwatcher Phone Tracker App
WebWatcher Compatibility's Version
iPhone/iPad - iOS 8.0 – 13
Android - Android 4 – 11
PC/Windows - Windows 10, Windows 8 & 8.1, Windows 7
MacOS - MacOS 10.8 – 10.15
Chromebook - All Chromebooks: HP, Asus, Dell, Lenovo, Acer, Samsung & Google
WebWatcher is a proprietary PC and cell phone observing programming created by Awareness Technologies. It can easily work with iOS, Android, Windows, Chrome OS, and macOS functional systems. WebWatcher was initially established in 2002 for Windows PC and can be used for counter-terrorism. Now the software is used by parents to analyze their children's online activities and employers to monitor the actions of their employees. In 2010, Webwatcher android and blackberry version were introduced, Webwatcher for iOS was issued in 2014.
Top Features of Webwatcher Mobile App you will get after Subscription
Communication monitoring
WebWatcher is a unique remote monitoring software, it can support you to check chats, emails, apps, website usage, keystrokes, used applications, social activities, texts, photos, calls, and more on a computer remotely. WebWatcher stores mobile text messages, call logs, web history, images, and location. Moreover, Web watcher for desktop computer and Mac characteristics contain Email and instant message monitoring.
Keystroke Logger
Watch the strokes of each typed, even if it has been deleted. This keystroke logger characteristic offers reader-friendly versions of all keystroke logged with raw keylogging activity so that you can realize each feature. You can also enjoy this app for Web content filtering and Screenshot monitoring.
Automated Alerts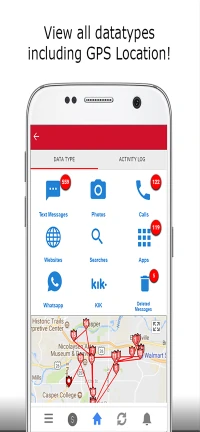 There is a word notification feature in it, such as selected kinds such as pornography, entertainment, alcohol, just like violence. You can only add your words. When your child uses a search engine to search for any of these flagged words, the app takes a screenshot so you can check it out later.
Real-Time Monitoring
The software can access somebody's online activities, record them, and then send them online to their account, making the procedure stress-free and easy. Browse your account to enjoy real-time and quality monitoring.
What Can Webwatcher do?
After install Webwatcher on the target device, you can read almost all target device's online activities on the dashboard, include messages, calls, GPS locations, and other popular social media chats, also keep an eye on search history. WebWatcher parental app is a valuable technique to keep children's online security.
Is Webwatcher illegal to monitor on someone's phone?
It is legal to use Webwatcher in specific situations. For example, parental monitoring and employee monitoring. It can help parents to keep children safe from cyberbullying and other Internet predators. Also, most federal and state laws allow employers to monitor.
However, with the vigorous development of spyware, illegal surveillance is also on the increase. WebWatcher is a spying app that no system tray icon or any other shortcut that can support locating the app on phone. So it is challenging to detect on a target device. It particularly difficult to detect - especially when you don't know. This type of hack has been implemented. People can track someone's cell phone without knowing it. Keep real-time monitoring, and check all their online behaviors, even the messages they delete.
How to Protect Your Privacy with ClevGuard?
Do you realize that it is imperative to find a way to protect your privacy on the internet through the above-mentioned words? Choosing a suitable anti-spy app is a good way to protect your mobile phone. ClevGuard is an excellent anti-spy app that you can ponder using to protect your cell phone. You'll find peace of mind, and you'll always recognize how's going on when your cell phone become abnormal or you fell being monitored by someone.
Real-time protection
Being the most reliable anti-spyware, ClevGuard protects the phone in real-time. It can scan your phone's downloaded files 24 hours a day, seven days a week, to scan for possible spyware infections, and if something goes wrong, it will alert you in time.
Fix mobile phone in one click
The slow response or other problems of mobile phone can be solved by clicking a button to repair it. The professional quick repair system function can scan out the dangerous items and unknown items of the system, diagnose and repair them immediately.
Detect spywares
ClevGuard anti-spy app is professional to uninstall spywares and can protect mobile phone data security. Sometimes it may happen that you cannot view the spyware, but it is still running in the background. Such programs do not appear in the list of apps because the installed program generates a registry key name that is more than 60 characters long. In case of this, it is important to use an anti-spy app that can provide real-time protection of our cell phone.
How to Use ClevGuard Anti-Spy app
These several simple steps will show you how to use ClevGuard.


Step 1: Download and Insatll ClevGuard
Click "Get It on Google Play" button below and skip to Google Play Store page to download it and finish installation.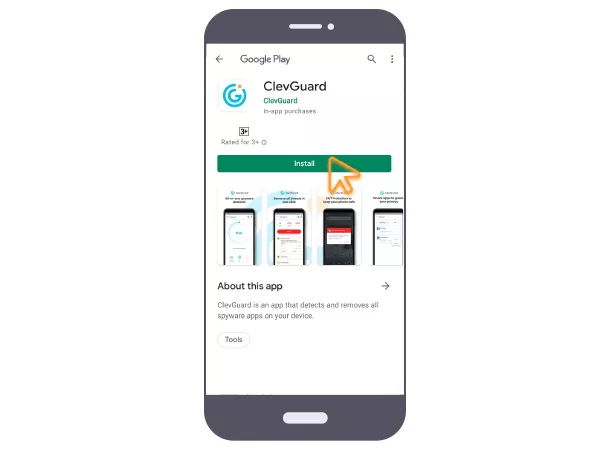 Step 2: ClevGuard Scanner
Open ClevGuard, select I agree to privacy policy and EULA, and then you can start using it. Click the "scan" button to allow ClevGuard access to some permissions on your device, hence you can run the first scan now. During this process, "ClevGuard Scanner" will check your mobile phone comprehensively, include all files and applications, then show you the results of whether spy app exist on your device.