Technology brings many conveniences to us and facilitates our life. To some extent, technology affects our lives.
If you are a parent and want to protect your children from harmful activities on their smartphones, then it is necessary to monitor their smartphones remotely. In addition, if you're a spouse and want to know what your partner does on his/her smartphone, you might want to check his/her smartphone.
However, we know picking someone else's smartphone and seeing their smartphone activities is not easy. For this purpose, you may need a service that allows you to remotely monitor the smartphone activities of the target's phone without letting them know.
That's why in this article, we've reviewed SpyBubble and its alternative for you. So let's get into it:
What is SpyBubble?
SpyBubble app is a cloud-based remote spying software service that allows the user to monitor all the device activities of the target's phone. The service works anonymously, meaning you can track all the movements without letting them know in any way.
However, we'll only suggest using this software when needed and compulsory because jumping into someone's privacy isn't an ethical, not recommended thing unless it's required.
Still, if you need to monitor someone else's phone activities due to some reasons then you can try SpyBubble. It's designed to work without getting in the user's eyes unless they dig deep into the device settings and find the monitoring app.

What Can You Do with SpyBubble?
There are many features available in SpyBubble that you can use. All the features in this service will enable you to have detailed insights into your targeted phone. For your ease, below we've mentioned some of the most highlighted features of SpyBubble:
Undetectable:
Once installed and set up on the targeted phone. No one in the world can tell if SpyBubble is installed on that smartphone or not. Even more, the app is smart enough that it will rename itself as a "system application", so it's 100% undetectable.
SMS & IM Chats:
SpyBubble lets you monitor all the incoming and outgoing SMS of your target's phone. Not just that, it allows you to check incoming and outgoing messages of WhatsApp, Snapchat, and even the messages of Facebook.
That way, you can find out who your child or target is chatting with and what they are talking about.
Record Calls:
Record calls are one of the most impressive and important features. Call recording is important if you want to track every activity on your child, spouse, or employee's smartphone.
GPS Tracking:
GPS Tracking feature allows you to keep track of where your child is going, their history as well as their real-time location. However, for this feature, you must enable the GPS on the targeted phone.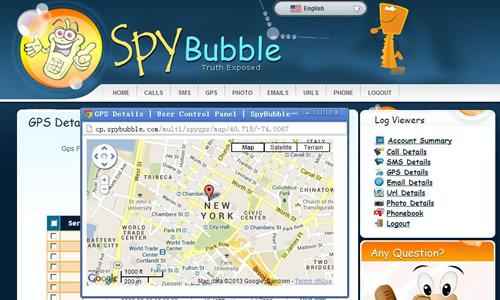 Monitor Internet Activities:
You might want to check someone's browsing history and know know which websites he or she has accessed. If you're a parent, it's compulsory to have a look at your kid's browsing activity. That's why SpyBubble also comes with an internet browsing tracker from where you track the websites they have been visiting.
Keylogger:
Keylogger is a very basic but useful feature. All you've to do is to set up the keylogger on the desired app. After then, this feature will record every word that has been typed in a respected application.
Cloud Space:
SpyBubble offers you a cloud storage space where you can store all the data of the target's device, such as images, videos, messages, call logs and call recordings.
Cross-Platforms Support:
SpyBubble allows you to start monitoring the targeted phone through multiple platforms. SpyBubble supports Windows 10, Windows 8, or Windows 7, and Mac computers running OS X 10.9 Mavericks to 10.11.
Pros

Easy app installation.
Cross-platform support (only for monitoring side).
100% un-detectable.
Offers cloud storage.
Cons

Pricing is relatively higher than other spyware services.
Pathetic and old-school UI.
Spybubble supports only WhatsApp, Facebook, and Snapchat IM track.
How Does SpyBubble Work?
The working behind this spyware service is straightforward. To use this service and track target smartphone activities, all you've to do is to install the tracking application on the targeted device.
However, to access all the features of SpyBubble tracking, you've to enable all the permissions that SpyBubble's tracking app needs.
Otherwise, you can't get access to all the features. The service will uninstall the tracking app once the setup is finished and ready to be used. In the next step, open your monitoring dashboard, and from there, you can easily track all your devices and their activities.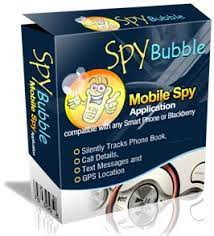 What Are Customers Saying?
A word of mouth of previous users plays an essential role in the buying decision of future buyers. No one can be more unbiased regarding the respected product than a review of previous buyers. The same case applies to SpyBubble.
Its reviews tell how this service works in real life. For your convenience, after thorough research and calculation, below we have summarized the SpyBubble reviews provided by previous buyers:
1. Easy to use:
We found that many buyers highlighted that the SpyBubble is extremely easy to use and straightforward. We believe that its low features make it easy for many people to set up on the target phone and monitor. Anyhow, the ease of use is a pro of SpyBubble!
2. Old School UI:
The worst thing about SpyBubble that many buyers have mentioned is its old school UI. The user dashboard seems like a website built on HTML in the noughties era. They should need to work on their UI, nor it's attractive in any way.
3. Reliability:
It's no wonder that SpyBubble is one of the most reliable and trusted spyware as compared to many other low-quality cheap spyware. The app can start itself if the system force closes the application or resetting the phone.
4. Limited IM Tracking:
The service is overall good. However, one thing that annoys me the most is the unavailability of other social media apps tracking. It only supports the tracking of WhatsApp, Facebook, and Snapchat.
Best SpyBubble Alternative Monitoring App
KidsGuard Pro is owned by a company that is known for making advanced cyber-security services. This monitoring service is just similar to SpyBubble.
However, there are many things that make KidsGuard Pro better than SpyBubble. We know, you might think why you should go with KidsGuard Pro when you already have an option of SpyBubble? We'll prove it later in this article!
What is KidsGuard Pro?
KidsGuard Pro is a monitoring app that allows you to monitor anyone's smartphone activities remotely without them knowing. It supports Android - KidsGuard Pro for Android and iOS - KidsGuard Pro for iOSdevices. Moreover, KidsGuard Pro lets you monitor the smartphone activity of your children, spouse, employees, or any other user when needed.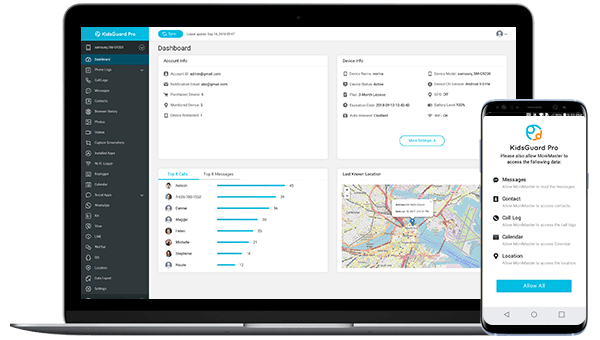 Once installed in the targeted phone, the app hides so that no one can find that KidsGuard Pro runs on his/her smartphone. When it comes to the features of KidsGuard Pro, it offers everything that you can expect from a premium monitoring service!
On the other hand, SpyBubble is far away from KidsGuard Pro in both features and overall worth to purchase terms.
How? See the table below:
| | SpyBubble | KidsGuard Pro |
| --- | --- | --- |
| Messages | √ | √ |
| 100% Undetectable | √ | √ |
| Call Recording | SD Quality | HQ Quality |
| Multimedia Tracking | Images | Images, Videos, and Audio Messages |
| Social Apps | WhatsApp, Facebook, and Snapchat | WhatsApp, Facebook, Snapchat, Instagram, Line, Tinder, Messenger, Viber, Kik, Wechat and many more. |
| Remote Screenshot | X | √ |
| Remote Photos | X | √ |
| Geo-Fence | X | √ |
| WiFi Logger | X | √ |
| Monitor Specific Locations | X | √ |
| Calendar Events | X | √ |
| App Activities | X | √ |
| Call Logs | X | √ |
This table proves that KidsGuard Pro is way better than SpyBubble and provides all the features you can't expect from SpyBubble.
Conclusion
There could be a number of reasons why you want to spy on anyone's smartphone without letting them know. If you're a spouse, you might want to check your partner's phone to clear any doubts, if you're a parent, you might want to monitor your kid's smartphone to protect them from dangerous and unnecessary things.
That's we've brought you this article where we've reviewed SpyBubble and proved you why its alternative KidsGuard Pro for Android and iOS is a better choice!