The SecureTeen software has become the most popular of its type among the best parental control solutions, and here is a detailed review of it and its best parental control alternative.
And while the internet may seem quite enjoyable and convenient for children and teenagers to use, there are a lot of strange and harmful contents on the internet. In that light, it is the duty of parents to protect and implement measures to monitor their kids' internet use, and parental control alternatives such as SecureTeen have really come in handy.
Well, this post will feature a detailed SecureTeen app review, its functions and abilities, features, compatibility, and the best available alternative for this parental controls software.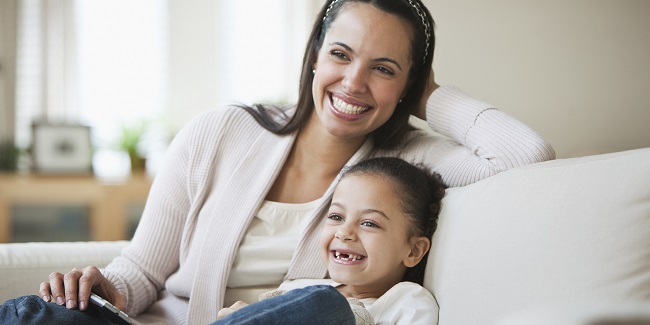 Part 1: What Is SecureTeen?
Before we do an exclusive SecureTeen review, it would be thoughtful to start by defining and having a clear understanding of the application. In simple terms, the SecureTeen app is a monitoring app designed for parental controls. The software is explicitly built to help parents spy, monitor, and safeguard internet use for their kids.
SecureTeen integrates most monitoring needs for any parent with interests in running surveillance on the kids. After installing it on your kid's phone, you can remotely access their device, GPS location, call log, internet, and social media activity, and much more. The SecureTeen app runs in stealth mode, which makes it undetectable - your kids will never know you are keeping an eye on them.
Part 2: What's Unique About SecureTeen?
Unlike most parental control applications, SecureTeen is an online-centric built and defined to help parents monitor their kids' online activities. Besides that, the software also incorporates other excellent monitoring functions such as message monitoring, calls and call log monitoring, to mention a few.
In that case, the SecureTeen monitoring application can help you block unwanted content from access, get rid of stalkers, prevent cyberbullies, and prevent access to violent gaming.
Here is a SecureTeen review table in comparison to KidsGuard Pro (parental control alternative).
SecureTeen VS KidsGuard Pro: Android features
| | SecureTeen | KidsGuard Pro |
| --- | --- | --- |
| App List | No root | No root |
| Call Logs | No root | No root |
| Browser | No root | No root |
| Contacts | No root | No root |
| Facebook | Root | No Root |
| WhatsApp | Root | No Root |
SecureTeen VS KidsGuard Pro: iOS features
| | SecureTeen | KidsGuard Pro |
| --- | --- | --- |
| App List | No jailbreak | No jailbreak |
| Call Logs | No jailbreak | No jailbreak |
| Browser | No jailbreak | No jailbreak |
| Contacts | No jailbreak | No jailbreak |
| Videos | Jailbreak | No jailbreak |
| Line | Jailbreak | No jailbreak |
| WhatsApp | Jailbreak | No jailbreak |
SecureTeen VS KidsGuard Pro: Windows
| | SecureTeen | KidsGuard Pro |
| --- | --- | --- |
| Remote Management | Support | Support |
| Web Browsing | Support | Support |
| App List | Support | Support |
| Pictures | Not Support | Support |
| Facebook | Not Support | Support |
| WhatsApp | Not Support | Support |
Part 3: SecureTeen -- All Thing You Need to Know
As we suggested in the former parts of this SecureTeen app review, this software incorporates haven features that make it a top choice monitoring application for many parents. The features on this application are well thought and are a great deal in ensuring flexibility and total device monitoring. Here are some of its outstanding features in relation to the various system software.
1. SecureTeen Features for Android
Tracking messages: Cyberbullies occasionally use text messages to communicate and bully their targets. The SecureTeen app helps you get ahead of them. With the app installed on your kid's phone, you can access a copy of incoming and outgoing text messages on your panel anytime, anywhere.
Tracking GPS location: With the help of this application, you can quickly get real-time location feedback via the GPS location feature. This way, you can keep tabs on your kid's location and be better positioned to help if they get in trouble.
Screen time limiting: Kids often use their phones too much. The SecureTeen app helps get control of how much time they spend on their phones. For example, you can use this app to get them not to use their phones during bedtime.
Keyloggers: This is only available on Android devices. The feature helps record every tapped key when visiting certain sites.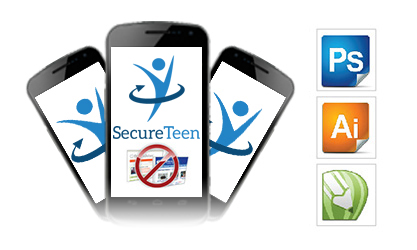 2. SecureTeen Features for iOS
Phone calls tracking: If you are worried about your kid's contact list and call logs, you can monitor and keep track of all incoming and outgoing call details on your kid's phone using SecureTeen. Some of the call details may include numbers, time, names, and date logs.
Social media monitoring: Even though this function may sometimes require you to jailbreak your target phone, SecureTeen works perfectly to track all social media activities on your kid's phone. You can keep a record of all KiK, Viber, and WhatsApp engagements.
Monitor browser activities: This spyware application also allows you to monitor all website activities on your target iOS device. The software runs in the background to create a list of all visited sites with their detailed URLs. Then, it remotely sends this list to your panel, and this way, you have an idea of what content your kids consume from the internet.
Block inappropriate content: It is a highly regarded feature that helps parents prevent their kids from accessing and watching harmful and adult content on the internet. Courtesy of its algorithm, the spy app blocks access to sites with inappropriate content such as mature content, violent games, and sometimes betting.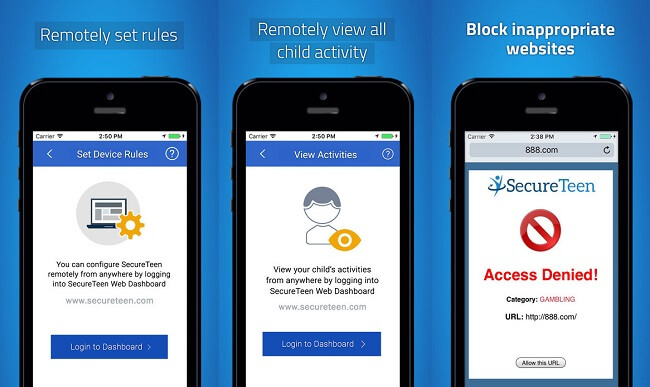 3. SecureTeen Features for Windows
Safe search: SecureTeen secretly filters off adult and harmful content of internet search. This way, kids are less likely to access such inappropriate content.
Block unwanted applications: If you are probably getting suspicious of an application on your kid's PC, you do not have to delete it. They will get suspicious that some in encroaching on their privacy. All you have to do is install, SecureTeen and configure it to limit access to the application.
Gmail monitoring: SecureTeen grants you total access to mail communication from their PC. You can remotely access their sender and recipient addresses, time, date, and email history.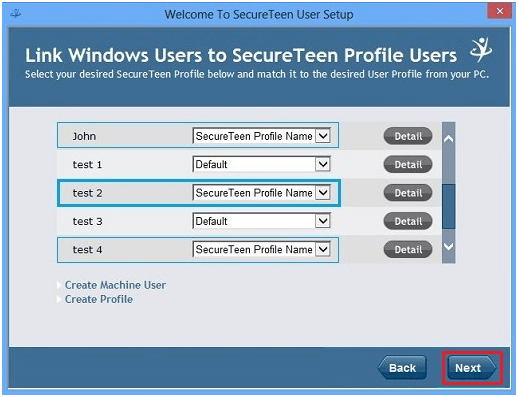 Part 3: The Compatibility Information about SecureTeen
From our tests and for the purpose of the SecureTeen app review, we can confidently say that the application runs smoothly on all conventional system software, i.e., Android, Windows, Mac, and iOS. At the same time, we cannot bury the fact that SecureTeen features work perfectly on Android than other system software. You would have probably have observed that on our previous comparison tables. In some instances, you would be required to jailbreak your iOS device to enjoy surveillance videos, WhatsApp, and Line.
Despite its excellent compatibility, you would have to forego some features on Windows, Mac, and iOS - a few functionalities may not work.
Part 4: Why We loved Secure Teen Parental Control App?
Besides its open compatibility with most system software, there are a few other reasons why SecureTeen remains a darling for many parents. And here is a glimpse of why the app is a top choice for parents.
Non-Intrusive Monitoring: SecureTeen runs in stealth mode in the background. This way, parents can monitor calls, text messages, browser activities, social media engagement without being detected. If you are running surveillance on your kids, you cannot afford to blow your cover. SecureTeen provides you with precisely that! Protection.
Web filtering technology: As stated in the former part of this SecureTeen app review, the software is online-centered and primarily built to help parents monitor their kids' internet activities. With is advanced internet filtering technology, block and filter off sites with inappropriate content for children. This way, you do not have to worry about your kids watching pornographic and violent content on the internet.
Screen time management: This helps parents monitor how much time their kids spend on their phones and computers. It is the best way to enforce obligations around the house, study time, and bedtimes.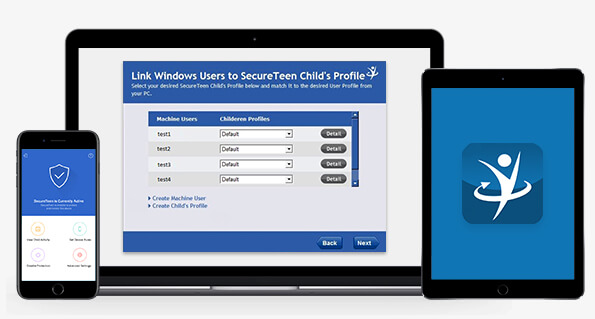 Part 5: Parameters to Assess Before Buying Secureteen
Before purchasing any software, it is imperative that you have a clear picture of its offering and downsides; otherwise, you could end up being frustrated. That is the particular reason why we have made an assessment list to help you make an informed decision- the app's benefits and shortcomings.
App reliability: Based on our test results and customer reviews, SecureTeen is a pretty reliable application and runs smoothly on all compatible systems. However, we cannot look down upon its customer care desk. They lack 24/7 support, but you can reach them via their 8 am-5 pm call center.
Ease of use: The application has a simple software layout and user-friendly user interface that make it easy for anyone to navigate and operate.
Build and design: While other spy applications have proven challenging to download and install, SecureTeen is super-easy to install and configure. However, there have been numerous concerns with the uninstallation of the app.
Safety:SecureTeen guarantees users 100% data safety. You do not have to work about losing the data or data leak to a third party.
Affordable: The application comes with flexible and pocket-friendly yearly package plans.
Part 6: Benefits and Limitations of SecureTeen Parental Control
Here are some pros and cons of SecureTeen that you may be would like to know.
Pros

It provides good control of targeted phone.
It demands most of the needs of the parents.
It works in stealth mode.
Cons

Many features are only available on Android devices.
There are some negative reviews about refund policy.
Geofencing is not covered.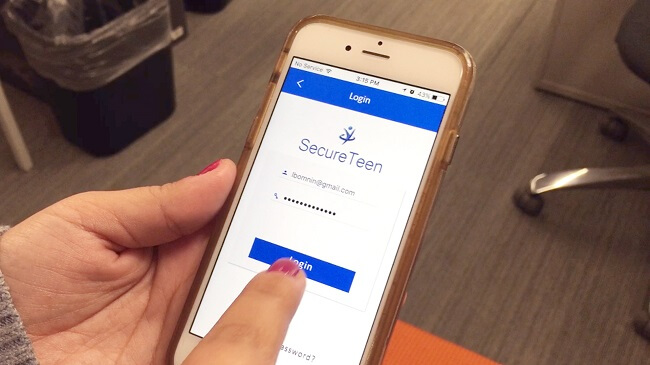 Part 7: KidsGuard Pro - The best Alternative for SecureTeen Parental Control
If you are looking for an alternative SecureTeen parental control application, you should consider our KidsGuard Pro application.
With KidsGuard Pro, you can monitor your child's internet activity and spy on them to see what they are doing online. With its flexible rules, you can protect your child from the web in a way that best suits your family's needs.
Well, here are a few features that make KidsGuard Pro an even better option for SecureTeen.
Geo-Fencing: Besides providing a real-time location for your kids, KidsGuard Pro allows you to mark dangerous locations on the virtual map, and each time your kid encroaches the areas, you will receive an alert.
100% undetectable: KidsGuard Pro works in the background and is undetectable.You can remotely track your kids without them knowing.
Social media, text, call logs monitoring: Our application allows users to closely monitor social media activities on social media platforms such as Facebook, WhatsApp, and Line. KidsGuard Pro works perfectly on Android, iOS, and Windows. You do not have to jailbreak or root your device to get access to this feature.
Monitor browsing history: With KidsGuard Pro, you can effortlessly keep track of your children's internet activity and learn what they've read on the internet, which helps you give better protection for them.
Customer support: KidsGuard Pro has proactive and responsive customer care desk ready to help you 24/5.
Part 8: Just 3 Steps Get Started to use KidsGuard Pro
Step 1: Create your account for KidsGuard Pro
Sign up for a KidsGuard Pro account using a valid email. Purchase a premium plan of your choice, i.e., a 1-month plan, 3-month plan, or 1-year plan.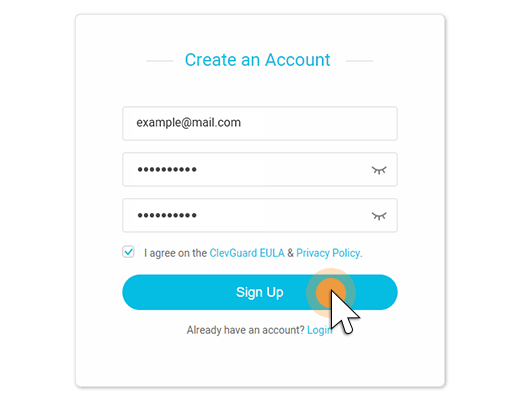 Step 2: Download the KidsGuard Pro app
After purchasing, go to the "My Products and Orders Management" page and click on the "Setup Guide" option and follow the instructions carefully to configure the application on your target device. After downloading, you need to sign in to your KidsGuard Pro account on your target device and allow permission of access to some application to complete the setup.

Step 3: Verify your setup and start monitoring
After completing the download and configuration process on your target device, sign in to your KidsGuard Pro account via their official site. Check to see if the name of the device and its Info?matches. Go to the dashboard to check the phone activities.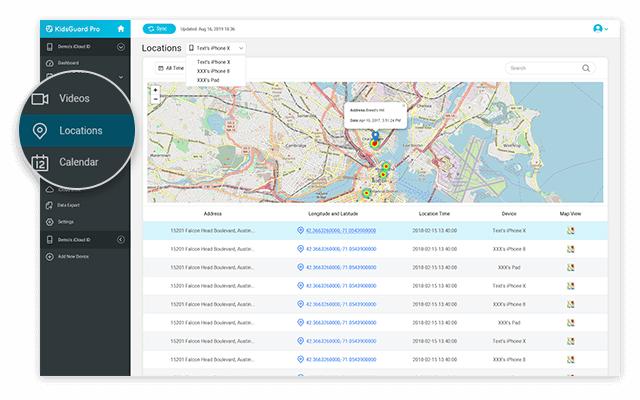 Conclusion
There is a complete SecureTeen app review with a defined description of its strongholds and flaws. Also, if you are looking for better parental control software, we recommend that you try our KidsGuard Pro monitoring that comes to you at a reasonably affordable price and with extensive features. KidsGuard Pro is far much easy to use and has a responsive 24hr customer care desk.
All you have to do is purchase, download, follow the guide above to install, and start monitoring kids.