Are Life360 app reviews good enough? Is Life360 a safe app to use? Does Life360 have all the essential features for effective tracking?  These are some of the common questions you need answers before subscribing to Life360 plans.
The rate of crimes and accidents is at all-time high and hence, you may want to track the real-time location of your family members when they are outside. You have to use a location tracking app and reach out to them immediately if they need help in any circumstance.
Life360 is a popular family locator app with a wide range of features. In this article, we will do a thorough Life360 review explaining its features, pros, and cons. Thereafter, you can understand if you should opt for Life360 or go for a better alternative.
What Are the Features of Life360?
Apart from tracking the real-time location of the family members, the Life360 app has various useful features based on location. Here are the key features of the Life360 app that you should be aware of.
Private Circle:
You can create Circles consisting of family members whose real-time location you want to track. This is extremely useful when you are planning to get together and you want to track the invited family members'locations.
Personalize Places:
You can mark certain places such as home, office, and school and you will get notified as soon as any family member goes in or comes out of those places. This is useful when you want to track a family member such as your kid and you will get alerts when he reaches school and leaves school.
Driving Habit:
You can have a detailed observation of your family member's driving habits from the app. Starting from top speed to phone usage while driving, you can check on all these important parameters to address any driving concerns.
You can also use the app to check on every family member's driving behavior at the end of the week for a complete overview. Accordingly, you can talk to the concerned members to improve on driving issues and be a safer driver.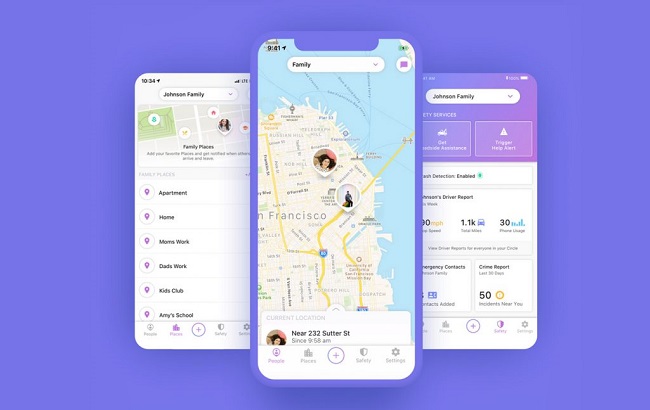 Route History:
You can check the timeline of any past trip of your family member and get the route map with complete details. You can observe the favorite spots of your family members by checking on their frequently visited places. You can follow the route map to reach the destination and take stops where the family member stopped for a break previously.
Instant Access:
There are various one-tap options available such as SOS alert to ask for help, one-tap direction on any member's photo to navigate to the member, check-in to disclose the location, bubbles to customize location sharing, and much more.
Battery Monitoring:
Last but not least, you can check the battery status of your family members' phones. This is an extremely useful feature where you will get alerts when the battery is low so that you can inform the concerned family to charge the phone. If you cannot reach out to them or cannot track their location, you will know that their battery is dead instead of thinking that they are not in danger.
How Does Life360 Work?
In order to use the Life360 app, you need to install the app on the phone of every family member whom you want to add to your private Circle and track their location and check their driving stats. Life360 tracks the location of the phones of the added family members through GPS location.
Therefore, no matter if the Life360 app is open on the phones of the family members on not, you can monitor their locations in real-time.
You can also set alerts so that you do not have to monitor all the time. Once they reach the destinations, you will get alerts set by you beforehand. Besides, you can get the driving stats to ensure the safety of the family member on the road. You can also check the location history of the added family members to monitor their whereabouts.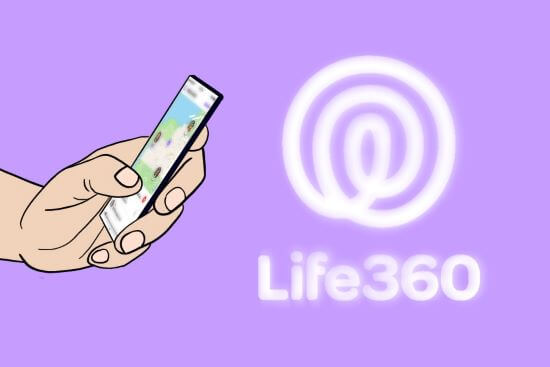 Is Life360 Worth Buying?
Life360 review ultimately comes down to if you should install the app and purchase its premium plan or you should look for a better alternative. In order to come to that conclusion, let us check the pros and cons as well as Life360 app reviews from genuine users before giving our verdict.
1. Pros & Cons of Life360
Here are the strengths and weaknesses of the Life360 app you should be aware of.
Pros

A complete family location tracking app with all relevant tracking features.
Monitor driving activities and customize alerts as per requirements.
Proper navigation feature and battery status monitoring option.
Cons

No other monitoring feature except location tracking and driving stats.
The app works on phones but not on tablets.
There are compatibility issues with older OS.
The support team is not readily available.
2. What Are Users Saying about Life360?
Here are some of the genuine reviews from regular users of Life360 apps.
1. "Accurate location tracking but other features have flaws." – Marsha E.
2. "Remote tracking works well but showing false trips and not consistent." – Angie F.
3. "False notification alerts, tech team is not available. Not worth the money."– Curtis B.
The final verdict is that the app has very limited features. Except for location tracking, there is no more monitoring feature. Therefore, it is better to opt for a complete monitoring app. Besides, the Life360 tracking app reviews are not very encouraging. Hence, you can give its free version a try, but you should definitely opt for a better alternative.
Is There Any Life360 Alternative?
There are multiple better alternatives to Life360 available in the market. We recommend KidsGuard Pro to monitor your family member's location in real-time as well as set a virtual fence to get alerts whenever the person goes in and out of the fence. KidsGuard Pro is a complete remote monitoring app and you can track the target person's phone activities thoroughly.
NOTE:
KidsGuard Pro parental control app supports Android and iOS devices. Here we will introduce KidsGuard Pro for Android in detail. If your family member is an iOS user. You can click the "View Demo" button to know more features about KidsGuard Pro for iOS.
What Can KidsGuard Pro Do for You?
Here are all the features of KidsGuard Pro for Android app has to offer that makes the app far better than the Life360 app.
Track Location

Life360 app puts all the emphasis on location tracking and KidsGuard Pro matches the standard set by Life360. KidsGuard Pro for Android lets you track the target person's location in real-time. The tracking is done based on GPS as well as Wi-Fi. Besides, you can track the location history with complete details.

Set Geofence

Just like you can set places to get alerts when the family member comes in and goes out in those places, you can set a virtual fence on KidsGuard Pro. You will get instant alerts when the family member crosses Geofence. Therefore, you do not have to monitor his position in the safe zone, and you should only be concerned when the person gets out of the safe zone.

Read Text Messages

We have already stated in the Life360 review that the app lacks different useful monitoring options. On the contrary, KidsGuard Pro for Android offers different remote monitoring options, and you can read the text messages sent and received from the target phone of your family member. You can check these messages from KidsGuard Pro's Dashboard from your phone or computer.

Track Phone Calls

Just like checking text messages, you can track the call history on the target phone. You can see the caller number and name if saved in contact. Similarly, you can check the call type, call duration as well as call timestamp.

Record Phone Calls

You can even record the phone conversations of your family member in real-time and listen to the recorded phone calls whenever you have free time. This is a great way to monitor your kid and even your life partner to clarify any suspicion.

View Browsing History

KidsGuard Pro for Android lets you view the browsing history of the target phone. Therefore, you will know what your family member is searching on the internet and the type of websites he is visiting. You can monitor your kids and understand your family member's state of mind.

Check Social Media

Another important feature of KidsGuard Pro for Android is that it lets you monitor all the social media conversations. Starting from WhatsApp, Facebook, and Instagram to Viber, Telegram, Snapchat, and even Tinder, you can check all the messages exchanged through these apps on the target phone.

KidsGuard Pro for Android

The Ultimate Android Monitoring App for You.

Sign up free

Conclusion

You have the review life360 app where we have stated the key features, the pros and cons, as well as the reviews from genuine users. Clearly, the app has limited features and it is only restricted to location tracking only.

Besides, the user experience is not too impressive and hence, we recommend KidsGuard Pro for location monitoring as well as remote monitoring of all phone activities of the family member.