KidsGuard Pro is the best app for cell phone monitoring. It is easy being sceptical as there are dozens of apps with similar prospects claiming to be the best in the field with the promise to keep your loved ones safe. So in this article, we will provide you with some useful information to help you determine if this is the best monitoring app for you.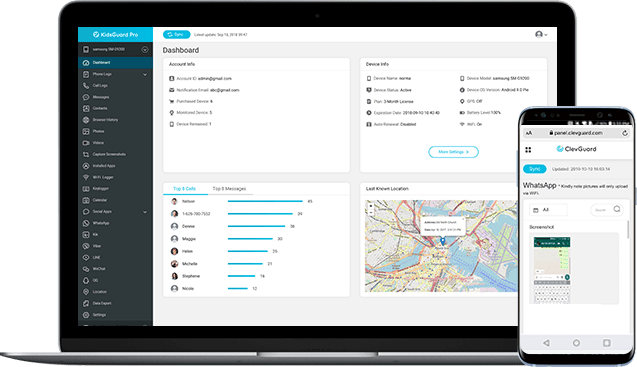 KidsGuard Pro Short Review: Introduction, Pros, Cons, Ratings
In short, KidsGuard Pro offers cell phone monitoring solutions for parents, spouses or employers. It can be used to spy on social apps, track GPS location, record phone calls, view call history and so on. This app is available for both Android and iOS devices. Despite being relatively new in the spy app market, KidsGuard Pro has made several significant improvements and now is popular with millions of users worldwide.
Pros

Quick installation, completed within 3-5 minutes.

Stealth monitoring that protect your from being disovered.

No root or jailbreak requirments for all devices.

Multi-Language support for the app itself and customer service.

Up to 30 features: WhatsApp, Facebook, Screenshots, Snapchat, Loctaions, etc.

Support Android 11 and iOS 14 or even newest versions.
Cons

There is no remote control features in iOS version, like call recording and photo taking.

You can only monitor one device at a time.

Lack of a free trial.
Overall ratings:
We have been carefully testing KidsGuard Pro for weeks and are pleased to find it a truly decent and impressive cell phonemonitoring app. Below are our honest ratings.
Ease of Use:
Real-time syncing:
Compatibility:
Pricing:
Customer support:
Besides, there is a special offer for all the KidsGuard Pro products, which means you can have a 30% off discount to try all these powerful monitoring apps!
30% OFF Discount is here: Best Deal To Get ClevGuard Products
Kids Guard Pro Full Review 2020: Is It Worth Choosing?
We have provided more details in our KidsGuard Pro review below. Hope these answer your questions, like does KidsGuard Pro really work? Is it reliable and so forth. Here goes:
1. KidsGuard Pro spy features
KidsGuard Pro app caught our eyes because of its useful monitoring features. However, there are differences between Android and iOS devices. Due to the restrictions of Apple, some advanced features are missing if you want to monitor an iPhone or iPad. You need to know it.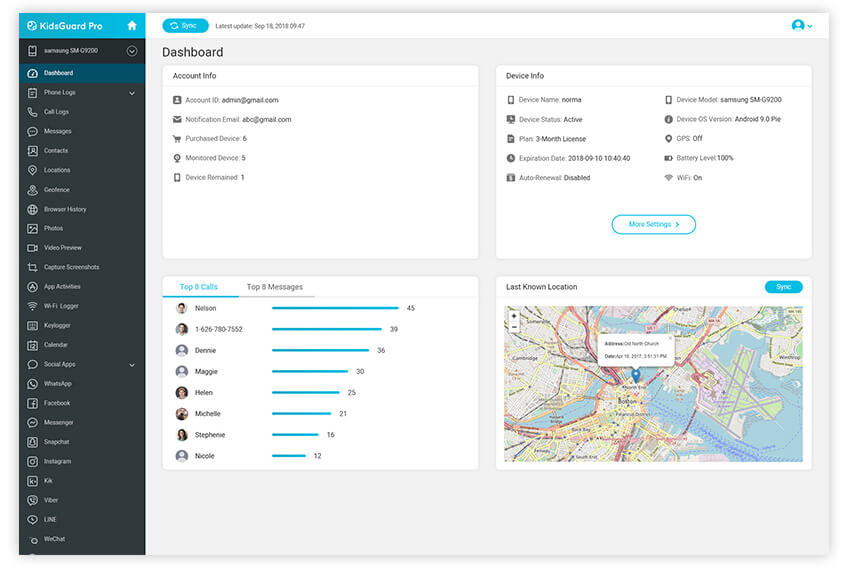 The Android version doesn't require rooting but you need to get one-time access to the target phone to install the app. After that, the app will start working in stealth mode and upload data to your online account. Some features worth mentioning are given below.
Monitor social apps
KidsGuard Pro covers most of the popular messaging apps: WhatsApp, Facebook, Messenger, Snapchat, Instagram, LINE, Wechat, Telegram, Tinder, Kik, Viber and QQ. More apps are being explored.
Location tracking
This app takes advantage of GPS or Wi-Fi positioning system to effectively track down a cell phone. You can also see the location history. Besides, the Geofencing feature will notify you immediately when someone enters or leaves the specific area.
Remotely control device
Using the Remote Control feature, you can capture the screenshots, take photos or even record all the incoming and outgoing calls. This is the best part compared with other spy apps you can find.
View phone data
You will have access to sent, received and deleted text messages, call logs, browser history, photos, videos, keystrokes, app activities and calendar. These data are synced in real-time.
Dashboard monitoring
KidsGuard Pro displays all the collected data on its online portal. You can sign in with the portal using any web browsers at any time. Very convenient.
If the one you want to monitor is using iOS devices, there is no need to install any app on the phone. Because KidsGuard Pro for iOS is a computer-based software. It will scan and extract the backup of the device activities at the time. After the first-time setup, activities will be backed up automatically through USB connection whenever your child plug into the computer installed.
KidsGuard Pro for iOS tracks all the outgoing calls or incoming calls of the device.

Any messages sent or received – even the deleted messages will be available to you.

It can track all the websites and URL's that the user browsed in Safari.

It can monitor WhatsApp, LINE, Kik and other messaging platforms.

You can preview and download photos, videos, notes, calendars, reminders at any time.

Jailbreak is not required for using KidsGuard Pro.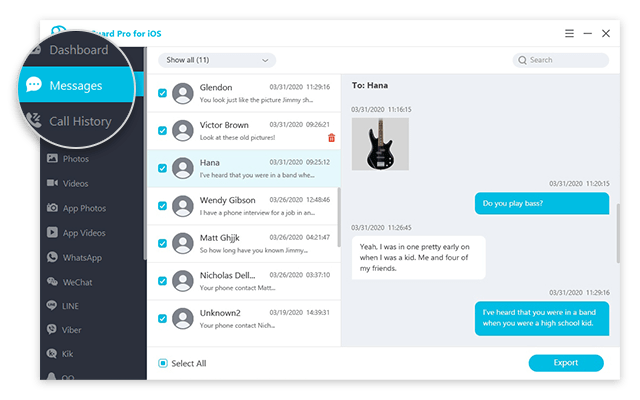 2. Editions and compatibility
You can find a common phenomenon. Most monitoring apps distinguishes between versions and prices based on itsfunctions. The more functions, the higher the cost. But KidsGuard Pro is not the same. There is only one edition, which covers all the features. You can monitor Android as well as iOS devices, depending on your willingness. In terms of the compatibility info, check below:
Android: Major phone and tablets running Android 4.0 to Android 11, both rooted and unrooted.

iOS: All devices running iOS 9.0 to iOS 14, both jailbroken and non-jailbroken.
3. Is KidsGuard Pro legit?
Security and legality have always been the biggest concern for people who are looking for cell phone monitoring apps. You don't have to worry about these using KidsGuard Pro.
First of all, KidsGuard Pro highly value the data security and privacy. All the information goes directly to your online account. Secondly, its reputation among the users has been quite excellent, there have been no complaints of data leak or what so ever. Thirdly, it is recommended by multiple top tech websites, like Tech Times, XDA Developers, AppleFans and so much more.

4. Is KidsGuard Pro detectable?
KidsGuard Pro is 100% invisible.
For the Android version, after you successfully install the app on someone's phone, the app icon automatically disappears. At the same time, there is no way to search for the app name. For the iOS version, because there is no need to install any apps on target phone, so the use process is absolutely untraceable. The other one doesn't know you are viewing their phone data unless you confess it.
5. What makes KidsGuard Pro stand out?
KidsGuard Pro is excellent in every way. Starting from its easy installation procedure to its capability to work under the radar, every bit has convinced us this to be the best monitoring application.
If you are still not convinced, check out the reasons below.
The setup is easier. Most of the setup operations are done automatically. Unlike other apps, you don't have to find each settings and configure one by one.

The iOS version truly works as advertised. Most of the iPhone monitoring apps are just fake and require you to jailbreak the device first.

The price is the best deal of its kind. Among all the similar apps we've tested like mSpy or FlexiSpy, KidsGuard Pro is the most budget-friendly monitoring app you can find. It costs only $0.27 per day if paid yearly. You can cancel the subscription at anytime you want. The money-back guarantee covers up to 30 days.

Timely customer support. You can get fast customer support either by dropping mail to its support center or live chat on the Facebook Page.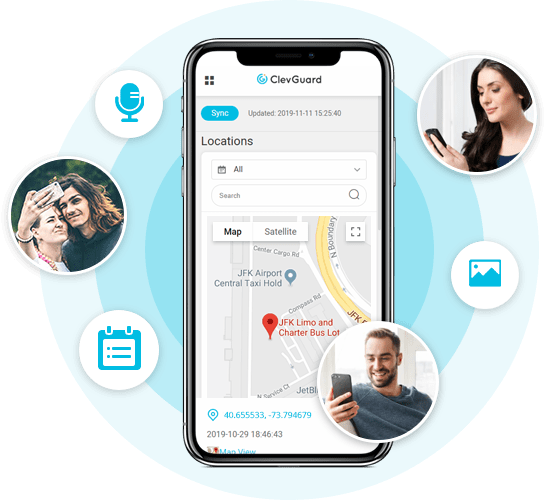 6. How to use KidsGuard Pro?
Now, KidsGaurd Pro made it pretty easy for the users to track a smartphone. Not only is the installation easy, but the user interface is also simple enough for the most novice users. So, without further ado, let's check out the way to track a smartphone using KidsGuard Pro.
Step 1: Create an account with KidsGuard Pro with your email address. Then, purchase the app.
Step 2: If you want to monitor Android device, download KidsGuard Pro on the target device by visiting www.clevguard.net.

Step 3: After that, log in to your KidsGuard Pro online dashboard and check the files you want.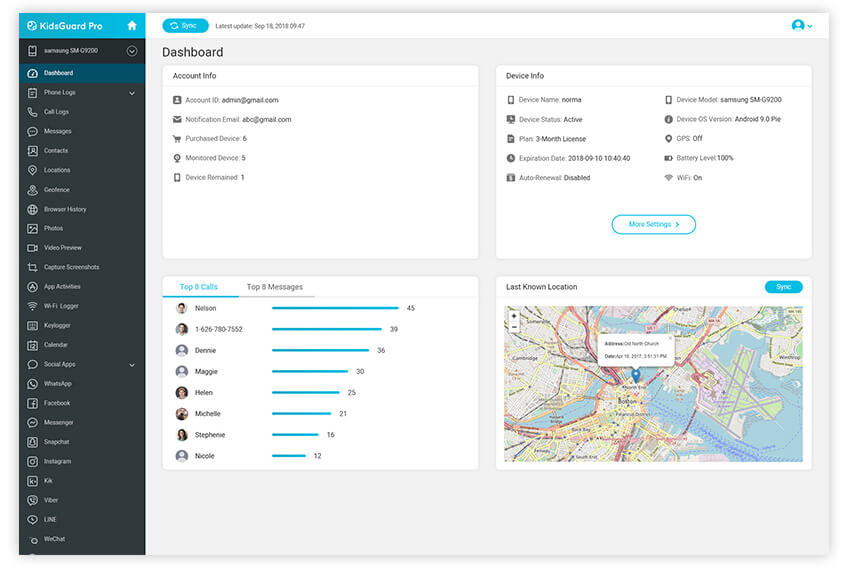 This is the simplest way to track a smartphone if using KidsGuard Pro. Only the time of KidsGuard Pro app download, you will have to access the target device. After that, the app will track the device remotely in real-time.
Click here to check out the guide to monitor an iPhone/iPad >>
7. KidsGuard Pro pricing
| Plans | 1-month | 3-month | 1-year |
| --- | --- | --- | --- |
| Android | $29.95 | $49.95 | $99.95 |
| iOS | $39.95 | $59.95 | $109.95 |
You will be able to cancel the subscription any time you like. There is also a 30-day money-back guarantee.
8. People also ask about KidsGuard Pro
Q1: Is KidsGuard Pro safe to use?
KidsGuard Pro app is 100% virus free, and all user data is encrypted and protected. Moreover, it won't have an effect on the device and can be removed entirely if no longer desired.
Q2: Does KidsGuard Pro work?
Yes, KidsGuard Pro works everywhere. The target device only needs an internet connection so that it can upload data to your dashboard. But there may be some delays sometimes if the target device doesn't have a signal or not connected to the internet.
Here's a real review from one of our users:

Q3: How do I download KidsGuard Pro?
For KidsGuard Pro for Android, you can visit www.clevguard.net to directly download the app on target phone. For KidsGuard Pro for iOS, you have to go to www.useapp.net to download the software on target computer.
Q4: Is KidsGuard Pro free?
All monitor apps come for a price. However, with an app like KidsGuard Pro, you can just spend a couple of bucks to enjoy all advanced features. You can have a glance at its online free demo and see how this cell phone monitoring app works.
Final Words
Overall, KidsGuard Pro has proved that it deserves its rightful place at the top of the list of monitoring apps. The price is budget-friendly, installation is easy, and operation is also possible remotely without any interference. And we expect KidsGuard Pro will keep growing.