An app that can monitor iPhone and android based devices is called iKeyMonitor. It was invented in 2012 since then it's used as a parental control tool to keep eyes on children's smartphones or devices that means you can keep your eyes on SMS, calls, texts, GPS, and more you need to know via the device.
It was first released for iPhone later it was improved for android too. Keeping track of devices will get easier after you read this iKeyMonitor reviews. As it's a parental control app you can block unusual contents for your children and also, you'll be able to spy on them easily.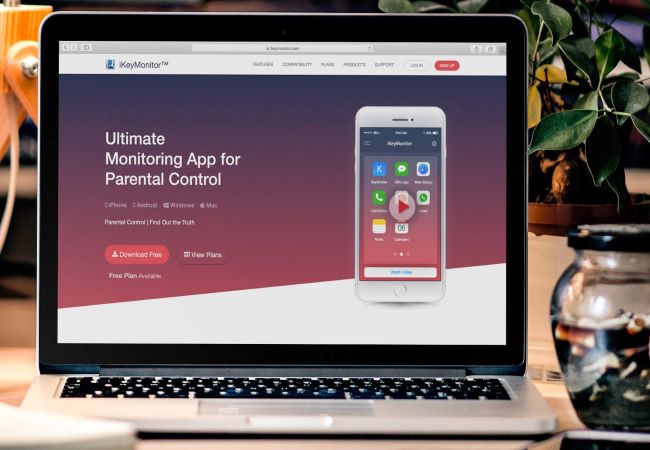 1.The Reasons to Choose iKeyMonitor
As you know its special versions, it got some specialty and these are the most important parts of it.
Protecting Children Online
If you're a parent then you must want to keep your children safe from unwanted contents online. This app will let you block adult content, ads, websites, games, and more you want to keep hidden or you can also take necessary steps after tracking the device's history.
iKeyMonitor Screen Time Limits
The screen time limits feature of this app is cool if your children's habit of using your phone too much. This app will turn off the device by force and in this way the user can improve the use of a smart device.
A parent must be conscious about his/her children that what they're doing in their absence and this iKeyMonitor will let you track their activity remotely from their mobile phone activity like their phone calls, messages, locations, and most important about their friend's behavior. Tracking their mobile phone is most important when your intentions are to keep them from wrongs.
Tracking Employee by iKeyMonitor
In your business, there may be several employees who work for you and you know all the people aren't the same, a single leakage through one of them may destroy your entire business and that iKeyMonitor is for you.
The iKeyMonitor spy app will track every single step of your employees through its keylogger feature and you can take the right steps as you need. This feature will let you keep an eye on all typed keystrokes like emails, chat apps, SMS, website URLs.
Pros of iKeyMonitor
Free trial
Able to capture every keystroke
Quick syncing from the targeted device
2.Some Disadvantages of iKeyMonitor
Limited Features of iOS No-jailbreak Version
IKeyMonitor no-jailbreak version isn't compatible with every ios devices, and less useful fictions than jailbreak version. Therefore, for those users who want to use these novels but their devices are not supported, this may bring a bad experience.
Snapchat monitoring only for rooted device
Snapchat, as one of the most popular social media applications, has many users. But only android rooted devices were supported to check Snapchat information. It will let some users feel disappointing.
iKeyMonitor Pricing
If you'll pay monthly, the price is $49.99/month for all the features – both on Android and iOS. That is a little bit expensive than other alternatives such as KidsGuard, mSpy and FlexiSpy. However, if you'll pay yearly, there's a 50% discount and it would only be worth $16.66/month for all the features.
3.iKeymonitor Preparing Steps
This iKeyMonitor works on Android and iOS devices and the setup systems of both OS are different.
If the device is Android then you've to set it physically, on the other hand, ios devices don't need this requirement. You'll need permission for tracking on an Android device but in iOS you don't need it.
How to install and use iKeyMonitor ?
Step 1:
Sign up at iKeyMonitor official site and select your operating system, select if you're able or not to access on that device you want to monitor
Step 2:
Create your user ID by signup on iKeyMonitor site
Step 3:
Login on the device with the same login info and choose the type of device (operating system)
Step 4:
Select the confirmation of downloading spy app on Target device and install the internet service
Step 5:
Allow the permission of accessing the device. And then you can start monitoring!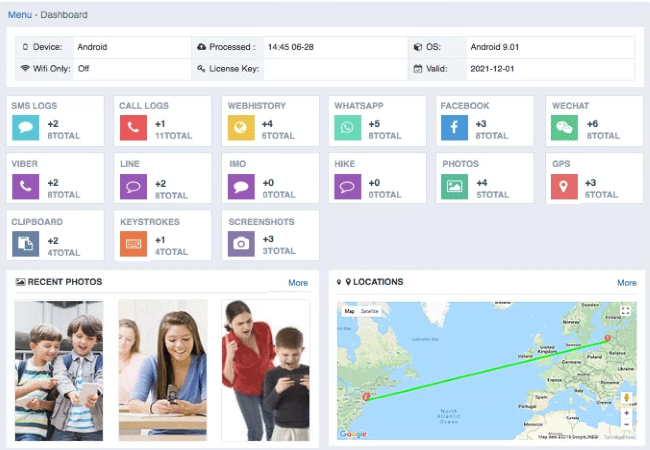 4.iKeyMonitor Alternatives: iKeyMonitor Vs mSpy Vs FlexiSpy
Comparison of iKeyMonitor and its alternatives
| | iKeyMonitor | mSpy | FlexiSpy |
| --- | --- | --- | --- |
| Price | Basic plan of iKeyMonitor is $49.99/month | Basic plan of mSpy is $29.99/month | Basic plan of FlexiSpy is $29.95/month |
| Ease of Use | A bit complicated as it comes without any free plan | Complicated. It may take hours to finish installation | Easy to use. It can be installed within 10-14 minutes |
| Customer Support | Top quality customer support and available 24/7 | Customer support is not good enough | Top quality customer support that is available 24/7/365 |
| Refund Policy | No guarantee | No guarantee | 30 days money back guarantee |
Sign of Invisible Spying on Your Cell Phone
Rooting is the process of breaking some of the special security levels of your cell phone device to get control over your device. It is not a difficult task to root a phone for you. But for a third person, they require some technical knowledge to root your phone from their side without taking your phone.
If you find your cell phone is rooted and it wasn't you who did this, you might be sure that your device has been hacked and someone is spying on your phone remotely. If you are undoubtedly sure that your phone is rooted then you can scan your phone with a mobile security app to find out any malware in your phone.
How to Use ClevGuard to Detect Spyware
The ClevGuard anti-spy app is a powerful anti-spyware solution with spyware detecting and cleaning their abilities. This software is specially designed to protect users from such spyware, remote monitoring, unauthorized location tracking and any espionage attacks.
It is one of the best spyware detector apps that can protect your cell phones' privacy. If you are thinking about how ClevGuard work and what is the main process to find out any spying thing on your phone, you can note down the key features listed below.
Step 1: Quick Scan All Apps
The ClevGuard has a "Scan" option to scan users' devices and detect any spyware on their devices.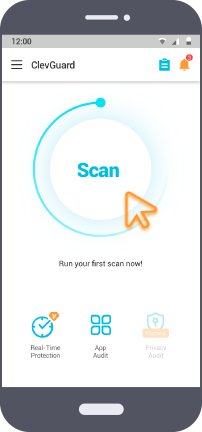 Step 2: Completely Remove Spy Apps
When the scan has been done, ClevGuard cleans or removes spyware files or applications from users' device without doing user's data on their cell phone.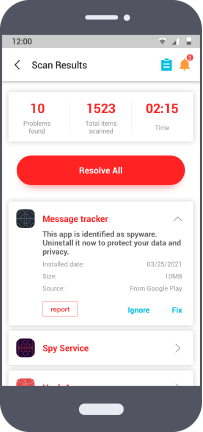 Step 3: Real-time Protection
The ClevGuard comes with top detective technologies and powerful live algorithms that can protect your device with real-time protection against spyware attacks.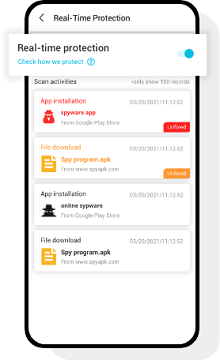 Conclusion
Spying app is nearly a dangerous thing for a phone user that can hack their phone and steal user's data without any permission. Also, it is a reason for getting blackmailed by the spying person. Whether there are a lot of bad things about spying apps, the ClevGuard makes it easy to protect users from spying their device with some great features. If you are thinking about getting spying, you can protect your phone with this powerful spyware protection app.