There are several options for you to keep track phone's activities, and FlexiSpy is one you'd wish to have if you're looking for an advanced phone monitoring solution.
Several tech reviews rank it as one of the best spy apps on the internet. including recording calls and even letting you access the messages they exchange both online and offline.
This reviews mainly illustrate how does FlexiSpy handle application updates remotely, moreover, also discuss other important information of FlexsiSpy.
Key Powerful Features for FlexiSpy
Real time GPS tracking
Help record phone call interception and SMS logs.
Can turn the target phone's microphone and camera on to record the surroundings without the owner's knowledge.
Monitoring all popular social Media Apps, like WhatsApp, Facebook, Instagram, Skype,Viber,LINE, Snapchat and etc.
Supported Devices: iPhone, iPad, Android, Computer, MAC OS
Jailbreak/Root necessary.
Nonetheless, there is a catch; Several FlexiSpy reviews online don't really put clear the fact that installing this phone spy app may not really be a piece of cake for you—especially if you're trying cell phone tracking for the first time. Some real reviews on Sitejabber: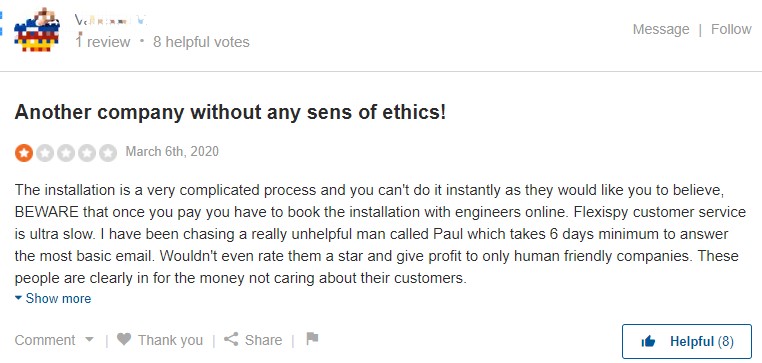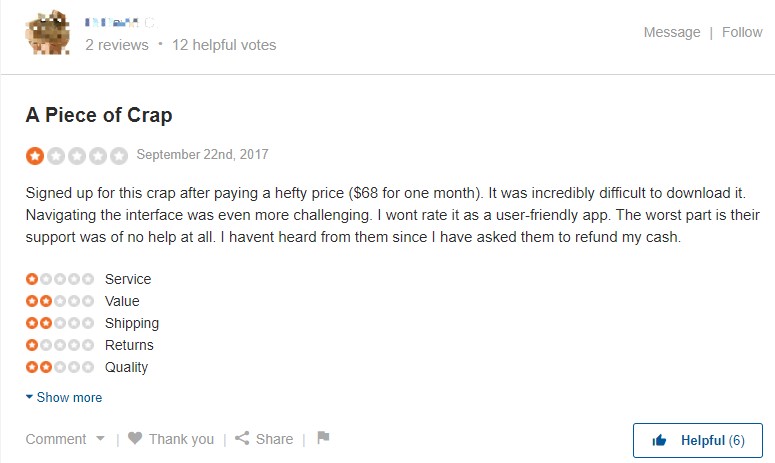 What Can FlexiSpy Do For You When Other Apps Update?
FlexiSpy continuously provides updates for the apps it works with via regular software updates. Therefore, you can always expect to be notified when an update is available.Interestingly, FlexiSpy does not only allow you to monitor devices. It also allows users to remotely update FlexiSpy without touching their phone.
Therefore, there is basically no need for you to re-install the app in the target phone when an update is required. This implies that you will not need to physically handle the target phone when updating FlexiSpy to the newest features.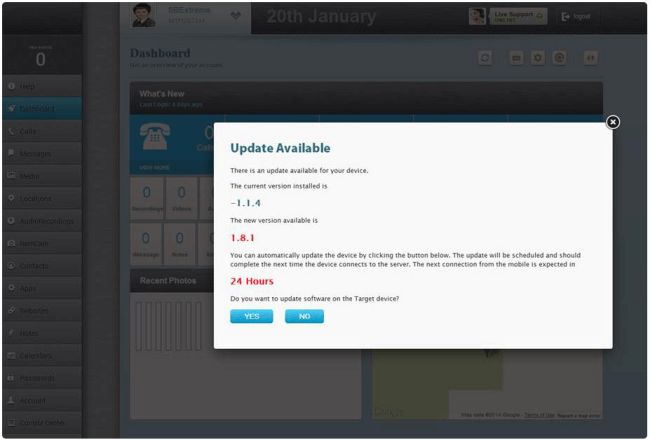 However,the update process doesn't happen automatically.You will need to activate it from your control panel. So, if you wish to remotely update FlexiSpy installed on another phone, you will need to log into the secure online dashboard on your end.
When there, click the notice labeled 'update' for the changes to begin taking place.

The updating process, in this case, will change the software version in your target phone to ensure that you enjoy the latest FlexiSpy features. The primary advantage of being able to remotely update FlexiSpy without touching their phone is that it ensures that you keep possible disruptions to the minimum.
Besides, it is important to note that if your target phone installs an update of one of the apps, FlexiSpy can ensure to avoid the hassle of physically handling the target device's update of the application. There is some chance to happen that this update may affect FlexiSpy's monitoring ability of that specific app.
But with using FlexiSpy, you really do not need to worry about this hitch. The company has designed the app to be able to avoid this specific problem and secure your purchase of this software.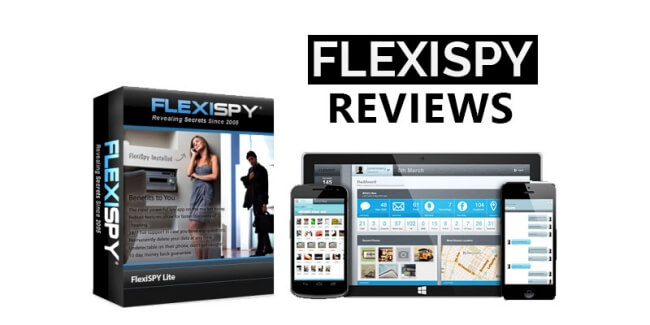 How To Start FlexiSpy Protect?
FlexiSpy comes with 150+powerful features that the other apps do not have. This best explains why it's very popular among employers and parents who wish to track activities on some phones.If the features are anything to go by, FlexiSpy protects investment, thus making it a piece of software that's worth investing in.
Starting FlexiSpy protect function may sound techy, as mentioned early, you will need to have the device rooted or jailbreak it to install this app. Here's a simple breakdown of how to start FlexiSpy protect on the target phone.
Step 1: Sign-up & Purchase license
You will need to sign up and then purchase a FlexiSpy subscription. Once the payment is confirmed, you will get all the required data, including the FlexiSpy download link and account credentials, in your email.
Step 2: Installation & Activation
You must jailbreak or root your target device first. Proceed to download FlexiSpy and then follow the step-by-step instructions that will also be sent to you for installing the software.
Step 3: Getting Start to monitor
Connect the target device to your computer. When the installation is complete, the data gathered from the target device will be relayed to the FlexiSpy server secretly. You can start logging into your account and look through your smartphone or computer dashboard to get these pieces of information.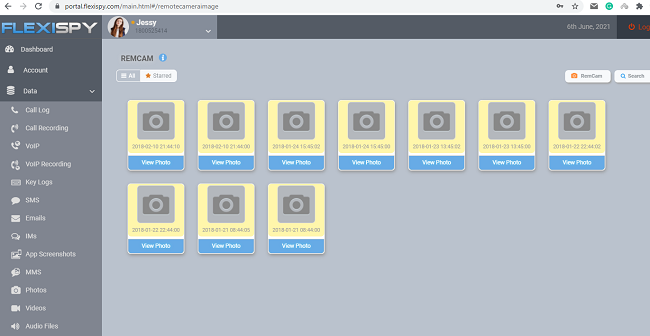 How to Detect Spyware update remotely on Mobile Phone?
When installing FlexiSpy, there is a concern that troubles most users. You're most likely already worried about it. The question, in this case, is: "can FlexiSpy be detected?"
Knowing how to detect FlexiSpy on your phone would be helpful if you wish to protect your personal information from persons who may want to steal your data using this app.
Ideally, this shouldn't be an arduous task. This is because even though FlexiSpy is hidden in the target phone, that doesn't mean that you cannot detect this app on your phone. If you are afraid of spyware on your phone, your best bet would be to secure the phone with anti-spyware ClevGuard.
ClevGuard is a trustworthy anti-spyware you can rely on to help you protect your privacy against spyware and detect spyware updates remotely on your phone.
Key Powerful Features for ClevGuard:
Real time protection.
Compatible with Android devices.
Support for scanning and detecting all third-party Applications.
Support for uploading the software you trust to whitelist.
One-step remove malicious App
Tips:
Here is a guide to use ClevGuard Anti-Spy Software:
Step 1: Download and Install ClevGuard
Go to Google Play Store to download and install ClevGuard application on your Android phone.
Step 2: Scan and Detect Spyware
After installation, launch ClevGuard on your phone and then click the button labeled "Scan". ClevGuard will run a plethora of checks to detect any spyware that would have been installed on your device.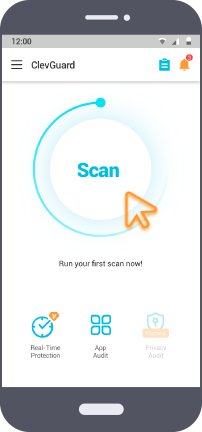 Step 3: Remove Spyware with ClevGuard
If any spyware is installed on your phone, ClevGuard will give you all the results. To remove the spyware that this antispyware will have detected in your smartphone device, click the button labeled "Fix" and you'll be good to go.
Verdict
FlexiSpy does a pretty good job of helping you track the activities of target persons. The complex nature of this app makes it stand out among most other spy apps. Even though this app makes monitoring other persons' activities easy, a good understanding of the privacy laws in your state will help you avoid rubbing shoulders with law enforcers.
Therefore, it is something worth checking before beginning to use the app.Besides, if you are anxious about your privacy, you can now scan and remove spyware files/apps using a clean user interface and the best spyware detector for android - ClevGuard.