Hoop is an app that connects with Snapchat. It is the most popular app with 5 million downloads. This app shows you the snap profiles of other users and enables you to contact them.
After exchanging information on the Hoop, the rest of the conversation will be on Snapchat. Because there is no chat feature on the Hoop. Instead, teens get points for logging in on a daily basis, sharing snaps, getting snap requests to join the Hoop.
In this Hoop app review article, we will discuss "what is necessary for parents to know about the Hoop app"
Part 1. How to Use Hoop App?
The Hoop app is a fun app and kids use this app to make new friends all over the world. This app works with the Snapchat account, so you must have an active snap chat account for use.
Here is the complete method about how to use Hoop app on Android:
Download Hoop app
Go to Google Play, download the Hoop app from the Google Play Store.
Now install this app and click on its icon.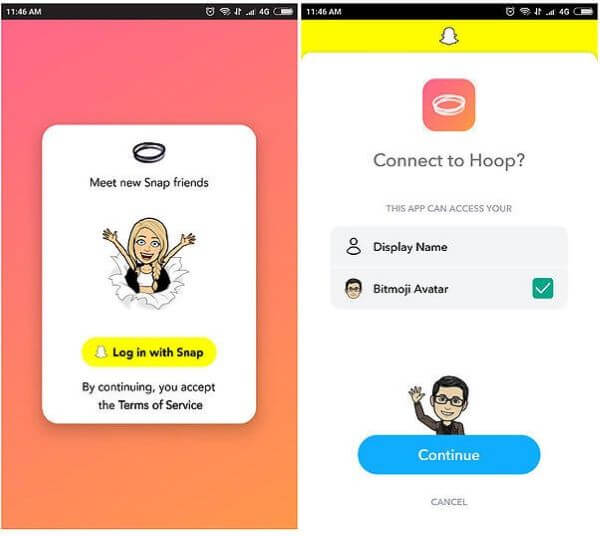 Hoop app Login
To login into the Hoop app, you should have a Snapchat account.
Open Hoop app, Click on the log in with Snap button.
Connect your Snapchat account.
Allow permission to access your Snapchat account.
Put your date of birth. Now choose your gender, next select your country.
Add your user name and set your search preferences, choose which gender you want to approach, female or male. You can select both too.
Now add your profile photo. Now your Hoop account is active, and you can start to add friends.
Add new friends on Hoop
Open your Hoop account.
After this, you will get recommendations. You will be awarded 200 diamonds, and these will be used for sending requests.
To send a request to someone you like, use the white ghost icon, if you want to skip anyone's profile, click on the red cross icon.
To see more profile suggestions, you will have to watch ad videos.
Part 2. What Do Parents Need to Care About Hoop?
No doubt the new generation is smarter than us. Kids nowadays are surrounded by technology, and they have more information about the latest apps, websites, etc.
That's why parents should not leave their kids at the mercy of the internet; it's parents' duty to have knowledge about new apps like a Hoop.
If your kid is using the Hoop app, you should know a few things about the Hoop app which are not good for your kid.
Here are a few negative points about Hoop app mentioned below.
Kids can access inappropriate content
Kids can easily access inappropriate content on Hoop apps. Because the search preference is set for all regions and countries and it doesn't have any filter for age groups.
People of any age group can access adult stuff without any restrictions. This can have a negative impact on a kid's mental health. So parents should be careful about their kid's safety.
Kids can become addict
This app can become an addiction for kids because there is a lot of stuff to do like search for new friends, review others profiles, earn diamonds etc.
This app increases their screen time, and disturbs their daily life activities.
This will harm their academic performance and health as well. So before allowing your kid to be on a Hoop app they should set their screen time limit.
Kids can easily approach strangers
In the Hoop app, kids are able to interact with strangers and be friends with them. Because Hoops have a filter that allows the users to match with nearby people.
The kids are naive and don't know about the dangers of strangers. There are high chances of picking up a bully, sexting, and sharing porn and inappropriate content. These can have bad effects on kids' mental health.
The kid's personal information is at risk
For sending requests to other users, kids need diamonds. The bad point about this app is that kids have to share their Profiles to earn the diamonds.
In this way, they share their personal information with so many people. This could be dangerous for kids.
No option to make your account private
Hoop app default account setting is public, which means you can't change your profile from public to private account like other apps Instagram, Facebook, etc.
This is alarming for parents. After all, as parents, we know that public accounts are not safe because anyone can see the provided information like name, address, hobbies, etc.
Additionally, scammers and sex predators can contact kids through their public accounts.
Kids add location in bio
It is a fact that the Hoop app doesn't show your live location, but most users add their location in bio, and the Hoop app doesn't take any action against it.
This action could be dangerous for kids because sex predators, drug dealers can approach them through their address to trap them.
Hoop app does not have guard privacy
The Hoop app organizes online surveys, and these surveys include personal questions and gather all personal information about kids like age, gender, name, hobbies, etc. The Hoop website has no privacy rule against it.
Part 3. Is Hoop App Safe for Teens?
The most asked question of 2021 is Hoop app safe for kids? The answer is no, it is not safe for kids. The major fault of this app is that they don't verify the date of birth, so anyone can join this app by putting the wrong age.
Mostly the sex predators and scammers create an account in the name of young people to trap the kids. Additionally, this app collects a lot of personal information that's not good for kids, so most parents are worried about kid's safety on the Hoop app.
Don't stress. You can monitor and control your kid's activities by installing KidsGuard Pro for Android. KidsGuard Pro is a nifty app with advanced features that help parents in monitoring kids' online activities.
Related Read: How Can I Monitor My Child's Text Messages on iPhone?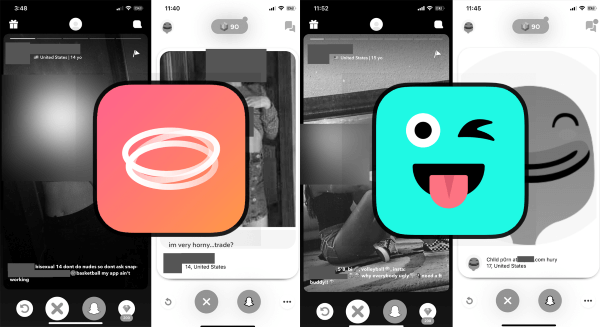 KidsGuard Pro is an intelligent app that includes advanced features for monitoring devices. Screen recording is one of the highlights of the uses of KidsGuard Pro that is very helpful in monitoring kids' activity.
Through screen recording, parents can know about their kid's activities. Additionally, KidsGuard Pro has the option to put a screen limit on kids' phones, and they can set their desired timing for a kid to use the Hoop app.
Moreover, KidsGuard Pro allows users to block unwanted, inappropriate apps and websites. So, kids can't access these inappropriate sites.
KidsGuard Pro has a keylogger feature that provides a report about what kind of wording kids are typing on their devices.
In short, Parents can monitor kid's activities via the online dashboard and also check web history, app usage time from the dashboard.
How to Use KidsGuard Pro for Android?
Step 1.
Click
Monitor Now
button below to sign up an KidsGuard Pro account.
Step 2.
After registration, log into your account and go to
My Products
page, tap on
Setup Guide
button and follow the instruction to download and install KidsGuard Pro for Android onto target phone. This step only needs to take 3-5 minutes.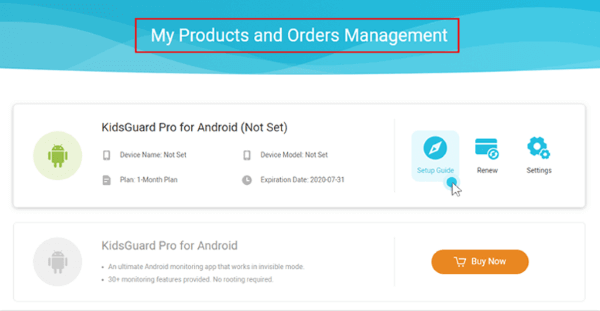 Step 3.
When setting is finish, the icon of this app will disappear from target phone's home screen, you don't need to worry your kids will find this app in their phone. Then you can view target phone's activities from dashboard on your own device.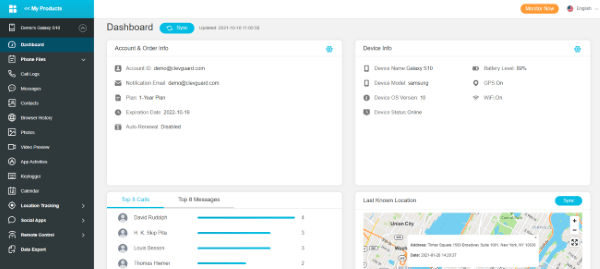 Part 4. Conclusion
Hoop is a fun and entertaining app, but this app is not safe for kids anymore; the majority of scammers are there, and they try to approach kids for different purposes. Apps like Hoop have no proper verification of name and age. That's why parents don't want to leave their kids at the mercy of these kinds of apps.
So, Parents should download the intelligent KidsGuard pro monitoring app. Because it provides them with reports of kid's online activities, like which app kids are using more, what they are typing, and their accounts on different platforms. Parents can easily check the activity of kids through the KidsGuard Pro online dashboard.