As the Internet becomes more and more convenient, people frequently use it. However, nowadays, kids also spend most of their time on social media and electronic games.
Therefore, many parents are looking for a monitoring application to monitor their children's phone, so as to better understand their behavior.
Here we have fully reviewed one of the monitoring apps - FlexiSpy. Hope this FlexiSpy reviews could help you discover a suitable way to use it.
1. What is FlexiSpy?
FlexiSpy is the monitoring software that is installing on phones, to keep safe your loved one, your business, and your personal information. FlexiSpy will let you know that what happens on devices no matter where you are.
However, if you decide to install the FlexiSpy app on a phone that is not your own, you are unable to install spy app remotely, which indicates that you need to have physical access to install FlexiSpy on to. FlexiSpy cannot be installed remotely or any other way which involves having not a target device in hand.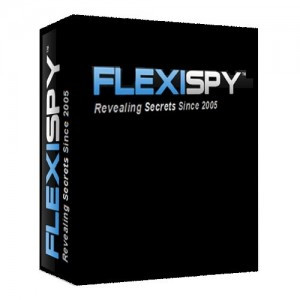 2. What Can FlexiSpy Do?
Here we have listed the functions that FlexiSpy, let's check them out.
Secretly monitor calls and messages
Tracking calls, message and contact is the most popular feature of FlexiSpy. It shows you the call log, contacts and message box of target.
In call section you will monitor incoming and outgoing calls with name of contact, call duration time and date etc. In contacts you can check the name of contact and all the details associated with that contact.
Therefore, you can check who your children and loved ones have communicated with, as well as the content of their conversations.
Moreover, all these behaviors are being carried out in secret and invisibly. The user who is being monitored would not detected.
Location tracking
Flexispy also provides the function of tracking location. With this function, you can directly keep track of your kid's location and know where your kid has visited.
Tracking social media app
Flexispy detects calls on social media accounts such as Skype, Whatsapp, Facebook, Viber, Snapchat, etc. And also notes the timing of messages and calls.
Furthermore, it monitors the suspicious messages on all social media messengers. You can read and target the suspicious ID. In the premium package, you can read the direct messages from social media accounts.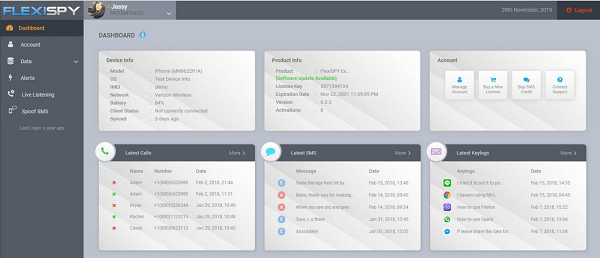 3. How does Monitoring Affect Our Life?
Although monitoring apps can help you track someone, there is no denying that some untrusted monitoring apps can become a threat to your phone.
It infects your device easily and difficult to identify the problems in the device. Spyware is a threat to businesses and individual users, that's why sensitive information can be stealing and harms your network.
It can also deliver unwanted websites in your browsers which can be fraudulent or harmful and can also change your phones' settings.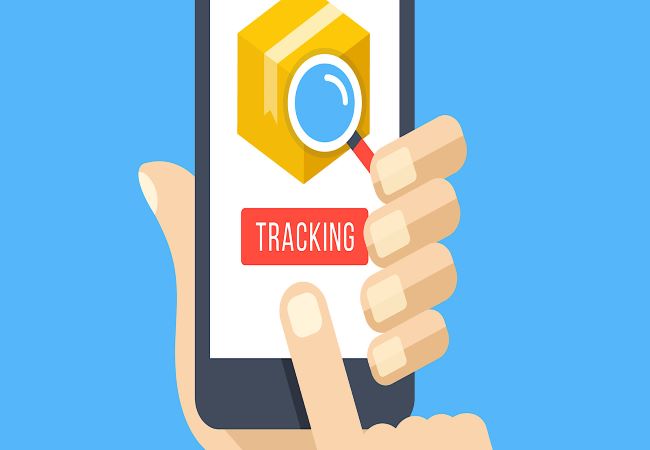 Common Threats on Internet
Adware
Adware is the software that shows pop-up adverts on your Mobile apps and computers. Adware app allows the developer to make money but you can download this app without any consulting. It benefits hackers and therefore steals all information.
Web tracking
To its damage, spyware will track web browsing history and record names, passwords, and other confidential information, such as credit card numbers or bank records. All of this information can be collected and used for data theft.
4. How to Avoid Being Monitored?
Some news briefs attacked most on cell phones and also on television sets and computers, under the cases of spying, and cell phone hacking. Private images were leaked by iCloud and many more.
I believe the reviews on FlexiSpy will also make you feel its power. Ignoring or irrespective of the motivation. Trying to use some methods to avoid being monitored.
4.1 Using ClevGuard to Keep You Away from Being Monitored
If there is one last application that we would recommend to be effective and efficient in removing spyware applications from your Android phone, it would be ClevGuard.
Through phone spy app reviews, when you understand the strength of undetected spy apps, you must be aware finding a truly anti-spy app is an imperative thing.
ClevGuard could stops spyware attacks. It shields programs and programs from hackers. Let's see the top features of ClevGuard.
ClevGuard Top Excel Features:
Real-time protection
We spent the most time on the internet, so our mobile apps are more attack than computers. No one noticed the attack of spy, with ClevGuard your Android devices are secure on the highest level.
It saves your mobile Android system from malware, adware, and some other spyware. Thanks to scanners on real-time protection with our intelligence engines, apps and processes are monitored. It will notify you once there is any threat on your phone.
Spyware scanner and remover
ClevGuard is based on intelligence and best for scanned and remove spyware. Spyware is classified as a form of malware-malicious software design to access your device and steal information about you. As a spying application for Android is installed as malware, there is nothing more reliable and trustworthy than a living and effective developer to remove malware.
Moreover, ClevGuard is easy to use and works fast. Just one click on the "Scan" button and it removes all spies from Android devices.
Check Email Breach
Email breach happens every day, you might be one of the victims. If you are not sure your email is breached or not, you can use ClevGuard to check it. If your email is leaked, ClevGuard will show you the leakage record.
Stop Phone Camera and Microphone Spying
Your privacy might be leaked via your phone camera and microphone. Therefore, ClevGuard provides the function of the phone camera and microphone protection. If there is any app/file using your phone camera and microphone, it will notify you instantly so that you can take action accordingly.
Clean Junk Files
Some malicious files might hide in your phone junk files, hence, cleaning junk files is one of the essential ways to protect your privacy. To provide you the all-around protection, you can use ClevGuard to check and clean your junk files.
4.2 How to Use ClevGuard Anti-spy App?
The anti-spyware software notifies users of the presence of spyware and gives them the option to select the partition or remove the annoying file. Naturally, ClevGuard is a highly recommended security measure for any device owner.
Step 1: Download ClevGuard
Go to the Google Play store, search for ClevGuard and download. After successfully downloading, click the install button and it will be saved to your desktop.
Step 2: ClevGuard Scanner
Open ClevGuard, simply click the "Scan" button to allow ClevGuard access to some permissions on your device, and then you can run the first scan now.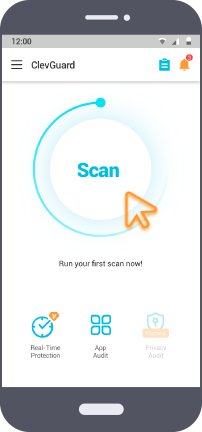 Step 3: Remove Spyware
In scan results you can see how many problems have been found, you can choose "Report", "Ignore" or "Fix" them.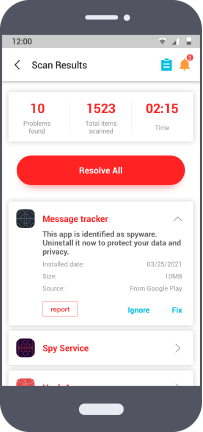 More Tips of Avoiding Being Monitored
Is someone spying on you, you don't have to bear this. Now there are many methods that help you to find the spy apps, smartphone, and programs on your devices. Here are some ways to avoid being monitored:
Create a Specific password for each account
Don't focus on the internet to keep you safe from unauthorized activities. Be safe, when you create an account, create a strong password for each account. Don't use random passwords such as "abcdf" or "12345".
This is a great tip for you don't share your personal passwords with others. If you will share this your accounts will be a hack.
Encrypt your files and E-mail messages
GNU privacy guard is the best way to encrypt your files and E-mail messages. If you have not any answers to secret questions, your files will be unreadable and bullet-proof.When you install GPG, you need to provide a passphrase and you are also asked to generate your private or public keys. Now you need to keep your private keys and passphrase safe as a newborn baby. If someone sends you a message, they use your public keys to encrypt the files. Don't hesitate to share your public keys with others, when you want to communicate under the radar.
Don't post personal detail online
This is a big risk when you share your personal details like date of birth, Middle names, social security numbers, phone numbers, bank numbers, and personal details of the family members. Don't post any photo that you would feel not good to see this again. This is difficult, but setting your accounts on private and screening all friend's requests. It is the best way for the protection and avoids you being tracked.
Conclusion
Malicious Spyware runs in the background and fraudulently captures your personal data. With the help of ClevGuard, it quickly detects, blocks, and removes new spyware such as FlexiSpy phone tracker and other spywares. When this app is installed on your Android device, it detects if there is any Spyware without your knowledge. If Spyware found any spy here it removes from our mobiles.